Authority Dog Food vs. Hill's Science Diet (2023 Comparison): What Should I Choose?
Review Summary
So, what's the verdict? Which food is better for your pet?
Here's what we've concluded in our research: if you want an all-purpose dog food with quality ingredients, Authority Dog Food is your best choice. This food is affordable (important as pet food prices rise) and ranks slightly higher in protein and fiber content.
Hill's Science Diet is your best bet if your dog has a specific medical need, like urinary issues or weight management. They have a variety of foods available for medical cases, and animals love the flavor.
Hill's Science Diet is, by far, the most popular brand. Many vet offices sell this food, and many online and in-person pet stores also sell the brand. Plus, veterinarians recommend Hill's Science Diet for just about anything.
Authority Dog Food isn't as popular since it's only sold at PetSmart and on Amazon.
Let's take a closer look at these two brands to show you what we're talking about.

Authority vs. Hill's: At a Glance
Let's look at the key points of each product.
You may prefer Authority Dog Food if:
You want a general all-purpose dog food
You want to save money
Your dog needs help removing plaque and tartar build-up
You want food with more protein
You want food with more fiber
You may prefer Hill's Science Diet if:
Your dog has a specific medical need
You want more recipe selection
You want a vet-recommended brand
You want ingredient diversity

Overview of Authority Dog Food
Authority Dog Food is PetSmart's official dog food. The company started in 1986 but didn't start manufacturing Authority Dog Food until 1995. Since then, the company has released several dry and wet food recipes for dogs of all ages. They've even released cat food.
Chewy.com sold this brand for a while but eventually discontinued it. Aside from Amazon and in-store purchases, you can't find Authority Dog Food anywhere else.
PetSmart wanted to offer their customer a more affordable dog food option that was high in protein and fat and made with natural ingredients. And that's precisely what they did!
Authority Dog Food has all the necessary vitamins and minerals a dog needs, plus a little extra. Their recipes include omega-3 and omega-6 fatty acids for a healthy coat. Many recipes include rosemary extract, a natural antioxidant and preservative. You'll also find glucosamine and chondroitin sulfate in a few of their recipes, two ingredients that support joint health. You can also find prebiotics for gut health.
Authority Dog Food does have a lot of carbs. But some of it includes natural fiber. These are all good signs for lower-cost dog food, but this doesn't set them apart from many other dog food brands aside from the price.
What does set them apart is their unique textured-dry food pieces to help remove tartar and plaque build-up on the teeth and gums. If your dog has terrible tartar and plaque build-up, this could be a good food to try.
No artificial colors, flavors, or preservatives
Affordable
Ora-System Crunchy Kibble
Only available on Amazon and in-store
Possible recent formula change
Heavy on the carbs
Strong smell

Overview of Hill's Science Diet
Hill's has a fascinating history beginning in Topeka, Kansas in 1939. The company started with one simple recipe created by the famous Dr. Mark Morris Sr.
Dr. Morris created the food for a young blind man's dog who was experiencing kidney failure. Dr. Morris was passionate about small animal care during a time when farm animals prevailed. Now, Hill's is one of the most respected animal foods across the country.
Hill's Science Diet lives up to its reputation by providing nutritious and medically specified recipes to dogs and cats. Each recipe is different and comes with a wide variety of ingredients.
The only flavor you can't find in kibble is beef. For some reason, Hill's only sells one beef recipe for wet food.
We don't like the carbs of Hill's Science Diet recipes. Each recipe has at least one or two carbs in the first four ingredients. This is probably why cats and dogs prefer the Hill's Science taste. Since it's a medication brand, making the food more enticing to animals makes sense.
Recommended by veterinarians
Better ingredient variety
Better selection
Available at several locations
Pricey
Beef recipe only available as wet food
Heavy on the carbs

How Do They Compare?
Taste
Edge: Hill's Science Diet
Overall, pets prefer Hill's Science Diet for taste. Some dog owners suspect Authority Dog Food recently changed its formulas. It could also be that these dogs got bored eating the same food repeatedly. In any case, more pets love the ingredient diversity in Hill's Science Diet.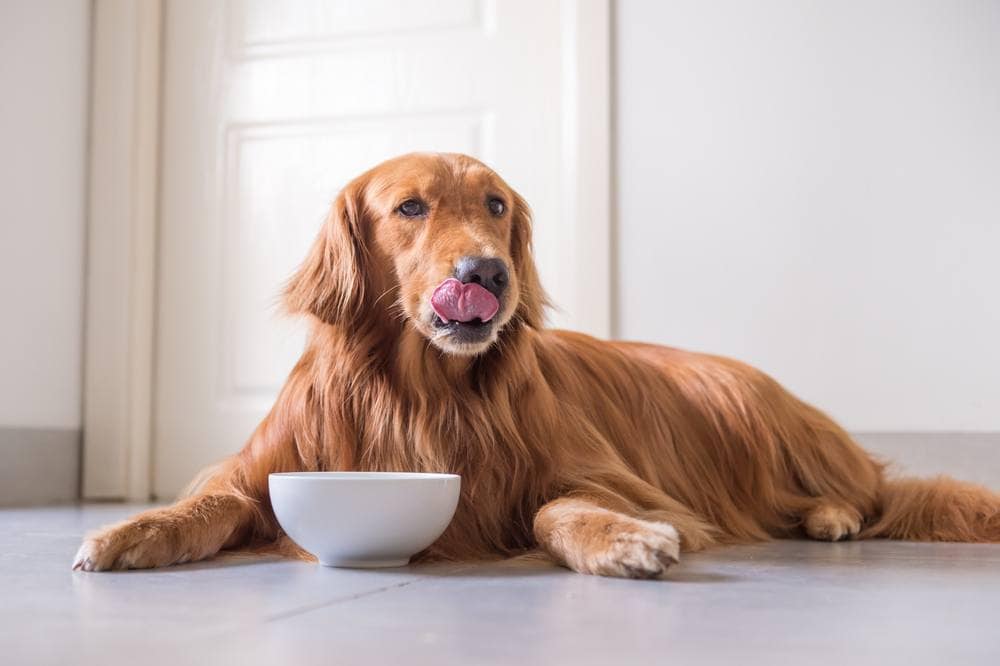 Nutritional Value
Edge: Hill's Science Diet
It's hard for us to choose one food brand over the other here, but we're leaning toward Hill's Science Diet for nutritional value.
Both foods have pros and cons to their nutritional value, and some recipes have better ingredients than others, but since Hill's Science Diet is scientifically proven to help with specific ailments, so we chose them as our winner for this section.
Overall, both dog foods are seen as average.
Price
Edge: Authority Dog Food
Authority Dog Food takes the edge in price. Hill's Science Diet may be scientifically proven to work, but with rising pet food prices, Authority Dog Food offers good ingredients at an affordable price.
Protein
Edge: Authority Dog Food
We compared several similar recipes of both brands. We found that Authority Dog Food had about 1% more protein in most of their recipes than Hill's.
Fiber
Edge: Authority Dog Food
We also compared similar recipes to both brands for fiber. Depending on the recipe, most of Authority Dog Food's recipes had 1% to 2% more fiber than Hill's recipes.
Selection
Edge: Hill's Science Diet
Hill's Science Diet takes the edge here. Authority Dog Food just doesn't compare to the numerous recipes available with Hill's.
What the Users Say
You've read what we have to say. Now, let's talk about what the users are saying.
To know what people do and don't like about the brands, we've researched reviews and dog food forums on several websites.
Let's begin with Hill's. People love Hill's Science Diet because it works. Aside from a few exceptions, Hill's is a reliable food source for animals, especially those with medical needs.
Dog owners also say that their picky dogs enjoy the taste of Hill's. So how do people feel? Well, most people who use Hill's Science Diet feel they have to use it. The food tastes great to dogs, but it's prescription food at the end of the day. If that wasn't the case, a lot more people would switch to high-quality generic food.
Now let's talk about Authority Dog Food.
Dog owners like the food. No one seems to rave about its glorious works with their dog's health. But dogs like it, and so owners are happy. They see it as an average dog food with a decent price tag. That said, the ingredients are much better than many cheap dog foods, and that's what users love most.
Users don't like that Authority keeps changing its brand packaging, so be on the lookout for that if you decide on this brand.

Conclusion
Dog food has come a long way in the last 100 years. And companies continue to improve as we learn more about our pet's nutritional needs. Ultimately, we think Hill's and Authority Dog Food tie for first. They both have great ingredients, but it depends on what you're looking for. So, let's do a recap.
If you want basic dog food with quality ingredients or you're on a budget, Authority Dog Food is the best choice. The downside is you'll have to drive to a PetSmart to buy it. You can order it on Amazon, but it might be more expensive, defeating its purpose.
Hill's is the way to go if your dog has a medical need. It has more dollar signs, but we think it's worth the extra money to improve your dog's health. You can find this food on Chewy, Amazon, Petco, PetSmart, and at your local veterinary clinic.