10 PetSmart Alternatives in 2023: Our Comparisson

Lugging an enormous bag of dog food across the parking lot or trying to cram an oversized cat tree into your compact car are some of the problems of visiting your local pet store. Online pet supply companies offer more variety than brick-and-mortar operations, and they deliver goods to your doorstep. PetSmart is one of the largest, most trusted companies providing pet supplies, but it has significant competition. Where do you turn when you cannot find what you need for your furball at PetSmart?
We've compiled a list of PetSmart alternatives and offered the details on why they've made our list. We then discuss which of the companies comes out on top, and ultimately recommend where you should spend your money.
A Quick Comparison of Our Favorites of 2023
Rating
Image
Product
Details

Chewy

Exceptional customer service
Free 1–3-day shipping over $49
Well-stocked online pharmacy
Visit Chewy

Petco

Competitive prices
Price match guarantee
Rewards club
Visit Petco

Amazon

Vast selection of pet supplies
Free shipping for Amazon prime products
Simple ordering system
Visit Amazon
The 10 PetSmart Alternatives Compared:
1.

Chewy vs PetSmart
We selected Chewy as our best overall PetSmart alternative. We love Chewy because it has an impressive selection of goods and goes out of its way to please pet parents. If your dog or cat hates the new food you ordered, in most circumstances, Chewy will credit your account and suggest donating the flood to a local shelter or rescue. Whether you're looking for a DNA test for your dog or a premium cat bed, Chewy has everything you need.
Unlike many of its competitors, Chewy has an online pharmacy that's easy to navigate and staffed by friendly, intelligent employees. When you need a prescription for your furball, all you have to enter is the product and veterinarian information, and Chewy contacts the vet and sends the medicine right to your door. It also has one of the most user-friendly auto-ship systems, and when you sign up, you'll receive 35% off your first order! We could not find anything we disliked about Chewy, but sometimes, it can be frustrating when products on the site are quickly discontinued. However, it's not an uncommon occurrence with online retailers, and a seller can be dropped for several reasons.
This one-stop shop is super comparable to PetSmart and can be accessed from the comfort of your own home.
---
2.

Petco vs PetSmart
Since its founding as a veterinary supply company in 1965, Petco has grown into a successful competitor of PetSmart that offers many of the same services. It won our prize for the best PetSmart alternative for the money, and you're unlikely to find another online or brick-and-mortar company with lower prices on pet food or supplies. Dogs and cats are the stars of the pet world, but at Petco, you can find products for birds, rodents, fish, reptiles, and even farm animals.
Their online inventory is enormous, but you can also take advantage of the services offered at Petco stores. You can take your pet in for a veterinary visit, train your unruly dog, adopt a new animal, or sign up for pet insurance. When you join Petco's rewards club, you receive points for every purchase. Petco is the ideal choice when you're on a budget, but its customer service is less reliable than some competitors.
Petco is the most like PetSmart in the sense that it is a physical retailer and offers veterinary and grooming service at each of its locations.
---
3.

Amazon vs PetSmart
It's hard to imagine that a company designed to sell books online in 1994 would become one the world's largest retailers, but Amazon now sells everything under the sun, and that includes pet supplies. Although pet-specific companies typically beat Amazon on pet food prices, it features more specialized pet supplies than the competition. If you need grooming clippers, dog jackets, or pet furniture, Amazon has a better selection than the top pet stores. You can sign up for automatic shipping to get the same pet products every month, and most Amazon products are relatively easy to return when you have a problem.
Amazon's product selection is hard to beat, but one drawback of using Amazon is its lack of an online pharmacy. It sells over-the-counter medications for pets, but you'll have to go to another site to buy prescription drugs.
---
4.

Pet Supplies Plus vs PetSmart
Pet Supplies Plus has over 560 stores in 36 states, and it's becoming a fierce competitor to PetSmart. It's smaller than Chewy and Petco, but it has competitive prices on pet food and supplies. Although it features some of the same services as PetSmart, Pet Supplies Plus offers unique options that competitors lack. One of its most impressive services is the doggy drive-thru. All you need is a leashed dog and brush, and Pets Supplies Plus provides everything else, including shampoo and towels.
Another advantage of visiting the store is the in-house bakery. You can pick up a freshly baked dog treat for your best friend while you're shopping for food or supplies.
Pet Supplies Plus is an excellent alternative, but its customer service is not as solid as Chewy or PetSmart.
---
5.

PetFlow vs PetSmart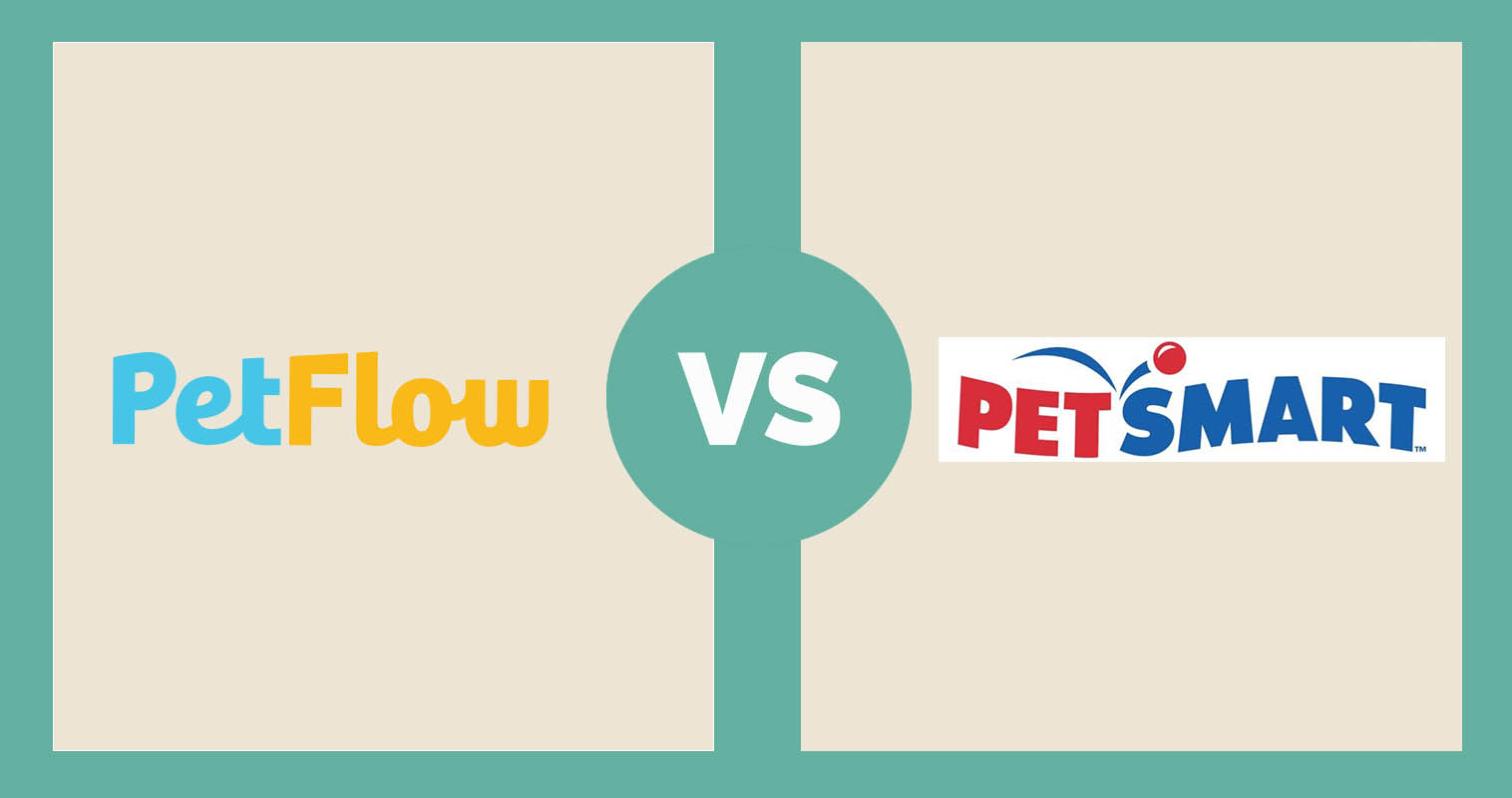 PetFlow was founded in 2010, and its rapid growth has affected the market dominance of Chewy and Amazon. They carry over 300 dog and cat food brands, and they have some products that you cannot find anywhere else. Pet Flow's strong point is its food selection, but they also carry pet furniture, supplies, and medications. However, the furniture selection is not as massive as the top performers. PetFlow differentiates itself from other online retailers with daily deals that give you discounts up to 75%. If you refer a friend to join PetFlow, you get $10, and every purchase you make sends a bowl of food to an animal shelter.
PetFlow is a worthy alternative to PetSmart, but its policies are not quite as customer-friendly as the top four companies on our list. It does not allow returns on products under $10, opened products, or prescription items. PetFlow also charges hefty fees for returning items.
---
6.

Walmart vs PetSmart
Walmart's founder may not have envisioned his company as eventually being a major player in the online pet food market, but Sam Walton's creation has increased its inventory of pet products in recent years to compete with Chewy, PetSmart, and Amazon. The online ordering system is user-friendly and straightforward, and the selection of dog and cat food is excellent. It carries premium brands and discount items for cats, dogs, birds, reptiles, fish, and farm animals.
Walmart has low prices on pet food, but it does not have as many treats, furniture, or specialty pet products as the competition. Unlike the top pet product retailers, Walmart does not have an automatic shipping option.
---
7.

Target vs PetSmart
Target is better known for its deals on clothes and other human-related products, but its online pet section is packed with low prices on pet food and supplies. The company recently launched its Kindfull pet products brand that produces premium pet food, grooming products, and dental care items. Target does not have as many pet supplies as Chewy or PetSmart, but it has several deals on dog and cat food that often beat the prices of other pet retailers. If you spend $40 on pet products, you get a $10 gift card.
Although Target has competitive food prices, some items are unavailable for delivery. If you need a prescription filled, you'll have to visit another site because Target only carries OTC flea and tick treatments.
---
8.

EntirelyPets vs PetSmart
Entirely Pets was formed in 1999, and its online selection has grown to include pet furniture, supplies, food, and a significant number of medications. It specializes in providing the lowest prices on pet supplies and medicine and will match or beat the price of any online competitor. If you need health and wellness products or medication for your pet, Entirely Pets is an excellent choice, but it does not have as many pet food brands as the competition.
Although customers are impressed with Entirely Pet's prices, several complained about the poor customer service. Another drawback is the auto-shipping program. It's not as reliable as Chewy or Amazon, and you have to double-check your account when you cancel to ensure you're not continuously charged.
---
9.

PetMeds vs PetSmart
Also known as 1-800-PetMeds, Pet Meds is one of the largest and most successful online retailers of pet medications. Although it's known for low-priced medications, PetMeds also carries a small selection of pet food and supplies. It has a broader selection of prescription and over-the-counter medications than other retailers, but its supply and food offerings are slim. PetMeds offers free shipping on orders over $49, but their shipping is much slower than PetSmart, Chewy, or Amazon. Medications are not something that you want to want weeks to arrive when you have a sick pet. Several customers also complained that handling returns and talking to employees was more frustrating than other companies.
---
10.

PetCareRx vs PetSmart
PetCareRx specializes in prescription medications, but it also offers pet food, supplies, and over-the-counter medications. It has an impressive selection of pet food but does not have as many pet supplies as the top retailers. The discounts on prescription meds are competitive with PetMeds, but PetCareRx sometimes has problems delivering medications on time. Customers were pleased with its diverse inventory, but many complained that they had trouble getting the medicine on time. Other pet parents complained that they had difficulty returning products, but most were happy with the company's friendly customer service representatives.
Buyer's Guide: How to Choose the Right PetSmart Alternative
Competition in the pet product industry is fierce, with more companies entering the business every year. It's challenging to pick a PetSmart alternative with so many pet product retailers, but our list should help you eliminate any undesirable choices. Here are some additional tips for selecting the ideal service for your pet.
Product Selection
If you have a picky animal that's never satisfied with its food or toys, you may need to use an online retailer with a more extensive selection to keep the little pest happy. All the companies from the list have large inventories, but our top four picks have more items than the other retailers. Chewy, Amazon, Petco, and Pet Supplies Plus have more products than the other companies, but they do not always have the lowest prices.
Shipping Cost
Most pet companies will give you free shipping when you spend $40 or more, but some retailers, like Amazon, offer free shipping on multiple items without a spending requirement. However, free prime shipping from Amazon is not really free when you factor in the membership fee cost. Paying a yearly fee is sometimes easier than paying a shipping charge for each item, and if you use the service frequently, you'll save more money using a company like Amazon. PetCareRx has a membership similar to Amazon's, but it's more expensive and does not offer free shipping on as many items.
Return Policy
Whether you return pet food, supplies, or heavy equipment, some companies will charge you high fees for returns. Chewy is one of the exceptions, and you rarely have to worry about getting a refund or spending a fortune on returns when you deal with them. If your cat cannot stand the flavor or potent aroma of its food, Chewy will credit your account and suggest an alternative brand.
Membership Fees
As we mentioned, a yearly fee is more practical when you purchase most of your pet products online. If you shop at pet stores or supermarkets for food and only buy a few toys online, you're better off using a retailer without a membership. Shipping is more expensive than a few years ago, and the costs can add up if you have several pets.
Customer Service
Talking to rude customer representatives who do not seem responsive to your issues is, unfortunately, not uncommon in the online retailer world. If you have a pet that requires monthly medication, it's essential to use a reliable company that will not cancel a prescription or delay your shipment. Of all the companies we researched, Chewy was one of the few that did not have customer service problems. Shipping issues will occur with any retailer, but Chewy seems to handle matters more professionally than other companies, and most of their customers are impressed with their ethics.
Conclusion
The retailers we examined in our reviews are worthy alternatives to PetSmart, but Chewy was our top choice. It has a spectacular selection of products, competitive prices, and one-of-a-kind customer service that every retailer should emulate. Our second pick was Petco. It offers many of the same in-house services as PetSmart. We were impressed that Petco had so many products for other animals like reptiles, fish, and birds, and its price match guarantee policy can help you save money on premium items. Amazon is another excellent PetSmart alternative since its shipping costs are usually free and delivery is very quick.
---