Beagleman (Beagle & Doberman Pinscher Mix): Info, Pictures, Characteristics & Facts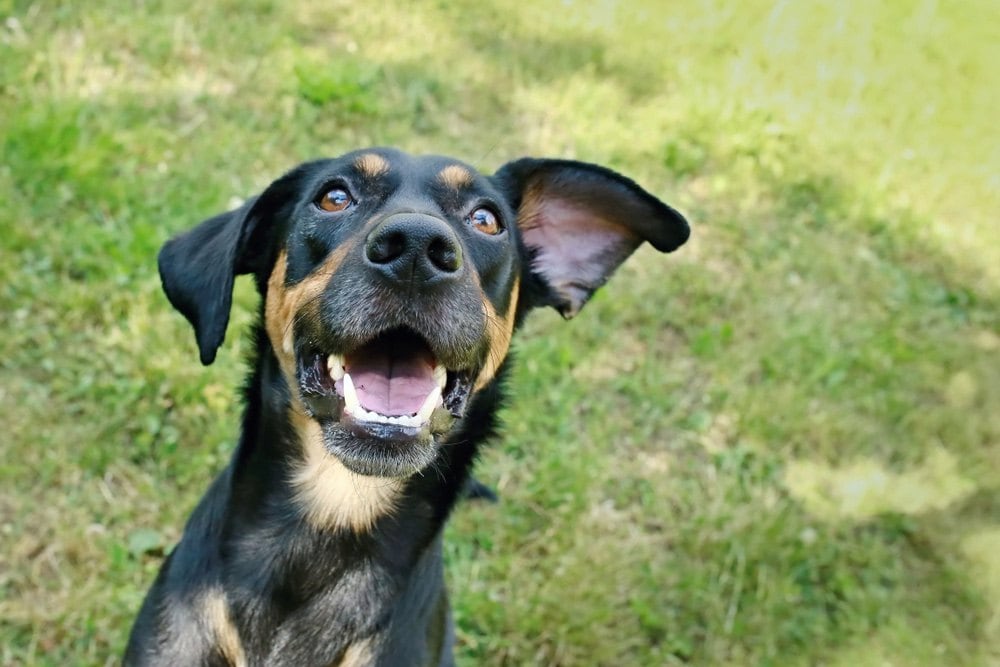 | | |
| --- | --- |
| Height: | 16-22 inches |
| Weight: | 40-55 pounds |
| Lifespan: | 10-12 years |
| Colors: | Brown, black, tan, cream |
| Suitable for: | Those who want a watchdog or protector, hunters, families, working situations |
| Temperament: | Intelligent, loyal, sweet, playful, full of energy |
The Beagleman is a designer dog, most likely developed in the last 10 to 40 years. They are a mix between a Beagle and a Doberman Pinscher, the latter also being a relatively newer breed.
They are unique dogs with a distinctive appearance, combining the sharp, streamlined body of a Doberman Pinscher with the softer, friendly one of the Beagle.
The Beagleman has soft, partly floppy ears and large eyes that are typically black or deep brown. Their coats are often multi-colored, ranging from brown and cream to black.
They have a great deal of energy and engaging history. Beagleman pups can be used for many different purposes and enjoy being in situations where they have a purpose.

Beagleman Puppies —Before You Welcome One Into Your Family…
3 Little-Known Facts About the Beagleman
1.

  Mr. Karl Dobermann developed the Doberman.
Although Doberman Pinschers don't have an extensive history like many other purebred dogs, they do have a unique one: They were developed by a man named Karl Friedrich Louis Dobermann.
In the late 1800s, Karl Dobermann was a German dog catcher and tax collector. These two jobs did not put him in high favor with the locals, so he began to create a breed that would serve as his protector.
To create the breed with his desired traits, such as a natural protective instinct, a fierce attitude, and loyalty, he was able to use dogs from the pound he kept. He used the strays to create the Dobermann breed and took it along on all his rounds to protect him from disgruntled clientele.
---
2.

  Beagles are mischievous hunters.
Beagles have a much more docile history. Dogs similar to the Beagles that we know and love today have been dated as far back as the period of the Roman empire, even being referred to as "Beagles." However, those pups were much different than the modern Beagle.
During the early development of the breed, throughout the 15th to 17th centuries, it was made to be many different sizes. Among these were the Toy Beagle, growing only to 8 inches in height and being named pocket-sized Beagles.
In the 1800s, breed standards were set by The Beagle Club of England, and the modern Beagle became much more standardized.
Throughout its history, the Beagle has been known for being an excellent scent-dog and has been used for hunting and tracking for many years. They have a great deal of personality for an average pup and can get into all sorts of antics with its intelligent, curious mind.
---
3.

  The Beagleman is a popular pup as a watchdog.
The cross between a Doberman Pinscher and a Beagle means that you get a pup who is a natural working dog. They like to have a job, and due to their alert nature and breeding, they work well as watchdogs.
Training is needed to perfect their capabilities as a watchdog, but it shouldn't be hard with consistency.

Temperament & Intelligence of the Beagleman

🧠
Beagleman pups are intelligent dogs, inheriting their wit from both sides of their family tree. They are obedient dogs once you have overcome their stubbornness by establishing yourself as their master. After this, these dogs can learn quickly when they are given quality training.
The Beagleman is a playful and highly loyal dog, friendly and affectionate from the Beagle parentage, and alert and protective from the Doberman. They do well as family pets, exhibiting extreme patience and devotion to those in their trusted care.
Due to the Doberman parentage having some aggression toward intruders or strangers, this breed requires early socialization. Training helps ensure that they won't show any unwanted aggression toward unfamiliar people or animals.
Are These Dogs Good for Families?

🏡
These dogs are good fits for families, and they generally do well around kids of all ages. However, they are medium-sized dogs with a fair amount of energy. Watch younger children to make sure they don't accidentally get knocked over.
Does This Breed Get Along With Other Pets?

🐶 😽
Usually, this breed gets along well enough with other animals and even other pets in the home. They are otherwise known only to chase cats if not socialized early.

Things to Know When Owning a Beagleman
Food & Diet Requirements

🦴
Although a Beagleman is only an average-sized dog, they have a stocky build and a fair amount of energy. They generally require around 2 cups of food each day. This amount may change, depending on the size and the overall activity level of the pup.
Doberman Pinschers are prone to suffer from bloating. It may be helpful to find food sources that prevent them from suffering from potential stomach issues. To keep their coat healthy and sleek, include fatty acids in their diet, such as a flaxseed oil supplement.
Exercise

🐕
A Beagleman does not need excessive amounts of daily activity, as they are only a moderately active dog. On average, they should be given about an hour of consistent activity a day. Activities can include things like going for long walks, heading out to the dog park, or going for runs and hikes.
These pups are generally well-behaved dogs. If they have been trained well but begin to behave poorly, it might be a sign that they need more activity or don't feel mentally stimulated and should get more time outside.
Training

🦮
Training a Beagleman can be an interesting experience. They are unusual in the sense that they can have a persistent stubborn streak but are known as incredibly obedient dogs.
The most important thing to remember when training a Beagleman is that you should be the boss. If you have firmly established yourself as the master through positive methods, then these dogs learn to respect you and quickly become obedient.
They are a smart breed and often enjoy learning new things. This attitude helps during training because they typically pick new ideas and commands up quickly.
Grooming

✂️
A Beagleman often has a short coat of bristly hair, inherited from both the Beagle and the Doberman Pinschers. These dogs do shed, but only a low or moderate amount. To prevent as much shedding as possible, try to brush them every other day. This frequency also helps keep the coat shiny and healthy.
These dogs do not need to be bathed often, only receiving baths when they need it to avoid drying out the oils naturally found in their skin. When bathing them, be sure to use a specially formulated dog shampoo.
Since their ears typically flop over like a Beagle's, make sure to clean their ears at least once a week to prevent infections. Brush the dog's teeth several times a week and clip their nails if they get too long.
Health Conditions

❤️
Generally, hybrid dogs have a larger gene pool to draw from and have less chance to inherit any diseases. The best option to ensure that your dog will be healthy is to look at their parents' health records. This is possible if you are buying from a breeder.
Minor Conditions
Ear infections
Color mutant alopecia
Serious Conditions
Eye problems
Intervertebral disk disease
CBS
Von Willebrand's disease
Epilepsy
Hypothyroidism
Beagle dwarfism
Hip dysplasia

Male vs Female
There are no noticeable differences between male and female Beaglemen dogs.

Final Thoughts
A Beagleman is a dog destined to be loyal and protective. These can be highly desirable traits in the right scenarios, such as when you would like a watchdog or a trained companion for your children.
Without the right training, a Beagleman can be hard to control, sometimes having aggressive tendencies toward strangers. They are only a medium-sized dog, though, and can be easily trained once the "pack leader" has been established.
These dogs are loving and devoted and thus deserve to be a valued addition to any family.
---
Featured Image Credit: Lioneska, Shutterstock