How to Become a Service Dog Trainer (4 Easy Steps)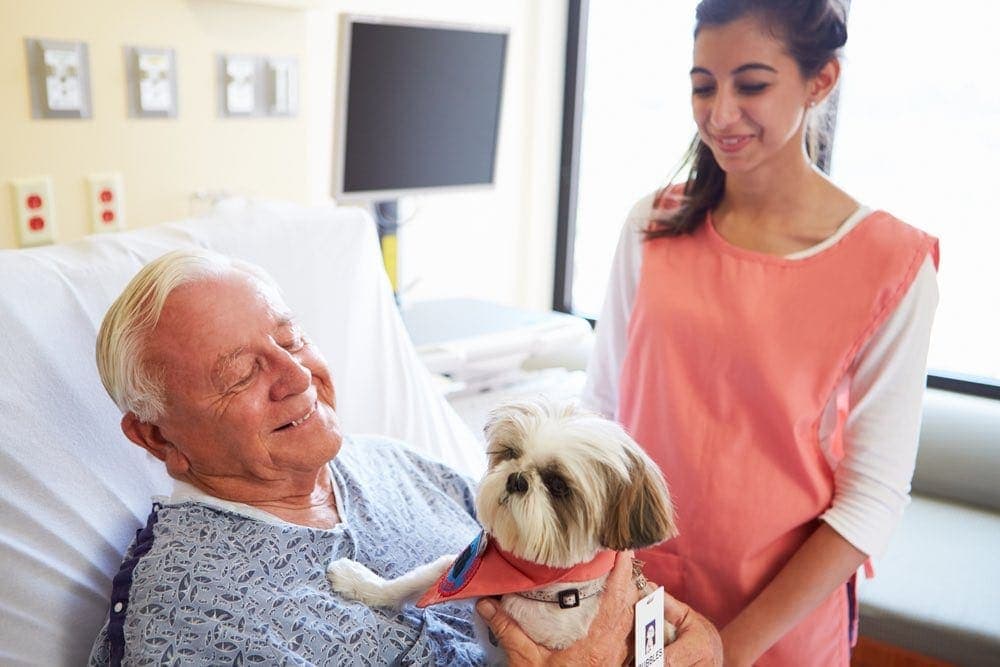 As a therapy dog trainer, you will have the pleasure of helping others improve their quality of life through the assistance of a reliable dog. You will teach dogs how to do therapy and service jobs based on their owner's needs through voice and physical commands.
There is no certification required to become a therapy or service dog trainer, but there are many voluntary programs available that can help you become a quality trainer who stands out from the competition. Serving as a therapy dog trainer is hard work, but the rewards will be well worth all the effort. Here is what you need to know about becoming a service dog trainer.

How to Become a Service Dog Trainer
1.

Decide Which Training Path You Want to Take
The first thing you need to do is figure out which service dog training path to take. Do you want to train dogs for a company that sells or lends them to people in need? Do you want to purchase therapy dog candidates and train them before selling them to someone else?
Do you want to work with dog owners who want to teach their dogs to become service animals? Each option has its own positive and negative aspects to consider.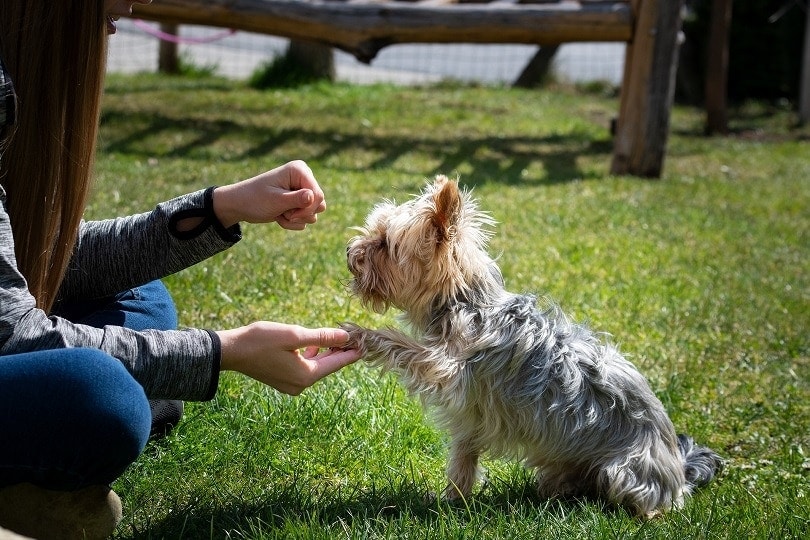 Working for a Service Dog Training Company: Pros & Cons
Enjoy a guaranteed income
Rely on company-provided tools
Never worry about finding clients or customers
There's no freedom to make business decisions
You have limited control over income opportunities
Becoming a Buyer, Trainer, and Seller: Pros & Cons
Maintain complete career control
Expand business and earnings as preferred
Decide which dogs to train
It requires a significant upfront investment
It can take time to recover investments for dogs to train and supplies
Offering Private Service Dog Training to Dog Owners: Pros & Cons
Work with the same clients over time
Avoid dog care and housing commitments
Work in different environments
It sometimes requires working with difficult dog owners
Travel is likely required
These are just a few training paths you can take after becoming a therapy dog trainer, and they all should be carefully considered. You may want to expand your horizons and embark on two or more different paths as time passes.
Considering the details of each option now will help ensure that you are prepared to make a career change quickly if the need arises.
---
2.

Enroll in a Service Dog Training Certification Program
Gaining the knowledge and training necessary to become an effective therapy dog trainer is crucial. While getting certified is not required to work as a dog therapy trainer, doing so will provide potential employers and clients with confidence and help ensure that you are prepared to successfully train happy and healthy service dogs for clients and customers.
There are a few certification programs, such as the CCPDT, that you can get certified through to show that you are qualified to be a therapy dog trainer. There are also various training programs available, including CATCH Canine Trainers Academy, that you can enroll in to learn what you need to know and to prepare for certification. Once certified, you can start building your therapy dog training career.
---
3.

Take on an Apprenticeship
Entering an apprenticeship will allow you to earn money while learning from service dog training experts. You will gain valuable hands-on experience that can be used to build your business or catch the attention of successful dog training companies worldwide. Because you will be getting paid to learn, you can spend years as an apprentice to hone your skills and ensure that you are ready to train dogs without the support or help of teachers or mentors.
Local disability organizations, shelters, retirement centers, and dog training companies may have apprenticeship opportunities to explore. There are a variety of apprenticeship programs offered through large organizations throughout the United States that you may want to travel to for quality training and an opportunity to get started with a great career.
It is essential to remember that some larger organizations that offer apprenticeship programs do not pay. While a few charge a fee to enter their apprenticeship programs, others charge no fee but cover no living costs and offer no payments.
You should also keep in mind that you do not have to take on an apprenticeship to become a therapy dog trainer. You can volunteer your time at a training facility or offer to practice on friends' dogs to gain the needed experience.
---
4.

Gather Necessary Tools and Resources
You should ensure that you have basic training tools and resources before starting your service dog training career. This will show initiative to potential employers and allow you to properly do your job if you decide to work for yourself and start a business.
You can begin by investing in training guides that you can refer to when dealing with new situations and challenges for the first time. Consider these service dog training guides:
Any training or apprenticeship program you enroll in should provide books and guides for future reference. In addition to reference guides, you will need a few pieces of equipment to get started as a therapy dog trainer. Take the time to collect the following items:
A variety of harnesses, leashes, and collars
Learning toys
Clickers and treats
Props for use in retrieval and interactive training activities
You need the basics to begin with. Once you start working with dogs, you will get a good idea of what other items you will need to make therapy training successful for any dog you end up working with.

The Final Steps
When you are ready to start working as a therapy dog trainer, you should consider becoming a member of The Association of Professional Dog Trainers. Doing so will provide exclusive access to the organization's job bank, enable you to create professional peer-to-peer relationships, help you maintain high industry standards, and create credibility for yourself.
It's a great first step to becoming a service dog trainer! Are you ready to begin the steps of becoming a service dog trainer? What about the prospect excites you the most? What makes you the most nervous? Feel free to share your thoughts, tips, and recommendations with us.
See also:
---