10 Best Antifungal Dog Shampoos in 2023: Reviews & Top Picks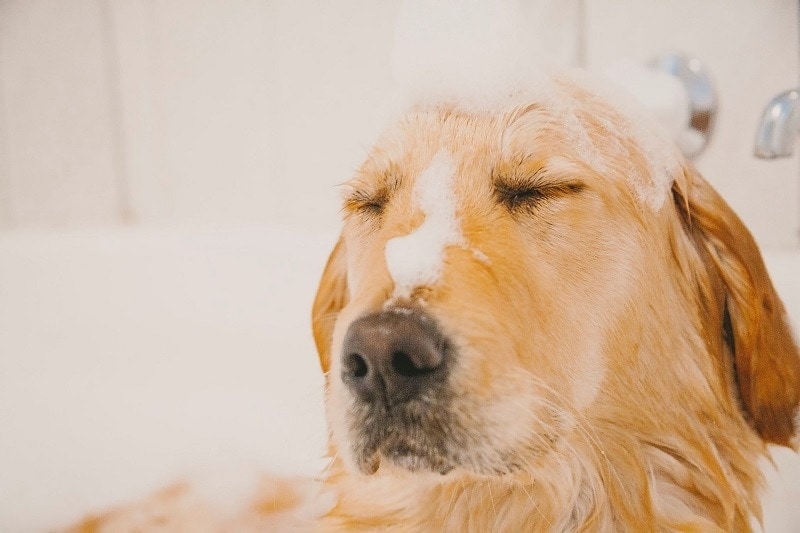 Bathing your dog is necessary every once and a while, but what if they have a fungal infection or itchy, sensitive skin? High-quality antifungal shampoo can save the day, helping relieve many of the symptoms associated with skin-based fungal infections on dogs, like yeast infection or ringworm. You might want to talk to your vet about how an antifungal shampoo could work for relieving uncomfortable symptoms, especially if your dog particularly hates taking baths.
Once you have gotten the go-ahead from the vet, you might hop online, ready to make a purchase, only to realize that there are too many options to choose from! It can be challenging to find an antifungal shampoo to help your dog, especially if they have a compromised immune system or unusually sensitive skin. We have simplified this difficult task by creating this list of in-depth reviews. Each one gives you essential details about the product and its positive and negative aspects so you can find the right shampoo to meet your needs.
A Quick Comparison of Our Favorites in 2023
Rating
Image
Product
Details

Best Overall

Zesty Paws Oatmeal Anti-Itch Shampoo

With antifungal and antibacterial properties
Moisturizes skin and fur
Full of vitamin E
Check Price

Best Value

Veterinary Formula Clinical Care Shampoo

Helps deodorize stinky pups
Serves to relieve skin infections
Best value
Check Price

Premium Choice

KetoChlor Medicated Shampoo

Doesn't require a prescription
Works to disrupt colony growth
Still smells clean
Check Price

Pet MD Antiseptic & Antifungal Shampoo

Antiseptic and antifungal
No parabens or soaps
More affordable medicated option
Check Price

Smiling Paws Pets Antibacterial & Antifungal Shampoo

Antiseptic and antifungal
No parabens or soaps
More affordable medicated option
Check Price
The 10 Best Antifungal Dog Shampoos
1.

Zesty Paws Anti-Itch Dog Shampoos — Best Overall
Zesty Paws has created an Oatmeal Anti-Itch dog shampoo. It is rich in Vitamin E, a nutrient that nourishes the skin and eases any itching and irritation across the surface. Another positive ingredient is the aloe vera supplement. Aloe vera is known for its natural healing powers, containing both antifungal and antibacterial properties. It works to soothe redness and swelling and create a salve over the wounded organ to heal faster.
The oatmeal base in this shampoo also helps relieve itching. It acts as a natural moisturizer and adds a protective layer over the skin to reduce further irritation from outside sources. You pay a bit more for this oatmeal shampoo per ounce than some other options, but many customers claim that it is well worth the price.
The skin isn't the only focus of this shampoo. Quinoa and sweet almond extract supplement the soothing recipe by moisturizing the dog's coat and skin even more. Don't worry, your dog won't come out smelling like a bowl of porridge. The shampoo has an airy vanilla scent and an odor-eliminating formula to aid in deodorizing the fur.
Overall, this is our pick for the best antifungal dog shampoo available this year.
Aloe vera has antifungal and antibacterial properties
Ingredients work together to moisturize skin and fur
Full of vitamin E
---
2.

Veterinary Formula Clinical Care Shampoo — Best Value
If you need something to use often without breaking the bank, the Veterinary Formula Clinical Care Antiseptic and Antifungal Shampoo will likely do the trick. It comes in a 16-ounce bottle and 1-gallon bottle for those dogs that need plenty of work on their skin and coat. Some pups have incredibly sensitive skin that is continually flaky and itchy.
This Veterinary Formula shampoo works to deodorize a stinky dog while relieving their fungal and bacterial skin issues. These could include infections, like dermatitis and pyoderma, but it also covers a much wider variety of skin infections, which is excellent as the best antifungal dog shampoo for the money.
Common skin infections can be caused by many things, including allergies, trauma, a weakened immune system, skin folds, or even hormonal disorders. The formula uses aloe vera to soothe the skin, which also helps speed up the healing process. The shampoo is 100% paraben-free. It doesn't have as many healthy additives as some others on this list, but ingredients like aloe vera and coconut oil can go a long way.
Helps deodorize stinky pups
Serves to relieve skin infections
Best value
Fewer moisturizing and relieving ingredients
---
3.

KetoChlor Medicated Dog Shampoo — Premium Choice
KetoChlor might not come in the prettiest bottle, but it is a high-quality solution to your dog or cat's skin infections. It is a premium medicated shampoo, so it's much more expensive than most of the other general moisturizing shampoos on this list. Although it is medicated, it does not contain any harmful ingredients that would require a prescription. It is still best to talk with your vet before using it, though.
These bottles are sold in 8-ounce and 16-ounce sizes. KetoChlor is generally used as a fast solution to fungal and bacterial skin diseases, especially those caused by topical bacteria or yeast. The formula has chlorhexidine, ketoconazole, which is an anti-fungal, and an antiseptic for soothing properties.
KetoChlor's Medicated Shampoo works by disrupting the colonization of the bacterial or fungal micro-organisms on your dog's skin. It delays any irritation and helps slow or stop the colony's growth. It works to leave them smelling fresh as well, and it is low-lather in order to rinse away quickly.
Doesn't require a prescription
Works to disrupt colony growth
Still smells clean
Quite an expensive option
---
4.

Pet MD Antiseptic & Antifungal Dog Shampoo
Pet MD has created a medicated shampoo that you can use on dogs, cats, and even horses. It comes in a moderately priced 16-ounce bottle so you can use it for a couple of baths on dogs and cats.
This medicated shampoo is an antiseptic and antifungal product. It aids in relieving fungal and bacterial infections, such as acne, hot spots, and ringworm. It can even help soothe swelling from bruising, superficial cuts, and bug bites. This formula has chlorhexidine and ketoconazole to disrupt fungal and bacterial colony growth.
The formula not only has antifungal properties, but it is also skin-friendly. It contains no parabens or soaps, so it doesn't cause any further irritation. It has an added fragrance to keep your dog smelling clean and fresh.
Antiseptic and antifungal
No parabens or soaps
More affordable medicated option
Doesn't help moisturize the skin or coat
---
5.

Smiling Paws Pets Antibacterial & Antifungal Shampoo
Smiling Paws has developed an antibacterial and antifungal shampoo meant to soothe your pet's itchy scalp and break down developing communities of fungus and bacteria. It can be used on dogs and cats and has a finishing scent of cucumber and melon.
The Smiling Paws pet shampoo contains chlorhexidine and ketoconazole, similar to other medicated shampoos. This version doesn't require a prescription and is generally quite affordable. It comes in single or double packs of 16-ounce bottles.
The shampoo helps eliminate skin infections like ringworm, hotspots, mange, bacteria, fungus, and pyoderma. It also helps alleviate the need for costly medications filled with unknown chemicals. The shampoo is made in the U.S.A. Similar to some other medicated shampoos, this product doesn't help moisturize the skin.
Made in the U.S.A.
Single or double packs
Medicated to break down forming colonies
Doesn't include moisturizing agents
---
6.

BEXLEY LABS Curaseb Antifungal Dog Shampoo
Curaseb is an excellent option when it comes to choosing a medicated shampoo for dogs or cats. Chlorhexidine is the only active ingredient.
Curaseb utilizes a veterinarian-approved formula to treat fungal and bacterial infections on the skin of cats, horses, and dogs. It can help relieve the symptoms of all kinds of skin infections, including hot spots, allergies, paw licking, acne, growths, and more. Vets have approved it to be safe for dogs and cats of all ages, from puppies and kittens to senior animals.
Although it is a medicated formula, it contains skin and coat supplements. These include aloe vera and vitamin E to help soothe irritation, calm redness, and moisturize the skin and the coat. It also deodorizes and cleanses, leaving your pet with a cucumber melon scent. Each batch is made in the U.S.A. in a federally regulated facility and is only done in small quantities.
Includes aloe vera and vitamin E
Made in the U.S.A.
Deodorizing scent
Doesn't include ketoconazole
---
7.

Arava Natural Medicated Dog Shampoo
Arava utilizes minerals from the Dead Sea to help treat skin problems. It contains 28 natural ingredients that work together to soothe and moisturize your pet's skin so they can feel more comfortable. Many of these have antibacterial and antifungal properties to enhance the shampoo's potency.
The Bio-Care formula from Arava is pet-friendly, working to deep clean your dog's undercoat and skin, rid it of dandruff, and add a beautiful shine to the coat. It does this gently, stripping away the dirt and oils that eventually clog or irritate the skin.
The Arava formula is also explicitly designed to work on dermatological conditions. Your pet's shampoo helps heal all the symptoms of skin infections, including hot spots, mange, seborrhea, dandruff, ringworm, and more. In the end, your pup should be itch-free. Although many people do not prefer the smell, they do like the results. The company even provides a 30-day money-back guarantee.
Works against bacteria and fungi
Moisturizes skin and coat
Adds shine to the coat
---
8.

PetHonesty Antibacterial & Antifungal Dog Shampoo
PetHonesty strives to make genuine products that only contain ingredients that will help your pup. It wants to be transparent with its products and has chosen this as its focus, even down to its brand name.
This PetHonesty dog shampoo contains two active ingredients, including 2% chlorhexidine and 1% ketoconazole. They work together to treat fungal and bacterial infections on animals like dogs, horses, and cats. This formula is veterinarian-approved and works to both heal skin infections and remove odors. It has a light cucumber melon scent and breaks up colonies of bacteria.
The PetHonesty bottle comes in a 16-ounce size with a pump handle to make it easy to use, especially if your pet doesn't like getting baths. The company suggests using four to six pumps of shampoo per washing to treat fungus and heal the skin. It also contains aloe vera to make it extra gentle and enhance the formula's soothing capability.
PetHonesty donates 10% of all its profits to non-profits that protect animal life and train dogs to be service animals for those combating PTSD.
Includes chlorhexidine, ketoconazole, and aloe vera
Cucumber melon scent
Easy-pump handle
---
9.

Butler Phytovet Dog Shampoo
Butler Phytovet Dog Shampoo is an excellent option for a medicated shampoo. You can safely use it on dogs, cats, and horses. These animals frequently suffer from dry, patchy skin, have allergies, or get itchy and dry during the summer.
Butler Phytovet Dog Shampoo is made in the United States. It is sold in 16-ounce bottles, and there is not much more known about its ingredients beyond the active ones. These include a 2% quantity of chlorhexidine gluconate. It also has a 1% concentration of ketoconazole and a 0.05% concentration of phytosphingosine salicyloyl. These all work together to make an effective antifungal and antiseptic shampoo for animals.
Helpful active ingredients
Useful on cats, dogs, and horses
More expensive
Not as much ingredient transparency
---
10.

Nootie Medicated Antifungal Dog Shampoo
Nootie has created an antimicrobial medicated shampoo to help protect and preserve your dog's, cat's, or horse's skin. It is best for treating any dermatological condition that is known to be responsive to the two active ingredients. It is best to contact your vet before using this or any other medicated shampoo, to ensure that it can be a solution instead of further irritating your animal's skin.
The shampoo contains only two active ingredients, including the common chlorohexidine gluconate and the less frequently seen miconazole nitrate. The former functions as an antibacterial supplement and the latter as an antifungal ingredient.
Although the company is not clear on the rest of the shampoo's ingredients, it says that the formula includes a "soft lily passion" fragrance.
Antibacterial and antifungal properties
Fragrant
Unclear about other ingredients
More expensive
---
Buyer's Guide: Choosing the Best Antifungal Dog Shampoo
When it comes to buying dog shampoo in this year, we are quite lucky. The scientists, researchers, and veterinarians of our modern world can almost always determine what our poor pup is suffering from right away. They also know what chemicals and products will effectively treat our dog's symptoms through laboratory testing on the bacterial and fungal colonies.
Finding the right product is more about identifying what your dog has than about trying dozens of different products to see if they happen to affect it. While you might still have to try out a couple, going to the vet and finding out what kind of skin infection or allergy your dog has is a much better way to find the right product.
Fungal Infections
There are many different types of fungal infections for dogs that require an antifungal medicated shampoo to effectively treat without medication.
One common fungal infection is a yeast infection. These are non-contagious but quite damaging. A yeast infection causes an abnormal growth from the fungus Malassezia pachydermatis on your pup's skin. Eventually, this leads to inflammation, itching, smelly odors, and crusting, scabbing skin. Breeds like Lhasa Apsos and Basset Hounds are more prone to developing a yeast infection because of how easily excess oils can build up on their skin.
Another common infection is ringworm or dermatophytes. It is typically caused by a fungus called Microsporum canis. Interestingly, even with a name like ringworm, there is no worm involved. It is a highly contagious fungal infection, however. It can spread from contaminated objects or direct contact with skin, causing patches of hair loss and scaly skin.
Medicated Ingredients
Once you know exactly what kind of skin infection you are dealing with, you can choose a shampoo with the appropriate active medicated ingredients. Not all antifungal shampoos are medicated, but most are. It is not worth it to get your dog a medicated shampoo whose active ingredients have never been shown to affect their specific kind of infection.
Due to the need to combine medicated ingredients for effectiveness on certain infections and the fact that not all ingredients work on all infections, it is best to talk with your veterinarian before purchasing a shampoo. Effective active ingredients that you can look for include:
Chlorhexidine – Effectively treats yeast infections, especially when combined with miconazole
Ketoconazole – Prevents growth of fungus particularly well when treating ringworm
Miconazole – Treats ringworm and yeast infections
Clotrimazole – Is a topical ringworm treatment
Lime sulfur – Inhibits fungal growth
Enilconazole solution – Is an effective topical treatment for ringworm
Shampoos are only one part of a treatment, especially in the case of ringworm. Don't disregard the advice to pair it with oral treatments until the infection abates.
Other Helpful Ingredients
Other than the active medicated ingredients, there are plenty of other additions that can enhance a shampoo's formula. Look for a shampoo with added aloe vera and vitamin E supplements. These help target areas that need to be healed and soothed. The oatmeal and coconut oil options in certain shampoos help moisturize your pup's skin and coat. This moisturizing capability is beneficial when you are combating a fungal infection that causes a dog's fur to be brittle and dry.
Do Away With Harsh Chemicals
Of course, we want any product that we use on our pets to be safe for them. It is ineffective for too many harsh chemicals to be present in a shampoo; things like parabens or sulfates end up drying out the skin and fur. This only irritates the infection more and can cause further itching, swelling, and redness.
Does It Deodorize?
The final high-priority characteristic is the scent that it gives your dog. Dogs are known for developing a "doggy" smell. When they take a bath, that smell is only exacerbated. If the shampoo doesn't also help keep them smelling clean and fresh, it may not be worth it to you.

Conclusion
In the end, the choice for the best product comes down to Zesty Paws Oatmeal Anti-Itch Dog Shampoo. It is a high-quality product that packs a great deal of action into a single bottle. Not only does it have antifungal and antimicrobial properties, but the formula also works hard to moisturize the skin and heal any sores or abrasions potentially caused by a skin infection.
If you wanted to try out a shampoo with antimicrobial and antifungal properties without breaking the bank, Veterinary Formula Clinical Care Dog Shampoo is the option for you. It gives you the biggest bang for your buck while still providing you with a highly rated and reliable product.
If your dog has skin allergies or suffers from a skin infection, we hope that we have made finding the right product easier with these reviews. Whether you need a multi-purpose moisturizer and cleanser or a more hardcore medicated option, we have them all represented to help you and your pup on the path toward healing.
See also: How Long Should I Quarantine Cat with Ringworm — Everything You Need to Know!
---
Featured Image Credit: rachyt73, pixabay