10 Best Dog Carriers for Yorkies – 2023 Reviews & Top Picks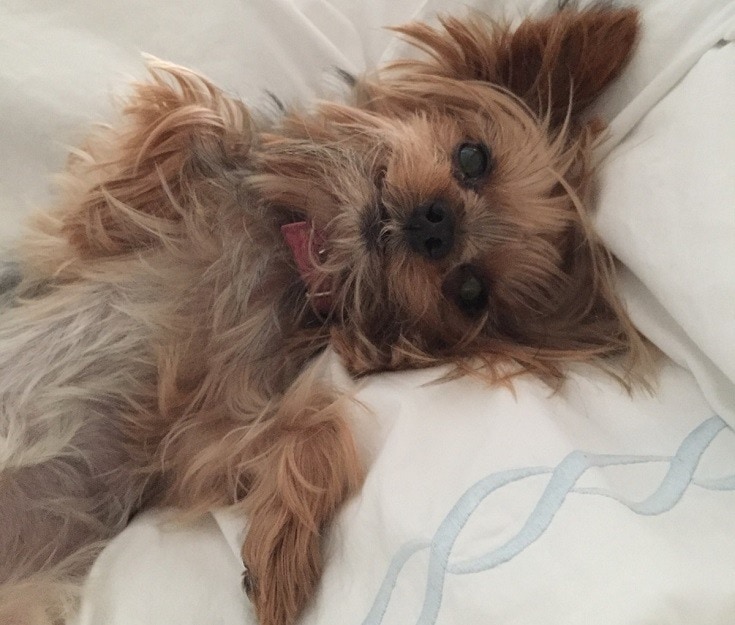 The Yorkie (or Yorkshire Terrier) is the 10th most popular dog breed in the United States, and it's easy to see why. Yorkies are gorgeous and full of personality and have been associated with luxury for decades. The breed may have seen a spike in popularity during the Victorian Era, but many would argue that our fascination with these dogs never truly went away!
Since the Yorkie is a toy breed, walking on a leash is often impractical, especially for long distances. If you're traveling with your pup, then investing in a high-quality carrier is practically a necessity.
Of course, just any carrier won't do. To help you find the best Yorkie carrier purses and Yorkie front carriers currently on the market, we've put together reviews of the most popular options out there.
A Quick Look at our Favorites in 2023
Rating
Image
Product
Details

Best Overall

HDP Paw Style Dog Carrier Purse

Sizes for one or two Yorkies
Removable pillow
Waterproof base
Check Price

Best Value

Outward Hound PoochPouch Dog Front Carrier

Mesh sides
Spreads carry weight across the body
Dog can look out of the top of the carrier
Check Price

Premium Choice

K9 Sport Sack Dog Carrier Backpack

Many color options
Plenty of storage
Five different safety features
Check Price

PetAmi Dog Purse Carrier

Airline approved
Plenty of ventilation
Multiple strap options
Check Price

MG Collection Soft Sided Travel Dog Carrier

Fashion-forward design
Plenty of ventilation
Two pockets for additional storage
Check Price
The 10 Best Dog Carriers for Yorkies
1.

HDP Paw Style Dog Carrier Purse — Best Overall
The HDP Paw Style Dog Carrier Purse is the perfect size for Yorkies and the purse style means that they can watch what's going on in the world while you carry them around. Two safety clips attach to a collar or leash, ensuring safety, while the carrier has a waterproof bottom, just in case.
The removable pillow means that you can enhance your Yorkie's comfort even further while walking, and there's a choice of a small carrier with a single opening, for one dog, or a medium carrier, which has two holes and is suitable for carrying two furry friends with you.
The simplicity, comfort, and great price make this the best carrier for Yorkies overall, although it would benefit from having a pocket or two in which to store your dog's bowls or toys. You can wipe stains away with a damp cloth and mild detergent, but you will need to hand wash the carrier.
Sizes for one or two Yorkies
Removable pillow for added comfort
Waterproof base
No pockets or storage area
Handwash only
---
2.

Outward Hound Dog Front Carrier — Best Value
The Outward Hound PoochPouch Dog Front Carrier, our pick of the best Yorkie carrier for the money, spreads the weight across your whole body while carrying, and it offers a hands-free method of carrying your four-legged friend when you're out and about. It enables your dog to keep his head above the bag so that he can keep an eye on his surroundings while being walked, and it has a storage pocket where you can put his leash and toys. The mesh sides ensure that air is allowed to pass through, preventing your dog from getting too hot and sweaty, even in hot conditions.
The carrier could be a little larger, not just for the benefit of the dog being carried, but because it is quite a snug fit for the person wearing it, too. The nylon and mesh carrier needs handwashing, although stains can be cleaned off with a damp cloth, in most instances.
Design spreads carry weight across the body
Your dog can look out of the top of the carrier
Mesh sides allow air to flow
Could be a bigger fit for the person wearing it
---
3.

K9 Sport Sack Dog Carrier Backpack — Premium Choice
The K9 Sport Sack Dog Carrier Backpack is a great option for Yorkie owners who aren't afraid to spend a little more for their canine companion. This secure backpack comes in six different sizes, though most Yorkies will fit into the extra small size. You can choose from 18 different color options.
This U.S.A.-made dog carrier is great for owners who like to take their Yorkie to the park, on public transport, or just around town without worrying about a hazardous leash. The sides of the carrying pouch are ventilated, and five individual safety features are ensuring that your pooch stays put. The shoulder straps are padded, and there's a removable storage bag for carrying your essentials.
If you're planning to walk or hike with this carrier, keep in mind that it is not waterproof and can become quite hot. Some owners reported that the color from the backpack bled onto their clothing.
Many color options
Made in the U.S.A.
Plenty of storage
Five different safety features
Not water- or weather-proof
Colors may bleed onto clothing
---
4.

PetAmi Dog Purse Carrier
If you travel with your Yorkie often, then you'll want to invest in a dog carrier that is airline approved. The PetAmi Dog Purse Carrier fits most airplane bag restrictions while still offering a stylish alternative to clunky plastic carriers. It can fit dogs up to 12 pounds and comes in five color options.
This soft carrier has several ventilation points to keep your dog cool and comfortable. The built-in leash attachment ensures that they don't jump or fall out, and the opening buckles shut for extra security. This carrier includes several strap options, so you can carry your pup by hand or on your shoulder.
Depending on your dog's weight, this carrier might not be sturdy enough for long trips. Also, the material is soft and not appropriate for dogs who like to chew.
Airline approved
Plenty of ventilation
Multiple strap options
Opening securely buckles
Not sturdy enough for all occasions
Not chew-proof
---
5.

MG Collection Soft Sided Travel Dog Carrier
If you hate carrying around a dog carrier that looks like a dog carrier, the MG Collection Soft Side Travel Dog Carrier is a stylish alternative. This handbag-inspired carrier blends into any wardrobe and is available in three colors: turquoise, purple, and black.
This soft-sided carrier features a quilted exterior with two durable handles. The top of the carrier features both a quilted and a mesh cover, so you can give your dog extra privacy or ventilation as needed. There are eight ventilation holes across the entire bag. There are two Velcro pockets for carrying your essentials.
If your Yorkie enjoys chewing on or escaping its carrier, then this probably isn't the ideal one for you. The material is soft and can be chewed apart easily, and the only thing holding the top flap in place is a strip of Velcro.
Fashion-forward design
Plenty of ventilation
Two pockets for additional storage
Easy for dogs to escape
Easy to chew apart
---
6.

TOMKAS Dog Carrier
Another great option for owners who prefer a sling-style dog carrier is the TOMKAS Dog Carrier. This travel tote comes in 10 reversible color options for maximum style potential. Dog breeds weighing between 3 and 10 pounds will fit comfortably in this carrier, including Yorkies.
This carrier is made from thick, soft fabric for your dog's comfort. The opening can be adjusted to fit your dog while the security lock connects to their collar or harness to keep them safely in the bag. This carrier also includes an additional front pocket for holding keys, poop bags, or other must-have items.
According to some owners, this carrier is smaller than advertised. The material is not that breathable, which may cause your dog to overheat if left in the bag for too long. The shoulder strap is long and not adjustable.
Adjustable opening and security lock
Includes an extra storage pocket
Made of soft and durable fabric
Smaller than expected
Fabric is hot and not breathable
Strap is too long for some owners
---
7.

PetsHome Dog Carrier
The PetsHome Dog Carrier is one of the most fashionable dog carriers for Yorkies currently available, even surpassing certain standard handbags in style points. It is available in two different sizes — we recommend the small size for Yorkie owners. You can also choose from 10 trendy colors that will suit any outfit.
This carrier is made from PU leather and features high-quality metal hardware throughout its design. There are three mesh panels for ventilation and two built-in cushions inside the carrier. The built-in leash prevents dogs from jumping out of the carrier. You can let your dog poke its head out or keep the top flap closed for privacy.
Some owners reported that the PU leather used for this carrier gives off a strong odor. The construction quality can also be poor in certain cases, with a few owners receiving bags with misaligned zippers and other issues. It is possible for a determined dog to unzip the top flap and escape.
Extremely fashionable design
Built-in cushions and safety leash
Three mesh panels for ventilation
Gives off a strong odor
Poor quality control
Dogs can unzip the top flap
---
8.

WOpet Fashion Pet Carrier
At first glance, you would probably never guess that the WOpet Fashion Pet Carrier is designed to carry a small dog. In fact, this handbag-style carrier is so fashionable, you might decide to use it as an everyday purse instead. This black and gold carrier will hold dogs up to 14 pounds.
This dog carrier is made of PU leather, which is designed to be fade resistant and easily washed. Each side of this bag features a breathable mesh panel, but passersby won't be able to see your dog sitting inside.
While this carrier looks great, many owners reported issues with the zipper quality. The bag's zippers, including the one to the pet compartment, break quite easily. This carrier also won't hold its shape well, even with a lightweight pet inside.
Doesn't look like a pet carrier
Fade-resistant and washable PU leather
Mesh privacy panels on each side
Poor quality zippers
Does not hold its shape
Gives off a bad odor
Shows wear and tear quickly
---
9.

SlowTon Pet Sling Carrier
For those who own small dogs, one of the most comfortable ways to carry them is often in a sling. The SlowTon Pet Sling Carrier is another option for owners who want to keep their Yorkie by their side at all times. This bag will safely hold pets up to 9 pounds and is available in three colors.
The drawstring opening and collar safety hook make it easy to keep your dog inside this carrier. The flat bottom is padded for comfort and can be removed if necessary. If soiled, the entire bag is machine washable and durable. While the padded shoulder strap will prevent fatigue, the front pocket will hold your dog's treats or your keys.
Even for small dogs, this carrier might not offer enough space for them to sit inside comfortably and securely. The bottom is also not that supportive, which makes some dogs nervous. While the strap is adjustable, it is still quite short at its longest point.
Machine-washable construction
Collar attachment hook keeps dog inside
Front pocket for extra storage
Not very supportive
Strap is too short for some owners
Not deep enough for many dogs
Bulky design
---
10.

BETOP HOUSE Soft-Sided Pet Carrier
The BETOP HOUSE Soft-Sided Pet Carrier is a handbag-inspired carrier that will fit a variety of small dogs, including Yorkies, and is made from stylish synthetic leather.
This dog carrier zips closed and features multiple mesh panels for ventilation. The bottom of this bag is cushioned and removable, and there is a built-in leash attachment inside for safety. The two small front pockets are the perfect spot to put your keys or other small items.
Some owners reported a bad odor coming from the synthetic leather material. The mesh panels are easily chewed through, and the bag does not stay closed, allowing the dog to escape. While this carrier will work for traveling, it is too bulky to comfortably carry around for extended periods.
Looks like a regular handbag
Built-in leash for safety
Two front pockets and cushioned bottom
Material produces a bad odor
Flaps do not stay closed
Mesh is not durable
Too bulky to comfortably carry
Related Read: 10 Best Dog Carrier Purses
---
Conclusion:
When it comes to owning and caring for a dog, it seems like the list of must-buy items never ends. But if you own a toy or small breed, such as a Yorkie, one of the first items on your list should be a reliable, high-quality carrier.
Our pick for the best dog carrier for a Yorkie is the HDP Paw Style Dog Carrier Purse. This carrier is a sling-style bag made of waterproof material that will keep your dog warm and dry. It is fully machine washable and even includes an extra pocket for storing essential items. With the built-in leash, you won't need to worry about your Yorkie making a getaway.
For dog owners on a budget, we suggest the Outward Hound PoochPouch Dog Front Carrier. This affordable dog carrier can be worn on your back or your front, keeping your dog close and your hands-free. There are many great colors to choose from, and the shoulder straps are padded for your own comfort.
If you're an active person who doesn't like to leave your Yorkie at home, the K9 Sport Sack Dog Carrier Backpack is a premium carrier that will go with you anywhere. You can choose from several colors, each of which is made in the United States. This backpack features plenty of storage pockets and a wide range of safety features to protect your pup.
For many Yorkie fans, one of the best things about the breed is being able to carry them with you almost anywhere. With a safe, durable, and fashionable carrier, you and your best friend can take on the entire world together. Hopefully, with the help of our reviews on the best Yorkie carriers, you're one step closer to finding the perfect dog carrier for your own Yorkshire Terrier!
---
Featured Image Credit: lauramp, Pixabay