7 Best Cat Exercise Wheels – 2023 Reviews & Top Picks
As more studies show that cats should be kept indoors for safety reasons, the greater the incidence of obesity that is occurring in our feline companions. Of course, we want to keep our cats safe, but indoor environments are often not stimulating enough, and cats don't get enough exercise. Obesity can lead to numerous health problems, so it's incumbent upon owners to find ways to get their cats up and moving. Thankfully, you don't have to "reinvent the wheel." Cat exercise wheels are easy to find and loved by cats. They provide them with the physical and mental stimulation they need to stay healthy. To help you find the best cat exercise wheel for your furry friend, we've reviewed the best cat exercise wheels in this year.
A Glance at Our Winners in 2023
Rating
Image
Product
Details

Best Overall

Penn-Plax Cat Exerciser Wheel & Tree

Two in one activity center
Three resting pads
Carpet-lined exercise wheel
Check Price

Best Value

Penn-Plax Spin Kitty Wheel

Easier to fit in a room
Allows cats to run and scratch
Easy to assemble
Check Price

Premium Choice

TT Build Cat Wheel Toy

Virtually silent
Durable construction
Check Price

One Fast Cat Exercise Wheel

Easily cleaned
Lightweight
Easy to assemble
Check Price

TWW Cat Treadmill

Made from durable PVC
Replaceable terry cloth covers
Silent bearings
Check Price
The 7 Best Cat Exercise Wheels in 2023
1.

Penn-Plax Spin Kitty Cat Exerciser Wheel & Tree – Best Overall
| | |
| --- | --- |
| Weight | 29.15 pounds |
| Dimensions | 31.5 x 15.75 x 35.04 inches |
| Material | Wood and Sisal |
| Toy Feature | 2 in 1 cat tree and exercise wheel |
The Penn-Plax cat tree and exercise wheel is our pick for the best overall cat exercise wheel. It's made from heavy-duty wood, has a stable climbing frame for relaxation, and a 20-inch exercise wheel to run on.  It's the perfect space for your cat to call her own. The wheel is lined with durable Sisal carpet to provide extra grip, and the carpet also lines the posts of the tree to provide several scratching spots.
Two in one activity center
Three resting pads
Carpet-lined exercise wheel
The exercise wheel is small, so it may not accommodate larger cats
---
2.

Penn-Plax Spin Kitty Cat Wheel – Best Value
| | |
| --- | --- |
| Weight | 27.47 pounds |
| Dimensions | 23.62 x 12.88 x 35.83 inches |
| Material | Wood and Sisal |
| Toy Feature | Exercise Wheel, Scratcher |
The Penn-Plax Spin Kitty Cat Wheel is our choice for the best value cat wheel. It is the less complex version of their cat wheel plus tree. Your cat will get plenty of exercise from this wheel without the toy taking up too much space in your room. Like Penn-Plax's elaborate model, this cat wheel is made of wood and sisal, allowing your cat to stretch and scratch after an exercising session.
This wheel is best designed for an average-sized cat. Pet owners who have furry felines 15 pounds or more found that this wheel was too small to handle them. The carpeted parts of the wheel cannot be replaced once your cat has completed scratched them.
Easier to fit in a room
Allows cats to run and scratch
Easy to assemble
Not suitable for large to extra-large cats
Sisal carpeting cannot be replaced
---
3.

TT Build Cat Wheel Toy – Premium Choice
| | |
| --- | --- |
| Weight | 55 pounds |
| Dimensions | 41 x 9 x 41 inches |
| Material | Wood and Canvas |
| Toy Feature | Exercise wheel |
The great thing about the
TT Build Cat Wheel Toy
is that it is virtually indestructible. Its design is simple, it's easy to set up, and it's made from durable plywood that stands up to long-term use. This exercise wheel is also virtually silent, so your cat won't keep you up all night while using it. The biggest downside of this exercise wheel is the price. It's made to fit into your house like a piece of
designer décor
, but unfortunately, it has the price tag to go with it.
Virtually silent
Durable construction
---
4.

One Fast Cat Exercise Wheel
| | |
| --- | --- |
| Weight | 29 pounds |
| Dimensions | 35.2 x 14 x 10.6 inches |
| Material | Foam |
| Toy Feature | Lightweight |
This exercise wheel from
One Fast Cat
is lightweight and can be easily assembled or disassembled as needed. The foam surface prevents your cat's claws from catching on the wheel and gives them a soft footing for running on. This wheel can be hosed or wiped down with a wet cloth when it needs cleaning, and the wheel covers prevent your floor from being scratched if you have hardwood. Consumer reviews of this product report that it doesn't stand up to heavy use as the outer material is plastic that cracks or breaks. It's also non-returnable once it's been assembled, so, unfortunately, you'll need to decide if the product will work for you before you set it up and let your cat try it.
Easily cleaned
Lightweight
Easy to assemble
Not durable
Non-returnable once assembled
---
5.

TWW Cat Exercise Treadmill
| | |
| --- | --- |
| Weight | 21.23 pounds |
| Dimensions | N/A |
| Material | Polyvinyl Chloride |
| Toy Feature | Quiet |
The
TWW Treadmill
has superior stability and weight-bearing capacity compared to some of the other exercise wheels on this list. It has been load-tested up to 176 pounds without being stressed, so it's safe to say that cats of any size shouldn't damage the wheel. With silent bearing, this wheel is extremely quiet, reducing the disruption to the house while it's in use. This wheel comes with terry-cloth blanket covers that Velcro in place to provide adequate footing for your cat, and they are replaceable if they become damaged. The biggest downside to this product is the price. As with most cat exercise wheels, it's expensive. This one, however, does appear to be good quality for your money.
Made from durable PVC
Replaceable terry cloth covers
Silent bearings
---
6.

JOUDOO Cat Treadmill
| | |
| --- | --- |
| Weight | 39.37 pounds |
| Dimensions | 42.13 x 38.58 x 5.51 inches |
| Material | Carpet and plastic |
| Toy Feature | Available in 12 different sizes |
This
cat treadmill from JOUDOO
 is high-quality but difficult to assemble. If you choose this treadmill, we recommend that you're handy and good at DIY projects. That said, all the screws, tools, and parts required are included in the package. Assembly takes about four hours in total, and it requires at least two people. This wheel is sturdy and can hold over 150 pounds. It has a large base that prevents toppling, and JOUDOO has taken the time to make sure all the edges are smooth to avoid hurting your cat or damaging your house. Since the runway diameter is extra wide, your cat won't have trouble with falling off.  The wheel can be cleaned easily with a wet cloth, or the carpet liner can be vacuumed.
Wide runway
Wide base
Sturdy
Easy to clean
---
7.

WUQIAO Cardboard Cat Exercise Wheel
| | |
| --- | --- |
| Weight | Unknown |
| Dimensions | 29 x 14.2 x 28 inches |
| Material | Wood and Paper |
| Toy Feature | Exercise Wheel, Scratcher |
The WUQIAO Cat Exercise Wheel takes a unique approach with its design to this exercise toy. Most of this wheel is made of corrugated paper, making it environmentally friendly. Your cat can climb on this toy, scratch it until its heart is content, and get needed exercise. The WUQIAO comes in two different sizes: small and large. The small size is suitable for kittens and small young adult breeds, while the larger size is suitable for adult-sized cats. However, cats that are 15 pounds or more will not fit in the large size of this toy.
Some buyers felt that this product was too expensive because it is primarily made with corrugated paper material.
Can be used for running, scratching, and climbing
Eco-friendly
Comes in two sizes
Costly
Not suitable for larger cats

Buyer's Guide: Choosing The Best Cat Exercise Wheel
After browsing our product review list, you might still be having trouble deciding which cat exercise wheel your cat would prefer. Are these wheels safe? Are they worth the money? Will your cat even use it? To help you answer these questions and more, we've put together a buyer's guide, including FAQs to give you all the information you need to know about buying a cat exercise wheel.
Considerations when buying a cat exercise wheel
There are some questions to ask yourself before buying an exercise wheel that can help you determine which one to choose.
How loud is the running wheel? Cats are, by nature, more active at night. If you don't want your sleep disrupted, you probably don't want an exercise wheel that's loud. There's nothing worse than crawling into bed after a long day than hearing your cat's exercise wheel squeaking and grumbling to keep you awake. Several of the choices on our list have mechanisms designed to keep noise levels low and disruption to a minimum.
How big is the wheel? Don't overlook the size of the wheel when making your purchase. Some of these cat exercise wheels are cumbersome and take up a lot of space. If you only have a small living space, to begin with, this could be an issue.
Are there any other toys included? Cat exercise wheels aren't cheap, so they should be considered an investment into your cat's health and well-being. Some cat wheels come with add-on features that encourage scratching, or they're like our number one review and include a tree and cat climber along with the wheel. Take this into consideration when making your purchase. It can also be a space saver to combine multiple toys/scratching posts/rest spaces into one device.
Benefits of cat exercise wheels
The greatest benefit of a cat exercise wheel is that it will motivate your cat to exercise. In 2019, 44% of domestic cats in the U.S. were found to be obese. Given this statistic, it's important that cat owners do everything they can to give their pets a higher quality of life. It's hard to give indoor cats the amount of exercise they need, and exercise wheels are one way to solve the problem. But would your cat actually use the wheel if you gave it to them? Cats have been shown to increase their physical activity if given the opportunity to do so. Your cat isn't lazy because they want to be; they simply need the appropriate stimulation and opportunity to get up and move.
Training your cat to use an exercise wheel
Although your cat is likely to start using the exercise wheel on her own, you can help train your cat to use it. Placing your cat's favorite toy on the wheel (preferably one they love to chase) will help encourage them to hop on. Once they realize they can walk or run on the wheel while chasing the toy and do so happily, you can reward them with praise or a treat as positive reinforcement for using the wheel. Treats or toys can be used as motivation to encourage your cat to jump on and off the wheel. If you choose to use treats, be mindful of your cat's intake, so you don't inadvertently feed them too many calories, however. While your cat might take a while to get used to their exercise wheel, be patient. As they get used to it, they will increase the amount of time they use it for. If you have an obese cat or aren't comfortable with using treats for training, you can also use a laser pointer. Laser pointers encourage your cat's natural predatory instincts and give them something to chase. Just be careful not to point it in your cat's eyes as you can damage their retinas. Be patient with your cat if she's not immediately taken to her exercise wheel. The amount of time it takes varies greatly between individual cats. Some take to it immediately and never want to get off. Other's take several days just to stand on the wheel surface, then several more days to start walking on it. If you make training sessions positive, your cat will take to it eventually.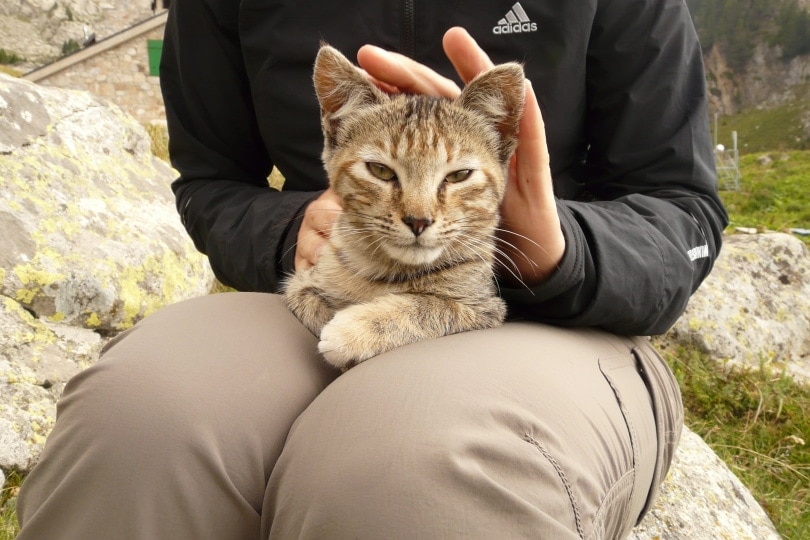 Are cat exercise wheels safe?
While they can look intimidating if you take a look at how cats exercise on their own, a wheel isn't much of a stretch for your cat. Cats like to jump on tall objects, climb things, run, chase, and even slide into walls. Reputable cat wheels are wide enough that your cat won't go flying off and hurting themselves. The cat exercise wheels listed in this review article are all safe to use for your cat.
How often should cats use the exercise wheel?
Cats should use the exercise wheel for approximately 15 minutes at a time, with a total daily playtime of about an hour. Even if your cat loves her exercise wheel, this hour of playtime should be broken up into small chunks throughout the day to encourage mental well-being, and your cat should have different types of play to prevent boredom from setting in. As with any activity, if the exercise wheel is their only outlet, your cat will become bored with it over time.
Conclusion
Our recommendation for the best overall cat exercise wheel is the Penn-Plax Spin Kitty Cat Exerciser Wheel & Tree. It's a combination of an exercise wheel, cat tree, and scratching posts that incorporate all your cat's needs into one place. The best value for the money is the BurgeonNest Interactive Cat Toy. It encourages the same level of activity as a traditional cat exercise wheel but at a lower price point. It's also a great option for smaller spaces that may not accommodate a full-sized exercise wheel.
---
Featured Image Credit: JOUDOO, Amazon