7 Best Cat Treats – 2023 Reviews & Buyers Guide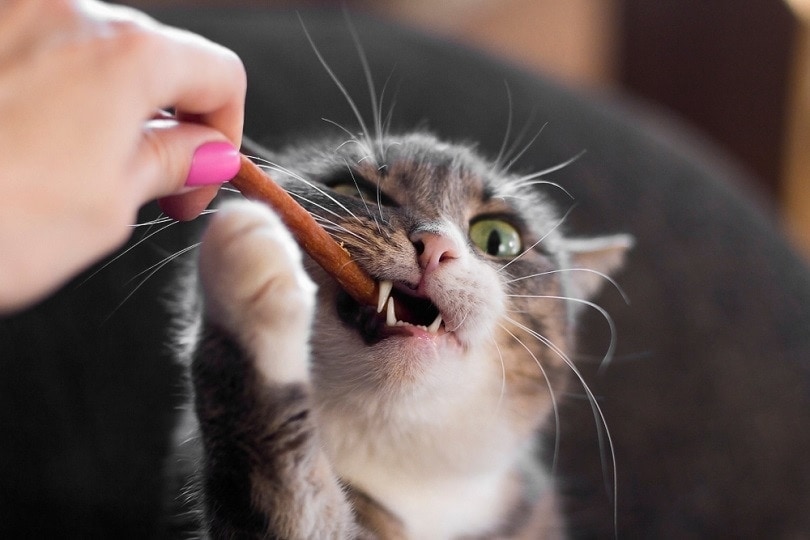 Our feline friends rely on quality food and treats in order to remain healthy. A balanced diet is absolutely crucial for the well-being of all animals, but sometimes your fur baby deserves a little bit of a treat to show them that they did something you liked or even as a little pick-me-up from time to time. This is where tasty cat treats come in. Even though there are a lot of choices out there, you want to make a choice that uses clean ingredients and is safe for our cats to eat a couple of times per week. Special snacks change the monotony of their normal routines and give them something to look forward to. With endless options, how do you know which ones are the best to give your cat? Take a look through some of these top reviews to find cat treats in all different price ranges and with many different benefits.
A Quick Comparison of Our Winners (2023 Update)
Rating
Image
Product
Details

Best Overall

PureBites Chicken Freeze-Dried Cat Treats

Minimal calories
No grains or gluten
Freeze-dried preserves flavor and nutrients
Check Price

Best Value

Temptations Chicken Flavor Cat Treats

Various flavors
Different packaging sizes to choose from
Two different textures keeps cats intrigues
Check Price

Premium Choice

Greenies Feline Salmon Dental Cat Treats

Support dental health
Under 2 calories per treat
Shapes to remove tartar buildup
Check Price

Best for Kittens

Hartz Delectables Tuna Cat Treats

Great for picky eaters
Soft texture for kittens
Real tuna and whitefish
Check Price

Friskies Party Mix Crunch Cat Treats

Uses real chicken
Helps clean teeth
Offers variety to cat
Check Price
The 7 Best Cat Treats
1.

PureBites Chicken Breast Freeze-Dried Cat Treats – Best Overall
| | |
| --- | --- |
| Size: | 1.09 oz. |
| Lifestage: | Adult |
| Food Form: | Freeze-dried |
| Special Diet: | High protein with no corn, wheat, or soy |
A simple way to guarantee that your cat is only eating a clean diet is to stick to brands that use minimal ingredients with names you recognize. These are the best overall cat treats because they are made from 100 percent chicken. With only 2 calories in each piece, your cat is going to feel like they're indulging in something naughty without you having to worry about them packing on some extra pounds. These PureBites treats are also sourced in the United States, and the freeze-drying process preserves all the beneficial nutrients that you want your pets to have.
These healthy cat treats are an excellent option for cats with sensitive stomachs. They are simple to break down into smaller pieces because they shred just like cooked chicken does. Since there is only one ingredient in them, there are no grains or gluten that could upset them.
Only one ingredient
Freeze-dried preserves flavor and nutrients
No grains or gluten
Minimal calories
Sourced in USA
---
2.

Temptations Tasty Chicken Flavor Cat Treats – Best Value
| | |
| --- | --- |
| Size: | 16 oz. |
| Lifestage: | Adult |
| Food Form: | Dried |
| Special Diet: | N/A |
Finding the best cat treats for the money can be a challenge. You want healthy treats for your cats to snack on without breaking the bank every time you buy them. These Temptations Chicken treats are hands down the best bang for your buck. Although there are several different sizes, the best value comes from the 16 oz tub for a very affordable price. These are a personal favorite because my cats can't get enough of them. The second they hear me open the top, they come running from the other end of the house.
These treats are best for adult cats. They are crunchy on the outside with a soft center. At only 2 calories per treat, you feel good about giving them to your cat a few times a week. A beneficial ingredient in these is an amino acid called taurine that helps promote overall feline health. There are many different protein flavors to choose from as well, so you can tailor them to whatever your cat's preferences are.
Various flavors
Different packaging sizes to choose from
Two different textures keep cats intrigued
Affordable
If you're looking for a balanced, highly nutritious cat food made with human-grade ingredients, take a closer look at Smalls. You can even save 40% on this premium cat food by entering code HEPPER2023 at checkout!
---
3.

Greenies Feline Savory Salmon Dental Treats – Premium Choice
| | |
| --- | --- |
| Size: | 4.6 oz. |
| Lifestage: | Adult |
| Food Form: | Dental Treat |
| Special Diet: | Natural |
All cat owners know how big of a hassle it can be to try to keep their pet's teeth plaque-free. These Greenies salmon treats are a tasty way to scrape tartar and give them essential vitamins and minerals. There are under 2 calories in every bite, and the shape is the key to their success. These are not for kittens with sensitive teeth because of their crunchy texture. However, there are a lot of flavors to choose from. The price for a small bag is a bit more expensive than other brands, but that's because they are specifically designed with a single goal in mind.
Support dental health
Under 2 calories per treat
Shapes to remove tartar buildup
Variety of flavors
Pricey
Not suitable for kittens
---
4.

Hartz Delectables Stew Tuna & Whitefish Cat Treats – Best for Kittens
| | |
| --- | --- |
| Size: | 12-pack of 1.4 oz. |
| Lifestage: | Kitten, adult |
| Food Form: | Stew |
| Special Diet: | Finicky eaters |
There aren't a lot of treats that are great for cats under 1 year of age. This is where Hartz Delectables comes in. This is a stew-based treat that comes in a pouch. The soft texture of the food is made with real tuna and whitefish so that it tastes good, provides real nutrients, and doesn't hurt the gentle teeth of a young kitten. It also has real meat chunks that your kitty can't help but indulge on. The downside to these wet products is that they are expensive and some young cats have sensitive stomachs that can't handle the richness of the food.
Soft texture for kittens
Great for picky eaters
Real tuna and whitefish
Expensive
Too rich for some cats
---
5.

Friskies Party Mix Crunch Cat Treats
| | |
| --- | --- |
| Size: | 20 oz. |
| Lifestage: | Adult |
| Food Form: | Dried |
| Special Diet: | N/A |
Your cat is never going to get rid of their treats when they have a party mix to choose from. These Friskies crunchy cat treats use chicken, turkey, and liver so that your pet isn't stuck eating the same flavors over and over again. The crunchy texture helps to keep teeth clean and they use real chicken so that they are nutritionally balanced for all adult cats. The packaging comes in many different sizes, so you can choose one based on how many pets you have. Although they are affordable, they do contain a lot of different ingredients that might not work well for your cat.
Offers variety to cat
Helps clean teeth
Uses real chicken
A lot of ingredients
For adults only
---
6.

Wellness Kittles Grain-Free Chicken & Cranberry Cat Treats
| | |
| --- | --- |
| Size: | 2 oz. |
| Lifestage: | Adult or kitten |
| Food Form: | Dried |
| Special Diet: | Grain free |
As we become more aware of what is safe for our cats, many owners are looking for treats that are free from corn, wheat, and soy. These grain-free treats are crunchy and have added nutrients from chicken, cranberries, and blueberries. These are also an excellent option for both adults and kittens. At such an affordable price, it is hard to turn these treats down. With such clean ingredients, these treats are extremely affordable. The biggest letdown is the flimsy packaging that cats easily tear through. Thankfully, there is only one calorie per treat so they won't go too overboard on calories if they do tear it open.
Clean ingredients
Cheap
Safe for kittens and adults
Under one calorie per treat
---
7.

Halo Liv-a-Littles Grain-Free Chicken Breast Cat Treats
| | |
| --- | --- |
| Size: | 2.2 oz. |
| Lifestage: | Adult |
| Food Form: | Freeze-dried |
| Special Diet: | Grain free |
The first thing that immediately stood out when we came across these Halo freeze-dried treats is that they are safe for both felines and canines. Why not knock out two birds with one stone whenever you can? Made from 100 percent chicken, you know that these treats are a safe choice for your pets. Unfortunately, these treats are pretty pricey. They also don't crumble as easily as other freeze-dried options if you prefer to sprinkle them on top of their normal kibble. The packaging is very sturdy to stop sharp kitty teeth from busting them open. There are also 8 calories in every treat, which could add up and make your cat gain some unnecessary weight.
100% chicken
Safe for both cats and dogs
Sturdy packaging
Expensive
Don't crumble easily
Over 8 calories per treat
Buyer's Guide: How to Choose the Best Cat Treats
Even though you love your cat dearly, that doesn't mean you know what to look for when purchasing cat treats. Try to aim for products from trusted brands that work with your cat's diet and use clean ingredients. Here are some of the top factors to take into consideration before you buy: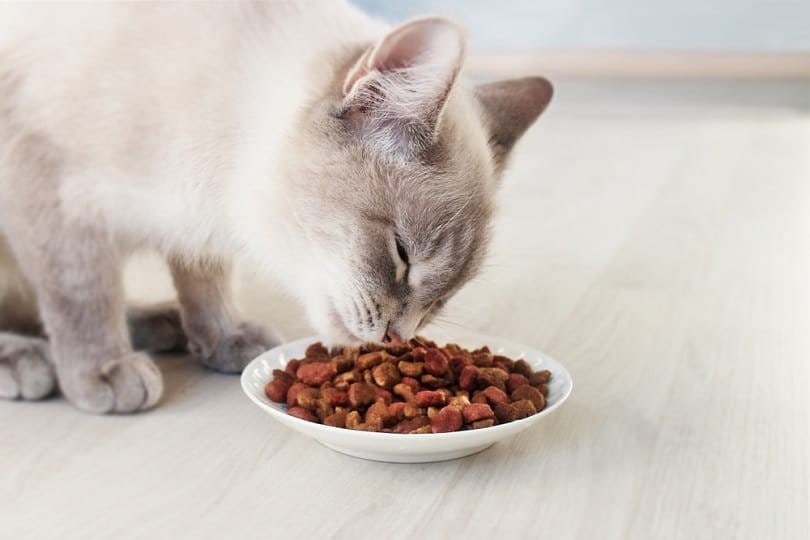 Ingredients
The ingredients are the most important part of the entire buying process. Do not buy any treats that have a long list of stuff that you can't pronounce or recognize. The cleaner the ingredients, the better they are for your cat. If possible, only buy treats with one ingredient, especially for cats with sensitive stomachs.
Calories
While treats are a nice way to reward your pets, too many of them can lead to obesity and many other health problems. Stick to treats that have 2 or fewer calories in them.
Specific Health Conditions
Some cats are put on special diets by either you or their vet. Only buy treats that fit into this type of diet and works for their bodies. This includes buying treats for the appropriate age.
Texture
The texture is important for a number of different reasons. Crunchy treats are good for helping keep a cat's teeth clean, while softer treats are good for young or senior cats. Soft foods are also good for cats that are extra picky when it comes to eating.
Flavor
Believe it or not, most cats have a flavor that they prefer to others. While some cats love the fishy taste of salmon, others prefer to stick to plain chicken. Pay attention to what your kitty likes and is willing to eat.
Health Benefits
Your pet's health is probably your number one concern. Some treats are formulated specifically for a healthy and well-balanced diet. There are also some that have additional benefits that work for your specific cat and whatever situations you have going on.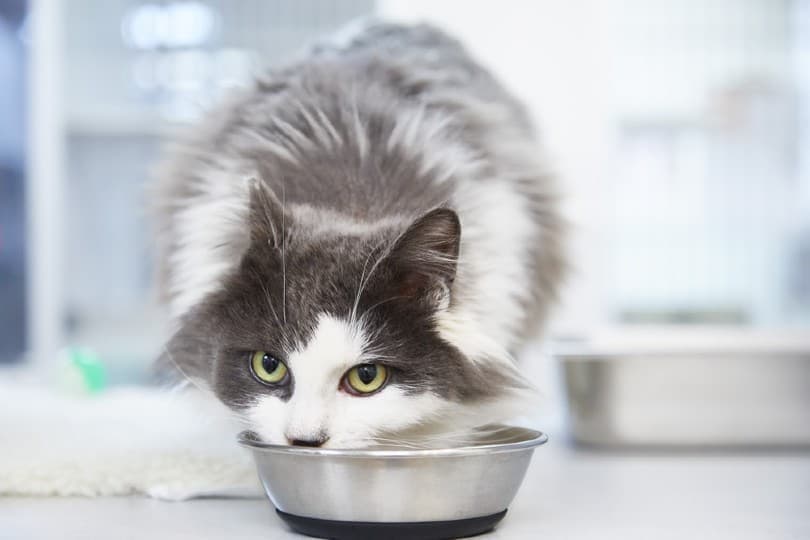 Conclusion
With endless reviews to scroll through, finding cat treats that are healthy and tasty could leave you more confused than before you started searching. After much research, we have found that the best overall cat treats come from the one-ingredient PureBites freeze-dried treats. However, if you're looking to save a few extra bucks, the best for your money is the Temptations tasty chicken cat treats. All of the cat treats on this list are a good choice that is going to work well for your cat regardless of any health issues. At the end of the day, giving your cat the best means that they feel their best and live the longest, healthiest, and happiest lives possible.
---
Featured Image Credit: Marinka Buronka, Shutterstock