4 Homemade Grain-Free Cat Treat Recipes (Vet Approved)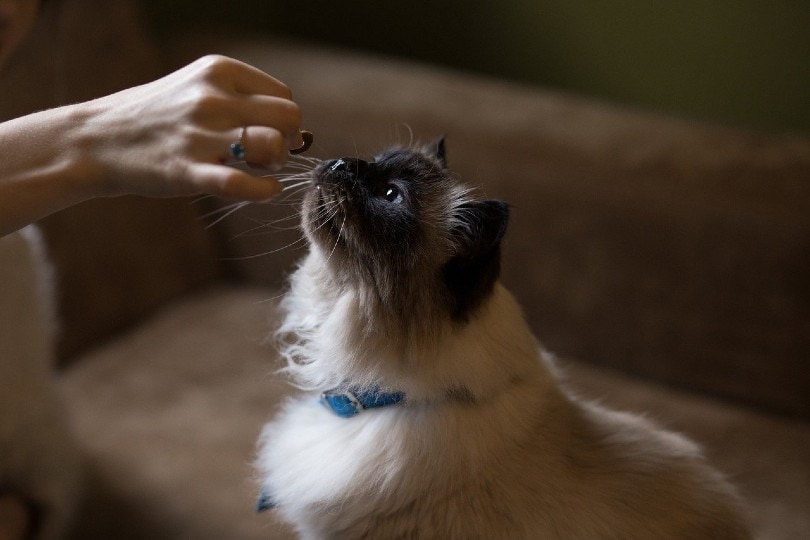 You'd be surprised by the number of grain-inclusive cat treats that are on the market. In fact, most cat treats on the market have some sort of grain in them.
While you can find treats without any grain, these tend to be quite expensive and are often out of many people's budgets. Plus, cats don't always like the flavor or texture, as many grain-free treats are simply freeze-dried meats.
Luckily, you can create your own with the straightforward recipes that we've included below. With so many different options to choose from, you should be able to find a recipe that your feline likes with ease.
The Top 4 Homemade Grain-free Cat Treats Recipes
1.

Tuna and Pumpkin Cat Treats
Tuna and Pumpkin Cat Treats
These simple treats are tasty and full of many great ingredients for your feline. The pumpkin is said to be good for digestive problems, and most cats can't get enough of the tuna flavor.
Equipment
Baking sheet

Food processor

oven

Parchment paper
Ingredients  
2

cans of low sodium tuna (tuna in water)

not drained

3

egg yolks

3

tablespoons

sea meal mineral powder

½

cup

cooked pumpkin

½

cup

coconut flour
Instructions 
Preheat your oven to 350 degrees

Place all the ingredients into your food processor and blend until it is very fine-grained. You want it almost paste-like.

Use a ¼ teaspoon to drop spoonfuls onto a parchment-lined baking sheet. Make a firm disc by pressing with your finger.

Bake until the treats become golden brown, which should take about 12 minutes. Then, flip the treats over with a spatula and cook for another three to five minutes to brown the opposite side.

Allow the treats to cool thoroughly and then store them in an airtight container. This makes many treats, so you should be good for a few weeks.
Nutrition
---
2.

Two-Ingredient Tuna Cat Treats
This recipe includes only tuna and eggs, making it a good option for cats with allergies. While it doesn't require many ingredients, you do have to utilize a lot of equipment, including a piping bag. As long as you have all of the equipment handy, this recipe should be extremely inexpensive.
| | |
| --- | --- |
| Servings: | 50 |
| Prep Time: | 10 minutes |
| Cook Time: | 25 minutes |
| Total Time: | 35 minutes |
Equipment:
Parchment paper
Oven
Baking sheet
Whisk (hand or electric)
Blender
Piping bag
Ingredients:
1 egg
1 tin of low sodium (in water) tuna (drained)
Directions:
Preheat your oven to 330 F.
Separate the egg white from the yolk, placing the white in a mixing bowl. You can discard the yolk.
Beat the egg until stiff peaks form.
Place the tuna into your blender. Then add a small amount of the egg to the tuna (about two tablespoons). Blend thoroughly to make a smooth paste.
Remove the mixture and place it into the bowl with the egg whites. Fold them in together, being careful not to knock the air out of the mixture.
Use a piping bag to place the mixture onto a parchment-lined baking sheet. Keep the swirls small for easy eating. However, you can adjust based on your cat's size.
Put the sheet in the oven for 20-25 minutes. The treats should come off of the tray easily.
Allow them to cool completely and then store them in an airtight container. They typically last for two weeks.
---
3.

Chicken Cat Treats
You can easily adjust this recipe to feature other sorts of meat as well, including turkey and beef. Sardines and nutritional yeast add flavor, but you could technically leave those out if you wish. The catnip is a great option for most cats, though you can leave it out too if your cat doesn't care for it.
| | |
| --- | --- |
| Prep Time: | 20 minutes |
| Cook Time: | 20 minutes |
| Total Time: | 40 minutes |
Equipment:
Parchment paper
Piping bag
Oven
Baking sheet
Food processor
Ingredients:
1 lb. chicken
75-oz can of Sardines (no salt added)
2 egg yolks
⅓ cup of nutritional yeast
1 tbsp catnip
¼ cup water
Directions:
Set your oven to 350 F.
Place all ingredients into the food processor and blend into a well-mixed, thick paste.
Place the mixture into a piping bag.
Pipe small, treat-sized dollops onto a parchment paper-lined baking sheet. You may want to use scissors or a knife to cut the treats as they come out of the piping bag. The mixture can be quite thick.
Cook for 20 minutes. The treats should no longer be bubbling.
Let them cool, and then store them in an airtight container.
---
4.

Coconut and Tuna Cat treats
Out of all the treat recipes we've included, these have a unique flavor. They are also full of quality nutrients for your cats, such as gelatin powder and coconut oil. These treats are healthy and tasty.
| | |
| --- | --- |
| Prep Time: | 20 minutes |
| Cook Time: | 15 minutes |
| Total Time: | 35 minutes |
Equipment:
Food processor
Baking sheet
Parchment paper
Oven
Ingredients:
2 medium-size sweet potatoes, mashed
1 egg
1 can (drained) tuna or sardines
½ cup coconut flour
½ cup coconut oil
¼ cup gelatin powder
Directions:
Prepare your oven by preheating to 350 F.
Mix all the ingredients together in a properly-sized bowl.
Mash everything together with the fork and then mix everything together evenly. Feel free to add extra coconut flour to thicken the mixture if necessary. You want it to be about the consistency of Play-doh.
Roll about 1-inch balls with your hands, and then mash them to form little cookies.
Bake them for 20 minutes. They should be lightly browned.
Remove them from the heat and let them cool completely. Then, store them in an airtight container. These treats can last for several weeks.
Making Your Own Recipes
It is surprisingly easy to make your own cat treat recipes. If you read through those that we've provided, you'll notice that they all follow the same format.
By following this format, you can design treats that match your cat's needs:
Select a kind of meat. You can use one type of meat (like a pound of chicken) or a few different types of meat. Either way, aim for about a pound of whatever meat you're using. If you add veggies as well, use less meat.
Add eggs. Most recipes call for egg whites, which are then whipped. You'll need one egg white per pound of meat. Alternatively, you can use a whole egg, oil, and half a cup of flour.
Put the mixture in a piping bag. You can also form the treats with your hands if you don't have a bag handy. It just makes it easier to use a piping bag.
Place the treats on a parchment-covered baking sheet. The parchment keeps the treats from sticking to the paper. You'll likely need to cook them at about 350 F. The time depends on the size of the treats.
Overall, you'll want to cook the treats similarly to cookies. You can add other ingredients if you like, such as catnip.
Final Thoughts
There are surprisingly very few grain-free cat treat recipes out there. Luckily, we've included four to get you started, as well as directions on creating your own recipes. Generally, the process is very similar, no matter what the ingredients are.
Related Reads:
---
Featured Image Credit: StockSnap, Pixabay