10 Best Collar for Dachshunds 2023 – Reviews & Top Picks

Finding a collar for your pup can be difficult, especially one with a unique body shape like the Dachshund. It might seem straightforward, but you don't want one that is going to feel uncomfortable or wears out in a matter of weeks.
Dachshunds are a special breed with a big personality wrapped up in a little package. They are often called by the nickname, "wiener dogs," because of their long, low-slung bodies. Their real name, "Dachshund," is German for "badger dog." It fits them well because they are made to hunt animals living in holes in the ground.
To find the right collar for you, take a look at our top 10 choices for the best collar for Dachshunds. Use our buyer's guide to determine what factors are the most important to you when you compare products.
---
A Quick Comparison of Our Favorites in 2023
Rating
Image
Product
Details

Best Overall

GoTags Personalized

Four adjustable sizes
Five color options
25 characters to embroider
Check Price

Best Value

Frisco Solid Nylon

Four adjustable sizes
Ultra-Weld seal
Durable nylon
Check Price

Premium Choice

Logical Leather Padded

Five mellow color options
Genuine leather
Water-resistant surface
Check Price

Blueberry Pet 3M Multi-Colored Stripe

Polyester webbing makes it challenging to stretch
3M reflective stripes increase visibility
11 color and pattern options
Check Price

Nite Ize Nite Dawg

High visibility
Replaceable batteries included
Highly water resistant
Check Price
The 10 Best Collars for Dachshunds
1.

  GoTags Personalized Nylon Dog Collar — Best Overall
GoTags offers highly customizable dog collars to keep your Dachshund safe and help them stand out. There are four sizes, each of which can be adjusted. To buy the best-fitting option, though, measure your pup beforehand and follow the sizing guide.
Once you have figured out what size the collar should be, decide on a color. Although dogs don't need clothes, giving them a personalized way to stand out can be fun. Use the collar to achieve this purpose, and pick a color that suits them.
Choose one of 14 different thread colors to list information on the color itself. The company can embroider letters and numbers onto the collar, up to 25 characters, including spaces. You can list your number, the dog's name, or a combination.
Note that there is a possibility of the slider covering part of the embroidery if not appropriately sized.
Overall, we think this is the best collar for Dachshunds you can buy this year.
Four adjustable sizes
Five color options
25 characters to embroider
Easy adjustment to fit perfectly
Adjustment slider can cover up embroidery
---
2.

  Frisco Solid Nylon Dog Collar — Best Value
Frisco is reaching out to all dog owners who struggle forking out money to buy new collars again and again. No matter how hard your dog is on their collar, this is the best collar for Dachshunds for the money.
The low cost doesn't mean that it is low-quality. These collars are made with durable nylon fabric using an Ultra-Weld seal and a standard buckle closure coated with nickel. They have four different sizes to choose from, so make sure to measure your pet before buying.
Frisco has lab-tested their dog collars, so they withstand up to seven times the recommended maximum weight for each of their sizes. Choose from four bright colors to quickly pick your dog out of the crowd. When you are ready to walk, attach the leash to the collar's D-ring. There is only one, so it will be the same one that the tags hang on.
Four adjustable sizes
Four color choices
Durable nylon with Ultra-Weld seal
Budget-friendly choice
Only one D-ring for tags and leash
---
3.

  Logical Leather Padded Dog Collar — Premium Choice
Give your dog a fancy feeling with this leather padded collar. Logical Leather has made their product look and feel great. They offer the collar in five mellow colors that stand out without too much flash.
These collars are hand-crafted and made from full-grain, genuine leather. It means they are water-resistant and don't fade quickly. These are easy to clean, and the padded lining makes it much more comfortable for your pooch.
The metal hardware, the D-ring and buckle, are high-quality and stand up to the test of time and many pulls. If you love their collar, then you will appreciate knowing that they also offer matching leather leashes that you can buy together.
Five mellow color options
Genuine leather creates a water-resistant surface
Padding increases comfortability
Expensive choice compared to similar products
---
4.

  Blueberry Pet 3M Reflective Dog Collar
3M is a company known worldwide for heavy-duty products meant to fix things and keep them working. These Blueberry Pet collars are made with a comfortable polyester webbing. Embedded into the collar is a reflective thread produced by 3M for protection at night. It increases your pup's nighttime visibility.
The collar comes in 11 patterns and colors to keep your dog looking stylish. They want the creative design to stand out more than the hardware, which is a muted black and grey. The logo and the accessory loop match these.
The collar is made from polyester. That material is durable and doesn't stretch easily, unlike nylon. Whatever size fits your dog best remains that size. For dogs with delicate skin, the webbing and reflective strips can feel itchy or bothersome.
Polyester webbing makes it challenging to stretch
3M reflective stripes increase visibility
11 color and pattern options
Itchy fabric across reflective stripes
---
5.

  Nite Ize Nite Dawg LED Dog Collar
The Nite Ize Nite Dawg collar correctly works well for those who prefer to take their dog out in the evening. There are reflective strips, but the collar also has a light-transmitting core powered by an LED that has high efficiency. No matter where your dog finds themselves during the evening, everyone will catch a glimpse of them. The light even has a couple of settings, flash, and a steady glow.
The collar is made from an orange nylon webbing with a durable metal D-ring. The quick-release buckle makes it easy to get on and off using the weather-resistant push-button.
Strong nylon material
Reflective strips contain a light-transmitting core
Multiple light settings
LED light on-off switch works inconsistently
---
6.

  Max and Neo Dog Gear MAX Reflective Dog Collar
Max and Neo aren't merely out to make a profit by selling their dog collars. Instead, for every collar that they sell, they donate an identical one to a dog rescue. They tally all these up at the end of each month to determine how many rescues they can support and ensure that each shelter receives at least one collar a month.
Their collars are offered in four different sizes and seven different colors. Each one is an inch wide and made with thick nylon. The buckle is made with a heavy-duty nylon snap and a lockable tab, except for the extra small size.
The dog collar works to improve your pup's nighttime safety by including two broad bands of reflective stitching. The design consists of a D-ring for leash hookup and another metal loop to attach tags or charms.
Donation to a dog shelter for each purchased collar
Four adjustable sizes
Seven color options
Different loop for tag attachment
No lockable snap for extra small dogs, like some Dachshunds
---
7.

  OmniPet Latigo Leather Dog Collar
If you fancy a leather material in a dog collar but don't like the price tag attached to many of them, try the Latigo Leather dog collar out. They offer two dark color choices, black and burgundy. The dark colors can stain white fur with a new collar, though.
Their collars have a traditional design with soft leather that doesn't bother a dog's skin. The material is durable and lasts for years. The hardware is nickel-plated and keeps the collar securely in position.
If you like the beautiful design and the statement look of leather, the company also offers matching leashes.
Budget-friendly price
Soft, supple leather construction
Nickel-plated hardware
Colors bleed onto white fur
---
8.

  Chai's Choice Comfort Cushion 3M Reflective
To make sure that these colors fit your dog paw-fectly, Chai's Choice offers six different sizes. They also have nine color and pattern choices to complement you and your Dachshund's personalities.
The collar is made with nylon webbing and a soft mesh that keeps it breathable and padded for your pup. It does make it much broader than many similar products, though.
This collar is another with 3M reflective stitching to increase your dog's visibility. The D-ring is stainless steel to prevent rusting and the wear and tear from daily walks.
The buckle is duraflex and makes it easy to take the collar on and off when needed. The width is just under an inch at ⅘.
Six sizes to fit every dog perfectly
Nine color and pattern choices
Nylon and mesh to create a durable cushion
Bulkier width compared to similar products
---
9.

  Red Dingo Reflective Ziggy Dog Collar
The Red Dingo dog collar has reflective stitching worked throughout the cut zig-zag pattern to increase nighttime visibility. There are six different color and pattern options that make it fun to customize for your Dachshund.
The collar is made from premium nylon webbing and double-sewn seams to make it last longer. The inside of the collar is soft, and the outside has a band to make it more abrasion-resistant.
The company has trademarked its clip for a quick side release, calling it the Bucklebone. The adjustment is the only facet that is more difficult to change as needed. The D-ring is stainless steel and easy to access. The material is machine-washable for a quick clean after dirty days.
Reflective stitching increases nighttime visibility
Six color choices
Bucklebone trademark for easy side release
Not easily adjusted to the dog's neck size
---
10.

Perri's Black Padded Leather Dog Collar
This padded leather dog collar is the only one on our list made from lambskin. The material is desirable for dogs with sensitive skin that need an extra soft collar. The collar's fabric not only makes it soft but also makes it a cute accessory against your dog's beautiful coat.
The interior of the collar is padded to offer even more comfort. It is especially beneficial for dogs who continuously wear their collars. It is made by Amish craftsmen known for their superior quality within the U.S.A.
The hardware is constructed from stainless steel and is easily connected to standard leashes. The brand is made to suit especially small-sized dog breeds, like the Dachshund. Size it carefully, though, since their sizing chart is not that accurate.
Padded interior from lambskin leather
Compatible with standard leash types
Sizing chart is off
Excessive collar length that sticks out

Buyer's Guide: Choosing the Best Collar for Dachshunds
Choosing the best collar for your Dachshund isn't only about finding the right size and popping it on. Trying to go with such a straightforward method could easily mean wasting money and time on a wide variety of collars.
Instead, think about each of these factors to increase your chances of finding the perfect fit right away.
Material
There are three common collar materials for the band part: nylon, polyester, and leather.
Nylon – It is a durable material that can be quite soft and doesn't typically cause skin reactions for dogs. It does stretch out easier than the other two. It is more expensive to manufacture than other fabric materials.
Polyester – It is cheaper than nylon to make and is generally what budget-friendly choices are made from. It is still durable but can be itchier for some pups. It doesn't stretch easily.
Leather – It makes a statement and tends to be the most attractive and expensive option. Depending on the quality, it can be durable. It tends to be the softest against a dog's skin, although some might have allergic reactions. Since leather is challenging to dye, ensure that the collar isn't reported to bleed on white fur.
Beyond the primary material used for the band, there is also the aspect of reflective stripes or stitching. It is often a big plus for dog owners who walk their dogs at night.
The reflective material is often made out of something different than the main band. It can be an itchier material. The best approach here is to read what other people have to say about it.
The material of the collar's band isn't the only important part of it. Check the buckle material. There is a wider variety of potential materials for the buckle and D-ring.
Most of them are plastic and have a nickel coating. If you need something more durable, get one made with aluminum or stainless steel.
Ease of Adjustment
Most collars are easy to adjust to make it as comfortable as possible for your pup. However, they don't have a wide enough range in themselves to make it a one-size-fits-all situation. Make sure you size the collar correctly, and check how many adjustments there are.
Sometimes, when a dog collar is adjusted, you can tuck it under a strap to stay close to the neck. If the collar doesn't have this plastic or metal band, selecting the right size is even more critical. Otherwise, the leftover material sticks out.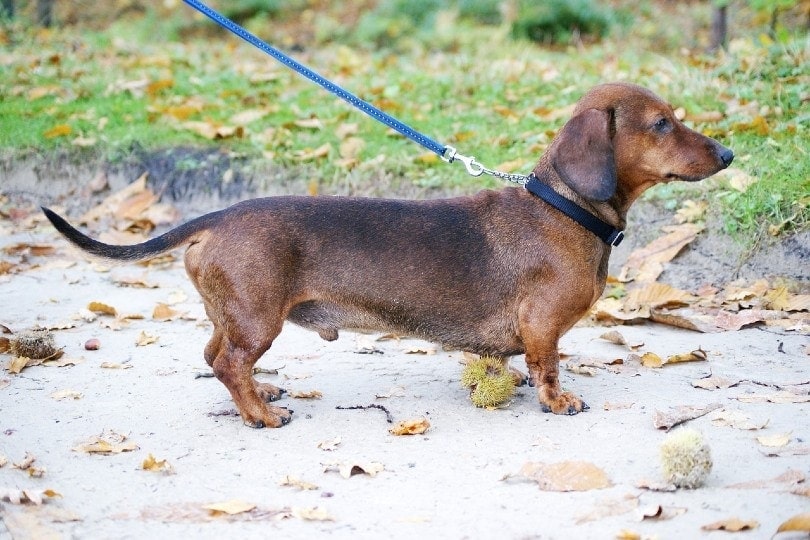 Comfort
Imagine wearing something stiff around your neck day in and day out. If you wouldn't appreciate it, neither will your dog. If your dog has particular sensitivities, keep them in mind when reading through product reviews to see if someone else was in a similar situation.
Price
Everyone knows the saying, "You get what you pay for." However, this is more complex when it comes to dog collars because paying a higher price doesn't mean your dog won't do their best to wreck it.
Find a balance between a quality item that might have a higher price tag and the durability of the color. Just because it has a higher price tag doesn't mean it will last longer; it might only have a finer material, such as lambskin leather.
Color and Pattern
Finally, the color and pattern don't necessarily play a crucial role in most people's decision-making process. It can be a fun aspect, though. There are so many collars out there, and you should be able to find a company that fits the bill regarding comfort and adjustability while also offering a collar in a preferred pattern.
Conclusion
The market for dog products has exploded over the last decade. Sifting through all of those product options can feel like digging for a needle in a field of haystacks. If you need something comfortable and personalized, look into our number-one product, the GoTags Personalized Nylon dog collar.
Dogs can be messy or rough on their accessories. Perhaps what you are looking for is a budget-friendly but durable option like the Frisco Solid Nylon Dog Collar.
We hope that we have given you an easier selection of products to decide on, no matter what your criteria are for the perfect collar for your Dachshund.
Related Read:
---