10 Best Dog Beds in 2023 – Reviews & Top Picks

Dog beds are the perfect purchase if you want to create a comfortable place for your dog. Giving them a great dog bed is like giving them a little slice of home within the home.
Finding a good dog bed can be tricky because you want to do your best to ensure that they will use it once you buy it. In these reviews for the best dog beds, we consider fabrics and designs that will make dogs feel comfortable.
As you look through each one of the reviews, think about the kind of places that your dog already likes sleeping. If you are getting a new puppy, make sure to size it appropriately and put it in an area that they will feel safe sleeping in, and you will find greater success.
---
A Quick Comparison of Our Favorites in 2023
Rating
Image
Product
Details

Best Overall

Frisco Pillow Dog Bed

Machine-washable
Comes in a variety of sizes
Made with a polyfil polyester
Check Price

Best Value

Coolaroo Steel-Framed Elevated Dog Bed

Waterproof
Resistant to mold
mildew
fleas
and mites
Breathable
Check Price

Premium Choice

FurHaven NAP Ultra Plush Orthopedic Dog Bed

Orthopedic design
High-quality material
Machine-washable
Check Price

Frisco Steel-Framed Elevated Dog Bed

Easy to clean
Skid-resistant feet
PVC coating
Check Price

Sheri Fur Donut Cuddler Dog Bed

Comfortable and clean materials
Orthopedic design
Self-heating
Check Price
The 10 Best Dog Beds
1.

Frisco Pillow Dog Bed — Best Overall
Frisco is a well-known brand when it comes to high-quality toy and pet products. This dog bed fits into that standard, giving your pup a comfortable place to rest no matter what time of day they need a break. The company specifies that this bed doesn't only have to be for pets that bark but also suits those that meow. It comes in a variety of sizes to accommodate.
The ultra-plush fabric is made with a fluffy polyester fiber that provides cushion and comfort. It uses a design termed "step-on" to make it easier for small breeds or senior dogs to get in and out when they use it. The edging around the outside is made from soft faux suede in neutral colors, so it easily fits into any room's décor.
Just like we are ready to crash and burn after a physically challenging day out, your dog might want to sleep right after a long walk or a dirty hike. That means the bed is not always going to be perfectly clean.
If you notice large spots of dirt or a smell coming from it, it is conveniently machine-washable. Simply throw it into a load, and give it plenty of time to dry before laying it back out. Although durable to machine wash, it is not extremely durable against dogs' teeth.
Made with a polyfil polyester for maximum comfort
Comes in a variety of sizes
Machine-washable
Not resistant to dogs that like to chew
---
2.

Coolaroo Steel-Framed Elevated Dog Bed — Best Value
This dog bed is unique compared to what we would generally picture as a dog's bed. It appears to be more of a trampoline than a dog bed. However, it still fulfills the typical purpose of a dog bed and gives them a comfortable place to relax, both indoors and outdoors. If you don't want to risk a bed that you don't know if your dog will love, this bed is the best dog bed for the money.
Coolaroo constructs its dog bed with a steel frame, utilizing four legs at each corner to elevate the bed's main body away from the ground. It comes in three sizes and multiple color choices to match any color scheme or interior décor. The steel frame is lightweight but strong to support large breeds. It is powder-coated to keep it free from rust and decay over time and use.
The fabric is made from a polyethylene material and is waterproof. It is a cooling, mesh-like material to make resting outside more bearable on hot days. The material also makes it much easier to clean. Additionally, it is resistant to fleas, mites, and the growth of mold or mildew.
Elevation and material keep it breathable in hot weather
Resistant to mold, mildew, fleas, and mites
Waterproof for extra outdoor durability
Legs can scratch sensitive indoor surfaces
Senior dogs can struggle to get up
---
3.

FurHaven NAP Ultra Plush Orthopedic Dog Bed — Premium Choice
For some of us, our pets are a treasured member of our family. You want to treat them as such. That means getting them the best of the best when it comes to specialty products. The FurHaven NAP Ultra Plush bed caters to that very need. No matter how old your dog is or their size, this bed will suit them well.
This bed suits both cats and dogs and is made with orthopedic characteristics to help cradle sensitive or aching joints. This aspect makes the mattress an excellent choice for those senior dogs that struggle with arthritis or dysplasia.
The interior is made with convoluted foam that is designed to distribute weight evenly. The bed's cover is topped with soft faux fur and a suede gusset. This material allows it to be warmer in cool months and keep them cooler in warm months. The cover and core are machine-washable and the cover is removable.
There are five sizing options and a provided guide so you don't have to take up unnecessary room in your home. It is not durable against the workings of a dog that likes to chew.
Orthopedic design for senior dogs and cats
High-quality material helps regulate temperatures
Both the removable cover and the interior are machine-washable
Not durable against dogs that like to chew
More expensive than similar items
---
4.

Frisco Steel-Framed Elevated Dog Bed
A product option from Frisco for those that are loyal to this pet brand is a steel-framed elevated dog bed. Steel-framed options are better for pups that like to chew or prefer to spend most of their time outside.
This elevated bed comes in four different colors and three various sizes to suit your breed. The construction involves a sturdy steel frame that is powder-coated to be rust-resistant. The sleeping surface is a comfortable, stretched fabric with a PVC coating so it is water-resistant. That means it is also easy to wash if your dog uses it after a dirty game outside.
The bottom of the steel legs has skid-resistant feet to provide extra stability for a dog getting on or off and to keep it from scratching your floor if placed inside. The elevation makes it more difficult for seniors and small puppies to use, especially if they struggle with joint issues.
You do have to assemble the bed, but easy-to-follow instructions are included with purchase.
PVC coating on the fabric for water resistance
Skid-resistant feet on the steel frame
Material is easy to clean
Requires assembly
Not a good product for senior dogs
---
5.

Sheri Fur Donut Cuddler Dog Bed
Sometimes we just don't have enough time to cuddle our puppies as much as we would like. This is where this bed could help your dog. It is plush with sides that come up in puffed, rounded forms for your dog to snuggle with or against. These sides are meant to create the feeling of a safe, protected area.
Not only is the design meant to make your dog feel safe, but it is also for pups that want to be kept warm during the cooler months. This dog bed is self-heating, with a design focus on orthopedic support. The curved edges help support their head and necks, while the heat keeps everything limber.
The outside of the bed is made from a soft faux shag fur, and the bottom of it is a water-resistant nylon material. This consideration helps ensure the safety of your floor even if the pup has an accident in the bed. If it does happen, you can throw the bed in the washer and dryer. The interior of it is filled with a polyfil foam for maximum comfort.
Orthopedic design supports neck and head
Self-heating for an area of warmth and safety
Comfortable and clean materials
Foam might not be supportive enough for heavier dogs
---
6.

K&H Pet Products Elevated Dog Bed
K&H produces its version of an elevated dog bed that can easily be used both indoors and outdoors. It comes in two colors and four different sizes to customize it entirely to your dog's needs.
The top of this elevated dog bed is made with a mesh center. It is designed similar to a cot, with less of a cradling effect so your pup won't have as much trouble using it. The fabric is made from a 600D nylon that is durable with double stitching and double backing. That means it stays strong even with a heavy dog on top. It can support up to 150 pounds of pure pup.
The mesh fabric is durable and strong and so is the frame. Although the kind of metal is not specified, it is not plastic like some cheaper beds are made from. Each of the legs is joined to the rectangular frame with double joints to provide extra support. There are non-ski rubber feet attached to the bottom to keep it in place.
This product only weighs around 5 pounds, making it easy to pick up and place it where you want it. It is machine washable because the fabric is waterproof.
Can hold up to 150 pounds of dog
Non-skid rubber feet fix it in place
Double joints for extra stability
Not easy for older dogs to use
---
7.

Aspen Pet Bolster Dog Bed
This dog bed from aspen Pet comes in one size only, making it an excellent choice for small breed dogs and most sizes of cats. It is almost like giving your princess or prince pooch a royal seat to rest on during the days and long nights.
This bed's form makes it easy to get in and out of, with supportive sides on three sides and an opening in the front. It also comes with a small pillow to make it extra comfy or to give them something to chew on.
The bed is filled with 100% recycled fibers and then topped with plush fibers to keep it comfy. There is a trim lining around the dog bed and over the top that's made with Sherpa fleece and a suede bolster and gusset. The entire top of the bed is topped with plush to keep it extra soft.
Soft material used on every piece of design
Non-skid bottom keeps it in place
Three supportive sides for easier entry and exit
---
8.

Chuckit! Travel Pillow Dog Bed
The Chuckit! Travel Pillow Dog Bed only comes in one size. It is an oval shape that measures 30 inches by 39 inches around. Although this might not be big enough for all dogs, especially large breed adults, it is fine for most of them. This bed is a great choice for growing puppies or medium-sized adult dogs.
The best characteristic of this dog bed is its capacity to be moved around easily. It is ideal for people going on camping trips with their dogs, bringing them on road trips in your car, or packing up for an RV adventure.
The material is a durable nylon throughout and is topped with a comfy suede that's soft to the touch and great for naps. When you are getting ready to pack up and head out, do it quickly and conveniently with the dog bed stuff sack included with purchase. On the trip, you will appreciate its water-resistance because afterward, you can throw it in the wash for a quick clean.
Easily packed into accompanying stuff sack
Comfortable and water-resistant fabric
Machine-washable
One size that doesn't work for large breed adults
---
9.

Petmate Antimicrobial Orthopedic Pillow Dog Bed
Petmate knows that dogs like to get into messes and don't mind bringing it back into the house with them. That is why this company's dog bed has antimicrobial properties woven into the fabric with Microban technology. It helps keep it smelling much fresher for longer.
This bed only comes in one size and can be used for a variety of dogs. It measures 40 inches by 30 inches and is 2 inches tall. This size still allows it to be ideal for most dog breeds that fall within average sizes.
Not only does this bed's design focus on the fresh smell, but it is also meant to be orthopedic and cradling and disperse your dog's weight. Pups will love to curl up across the faux suede and micro-terry top. Foam is the fill, but the cover can easily be removed to clean it off quickly. The cover is machine-washable.
Machine-washable removable covering
Antimicrobial Microban technology in the fabric
Size is large enough for most dogs
One size fits all
Foam is not machine washable
No water-resistance or waterproofing
---
10.

Precision Pet Products SnooZZy Bolster Dog Bed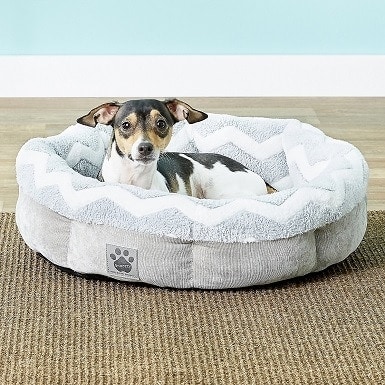 This option from Precision Pet Products is the Snoozy Bolster Dog Bed and comes in one size. This size is quite a bit smaller than some other one-size-fits-all products and is only useful for toys and small breed dogs. It is a circle that is 21 inches in diameter and 6 inches tall.
The size of this dog bed allows it to be moved quickly and can be a good traveling option for those pups whose parents like to explore or travel for work. It is thick because the company doesn't skimp on the polyfil inside, which is made from 100% recycled materials.
It has soft sidewalls that extend slightly up from the bed and give your pup a comfortable and supportive headrest. The design keeps small breeds in mind because they often struggle with temperature regulation. It is insulated to help keep your dog cool on hot days and warmer during the cold season.
Chenille is the material for the cover, and it is machine-washable, along with the rest of the bed. This is also one of the few dog beds that are said to be chew-resistant and water-resistant to boot.
Machine-washable
Insulated for temperature regulation
Bolstered sides
Chew- and water-resistant
One size that only works for small breeds
---
Buyer's Guide: Finding the Best Dog Beds
Getting a dog bed might seem simple, like finding a comfortable piece of foam and fabric that you can set on the floor. However, think about how much time you put into finding your bed or beds for your family. What considerations go into that process? You need to find the right softness and cushion while still getting something supportive.
While finding a high-quality dog bed that works well for your pup isn't quite the same, it does involve more than a blanket on the floor. Getting them a good dog bed can help prolong the health of their joints and bones. It also gives them a comfortable place that they can call their own.
Design
There are three primary designs that you will notice when you look for a dog bed. One is the simple foam pillow that lies flat on the ground and is slightly elevated in height, depending on the amount of fill.
The next is similar but has bolstered sides that make it feel more enclosed. The third is great for outdoor use and is stretched fabric elevated from the ground on a steel frame.
The best design changes depending on your dog's orthopedic needs and where you want to use it.
Material
The material is a great consideration. Most dogs do not have allergies to certain types of materials, but watch out for it just in case. Often, high-quality beds use a polyfil inside instead of a plain foam. The cover should be some kind of suede for comfort and durability.
Often, the bottom of a bed is nylon so it doesn't slip around.
Waterproof or Water-Resistant
Dogs are messy and sometimes you must use the bed outside. They might also have accidents in their sleep. If any of these could be the case for you, it is best to look for a dog bed whose cover and maybe even the fill inside is somewhat water-resistance or even waterproof.
The Chew Factor
For some pups, it might seem like the hunt to get them a comfortable dog bed is made moot by the fact that they chew each one up. They simply can't have nice things!
You can find specific dog beds whose material and stitching make it much more challenging to chew apart. You might also find that certain materials don't feel good in your dog's mouth, so they won't chew it.
Washability
Washability is going to be one of the most important factors for a dog bed. Even if your dog is a pristine princess and always stays clean and tidy, they still lose hair, drool, and implant their scent into the fibers of the bed. Over time, the bed starts to smell more like a dog than they do.
Basically, you need to be able to wash the bed. Unfortunately, only having the capacity to wash the bed's cover doesn't cut it for most people. For dramatically increased longevity and less smell, find a bed that is washable both inside and out.
Sizing
Depending on the breed of dog that you have, sizing the right bed will be necessary. Some single-size beds are made specifically for certain sized breeds. Otherwise, consider how much space your dog takes up when they sleep and try to find a bed that will encompass that.
If you have a large breed that likes to spread out, find the size for the amount of space that you want the bed to take up instead.
Assembly Required
Do you need to be able to use this bed right away? Most beds, even if they need to be assembled, come together quickly. If this sounds like too much work for you, steer clear of those that come with frames.
Conclusion
Sometimes we want to treat our dogs like royalty. When that happens, we want to get them the best of the best, providing them a comfortable place to sleep for many naps to come. A dog bed like Frisco Pillow Dog Bed gives them precisely what they need for a reasonable price.
For others, your dog might be too picky or they might tend to chew things to bits, and you don't want the bed to be the next victim. Try a bed like Coolaroo Steel-Framed Elevated Dog Bed. It is a better budget option and limits the amount of fabric that your dog can easily chew on.
From mutt to pooch princess, having a dog bed can make their furry lives better. There are many options out there that your dog will love, but we hope that we have helped refine your search.
---
Featured image credit: Aleksey Boyko, Shutterstock