6 Best Dog Treat Makers – 2023 Reviews & Top Picks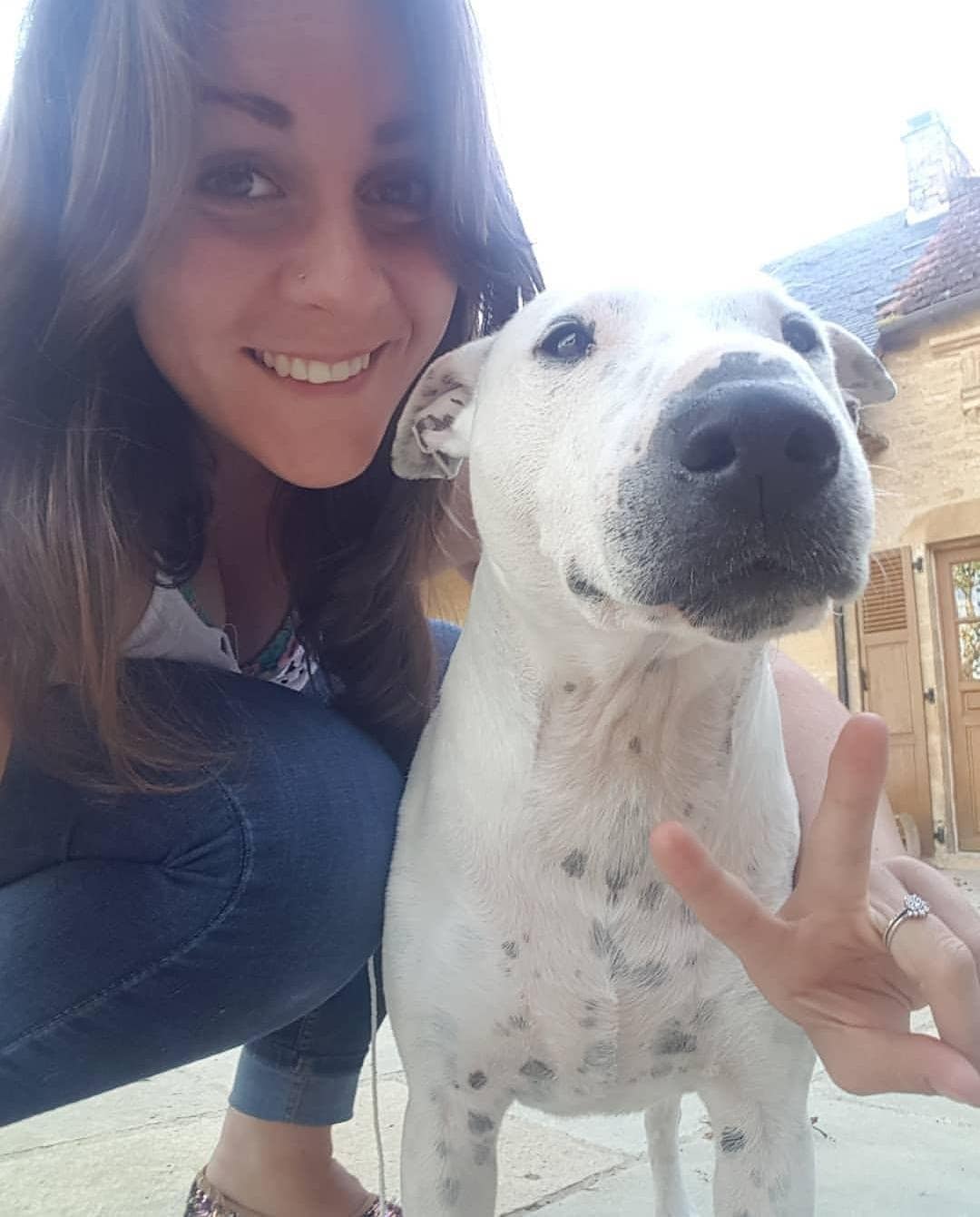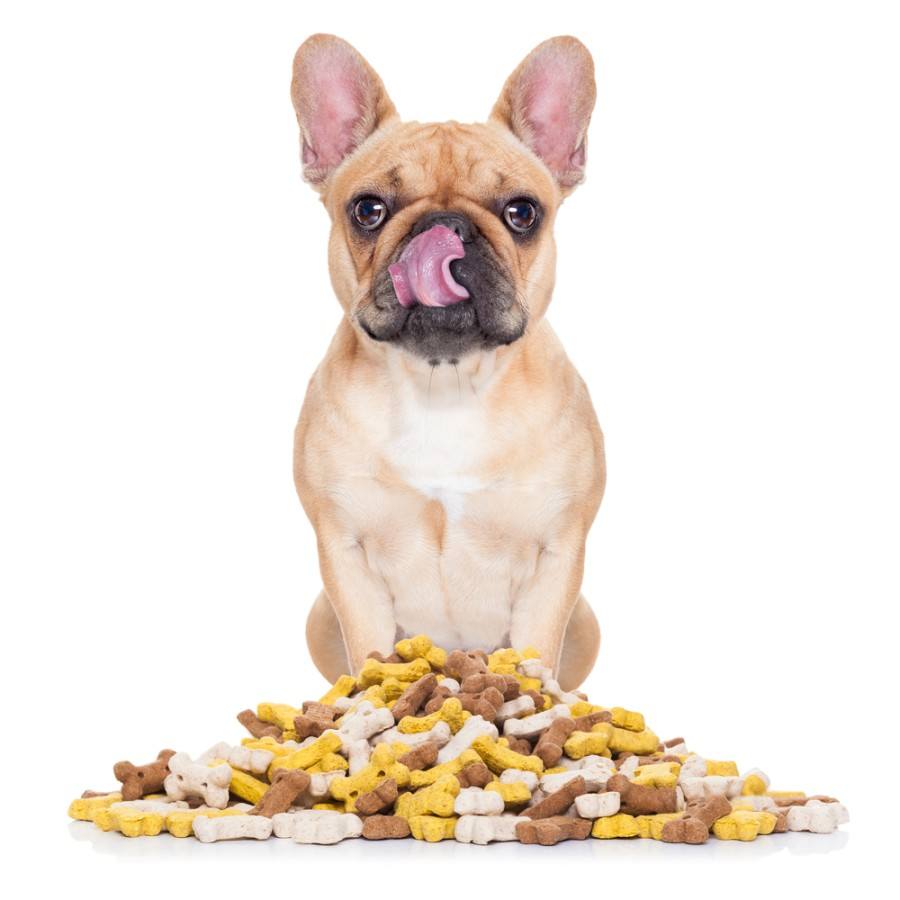 Who doesn't love biscuits? It's safe to say that there aren't many people out there who don't. And there are even fewer doggos out there who would turn their nose up at a cookie. But, just like many human foods, human biscuits aren't ideal for Fido.
So, what a great idea to make him a bunch of doggy biscuits that are not only yummy, but they are also safe and nutritious too. But where exactly do you start, and what ingredients are safe to use?
To save all the fuss, the best way to create safe doggy biscuits is with a dog biscuit maker kit. Complete with a cutter, recipe book, and more if you need it. Simple, safe, and fuss-free.
Homemade dog biscuits are an excellent alternative for those wishing to stay away from commercial dog treats. Many shop-bought dog treats are full of fat and made with artificial preservatives. And with so many recalls, making your own treats can give you peace of mind too.
Here in this guide, we are going to take you through the best dog biscuit makers out there, all complete with reviews.
Great doggy biscuit bake-off, anyone? Let's go!

A Quick Comparison of Our Favorites in 2023
Rating
Image
Product
Details

Best Overall

Hapinest Make Your Own Homemade Dog Treats Kit

Complete biscuit kit
3 healthy recipes
Cute set
Check Price

Best Value

Ann Clark Cookie Cutters 5-Piece Dog Bone

Simple kit
5 biscuit sizes
Long-lasting metal cutters
Check Price

Premium Choice

Bake-A-Bone The Original Dog Treat Maker

Treats in less than 5 mins
Huge variety of recipes
Stand-alone electric maker
Check Price

Make Your Own Dog Treats

Complete biscuit making experience
Great set for kids
Check Price

Dog Treat Molds

Can make many treats at once
Uncomplicated kit
Check Price
The 6 Best Dog Biscuit Makers
1.

Hapinest DIY Dog Treats Maker Kit – Best Overall
Hapinest has made the ultimate dog biscuit maker set, complete with everything that you could possibly think of. So much that you could start your own little doggy biscuit business. There are 3 cookie cutters – 2 different sized bones and 1 heart for the pooch of your dreams. It's a fun dog bone maker!
This kit comes with 3 recipe cards with natural and nutritious biscuit recipes. The recipes include Peanut Butter Apple, Oatmeal Banana Peanut Butter, and Sweet Potato. All healthy and safe for Fido, but he won't know the difference between these and his favorite human ones.
This kit also provides a rolling pin so that you can achieve the perfect thickness each and every time. And there are also 24 doggy bags, gift tags, and red ribbon and twine for that cute finish. Fantastic if you want to make a gift for that special pooch in your life.
There's not much that we don't like about this product. But if we are being picky, we think one of the bone cutters could have been a different shape for more variety.
Overall, we think this is the best dog biscuit maker and dog bone maker available this year.
Complete biscuit kit
3 healthy recipes
Cute set for gift making
3 metal cutters
---
2.

Ann Clark Dog Biscuit Cookie Cutters – Best Value
This product is the best dog biscuit maker for the money. It is the no-frills option for those who just want cookie cutters and a recipe book. Making it the best choice if you do not require the gift making options that come with extra expense.
There are 5 bone-shaped cookie cutters, all in different sizes. They are made in the USA and sharp enough to cut through both warm and cold cookie dough.
The only reason this product didn't make it to top place is that the recipe book only has one recipe. This is slightly disappointing compared to the other products.
But, as long as you have access to the internet, there are many dog biscuit recipes available online. Some may see this as slightly inconvenient, but again, this is just us being picky.
Simple kit
5 biscuit sizes
Long-lasting metal cutters
---
3.

Bake-A-Bone Original Dog Treat Maker – Premium Choice
This is the premium dog biscuit maker for those that want to give their pup the ultimate treat. It is a lot like a waffle maker that we humans use. So, if you are having waffles for breakfast, your pooch can join you.
It creates healthy treats in just 5 minutes, which is particularly useful if you are usually pushed for time. Simply pour the mixture in, and by the time you've made yourself a cup of coffee, they are ready to whip out of the machine. Bon appetite!
The machine comes with 30 recipes, which are all organic formulas. There are options for allergy-sensitive dogs, such as wheat-free, corn-free, low-glucose, lactose-free, gluten-free, and soy-free.
There are also recipes for every pooch palate, such as peanut butter, beef, chicken, liver, cheese, veggie, and much more. This premium choice has got something for every dog out there.
This dedicated machine is easy to clean. And it also keeps the cooker free for you to bake your own cookies, while simultaneously cooking his too.
The only criticism we have of this product is that it is on the expensive side.
Treats in less than 5 mins
Huge variety of recipes
Stand-alone electric maker
Expensive
Treats not as crunchy
---
4.

MindWare Dog Treats Kit
This set is similar to our top choice, but instead of using metal cookie cutters, it provides plastic cutters. Making this a safe set to get the kids involved in making Fido's treats. No sharp metal cutters in sight here.
It comes with a doggie shaped spatula for flipping the biscuits mid-cook, and cupcake liners for an alternative treat option.
It also comes with a gift making kit, including treat bags, bone tags, and green ribbon. And it also comes with a decorating kit. The recipe book has 9 different recipes and a puppy-safe icing recipe for you to get creative. And a biscuit paw stamp too.
The only criticism we have of this dog biscuit making kit is that it has fewer items in it compared to the first kit. But, if you have kiddies to entertain on a rainy day, this is a kid-friendly alternative.
Complete biscuit making experience
Great set for kids
Not as much included
Plastic not as sharp as metal cutters
---
5.

Le Dogue Dog Treat Molds
This is another no-frills option, and instead of cookie cutters or baking machines, it offers 2 silicone mold trays. With a mixture of bone and paw shapes, you can make 45 treats at any one time. This should be plenty for the week ahead.
The silicone is BPA-free, and it is safe to use in the dishwasher for an easy clean, oven, microwave, and freezer. It also allows you to make crunchy biscuits, soft treats, and broth ice cubes, making this option more versatile for the pooch that likes a bit of variety in his life.
This product also comes with a recipe book for all the types of treats mentioned above. If you aren't happy with your purchase, you can return it for a refund up to a year after purchase. We like this.
The only issue that we can see with this kit is that although it says that you can chuck it in the dishwasher, some reviewers commented that it was difficult to clean because of the nooks and crannies in each treat mold.
Can make many treats at once
Uncomplicated kit
Tricky to clean
Small size for large dogs
---
6.

GYBest Large Baking Molds for Dog Biscuits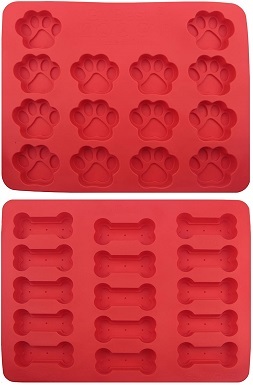 This is just like the option above, but the biscuit silicone molds offer a larger sized treat. The treat sizes are too large for small dogs, so you'll have to break them up.
This option does not come with a recipe booklet, which makes this option a little less convenient, given that you'll have to find your own recipes. This is why we have ranked this option last, but it is still good enough to make our top list.
But ultimately, this isn't a problem for those who already have tried and tested recipes, so it's all about personal choice here.
The silicone molds are BPA-free and made from food-grade silicone making it perfectly safe for Fido. It can also be placed into the dishwasher, oven, and freezer too.
Because the shapes are larger, reviewers say that the molds are easier to clean if the dishwasher hasn't cleaned them thoroughly.
Can make multiple treats at once
Simple silicone molds
Too big for small dogs
No recipe booklet

Buyer's Guide: Finding the Best Dog Biscuit Maker
Here we have compiled a list of all the things that you need to consider before buying a dog biscuit maker kit. Thankfully, dog biscuit making kits are generally inexpensive. Still, you might as well get it right for you and Fido first time round.
So, to help you find the best dog treat maker machine, take note and think about the following:
Different Dog Biscuit Maker Options
Ultimately, when it comes to dog biscuit making kits, you have the three options that we have recommended above:
Cookie cutters
Silicone molds
Baking machine
They all have the same results, but different people have different preferences. Some owners like the traditional metal cutters where they can get physical with the dough. Others prefer the more modern method of silicone molds, which also gives you the option of making watermelon ice cubes. And some owners like a machine that they can pour the mixture into and let it do it's thing quickly.
What Type of Kit do You Need?
This is the most important thing to consider because it will determine the type of dog biscuit making kit you choose. Do you need the full shebang? If so, you will want a package that offers everything, from the cookie cutters to the gift making options, the decorating tools, complete with the recipe book.
A full kit is also the better option if you want to make doggie biscuit gifts for your favorite four-legged friends and neighbors for the holidays. As well as for those rainy days when you want to keep the kids entertained for a few hours.
Or maybe you are already a seasoned dog biscuit making pro, and you just need a simple cookie cutter or silicone mold. These are less expensive because they are more straightforward products, usually lowering the expense.
Safety First, Kids!
The kitchen can be a dangerous place for small ones, including both dogs and children. But we're not here to give you a lecture on kitchen safety. But, what we do need to remind you of is product safety.
With so many products available online, many products are not safe to use for Fidos treats. Unfortunately, cheaper options can be risky to use, and they are often made from hazardous materials.
For example, if you are thinking about purchasing a silicone kit, you need to look for a product that is made with food-grade silicone, and one that is BPA free. Being BPA free is essentially a reassurance that the plastic in the product is safe to drink or eat from, which means it is safe for Fido too.
Ultimately, if you think it is safe enough to make treats for yourself or your children, it is safe for Fido. Or, to put it another way, if you wouldn't use it to feed the kids from, don't use it for your pooch.
Homemade Treats Vs. Shop Bought Treats
Yes, baking biscuits is fun for everyone involved, especially Fido, who gets to sample them. But you need to know that what you are putting in the treats is safe.
Cheap and low-quality shop-bought treats are tasty, but they are usually full of additives, cheap fillers, and unhealthy fats. By making Fido homemade treats, you can be sure about what is going into them, and ultimately what is going into him.
But, with this comes responsibility, and you need to be sure that everything you put into his biscuit treats is safe for him to eat. For example, many dog owners feed their pooches peanut butter (which dogs go crazy for!), but human peanut butter contains xylitol, which is harmful to dogs. So it's essential to feed Fido dog-safe peanut butter.
Conclusion
So, as they say, that's the way the cookie crumbles. That is everything you need to know about dog biscuit making kits.
There are many benefits to making your own dog biscuits. From knowing what Fido is eating to a fun way to get involved in his nutrition, as well as making gifts for your friend's dogs.
But you are now also aware of the essential things to think about too. Including Fido's safety, the responsibility of making homemade biscuits, and the importance of understanding what ingredients are safe to use.
Thankfully, it is not too tricky and not much different from making your favorite humans treats. And by choosing from our recommended options above, all complete with reviews, you can see which option is best for you and Fido.
Our top pick is the Hapinest Homemade Dog Treats Kit, and the best value for the money option is Ann Clark Cookie Cutters. But with any of our recommendations above, both you and Fido will be very happy bunnies indeed.
See Also: National Dog Biscuit Day