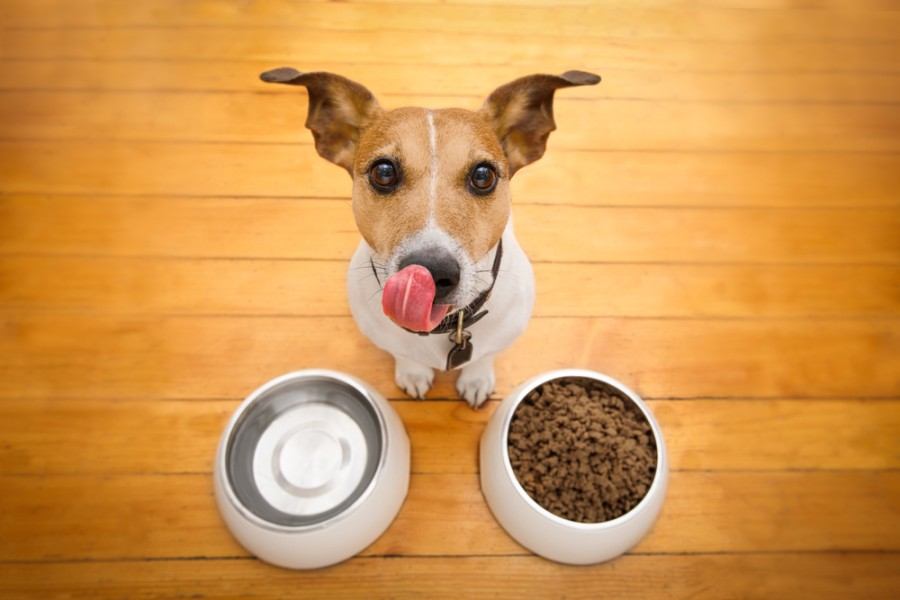 It happens to many dogs sooner or later, especially old ones. Due to a variety of issues, your pup could start losing their teeth, making it extremely difficult for them to eat traditional kibble.
When that happens, it can be hard to find suitable food to give your dog, especially one that they can actually eat. With that in mind, we took a look at the best foods on the market today for dogs with bad or no teeth.
In the reviews below, we'll show you which foods should be easy for your pup to munch on, while still being delicious and nutritious.
---
A Quick Comparison (updated in 2021)
Rating
Image
Product
Details

Best Overall

Primal Nuggets Grain-Free Raw Freeze-Dried Dog Food

Extremely high in protein and fat
Uses rarely utilized but highly nutritious animal parts
Keeps dogs full longer
Check Latest Price

Best Value

The Honest Kitchen Whole Grain Dehydrated Dog Food

Each pound of dehydrated food swells to four times its size
First ingredient is turkey
Includes high-quality fruits and veggies
Check Latest Price

Premium Choice

Purina Beneful Prepared Meals Wet Dog Food

Chicken broth makes it delicious for dogs
Uses soft chunks of meat
High-quality proteins like chicken and liver
Check Latest Price

Blue Buffalo Homestyle Recipe Canned Dog Food

Uses high-quality ingredients like chicken and carrots
Appealing to dogs
Highly nutritious
Check Latest Price

Merrick Lil'Plates Mini Medley Wet Dog Food

Tender and appetizing
Each box has a variety of flavors
Check Latest Price
The 6 Best Dog Foods for Dogs with Bad Teeth
1.

Primal Nuggets Raw Freeze-Dried Dog Food — Best Overall
Primal Nuggets Raw is a freeze-dried food that's absolutely packed with nutrients, making it a fantastic food for dogs regardless of their dental situation.
It's loaded with protein — it has 39%, in fact, not to mention a nearly equal amount of fat. This ensures that your dog will have everything they need to keep their muscles strong, while also keeping them full for longer.
All those nutrients come from foods like lamb hearts, livers, and ground-up bones, which are full of important nutrients not often found in regular kibble. It's also full of organic fruits and vegetables, including high-end options like kale, cranberries, and blueberries.
You'll see apple cider vinegar, salmon oil, and coconut oil on the list too. Each is an important source of antioxidants that can do everything from turbocharge your dog's immune system to fight inflammation.
You need to rehydrate the chunks before serving, or you can use them as a topper for regular kibble or as a treat without adding water. Regardless of how you serve them, they'll be super soft and crumbly, offering no resistance to your dog's teeth.
The biggest issue with Primal Nuggets Raw is the price. This is an expensive food, but given all the benefits that it offers, we'd have to say that it's worth every penny.
Pros
Extremely high in protein and fat
Uses rarely utilized but highly nutritious animal parts
Keeps dogs full longer
Packed with organic fruits and veggies
Can be used as a treat or topper
---
2.

The Honest Kitchen Dehydrated Dog Food — Best Value
The Honest Kitchen Whole Grain isn't just a good choice for dogs with bad teeth — it's an excellent food for any dog, period.
It's unlike most kibbles in that it's a dehydrated food that swells up when you add water to it. As a result, the bag makes much more than you'd think — each pound of dehydrated food makes 4 pounds of regular food, in fact.
So, while this food is expensive, it's not as bad as you'd first suspect. All things considered, it's the best dog food for dogs with bad or no teeth for the money. It is something of a pain to prepare, though.
The ingredients list is impressive. It starts with turkey, and after that, you'll find organic oats and flaxseed, carrots, cabbage, apples, and more. Better yet, all the ingredients are easily recognizable, so you can actually see that you're feeding your dog real, high-quality food.
Best of all, though, it's incredibly soft and mushy. Your dog should be able to wolf it down without issue, even if they have bad — or no — teeth.
All in all, The Honest Kitchen Whole Grain is one of the best foods around, and it's especially good for dogs with dental problems.
Pros
Each pound of dehydrated food swells to four times its size
First ingredient is turkey
Includes high-quality fruits and veggies
Chunks of recognizable food in mix
---
3.

Purina Beneful Wet Dog Food — Best for Puppies
If you want something soft yet nutrient-rich to start your puppy on, Purina Beneful is an excellent choice. It's a wet food that comes in an easy-to-reseal container, so you can feed it to your pup with minimal hassle.
Everything is swimming in chicken broth, which makes it extremely likely that your dog will enjoy the taste. The proteins are all high-quality, like real chicken and liver, giving your growing dog plenty of important nutrients to grow up big and healthy.
The chunks of meat are extremely soft, so your puppy shouldn't have any issue chewing them. Even an older dog can eat it without issue.
There are quality fruits and veggies, like peas, carrots, and barley, in each serving, and you can clearly recognize them. That gives you the reassurance that you're feeding your dog actual food, rather than some sort of chemical mishmash.
Unfortunately, this food has questionable ingredients in it. You'll find cheap fillers like wheat gluten, modified corn starch, and soy flour. Not only are these full of empty calories, but they can be hard for some dogs to digest.
There's quite a bit of salt in each container as well, which isn't ideal for growing dogs. Still, if you're looking for a soft food to give your puppy, Purina Beneful is a good choice.
Pros
Chicken broth makes it delicious for dogs
Uses soft chunks of meat
High-quality proteins like chicken and liver
Recognizable fruits and veggies inside
Cons
Uses low-quality fillers like corn, wheat, and soy
May be hard for some dogs to digest
High salt content
---
4.

Blue Buffalo Recipe Canned Dog Food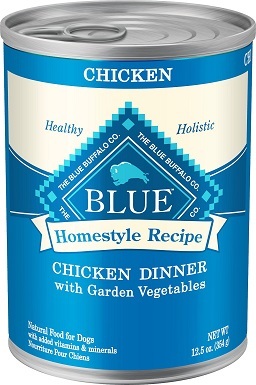 Blue Buffalo is a dog food company that's well-known for its limited-ingredient foods, and while its Homestyle Recipe has a longer ingredients list than most of its options, everything inside is high-quality.
This is a pâté-style food, so you won't see chunks of natural ingredients like you will with some of the other options on this list. You'll just have to trust that it's full of chicken, liver, broth, and fruits and veggies like it says on the can.
Among those quality fruits and veggies are things like carrots, sweet potatoes, oatmeal, and flaxseed, giving your dog plenty of nutrients in every bite.
Still, it's a runny formula, so it can be messy to prepare. That runniness is also due to the high oil content in this food, which can contribute to making your pet chubby.
It has an extremely strong odor. That may make it more appealing to your dog, but it doesn't make things fun for you.
All in all, Blue Buffalo Homestyle Recipe is a good canned food, but it needs to make a few changes if it wants to become great.
Pros
Uses high-quality ingredients like chicken and carrots
Appealing to dogs
Highly nutritious
Cons
Messy to prepare
High oil content
Has a strong odor
---
5.

Merrick Lil'Plates Mini Medley Wet Dog Food
You won't find enough food in Merrick Lil'Plates Mini Medley to feed a medium-sized dog or larger. However, if you have a tiny pup, this is a choice worth considering.
Each flavor is filled with meat swimming in broth, so it should be both tender and appetizing to your dog. Most pups appreciate the variety in each box as well.
One issue that you may encounter is difficulty opening the packages. Owners with arthritis or similar conditions may struggle to get the containers open, and they may prefer a can or other traditional packaging. Juice can also fly everywhere when you do finally get one pried open.
It's heavy on potatoes as well. Many dogs have issues digesting potatoes, and they don't add much in the way of nutrition. We'd also like to see more omega fatty acids in each container.
Merrick Lil'Plates Mini Medley is a worthwhile option for small breeds with dental issues, but it has a few annoying qualities that make it difficult to recommend over some of the products listed previously.
Pros
Tender and appetizing
Each box has a variety of flavors
Cons
Packages are hard to open
Juice can fly everywhere when prying open containers
Recipe is heavy on potatoes
Low in omega fatty acids
---
6.

Pedigree Choice Cuts Canned Dog Food
Pedigree Choice Cuts is easily the most ubiquitous option on this list, as you can find it in grocery stores and big box locations all over the country. It's also quite inexpensive.
We like that it's full of big, tender chunks of beef. This causes most dogs to scarf it down, but the pieces may be too large for smaller dogs to chew comfortably.
The recipe is also full of questionable ingredients. The inclusion of meat by-products is one of the bigger red flags, as this indicates that the formula uses low-quality meat in order to keep prices down.
It's also full of fillers like wheat; again, this is likely a cost-cutting measure. Your dog's digestive tract may pay the price for Pedigree's frugality, though.
There are artificial flavors inside, presumably to mask the flavor of the meat by-products. Still, those are unnecessary chemicals that you'd be putting in your dog's body.
Pedigree Choice Cuts is an affordable option that most dogs love. If giving your dog a healthy meal is at the top of your priorities list, though, you should probably choose another food.
Pros
Inexpensive
Filled with tender chunks of meat
Cons
Pieces may be too large for smaller dogs
Uses low-grade meat
Packed with cheap fillers
Includes artificial flavors
May cause upset stomach

Buyer's Guide – Finding the Best Dog Food for Dogs With Bad Teeth or No Teeth
Watching your dog struggle to eat due to dental problems can be heartbreaking. Fortunately, there are things you can do to make your pup's life easier, and we'll cover the important strategies in this guide.
What Does It Mean If My Dog's Losing Teeth?
It depends on a variety of factors, including how old your dog is.
If you have a puppy that's losing teeth, there's likely nothing to worry about; just like humans, puppies have baby teeth, called "milk teeth," that fall out after a certain amount of time. As long as their grown-up teeth come in without issue, finding lost puppy teeth isn't any cause for concern.
If your adult dog is losing teeth, though, it's a sign that something is wrong. If your dog hasn't suffered any trauma to the mouth recently, the most common culprit is advanced periodontal disease.
Sometimes dogs break or lose teeth for other reasons, like chomping on something hard. If that's the case, take your dog to the vet and bring the tooth along with you; your doctor might be able to replace it.
Regardless of why your dog is losing teeth, you should have them get a thorough dental examination from their doctor. They could be in quite a bit of pain, and there may be things you can do to help them.
Does It Mean I'm a Bad Owner If My Dog Has Periodontal Disease?
Not at all. It's estimated that over 2/3 of adult dogs suffer from some form of periodontal disease; in fact, it's the most common disease affecting dogs.
However, that doesn't mean that periodontal disease should be ignored. You can prevent it by brushing your dog's teeth regularly, taking extra care to remove plaque from along the gumline.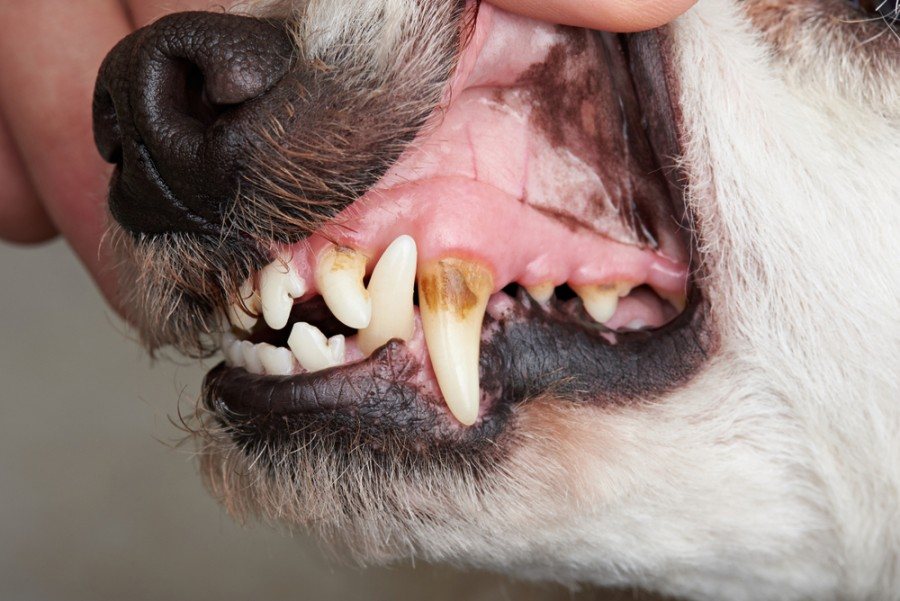 What Causes Periodontal Disease?
If you don't clean your dog's teeth regularly, plaque and bits of food will accumulate along their gums. Over time, this plaque will form something called "calculus," which presumably gets that name because it's incredibly hard.
Your pup's immune system will try to fight off the plaque, causing the gums to become inflamed. This leads to even more plaque becoming trapped, and eventually, the gums will pull away from the teeth, leaving pockets that are hotbeds for bacterial growth.
That bacteria will lead to abscesses and the deterioration of teeth and bones, causing the teeth to loosen and fall out.
Some dogs are more prone to periodontal disease than others, but since it's often caused by the accumulation of years of plaque and tartar buildup, senior dogs are especially vulnerable.
Toy breeds can be prone to periodontal disease as well, as they have many teeth in their small mouths. Having crowded teeth can dramatically increase a dog's risk of periodontal disease later in life.
Is There Anything I Can Do to Stop Periodontal Disease?
The best thing to do is to prevent periodontal disease before it starts by brushing your dog's teeth regularly and ensuring that they get periodic cleanings. However, if that ship has sailed, it doesn't mean that you're powerless to help your pooch.
You'll need to take your dog to a canine dentist. The dentist will perform X-rays to determine the extent of the damage, and they may prescribe antibiotics to clear up the bacterial pockets.
From there, it will depend on how advanced the disease is. If it's still in the early stages, a simple cleaning and polishing may be all your dog needs to get back on track.
If the disease has advanced to later stages, though, more extensive treatments, like planing or removing teeth, may be required. The dentist may even recommend opening up the gums to clean the roots of your dog's teeth, then sealing them back up and giving your dog bone growth stimulants to spur healing.
This can all be quite time-consuming and invasive, not to mention expensive. We realize that your dog is worth it, but you're much better off if you take the time to brush their teeth regularly instead of waiting for a dentist to perform miracles.
If My Dog Has Lost Their Teeth, What Should I Look for When Buying Them New Food?
Just because your dog has lost their teeth doesn't mean their life is over. You still need to feed them, and they'll likely still be interested in eating.
However, crunchy kibble will probably be a thing of the past. That doesn't mean you can't buy and serve them dry food, especially if there's one that they particularly enjoy, but you won't be able to serve it to them straight out of the bag anymore. Instead, you'll need to mix it with water, gravy, or other moisture in order to soften it up for them.
Many owners switch their dogs to wet foods because they're easier for toothless dogs to eat. Your pup can easily gum down a pâté or stew of some kind, so canned food is an excellent option. However, keep in mind that wet food usually has more calories than dry food, so pay attention to portion control, as you don't want to make your dog fat in the process.
Also, wet food won't clean your dog's teeth as they eat like dry kibble will. If you switch your dog to an all-wet food diet, we'd recommend being extra vigilant about brushing.
You may want to switch your dog to a raw diet as well, provided that the cuts of meat are tender and easy to chew. Raw meat is full of enzymes that fight off bacteria, which can help reduce the spread of periodontal disease. It may be enough to allow your pup to keep however many teeth they have left.
How Do I Brush My Dog's Teeth?
Now that you understand the importance of brushing your mutt's teeth regularly, there's just the little matter of understanding how to actually do it. It can be difficult, especially if you have an uncooperative pup on your hands.
The first thing you need is a special toothbrush and toothpaste designed specifically for dogs. Once you have the gear, you can start to acclimate your dog to them slowly; begin by letting them sniff the brush and lick the toothpaste off of it. Keep everything light and relaxed; don't spook or pressure your dog in any way.
Once they're comfortable around the brush, start gently massaging their gums with just your finger (you can add peanut butter to your finger if your dog doesn't seem to like this step). You're simply trying to acclimate them to having something in their mouth, as well as get them used to the sensation of circular brushing.
After a few sessions of finger brushing, switch to the toothbrush and toothpaste. Lift your dog's lips and gently scrub their teeth and gums in a circular motion while angling the bristles toward the gumline. If you notice spots where plaque has built up, pay them special attention, but don't brush too hard or you'll scare your dog.
While you're brushing, be sure to give your dog plenty of positive reinforcement in the form of pats and praise. Then, when you're finished, reward your dog with a dental-friendly treat so they associate the act with something positive.
Conclusion
While it's expensive, we found Primal Nuggets Raw to be the best dog food for dogs with bad teeth or no teeth. It's loaded with protein, and its soft, crumbly nature ensures that any pup can eat it without issue.
For a more budget-friendly pick, consider our value pick for food for dogs with bad or no teeth, The Honest Kitchen Whole Grain. It costs a fair amount up front, but each box should last you quite a while. Better yet, each serving is full of high-quality meats, fruits, and vegetables.
It's not fun to watch your dog struggle to eat because their teeth hurt, so finding them a suitable food that's easy on their chompers is essential. We hope that our reviews have made it easier for you to do just that, so you can continue spoiling your pup at every meal.
---
Featured Image Credit: Javier Brosch, Shutterstock