8 Best Dog Foods for Pugs in 2023 – Reviews & Top Picks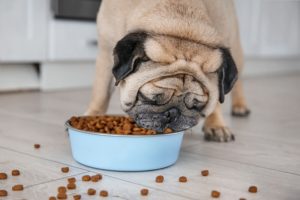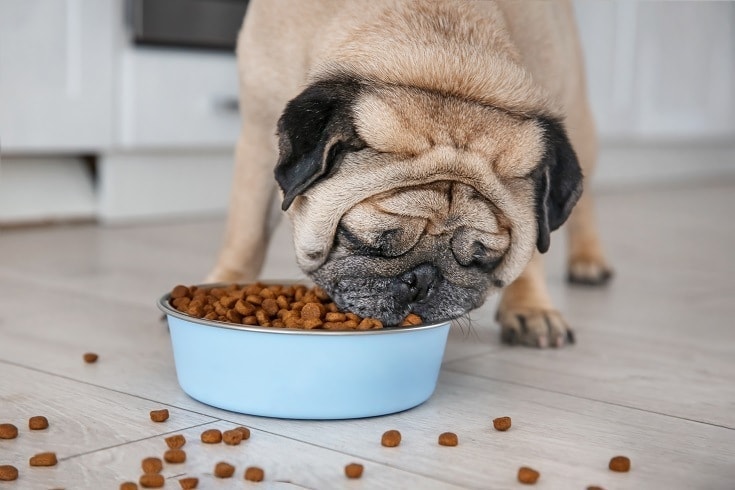 Pugs are very special dogs, and they have their own nutritional needs, too. Of course, finding food that will keep them happy and healthy can feel like a full-time job, especially since every brand makes a variety of bold claims.
To take some of the stress out of your decision, we looked at some of the top foods on the market for pugs today. In the reviews below, we'll share which ones are worthy of being fed to your little prince, and which ones are better off left on the shelf.
And yes, we realize that no matter which food you buy, you'll still end up subsidizing your diet with table scraps. We'd tell you not to, but we know how futile it is to try to resist those little stubby faces…

A Quick Look at our Favorites in 2023
Rating
Image
Product
Details

Best Overall

The Farmer's Dog Fresh Dog Food

Supports a healthy weight
Developed by veterinary nutritionists
Contains fresh high-quality ingredients
Click to Save 50%

+ Free Shipping!

Best Value

Purina Pro Plan Savor Dry

High in protein
Full of tender meaty morsels
Lots of glucosamine
Check Price

Royal Canin Canned

Has both chicken and pork for protein
Dried beet pulp for added fiber
Includes taurine
Check Price

Wellness Complete Health Dry

Lots of omega fatty acids
Includes nutrient-rich superfoods
Skips cheap fillers and by-products
Check Price

Royal Canin Pug Adult Dry

Gentle on the stomach
Has lots of omega fatty acids
Good for keeping wrinkles healthy
Check Price
The 8 Best Dog Foods for Pugs
1.

The Farmer's Dog Fresh Dog Food Subscription– Best Overall
When it comes to choosing food for your Pug, you must choose high-quality food that supports healthy growth without leading to obesity. The Farmer's Dog is the best choice for feeding your Pug. When fed as directed, The Farmer's Dog food is a fantastic way to provide your Pug with great nutrition without causing weight problems. This company takes a fresh approach to pet food by offering dog foods that have been developed by board-certified veterinary nutritionists. These foods are a great source of high-quality protein, fiber, healthy fats, and fruits and vegetables, and they are packed with supplemental nutrients to ensure all your dog's nutritional needs are met.
This subscription service ships freshly prepared meals right to your door. You can select from a variety of proteins, and the food comes in pre-portioned packs, allowing you to open and pour the food for your dog. Not only do you get to skip the line at the store, but you also skip the added preservatives that many dog foods are full of. This food does retail for a more premium price than many foods you may find in the store, though.
Supports a healthy weight when fed as directed
Developed by board-certified veterinary nutritionists
Contains high-quality ingredients and is freshly prepared for your dog
Subscription service allows you to skip the store
Pre-portioned packs ensure proper measurements
---
2.

Purina Pro Plan Dry Dog Food – Best Value
You may need to work a little harder to keep the weight off with a pug than you would other breeds, and feeding him Purina Pro Plan will go a long way toward helping. It's high in protein (26%), and most of that comes from the fact that chicken's the first ingredient. They also use poultry by-product meals; this increases the total protein, but it involves using low-grade meat. Your pup might not mind, but you likely would if you knew what it was made of. At least that meat is full of joint-friendly glucosamine.
There's also a lot of wheat and corn in here. That, combined with the animal by-products, is how the manufacturer can keep the costs so low, and this is budget-friendly dog food. We feel it's the best dog food for pugs for the money. However, that value comes at the cost of feeding your dog subpar ingredients. Your pup will get all the protein he needs from this, but little else, as most of the kibble is made of cheap filler. You might want to consider tossing a few fresh fruits or veggies in with it.
There are tender chunks of meat in here, though, and your dog will almost certainly love it. You can't ask for much more than high protein and good flavor in food this inexpensive, which is why Purina Pro Plan narrowly edges out the competition for silver.
High in protein
Full of tender meaty morsels
Great value for the price
Lots of glucosamine
Uses cheap fillers and subpar meat
Not many fruits or veggies inside
---
3.

Royal Canin Canned Dog Food
If giving your mutt the proper nutrition is more important than saving money, then this canned option from Royal Canin might also be worth considering. It's certainly pricey, but you get quite a bit of value for your money. There's pork and chicken in here, helping to give your pooch all the protein he needs. The bad news is the pork is made of by-products, but the chicken should be clean.
There's lots of flour in here, too, both from corn and rice. That adds a lot of empty calories, so be sure to watch your pup's waistline if you feed this to him regularly. They counter this by adding dried beet pulp, which is full of fiber. It should help your dog feel full while also helping him stay regular. They dumped in some taurine too, which is an amino acid that's essential for heart health.
One other issue worth mentioning is that you shouldn't feed your dog wet food exclusively, as it's not good for their teeth (and it's very fatty). So, you'll likely need to buy a separate kibble to combine this with.
Overall, though, Royal Canin's canned food is excellent for pugs, and it will certainly dress up any boring old dry food you put in his dish.
Has both chicken and pork for protein
Dried beet pulp for added fiber
Includes taurine for heart health
Dogs generally love wet food
Very expensive
Should be paired with a dry kibble
---
4.

Wellness Complete Health Dry Dog Food
Wellness Complete Health has a lot of protein from quite a few different animal sources in it. It starts with turkey, then adds chicken meal, salmon meal, and chicken fat, all of which are high in essential amino acids. We like that it doesn't use cheap fillers, instead using more nutritious foods like peas and lentils for its carbs. That should give your dog longer-lasting energy, while also helping to keep pounds off.
You'll find quite a few so-called "superfoods" in here too, like blueberries, spinach, and flaxseed. There's salmon oil as well, which keeps the omega fatty acid levels high. That salmon oil gives it a very strong odor, though, and many dogs find the smell off-putting. It's also very pricey, which you'd expect given the quality of the ingredients. We also wish they'd skipped the white potatoes. There's nothing wrong with them, per se, but they add little value in terms of nutrition, and they give many dogs horrible gas (something your pug can likely manage without outside help, thank you very much).
We like Wellness Complete Health, and if money is no object, you might even want to bump it up a spot or two. For most people, though, the price may be enough to warrant looking at one of our other top picks instead.
Protein comes from several animal sources
Lots of omega fatty acids
Includes nutrient-rich superfoods
Skips cheap fillers and by-products
Very pricey
Has a strong fish odor some dogs find off-putting
May cause gas
---
5.

Royal Canin Pug Adult Dry Dog Food
Royal Canin Pug is specifically manufactured for pugs, and it boasts a few unique qualities that give it an edge over less-specialized foods. The biggest is the design of the kibble itself. It's made to be easy for your pug to pick up and chew, despite not having much in the way of a snout to work with.
The nutrients are also designed to target many pug-specific issues. It has quite a bit of omega fatty acids, thanks to ingredients like chicken fat and anchovy oil, and omega fatty acids are great for keeping your dog's wrinkles clean and smooth. It should be gentle on his stomach, too, as it's filled with rice, oats, and beet pulp. This help offset some common allergens that are found inside, like corn and chicken by-products.
Besides those questionable ingredients, our biggest issue with this food is the minimal amount of fiber inside. You'll need to monitor your pup closely to make sure he's able to go at regular intervals, with minimal straining. If not, you'll need to augment this kibble with some sort of fiber boost.
Designed specifically for pugs
Kibble is shaped to make it easy for dogs to pick up and chew
Gentle on the stomach
Has lots of omega-fatty acids
Good for keeping wrinkles healthy
Uses questionable ingredients like corn and animal by-products
Very little fiber
---
6.

Royal Canin Pug Puppy Dog Food – For Puppies
While puppies can seemingly eat anything and turn out ok, it's important to start them out with a healthy diet when they're young. Royal Canin Pug Puppy is one of the best foods for doing just that. Like the adult food in our #1 spot, this kibble is shaped in such a way that short-nosed pugs can easily scrape it up and chew it. This is especially important for puppies who haven't fully mastered how their jaws work yet.
This has everything little fat puppies need to grow up big and strong, even if it doesn't always get those ingredients from the healthiest of places. Case in point: chicken by-product meal is the first ingredient. That means your dog will get plenty of protein and other important amino acids, but the chicken won't be very high-quality.
There are brewer's rice and corn to add carbs (and this food has a lot of carbs), and your dog should be able to digest the former much better than the latter. At least this food also includes chicken fat and fish oil to give your little buddy a ton of omega fatty acids. You'll only feed your dog Royal Canin Pug Puppy for a few months, which is why we couldn't justify ranking it in the top three. Don't let that fool you, though, as this is a great puppy kibble.
Kibble is easy for pugs to eat
Lots of protein
Filled with omega fatty acids
The first ingredient is animal by-products
Corn may cause digestive issues
Very high in carbs
---
7.

Hill's 3822 Science Diet Dry Dog Food
Hill's Science Diet is famous for its fantastic prescription foods. Unfortunately, its non-prescription options (like this one here) aren't quite of the same caliber. The ingredients start pretty well, with chicken, barley, rice, and pea fiber, but things take a turn after that. There's a lot of corn gluten meal in here, as well as artificial flavoring. We also wish it didn't have quite so much salt. The bag says it's "Made in the USA with global ingredients," so you can't be sure where the food is coming from. Also, regardless of where it came from, it's very expensive.
The kibble is extremely small, so your pug shouldn't have much of an issue chewing it. Unfortunately, it's also perfectly round, so he may have a few issues picking up each piece, especially when there are only a few left in the bowl.
Hill's Science Diet isn't bad food, but for the price, you'd expect to get a little more for your money. As a result, it'll have to be satisfied with a spot near the bottom of this list.
Real chicken is the first ingredient
Small kibble is easy to chew
Uses lots of corn gluten meal
High in salt
No way to tell where the ingredients are from
Dogs may have issues picking up kibble
---
8.

Purina 18015 Beneful Dry Dog Food
Purina Beneful has a lot of protein in it, largely because real chicken is the primary ingredient. After that, though, the ingredients list takes a nosedive in a hurry. You'll find corn, wheat, and soybeans in the first five ingredients, and those foods are the primary causes of food allergies in dogs. If your pup's stomach is the slightest bit sensitive, this will go off like an atom bomb in his gut. You'll also find animal by-products, artificial flavors, and a lot of salt inside. It's like the manufacturers had a checklist of foods that dogs have difficulty tolerating, and they checked off every single one.
The food is a mixture of tender morsels and hard kibble, which should be good for most dogs. Older pooches or ones with dental problems will likely find the crunchy bits too hard to eat, though.
Purina Beneful is a case study of how quickly a food list can go bad, even after starting with a high-quality ingredient like chicken. Until they replace all the dodgy ingredients with something easier for your pup to tolerate, you're better off buying one of the other kibbles on this list for your pug.
Real chicken is the first ingredient
High in protein
Has about every potential allergen we can think of
Crunchy kibble may be too hard for older dogs
Terrible for animals with sensitive stomachs
Lots of salt
Uses low-grade animal by-products
Related Read: 10 Best Dog Foods of the Year

Final Verdict
If you don't know what to feed your little buddy, we recommend starting with The Farmer's Dog Fresh Dog Food, our choice for the overall best dog food for pugs. The customized fresh food is delivered to your door for your pug to enjoy. For a more budget-friendly option, try Purina Pro Plan Dry Dog Food, our choice of the best food for pugs for the money. It's very high in protein without costing an arm and a leg, making it good for dog owners who are trying to save a few bucks. The Royal Canin Pug, on the other hand, is specifically made for pugs, and the kibble is shaped in a way that makes it easy for them to eat. Plus, it has the nutrients they need most.
Finding a food that's both nutritious and delicious enough for your pug to eat can be a daunting challenge. We hope these reviews have made the process easier, so you can find food that enables your best friend to live a long, healthy life.
Of course, no matter how high-quality the food you buy for him is, he'll spend most of his time trying to knock over the trash to get a snack. That's just how it goes.
---
Featured Image Credit: Africa Studio, Shutterstock