11 Best Dog Foods — 2023 Reviews & Top Picks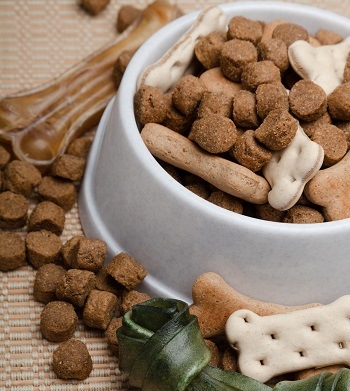 In the last decade, the number of pet food brands has exploded. So much so, that the latest research tells us that there are at least 630 brands available to American pet owners.1 That's a humungous amount, and it's understandable why most dog owners don't know where to start when it comes to picking the best dog food brand for their pooch.
And this is precisely why we have created this best dog food brand guide. We have picked 10 of the best dog food brands available, all with in-depth reviews as to why we have chosen them.
By choosing one of our recommendations below, you can spend less time scrolling through hundreds and hundreds of products, and more time playing with your four-legged bestie.
So, whether you have a Chihuahua or a Mastiff, there is something here for every pooch and every owner. Let's jump straight into the world of top rated dog foods.
A Quick Glance at the Winners of 2023:
Rating
Image
Product
Details

Best Overall

The Farmer's Dog Fresh Dog Food Subscription

Four custom-made recipes to choose from
Formulated with veterinary specialists
Fresh ingredients & whole nutrition
Click to Save 50%

+ Get Free Shipping

Best Value

Purina ONE SmartBlend

Affordable
Lists real chicken first
Tasty recipe
Check Price

Best for Puppies

Blue Buffalo Life Protection Puppy

Designed for puppies
Offers well-balanced nutrition
Tasty chicken recipe
Check Price

Best Wet Dog Food

American Journey Grain-Free Canned

Two meat flavors for variety
Well-balanced nutrition
Plenty of vitamins and minerals
Check Price

Merrick Backcountry Freeze-Dried Raw

Raw meat pieces
Highest protein content
Rich in omega fats
Check Price
The 11 Best Dog Foods Reviewed
1.

The Farmer's Dog Fresh Dog Food Subscription – Best Overall
The Farmer's Dog is the 1st best overall dog food. Offered only through a premium subscription service, the Farmer's Dog offers four fresh, custom-made recipes designed for your dog. You fill out a profile with your dog's age, weight, breed, activity level, and more, then choose your flavor and delivery schedule. The food is delivered straight to your door packed in dry ice.
You can choose from four recipes: beef, chicken, turkey, and pork. All recipes are complete and balanced with different high-quality ingredients and nutrients selected by a team of veterinary specialists board-certified by the American College of Veterinary Nutrition. This food is appropriate for all breeds, ages, and sizes. However, this food is only available through a subscription, and it can be expensive if you're on a budget.
Four custom-made recipes to choose from
Formulated with veterinary specialists
Convenient delivery
Whole nutrition
Subscription only
Expensive
---
2.

Purina ONE SmartBlend Dry Dog Food – Best Value
Purina is a well-known brand that produces a variety of product lines. We think this is the best dog food brand for the money because it is affordable, while still offering good quality nutrition.
For those on a tighter budget, this is the best option because you get more kibble for your money. It is highly rated by other dog owners too, so it gets a thumbs up from us.
The first ingredient is real chicken, shortly followed by chicken by-product meal. This provides plenty of protein for your pooch and ensures that his muscles and energy needs are taken care of.
This is a grain-inclusive recipe, which is an essential option for those dogs who do better on grains. It also lists a variety of vitamin and mineral supplements to maintain healthy immunity.
The only reason that it didn't reach our top spot is that it uses artificial caramel coloring and artificial liver flavor. Both of which are unnecessary and can be troublesome ingredients for some sensitive dogs.
Affordable
Lists real chicken first
Variety of vitamins and minerals
Tasty recipe
Uses artificial colors and flavors
---
3.

Blue Buffalo Life Protection Puppy Dry Dog Food – Best for Puppies
Blue Buffalo is another top brand that produces a variety of foods for all different dog's needs. After much research, this is the best option for puppies because it offers a well-balanced diet. Which is why it is called the 'life protection' brand.
Deboned chicken and chicken meal are the first two ingredients, which provide your growing puppy with all the building blocks he needs to build a healthy body. These are closely followed by fish meal, egg product, and fish oil for his DHA and ARA puppy nutrient needs.
This is a grain-inclusive recipe that uses gentle brown rice and oatmeal, which is a great choice for young canine digestive systems. Blueberries, cranberries, and other vitamin and mineral supplements are added for his developing immune system.
The only negative that we can find about this formula is that it splits peas into a variety of ingredients, including whole peas, pea protein, and pea fiber. This is usually done to boost the overall protein value, meaning it is likely less meaty.
Designed for puppies
Offers well-balanced nutrition
LifeSource Bits for optimum puppy development
Tasty chicken recipe
Uses a lot of pea ingredients
---
4.

American Journey Grain-Free Canned Dog Food – Best Wet Dog Food
This is our pick as the best wet dog food. Although American Journey is the newest brand on this list, it is proving to be a big hit with dog owners. This is Chewy's home brand, and they have created top-quality pet food on a reasonable budget.
There are two flavors in this wet food tray, which is chicken and beef vegetable medleys. The first ingredient in each is real meat, followed by chicken broth and beef broth that provide juicy moisture and extra meaty taste.
Chicken liver and eggs add the extra protein boost, as well as other nutrients. And DHA and ARA for better cognitive and cardiac function.
Each recipe is free from meat by-products, corn, wheat, and soy, which is excellent for those dogs with sensitivities. Flaxseed and fish oil provide healthy fats for your dog's skin and joints too.
Vitamins and minerals are added to ensure that your dog's diet is well-balanced and that his immunity is kept healthy.
The only criticism we have of this product is that the protein content could be higher. But some dogs find high protein foods too rich, which makes this an excellent option for some.
Two meat flavors for variety
Well-balanced nutrition
Omega fatty acids for overall wellness
Plenty of vitamins and minerals
Protein content average
Few probiotic ingredients
---
5.

Merrick Backcountry Freeze-Dried Raw Dry Dog Food
Merrick is another popular brand amongst those who seek premium and natural kibbles. It offers raw food in a convenient form, without any mess or need for preparation.
Most dogs love raw food kibbles because of the intense meaty taste. In this recipe, beef, lamb, salmon, pork, lamb, rabbit, and liver are listed all as either real meats or meat meals. And all of this contributes to the highest protein content on this list.
It also ensures that your dog's other dietary needs are cared for and that he consumes a well-balanced diet. Healthy carbohydrates are listed instead of grains, and wholesome fruits and veggies such as sweet potatoes, apples, and blueberries provide antioxidants. Vitamins and mineral supplements are added too.
This kibble is also enriched with a variety of probiotic fermentation products, which promote friendly bacteria in his gut. They might also help to reduce gas and stool odor.
The only criticism we have of this product is that some dogs will find this recipe too meaty, but thankfully more love it.
Raw meat pieces
Highest protein content
Rich in omega fats
Enriched with probiotics
Too meaty for some
Premium price
---
6.

Taste of the Wild High Prairie Grain-Free Dry Dog Food 
Taste of the Wild is a well-known food brand that focuses on offering a high protein content, tasty recipes, and easy-to-digest ingredients.
The first three ingredients in this recipe are buffalo, lamb meal, and chicken meal. As well as roasted buffalo and venison, egg product and fish meal. So you can be sure that your pooch receives all of the amino acids and energy that he needs to stay energized and strong. Dogs crave meat, and this formula truly offers a taste of the wild.
This recipe is also easy to digest, and it provides a list of prebiotic fibers, and five probiotic fermentation ingredients, all of which promote healthy bacteria in his gut. Yucca schidigera extract is also known to reduce stool and gas odor, so it's going to be a big hit with the whole family too.
Vitamins and mineral supplements are listed, and blueberries and raspberries provide an extra boost of antioxidants for a healthy immune system.
This product is high in healthy omega fats, meaning your pooch's skin and coat are well cared for, as are his joints and cognitive function.
Variety of real meat protein
Super tasty
Easy to digest
Provides live probiotic cultures
Abundance of healthy omega fats
Some dogs may find it too meaty
---
7.

VICTOR Hi-Pro Plus Formula Dry Dog Food
Victor is another longstanding pet food brand, and they look to provide premium pet foods at affordable prices. This recipe is aimed at high-performance dogs, as it allows for sustained energy for their active needs. For this reason, it is also suited to pregnant and nursing moms too.
This recipe is made with gluten-free grains, meaning it is suited to those dogs who do better on a grain-inclusive diet without gluten. This might sound obvious, but pet owners often mix the two.
Beef meal is the first ingredient, followed shortly after by pork meal, chicken meal, and fish meal. So his muscles are well cared for with a variety of amino acids, and he also receives an abundance of omega fatty acids.
Alfalfa meal and seaweed meal are nutrient-dense and full of calcium to keep bones strong and joints supple. Which is essential for sporting or highly active dogs who are forever jumping around.
Unfortunately, this recipe lists natural flavor, which is a dubious ingredient to add.
Optimum formula for active dogs
Calcium supports bones and joints
High in omega fatty acids
High fats too much for inactive dogs
Lists dubious 'natural flavor' ingredient
---
8.

Nutro Wholesome Essentials Adult Dry Dog Food
Nutro is a wholesome brand that always provides real meat as the first ingredient, from ethical sources. Making this a good option for eco-conscious consumers.
Chicken meal is the second ingredient, which is a fantastic source of glucosamine for large breed dogs. This recipe offers a lower protein content, which makes this an excellent option for those who cannot tolerate meaty recipes.
Large breeds will also find this formula suitable as it has the optimum calcium and phosphorus ratio to support their large bones and joints. It also lists a variety of vitamins and minerals for his overall health and strong immunity.
This recipe is grain inclusive, and uses brown rice and brewers rice, as well as split peas and grain sorghum. Although they are slightly nutritional, they are sometimes viewed as cheap fillers for dog food.
Unfortunately, this recipe does not list probiotic ingredients compared to the higher products on this list. But for many, it is a good option for dogs with sensitivities.
Optimum calcium and phosphorous ratio
First ingredient is real chicken
Relies heavily on rice
Low probiotic content
---
9.

Rachael Ray Nutrish Natural Dry Dog Food
Rachael Ray is a relatively new pet food brand compared to most on this list, but it is becoming popular thanks to its wholesome and homemade branding.
This recipe is made with beef and beef meal as the first two ingredients and only meat protein sources. It is a chicken-free option, making it a great alternative to the most commonly used protein ingredients. It has an average protein content compared to others on this list.
It relieves heavily on grain ingredients, such as dried peas, soybean meal, ground corn, and brown rice. Although many dogs do well on this diet, these ingredients are often seen as cheap fillers. They can also agitate the digestive systems of sensitive dogs.
This recipe lists many vitamin and mineral supplements for overall health. As well as veggies such as peas and carrots for an extra veggie boost.
This recipe has few calories, which makes it a good choice for those dogs looking to manage their weight or less active dogs.
Chicken free option
Vitamin and mineral supplements
Lists corn and soy
Lists 'natural flavor'
---
10.

Diamond Naturals All Life Stages Dry Dog Food
This kibble is produced by Diamond Naturals, and although they had a little bit of a sticky past when it comes to pet food safety. They have since made a comeback and improved their safety record.
This is a budget kibble, and as such, the quality is not as good as our previous recommendations. But the budget is essential for some dog owners out there. This recipe relies heavily on grains and other fillers.
But, when compared to others in a similar pricing band, it offers a much better quality diet. Chicken and chicken meal are the first two ingredients, and it provides an average protein content.
It lists a variety of exotic fruits and veggies, such as pumpkin, kale, oranges, coconut, and papaya, which provide antioxidants for a healthy oxidative state. As well as vitamin and mineral supplements.
It lists flaxseed, eggs, and salmon oil that provide omega fatty acids for your dog's coat and skin nourishment, amongst other benefits.
Probiotic fermentation ingredients are listed. But unfortunately, this kibble also contains 'natural flavor' which isn't ideal for those with sensitive stomachs.
Chicken and chicken meal first ingredients
Variety of fruits and veggies
Relies heavily on grains
Very low fiber content
Budget kibble
---
11.

Iams ProActive Health Adult Dry Dog Food
Iams is a budget brand that aims to provide a well-balanced diet at affordable prices. They offer many recipes, and this formula is aimed at large breeds in particular.
This is the last on our list because it is a budget kibble that uses a lot of fillers such as barley, corn, and sorghum. Not only are these less nutritious than other ingredients, but they can agitate sensitive dogs too.
With that being said, it is a popular recipe with many dogs. The first ingredient is chicken, which provides a lower than average protein content. This is ideal for those dogs who cannot tolerate a lot of meat.
It also lists chicken by-product, which is lesser quality meat. It also contains poultry fat, which is an unidentifiable ingredient that is not ideal for those with a sensitive digestive again.
Caramel color is used in this recipe, which is only added for our benefit, because ultimately, Fido doesn't care what color his food is. Overall, this is a better option than other budget kibbles, but this should only be selected by those on a super strict budget.
Uses chicken by-product
Lists unnamed meat flavor
Lists artificial caramel coloring
Budget Kibble
---
Buyer's Guide: How to Select the Best Dog Food Brand
Here we are going to run you through how to pick a dog food brand and kibble for you and your pooch. With so many to choose from, it's essential to know where to start.
Thankfully, with our recommendations above, you don't have to trawl through the hundreds and hundreds of brands to find your dog's best food. But it's still crucial for you to understand why it might be best for Fido. So, in no particular order, here is a list of things to think about when trying to find the best dog food brands.
Does It Provide a Well-Balanced Diet?
One of the most important things to consider is, does it offer a well-balanced diet. Yes, your dog needs high-quality protein, but his diet should consist of more than just meat. He needs a variety of healthy carbohydrates, fiber, omega fatty acids, vitamins, and minerals.
Without a well-balanced diet, dogs are susceptible to a variety of health concerns. For example, many dog owners think that a diet with no fats is a good one, but in fact, healthy fats are a vital staple in his diet. Without them, he cannot absorb vitamins and minerals, his skin and coat will be dry, and his brain and eye function will be negatively affected.
High-quality brands and kibbles will provide a well-balanced diet, and you do not have to worry that he'll miss out on certain nutrients.
Fido's Dietary Needs
You need to think about whether he needs a grain-free or grain-inclusive diet. Some brands only offer grain-free food, whereas some brands provide a variety of both. This may determine what brand you choose.
If Fido is allergic to specific proteins, say, for example, chicken, you need to seek out a brand that offers a poultry-free kibble. Not all brands offer this option, so this might be another deciding factor regarding which brand you choose.
It also needs to provide the right amount of energy for him. For example, if he is inactive, he shouldn't eat a high-performance kibble because he will quickly begin to pile on the pounds. If he is a working dog, he'll need a high-performance recipe that provides him with sustained energy for his busy days ahead. Again, some brands don't offer this option.
Before you choose a brand, it's worthwhile thinking about what he needs from his diet. This might lead you to just a handful of brands, saving you plenty of time when searching for the right products.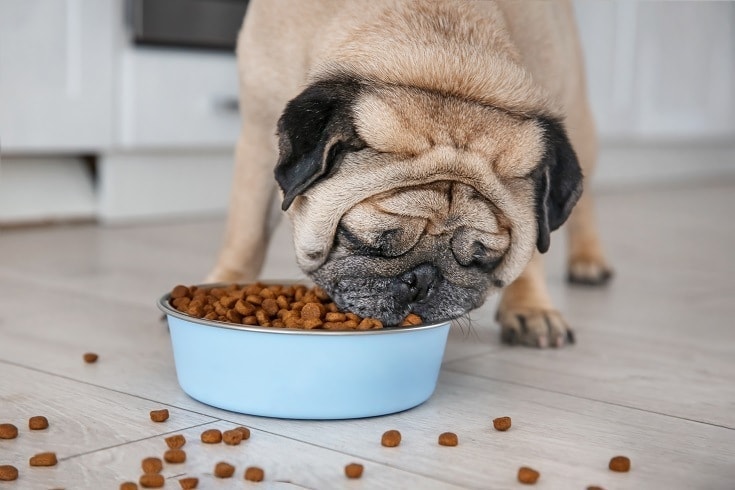 Your Budget
It's always important to think about your budget when choosing a brand. Some brands offer products at each price point. In contrast, some just provide budget options, and other brands stick to premium recipes only.
It's essential to pick a budget and stick to it. Never buy a kibble based on discounts, because at some point those discounts will end and you'll need to change his kibble if it becomes too expensive. A complete change in diet is not good for Fido's digestive system.
We always advise you to choose the best brand and kibble that you can afford. Because better nutrition will encourage better health and he'll be a lot happier too.
Accessibility
This might seem like an odd consideration, but it is an important one to think about. If you pick a relatively small brand whose products aren't sold in many outlets, you need to be organized and stock up to ensure that you don't run out.
If you run out of the food you'll interrupt Fido's diet, and a drastic change in diet can wreak havoc with his tummy.
If you pick a familiar brand, you shouldn't have to worry about being organized, as you can simply pick it up on your next grocery shop.

Final Verdict
So, now you know about the top 10 best dog food brands and kibbles currently available for all owners and their dogs. We have taken all of the hard work out of your search. So you now have more time to spend with Fido rather than drowning in the hundreds of doggy foods and brand options.
Hopefully, we have helped you to find the best brand and kibble for Fido. We have found 10 of our favorite brands and their top kibbles, all with in-depth reviews, so you know why they are good products, and equally why they might not be suited to your pooch.
Just to recap, our best overall product is The Farmer's Dog fresh dog food. And the best value for your money pick is Purina ONE SmartBlend recipe. But all of the picks in this list are good options for almost every dog out there.