9 Best Dog Foods for Belgian Malinois in 2023 – Reviews & Top Picks

You often see the Belgian Malinois fulfilling duties like police work, service roles, and search and rescue. They should receive praise for their bravery, grace, and skill.
If you have an agile, sharp-minded Belgian Malinois, you will want their food to boost them to their full potential. Malinois have achieved great success as working dogs performing roles that some people couldn't even imagine doing.
You'll want to make sure your Belgian Malinois has sufficient nutrition to improve his or her overall quality of life. We've compiled firsthand reviews to give you a solid understanding of what each food offers so you can decide for yourself.


A Quick Comparison (Updated in 2023)
Rating
Image
Product
Details

Best Overall

NomNom Fresh Dog Food Subscription Service

Selection of four menus
Convenient, pre-portioned meals
Specialized for your dog
Click to Save 50%

+ Get Free Shipping!

Budget Buy

Iams ProActive Health

Affordable
Meat is first ingredient
For large dogs specifically
Check Price

Purina Pro Plan Puppy Large Breed

Designed for large breed puppies
High calorie
high protein
Full of DHA and fatty acids
Check Price

American Journey Grain-Free

Made with whole salmon
Great source of carb
Well-balanced diet
Check Price

Blue Buffalo Wilderness

LifeSource Bits
High protein
Grain-free
Check Price
The 9 Best Dog Foods for Belgian Malinois
1.

NomNom Fresh Dog Food Subscription Service – Best Overall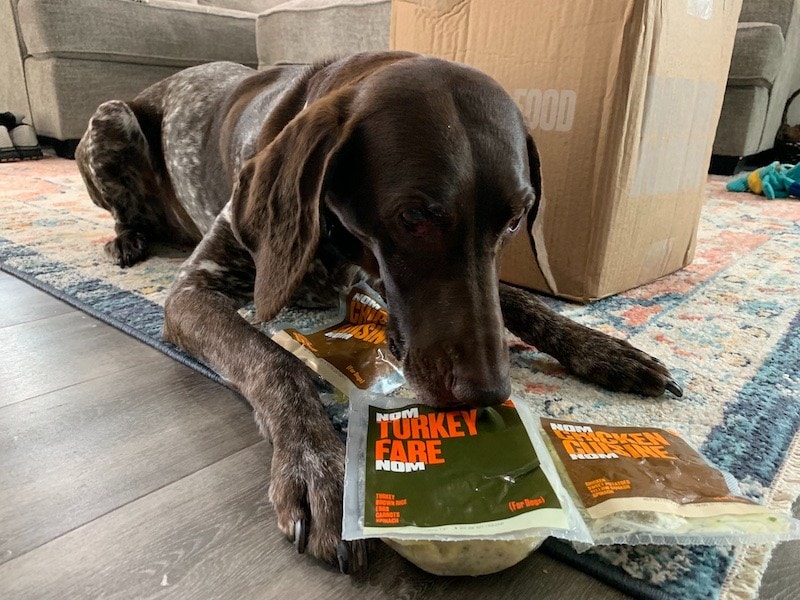 NomNom is a fresh food subscription and delivery service that uses natural ingredients and is fortified with vitamins and minerals to ensure it meets your dog's daily nutritional requirements. Before you subscribe, you fill in a questionnaire giving details of your dog including factors like its size and age. You can also indicate any allergies or sensitivities, and NomNom will determine the best meals and draw up a diet plan that shows how much you should feed them.
The food is prepared and then delivered to your door every few weeks, ensuring you don't run out and that you always have good quality food. There is a reasonable selection of dishes, including beef mash, chicken cuisine, pork potluck, and turkey fare. All are suitable for Malinois, with protein ratios that range from 7% in the pork to 10% in the turkey fare.
NomNom is more expensive then regular store-bought kibble, but they use a combination of essential vitamins and minerals and high-quality food ingredients, which is evident when you open the pack. It looks like fresh food and even smells like it, which is why we have chosen it as the overall best dog food for Belgian Malinois.
Uses high-quality ingredients
Selection of four menus
Convenient, pre-portioned meals
Specialized for your dog
More expensive than regular kibble
---
2.

Iams ProActive Health Adult Dry Dog Food – Budget Buy
If you're trying to skimp on cash but not nutrition, consider Iams ProActive Health Adult Large Breed Dry Dog Food. We think it's the best dog food for Belgian Malinois for the money, and it's specifically for large breed dogs. While it's a specialty target food, it won't work for every breed.
Some dogs have sensitivities to grains and common proteins—such as the chicken used in this recipe. But if your dog is unbothered by chicken, it is the first ingredient, so it's protein-packed. Even though it does contain grain, they use wholesome varieties like whole-grain barley and ground whole-grain corn.
Each cup of dog food contains 351 calories and 22.5% crude protein, 12% crude fat, and 5% crude fiber.
This food gives all the components to ensure smooth digestion. It primarily focuses on joint support, since big dogs tend to have more of an issue with bones and joints.
If your Malinois finds the recipe delicious and shows no bad reaction to grain, you should definitely consider it. It will stay light on your pocket while giving your physically active dog what they need to thrive.
Affordable
Meat is the first ingredient
For large dogs specifically
---
3.

Purina Pro Plan Puppy Dry Dog Food
If you're looking for dog food to help your beloved puppy grow adequately and healthily, think about Purina Pro Plan Large Breed Dry Dog Food. Purina Pro Plan has a particular standard on what makes a puppy chow great.
There is an abundance of docosahexaenoic acid (DHA), fatty acids, and whole proteins to help your puppy flourish in his most crucial years. This food has tons of ingredients to develop the brain, maintain coat and skin texture, and create strong, lean muscles.
Each cup of this chow has 419 calories and offers 28.0% crude protein, 13% crude fat, and 4.75% crude fiber.
Large breed puppies need a bit of extra food since they have so much more growing to do. Since chicken is the number one ingredient, you know your dog is getting a healthy dose of protein per meal. But for sensitive pups who disagree with chicken or grain, you may want to look for other options.
Designed for large-breed puppies
High-calorie, high protein
Full of DHA and fatty acids
Not compatible with every puppy
---
4.

American Journey Grain-Free Dry Dog Food
American Journey Salmon & Sweet Potato is a terrific choice to consider because it is chock-full of goodies. It's void of corn, wheat, and soy, so it shouldn't upset your pup's stomach.
There are lots of nutritious vegetables and fruits to keep the immune system strong, like sweet potato. Deboned salmon is the first ingredient, providing high protein and omega-3 fatty acids. It's also full of fiber from chickpeas and sweet potatoes.
This food is 390 calories per cup with crude protein at 32%, crude fat at 14%, and crude fiber at 5%.
This is a very well-rounded grain-free recipe with straightforward ingredients that make a difference. The protein content is very high, which caters to your dog's muscle mass. This is particularly beneficial for a Malinois.
But don't be fooled by the ingredients. Though salmon is the first ingredient, it still contains chicken meal. So, if you have a chicken-sensitive dog, this is still not the one for you.
Made with the whole salmon
Chickpeas and sweet potatoes for carb content
Well-balanced diet
---
5.

Blue Buffalo Wilderness Grain-Free Dry Dog Food
Blue Buffalo Wilderness Chicken Recipe Grain-Free Dry Dog Food is perfect if you're looking for a wild diet. This line was crafted to amplify the nutrients dogs would get in nature.
This is a high-protein, grain-free food. The carbohydrates come from sweet potatoes and peas. Deboned chicken is the number one ingredient, followed by a chicken meal for added glucosamine.
Each scoop has 34% crude protein, 15% crude fat, and 6% crude fiber. There is no wheat, corn, or soy. Each bite replicates a wholesome diet your dog would get outside of domestication.
Blue Buffalo also has their signature LifeSource Bits in the food, which packs over 15 superfoods inside. Each morsel is crunchy and healthy for your Malinois. This dry kibble is perfect for overall dental health, too.
Not all dogs benefit from grain-free food. You can work closely with your vet to determine if your Malinois would be a good candidate for a grain-free diet.
LifeSource Bits
High protein
Grain-free
Not all dogs benefit from grain-free diets
Read more: Blue Buffalo Dog Food Review: Recalls, Pros & Cons
---
6.

Taste of the Wild Grain-Free Dry Dog Food
Another great food for a Belgian Malinois is Taste of the Wild Prairie Grain-Free Dry Dog Food. The company set out to create a diet mimicking natural nutrition as closely as possible. This particular recipe is 100% grain-free and very high in protein.
The combination of nutritious protein, antioxidants, K9 strain probiotics, and prebiotics meet the needs of very active dogs. Real buffalo is the first ingredient, so you know your dog is eating an authentic, exotic meat source.
This recipe has 32% crude protein, 18% crude fat, and 4% crude fiber, and packs a total of 370 calories per cup. There are no harmful fillers, preservatives, or artificial flavors. Instead of grain, the recipe has sweet potato, peas, and white potato.
Each ingredient caters to dogs for overall skin, coat, muscle, and brain support. The company makes its products in the USA.
The only issue for your Belgian Malinois is that if they need one sole protein source, this food won't work.
High protein
Grain-Free
Perfect for active dogs
Real buffalo, first ingredient
No singular protein source
---
7.

Diamond Naturals All Life Stages Dry Dog Food
Diamond Naturals Chicken & Rice formula is ideal for all life stages. So, it doesn't matter where your dog is in life. You could use this food from now on without having to change recipes.
This dog food is a pretty good bargain for the money. It's made with chicken as the first ingredient, so optimal protein levels are guaranteed. It contains no wheat, corn, soy, or artificial preservatives. It also includes a live probiotic blend to aid in digestive health.
Each cup has 368 calories and there is 26% crude protein, 16% fat, and 2.5% crude fiber.
This food is stuffed full of delicious grains like cracked pearl barley and whole grain brown rice. There is a generous blend of root vegetables and fiber-packed plants. They even added DHA in the form of salmon oil for mental support.
While this will work for most dogs, not all dogs will be compatible.
All life stages
Healthy grains
Added DHA
---
8.

Nutro Wholesome Essentials Large Breed Dry Dog Food
Nutro Wholesome Essentials Large Breed Adult Dry Dog Food is a very smart choice for your Malinois. Specially-made for large breeds, this food delivers nutrition for bones and joints in the form of glucosamine and chondroitin. It isn't grain-free, but the selected carbs are healthy for your dog.
This food is free of GMOs, artificial flavors, and unwanted fillers—like wheat, soy, and corn. It's packed with antioxidants and probiotics to help your dog properly digest and strengthen immunity. Nutro manufactures all their food in the USA.
Each cup of Wholesome Essentials contains 336 calories and there is 21% crude protein, 13% crude fat, and 3.5% crude fiber.
The protein source is farm-raised, cage-free chicken as Nutro tries to be as humane as possible with this recipe. It's also the number one ingredient, so you know your dog is getting an adequate amount. However, if your dog has allergies, this food could serve as a big trigger, so be mindful.
No GMOs
Farm-raised chicken
Manufactured in the USA
Could trigger allergies in some Malinois
---
9.

Eukanuba Breed Specific German Shepherd Dry Food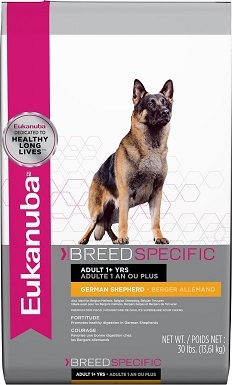 Belgian Malinois are not German Shepherds, of course. However, they are so closely related that Eukanuba Breed-Specific German Shepherd Adult Dry Dog food could be a perfect pick for your pooch. This food is excellent for a Belgian Malinois, a Belgian Teurvan, and Belgian Sheepdog.
This food is excellent for dental health. It includes a 3D DentaDefense System that keeps teeth plaque and tartar free. This recipe also contains beet pulp for digestive health purposes. It also has heart defense ingredients like L-carnitine and taurine.
There are 313 calories per cup. It contains 23% crude protein, 13% crude fat, and 5% crude fiber. Chicken is the first ingredient listed for a whole protein source.
While this recipe is specifically for the breed, it does contain corn and animal byproducts. Many dogs show sensitivities to these fillers. So, proceed with caution if you aren't sure how your dog may react.
For the breed specifically
Aids in heart and digestive health
Supports joints
Contains corn and animal byproducts

Buyer's Guide: How to Choose the Best Foods for Belgian Malinois
The Belgian Malinois, or Belgian Shepherd, is a sturdy, intelligent breed that is arguably one of the most useful dogs today. They initially developed in Malines, Belgium, to perform herding duties on local farms.
Over time, they've stepped into various roles, but their latest and most impactful duty is police work. This dog is incredibly diplomatic in terms of agility, decision-making, and problem-solving. While they can make great family pets, their main goal is to work, work, work.
Belgian Malinois Temperament
The Malinois is a breed of ultimate loyalty and faithfulness. They thrive on the approval of their masters, and they may only bond to one person. Malinois' benefit greatly from a routine, and once they have developed one—good luck introducing new concepts.
These dogs make excellent family pets because of their unwavering allegiance toward their pack. However, if your Malinois doesn't get enough mental stimulation, they can develop nervous and destructive habits. Mental exercise is just as crucial to the Malinois as physical activity, so bear this in mind before getting one.
These dogs are active, alert, and remarkably intelligent. They're also not fans of a lot of downtime. While they may come to relax by your side, it won't be long until they're ready to learn, sniff around, and experience life.
Belgian Malinois Physical Attributes
It's easy to mistake the Malinois for another closely related breed, such as a German Shepherd. However, if you pay close attention, they are actually quite different.
The Malinois has a straight back with no curvature at the hips. They tend to be a bit smaller than their German cousins. Fully grown, they weigh between 40 to 80 pounds and stand 22 to 26 inches at the shoulder.
The Malinois has short hair that ranges in color from a light fawn to dark mahogany. They have a classic black mask look. It's effortless to maintain grooming, but since they have a double-coat, you will need to brush to prevent bulk shedding frequently.
The Malinois has a very sturdy, muscular build with intensely agile movements and excellent body control. These dogs work amazingly well in the field, with both precision and accuracy.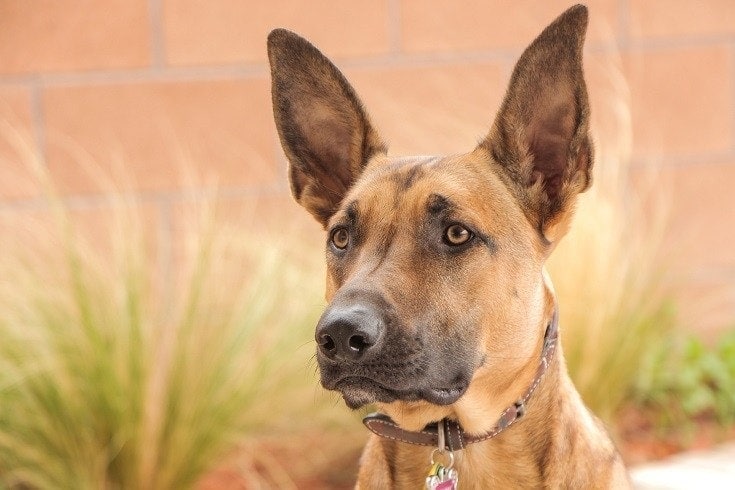 Belgian Malinois Training
While you have to be firm and consistent when training your Malinois, they are hyper-receptive to learning. It's absolutely best to socialize your Malinois early to prevent unwarranted aggression or territorial tendencies.
Because it's in the core nature of a Malinois to work, it's imperative that you continuously stimulate their need for task-fulfillment. Their drive to work efficiently and meaningfully is why they do so incredibly well working with special forces.
If you have a rather laidback household, these dogs can quickly get bored. Their intensity makes them not so good for the faint of heart or for first-time dog owners.
Proper Nutrition for Belgian Malinois
Because of the high energy of the Malinois, they need a power-packed food to replenish their calorie base and support their overall health.
Belgian Malinois Muscle, Bone, and Joints
Added glucosamine and chondroitin are excellent nutrients to support your dog's joints and bones. Protein meat sources aid in healthy, capable muscles.
Belgian Malinois Skin and Coat
Fatty acids are responsible for maintaining a shiny coat and moisturized skin. Look for omega-3 and omega-6 additives on the food labels of your food.
Belgian Malinois Brain Development
Make sure you get a food recipe that is rich in antioxidants to support optimal mental activity. DHA, in the form of fish oil, is also a nutritionally positive additive. It amplifies mental clarity at all life stages to ensure a healthy mind.
Belgian Malinois Digestive Health
Your Malinois will benefit very much from prebiotics and probiotics. For best results, check for live probiotics that are viable in the system. High fiber ingredients like flaxseed are also great for digestion.
Belgian Malinois Special Diets
Every dog is different. Your Malinois may share some pretty common sensitivities. The main triggers for food allergies are protein sources and gluten. To combat these types of allergies, companies have adapted particular recipes to soothe the digestive tract.
Grain-Free Dog Food
Most companies are veering away from wheat, corn, and soy fillers in dog food. They've replaced it with more wholesome grains like barley, rice, and oatmeal. However, some dogs are gluten-sensitive. So, you'll need to make sure the recipe is totally grain-free if your dog suffers.
Limited Ingredient Dog Food
Sometimes, dogs can show sensitivities to a wide variety of factors. Limited ingredient diets typically only use a singular protein source and as few essential ingredients as possible. This removes the likelihood of food-related allergens for your dog at mealtime.
How Much to Feed Your Belgian Malinois
Your Malinois will need a high-quality, protein-rich kibble. You can choose to top the dish with wet food or serve dry.
The recommendation for meals are the following:
Belgian Malinois Puppy Feeding
8 to 12 weeks: 4 meals per day
3 to 6 months: 3 meals per day
6 months to 1 year: 2 meals per day
Belgian Malinois Adult and Senior Feeding
1 meal per day
Break 1 feeding up into 2 small meals
*Tip: Always check your dog food label to see exactly how much to feed your dog, based on weight.

Final Verdict
With our detailed reviews, hopefully your search is over. While we think that the NomNom Fresh Dog Food is the overall best for a Belgian Malinois, you may have a different opinion. We love it because it's natural, free of harmful additives, and very high in protein.
If money is a factor, Iams ProActive Health may work wonders. It will give your dog all of the nutritional quality they need without emptying your pockets.
All eight of these selections have their own unique recipes to offer. One of them is sure to suit your Malinois in terms of taste buds and nourishment.
See also:
---