10 Best Harnesses for French Bulldogs in 2023 – Reviews & Top Picks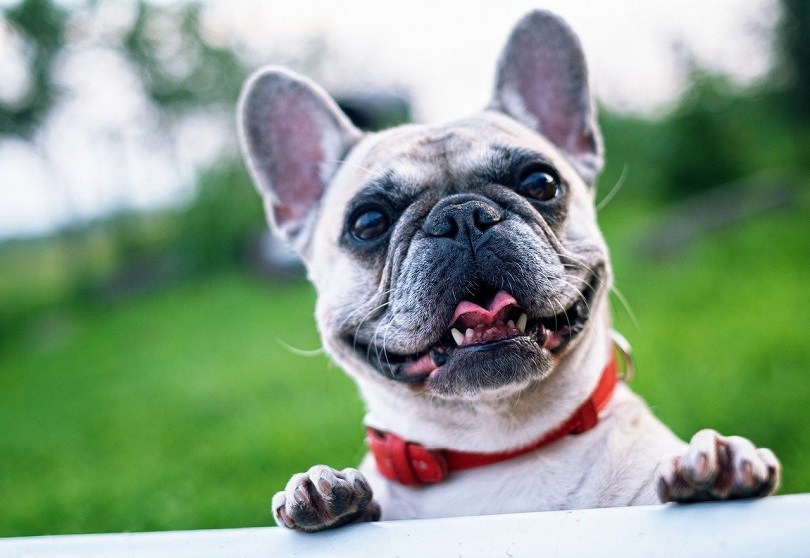 Who doesn't love the tough demeanor, yet soft heart of the French Bulldog? Because of their unique body shape, it can be difficult to find a harness that fits the build of your bulldog.
We searched through a variety of harnesses to find the one that is built specifically for French Bulldogs. Keep reading for our reviews of the top 10 harnesses that will keep your pet safe and comfortable.
At the end of the article, we put together a buyer's that goes over features to look for and considerations to keep in mind when shopping for the perfect Bulldog harness.
---
A Quick Comparison of Our Favorites in 2023
Rating
Image
Product
Details

Best Overall

Embark Adventure

Heavy-duty
One-time adjustment
Easy to use
Check Price

Best Value

PUPTECK

Affordable
Reversible design
Reflective
Check Price

Premium Choice

Bestia

100% leather
Unique design
Nickel-plated metal
Check Price

Voyager 207

Affordable
All-weather mesh
Breathable
Check Price

OneTigris Beast

Extra durable
Abrasion proof
Padded front strap
Check Price
The 10 Best Harnesses for French Bulldogs
1.

Embark Adventure Dog Harness – Best Overall
The Embark harness earns our top pick for its ease-of-use and ability to tolerate up to 250% pulling strength from your bulldog. Sewn with military-grade nylon thread, not just once, but four times; it's one of the most secure harnesses available. You adjust it with the first use, slipping it over your dog's head and buckling in place. There is a built-in handle on the back that helps with controlling your rambunctious pooch.
The straightforward sizing guide offers true sizes, so you will get the right fit the first time around. This harness distributes the force of pulling across your dogs' neck and chest so one area is not overly strained.
Embark company offers a 100% satisfaction guarantee, either by replacing your harness or refunding your money. There are three different color choices and we found this harness works perfectly for everyday use. On the downside, this harness is not as flexible as it could be when new. It becomes more flexible as it breaks in with use and molds to your dog's body.
Heavy-duty
One-time adjustment
Easy to use
100% satisfaction guarantee
Built-in handle
Not flexible in the beginning
---
2.

PUPTECK Soft Mesh Dog Harness – Best Value
The PUPTECK is the best harness for French Bulldog for the money because it offers a quality harness at an affordable price. It comes in a cute reversible flannel design with a reflective ability, adding increased visibility to your dog when walking in busy areas at night. The fabric is a durable waterproof mesh that is breathable and perfect to wear year-round in all types of weather.
The buckle and Velcro are both strong and will hold up to your daily walks while providing a comfortable harness for your pet. On the downside, it does not have a built-in handle on the top for added control, but it fits well on dogs with a broad chest and short legs, such as your French Bulldog.
Affordable
Reversible design
Reflective
Waterproof mesh
Breathable
Easy to use
---
3.

Bestia Rocky Studded Leather Harness – Premium Choice
The Bestia is a leather harness made in Europe that features studs for an added flair—or to make your bulldog look tough. The foam underside adds extra cushion and protection from the hard leather.
The harness has adjustable buckles, and the design is ideal for small to medium-sized dogs. Nickel-plated parts and rivets will reduce problems with rust. Each harness is handcrafted and unique. Plus, you can purchase a matching lease separately. On the downside, it is not as versatile or as affordable as the Embark or the PUPTECK harnesses, which is why it is number three on our list.
100% leather
Unique design
Ideal for French Bulldogs
Nickel-plated metal
Adjustable buckles
Soft foam underside
---
4.

Voyager 207-AMB-M Step-In Air Dog Harness
This affordable harness is geared toward adventurous dogs since it is made from a breathable and lightweight all-weather. It is great for year-round excursions with your bulldog. It comes in an assortment of colors and we like the reflective bands on each side to increase visibility at night.
A unique feature with the Voyager is that there is only one buckle at the top of the harness, so it makes applying and fitting to your dog an easy task. There are double D-rings attached to each side of the buckle and Velcro for extra security and strength.
On the downside, we found the fabric stretches when an exuberant dog pulls on the leash, making it difficult to control your pet and potentially making it too large to fit your dog correctly.
Affordable
All-weather mesh
Breathable
Reflective bands
Easy to use
---
5.

OneTigris Beast MOJO Tactical Dog Harness
The OneTigris is a military-style dog harness constructed with 1000D nylon and has extra durability to withstand the elements. This design is a little more complex than others previously listed since there are three buckles, but once you fit it to your dog and use it a couple of times it becomes easier.
The front strap is padded to prevent chafing and provide comfort and there is a grab handle on the top of the harness for extra control. This vest is versatile enough to be used for daily wear or on any outdoor adventure. A negative aspect of this vest is that it is heavier and bulkier than other harnesses, but it is made from quality materials and is built to last.
Extra durable
Waterproof
Abrasion proof
Padded front strap
Grab handle
Complex to use at first
Heavy
---
6.

Pawtitas Pet Reflective Mesh Dog Harness
The Pawtitas fits medium-sized dogs like the French Bulldog with a comfortable and durable design. It is another affordable option for a dog harness. Made from a breathable mesh material, it will keep your dog warm in the winter and cool in the summer. The reinforced stitching and added bands are reflective, which will allow your dog to stay safe in the dark.
It has a reinforced closure with Velcro straps, quick-release buckle, and two D-rings. We like that this harness is easy to use and flexible, which provides extra comfort to your dog. Unfortunately, others have had difficulty finding the correct size to fit their dog, so make sure you are sizing it correctly and following the instructions on the chart.
Comfortable
Breathable mesh
Reflective
Reinforced closure
Easy to use
Affordable
Difficult to size
No built-in handle
---
7.

Lucy & Co. Reversible Dog Harness
If you are looking for a fashionable option, Lucy & Co. offers unique reversible designs and colors to fit any style. It is easy to apply with only two adjustable buckles, so once you fit it you can take it on and off in a matter of seconds. Made from neoprene, it's easy to wash and dries quickly.
The harness is soft and flexible, designed to prevent choking when your dog pulls. On the downside, the D-ring is only on one side of the harness, so when you reverse it, you have to attach your leash to the underside. The process is difficult and may be uncomfortable for your dog over long periods.
Fashionable
Easy to use
Easy to clean
Prevents choking
Soft and flexible
8.

BARKBAY No Pull Dog Harness
With the option to attach a leash to the dog's chest, the BARKBAY is designed with pullers in mind. There is also a back D-ring for when your dog is more relaxed and not pulling as often. The harness is made from a breathable mesh that will keep your dog cool on warm days, and features an ID tag pocket, so your dog doesn't have to wear another collar. The straps are easy to adjust to get the perfect fit, and padded to prevent discomfort in use. We like that it is easy to put on and take off and the harness has reflective strips with night time walks in mind.
This harness comes with a top handle for extra control when warranted. On the negative side, we found the BARKBAY's stiff and unyielding front portion doesn't mold as well to the body of the dog.
Front D-ring
Breathable mesh
ID tag pocket
Easy to use
Reflective strips
Top handle
---
9.

Bulldog Grade BG-NPH Reflective Vest Harnesses
Designed by bulldog owners, you can get a custom fit no matter the size of your bulldog. Its combination of oxford cloth and mesh makes it light and durable. The front chest pad is padded, which adds to the overall comfort of this harness. There is a seatbelt loop on the top that can be used as a regular handle, though it is small.
We like the simplistic in design and the fact that it comes in a variety of colors. The one-year warranty is nice, too. One unique feature is the detachable/reversible top panel that allows you to modify how it fits your bulldog. For example, if you want more room around the neck, you can adjust the strap accordingly.
Unfortunately, we found that the straps tend to slip when in use, allowing the harness to loosen as the dog is walking. Others have had problems with their dogs chewing the harness off, so durability is questionable. Plus, this harness is more expensive than many others on our list.
Padded chest pad
Top panel adjustments
Easy to use
Straps loosen
Durability
Pricey
10.

PET ARTIST WDH007 Leather Small Dog Harness
Last on our list is the PET ARTIST leather harness, handcrafted with metal D-rings that resist rusting, safety locks, and an adjustable buckle. We didn't like how difficult it is to adjust the size of the harness. The leather does not mold or flex easily causing some frustration trying to get a good fit.
The design of this harness is different in that there is no chest pad, which will work for a dog that doesn't pull. Otherwise, it has the potential to choke your dog, and leather will stretch with use. The leather portion of the top is not padded, so it could be uncomfortable when worn for a long period.
Handcrafted
Quality leather
Rust-resistant D-rings
Difficult to adjust the size
No chest pad
Stretches
Uncomfortable
---
Buyer's Guide: Finding the Best Frenchie Dog Harness
Choosing the best French Bulldog harness can seem daunting because even though we narrowed down the field there are still features and considerations to keep in mind so you can find the one that fits your dog comfortably and securely.
Durable Material
You will want a harness that is made from quality material. It can be made from nylon, leather, and a variety of other fabrics. Consider the purpose of your harness and where you will be using it. Some will offer more breathability than others while some offer a more durable material.
If your dog tends to overheat, a fabric that is breathable and lightweight will make for a happier dog.
Comfortable Design
Your dog needs to enjoy going for a walk so you want a harness that is comfortable when it is in place. If you have a dog that is sensitive to textures you may want a softer harness that will mold to the shape of your dog's body. A large chest pad provides comfort to your dog and prevents damage to the windpipe or causing a choking sensation if they are pulling.
Reflective
If you walk your dog in the evening it is a good idea to have some reflective strips incorporated on the harness, many will offer this positive feature. Usually, it will be in the form of reflective strips but can include reflective stitching.
Top Handle
A handle situated on the top of the harness (on the dogs back) will provide extra control if your dog decides to misbehave. Say a cute female English Bulldog is coming near, you can take ahold of the handle and keep your googly-eyed dog near you the whole time.
Rust-resistant Hardware
Any metal pieces should deter rusting if they become wet. Industrial type metal is the most ideal as it provides the best protection from the elements. Plus, you want hardware that is strong since your little dog has a power that has the potential to cause strain on an anchor.

Other Considerations in Choosing a Dog Harness for French Bulldogs
Ease of Use: Since you want a harness that is comfortable that means it needs to fit well. Keep in mind how easy it is to adjust, plus one that is not hard to put on and remove. A harness that is easy to clean is a positive feature since it allows you to tackle that chore quickly and keep it ready to go for the next excursion.
Cost: Think about what you are willing to spend on a harness, find one within your budget that is durable and well made so you won't have to worry about it falling apart. Besides, you don't want to continue to spend money on trying to find the right harness, so if you need to spend a little more than planned and get the right one the first time.
Measure correctly: Measuring for a harness is easy. Just measure the widest part of the chest, then add two inches (for flexibility), and then measure the neck circumference. All harnesses will have a measuring guide to help you find the right size. If the measurements fall between two sizes, choose the larger one.
Tips & Tricks
Help your dog become accustomed to the harness by allowing use in the house before heading down the street.
Harnesses aren't meant to be worn all of the time when you aren't walking your dog remove the harness so your dog can be comfortable. Plus, this will also prevent your dog from getting caught on something.
Unfortunately, you could purchase a collar that your dog does not like. It may be the material or the way it fits. Switching to a different harness can make all the difference.
Walking your dog should be an enjoyable activity for both parties. If you are having difficulty even with a harness, you may need to find some training assistance.
Some harnesses will have the ability to adjust so that your dog can use it from puppyhood to adulthood.

Conclusion
There are a wide variety of harnesses on the market, even ones that are geared toward the body type of the French Bulldog. When you take into account the considerations to keep in mind, the available features and the reviews list should give you a great starting point in your search for the ideal harness.
Our top choice is the Embark harness because it is easy to use, durable, and provides a comfortable fit specific to your bulldogs build. The best value is the PUPTECK with its soft, breathable mesh that is strong and durable, plus it is an affordable price. Our premium choice is the Bestia studded leather harness that is made of quality materials that will last for many years.
Being informed and aware of what is available will help you make a solid investment and one that will get you back to enjoying your walk with your beloved pet. We hope you found the reviews and the buyer's guide to beneficial and informative.
---
Featured Photo credit: ivanovgood, Pixabay