7 Best Kitten Foods for Sensitive Stomachs in 2023 – Reviews & Top Picks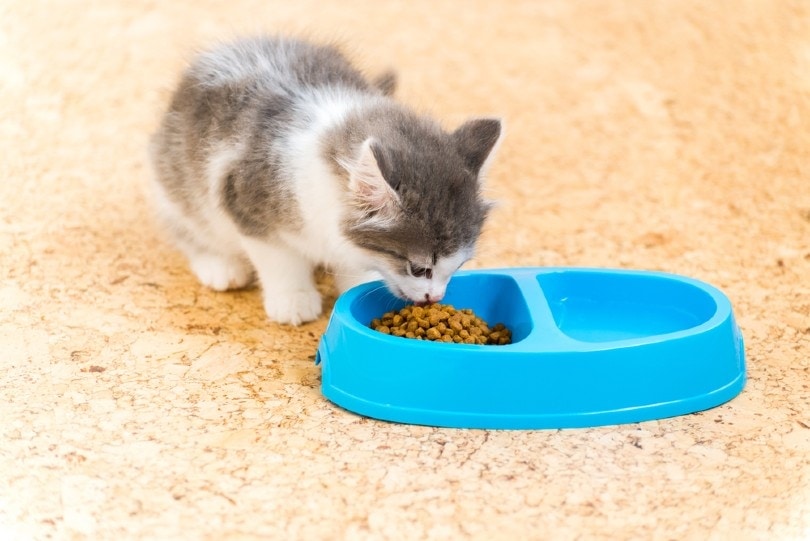 Cats have always marched to the beat of their own drum, and they aren't afraid to act out or show you when something is upsetting them. If you've brought home a new kitten and they can't seem to keep their food down, you've likely already discovered that they have a sensitive stomach and require a product that won't make them leave unpleasant surprises all over the house.
Selecting food for your kitten isn't always as easy as picking out a random bag at the store. Any number of ingredients could trigger something that makes them boat, vomit, or have diarrhea. The pet food world is littered with brands that tell you they're the best without delivering. We've gathered a list of brands with the top reviews so that you can get your kitten's belly back to normal.
Disclaimer: The foods reviewed here were chosen because they have certain characteristics that might help with some of the causes or consequences of this medical condition. However, they are not a medical treatment or a substitute for medical treatment. Keep in mind that each medical case is different and what works for some pets may not work for others. Your veterinarian is the right person to advise you on the best diet for your pet's individual case.
A Quick Comparison of Our 2023 Favorites
Rating
Image
Product
Details

Best Overall

Smalls Fresh Cat Food

Human-grade ingredients
High-protein content
Easily customizable subscriptions
Click to Save 40%

Use code: Hepper2023

Budget Buy

Royal Canin Canned Kitten Food

Fairly priced
Extra protein
Made specifically for kittens
Check Price

Hill's Science Diet Sensitive Stomach Dry Food

Lots of protein
Lasts longer than wet foods
Good for kittens and adult cats
Check Price

Hill's Prescription Digestive Wet Cat Food

Rich flavor
Whole ingredients
Formulated specifically for digestive health
Check Price

Purina Pro Plan Sensitive Stomach Dry Cat Food

Cheap
Trusted brand
Highest protein content
Check Price
The 7 Best Kitten Foods for Sensitive Stomachs
1.

Smalls Human Grade Fresh Cat Food Subscription Service– Best Overall
| | |
| --- | --- |
| Food Texture: | Wet, fresh (smooth, ground, pulled) |
| Key Ingredients: | Real chicken, turkey, or cow |
| Protein: | 15-17% |
| Calories: | 1220-1415 kcal/kg |
Finding food that addresses your kitten's sensitive stomach and provides all the nutrition required for growth and development can be difficult. We recommend Small's fresh food because it has all-natural ingredients and uses human-grade food. This means your kitten is getting the highest quality food possible.
Smalls fresh food recipes are packed full of vitamins and nutrients to promote healthy development, and there are no artificial chemicals or preservatives to upset sensitive tummies. The high-protein, low-carb recipes ensure that your kitten gets the meat that their body needs.
It's important to note that Smalls cat food is only available through an online subscription. However, you can customize your orders according to your kitten's needs, which is a huge plus. It is more expensive than other cat foods but on par with other brands offering fresh food.
Human-grade ingredients
High-protein content
Low-carbohydrate levels
Easily customizable subscriptions
More expensive than typical store bought cat food
---
2.

Royal Canin Canned Kitten Food – Budget Buy
| | |
| --- | --- |
| Food Texture: | Wet, chunks in gravy |
| Key Ingredients: | Water, chicken, chicken liver, pork liver, fish oil |
| Protein: | 11% |
| Calories: | 78 kcal/3 oz. can |
Royal Canin is another of the few reputable pet food brands on the market that veterinarians approve of. Each of their products is specially formulated for a specific purpose, and this kitten food was designed with young felines in mind. Kittens under 12 months old have more sensitive stomachs than adult cats. Royal Canin made this formula with whole ingredients and small chunks that make chewing and digestion easier.
This wet food has a healthy balance of carbohydrates, fats, and extra proteins that supply energetic animals with the fuel they need. The ingredients inside also support a healthy immune system and growing bones and muscles as they age. It does contain grains, which isn't ideal for cats with sensitivities.
The food contains small meat and liver chunks inside a tasty gravy, so you won't have any issues getting them to enjoy it. Unfortunately, sometimes the meat-to-gravy ratio gets a little off balance. This kitten food lands right in the middle of too expensive and too cheap, making it the best kitten food for sensitive stomachs for the money.
Trusted brand
Extra protein
Fairly priced
Made specifically for kittens
Contains grains
Unreliable meat to gravy ratios
---
3.

Hill's Science Diet Sensitive Stomach & Skin Cat Food
| | |
| --- | --- |
| Food Texture: | Dry food |
| Key Ingredients: | Chicken, rice, whole grain corn, chicken fat, soybean oil |
| Protein: | 29% |
| Calories: | 524 kcal/cup |
Optimal digestive health is crucial not only for your cat's gastrointestinal tract but for their skin and coat as well. When they have a happy tummy, your cats glow from the inside out. You've already learned that Hill's Science is a highly trusted pet food brand, and this one is safe to use for both kittens and adults.
Chicken is the main ingredient in this recipe, but it has added fiber and a tremendous amount of protein to give their bodies a nutritional boost while remaining gentle on the stomach. The dry food is a little harder for kittens to break apart but is good to help them transition since a lot of people can't afford to feed their pets solely wet food.
Hill's Science food for sensitive stomach and skin is pricey, but it has many more servings inside their 15.5-pound bags than the wet food cans do. There are over 500 calories per cup, so it will last you a lot longer than other products.
Trusted by veterinarians
Good for kittens and adult cats
Lots of protein
Lasts longer than wet foods
Expensive
Harder for kittens to chew
---
4.

Hill's Prescription Diet Digestive Care Wet Cat Food
| | |
| --- | --- |
| Food Texture: | Wet food, stew |
| Key Ingredients: | Water, pork liver, chicken, carrots, rice |
| Protein: | 5% |
| Calories: | 71 kcal/2.9 oz. can |
Hill's Science is one of the top trusted brands by veterinarians because it is specially created by licensed veterinarians and put through clinical trials to ensure that it works. Hill's prescription diet I/D Digestive care kitten food is highly nutritious and rich in fiber so that it doesn't upset your kitten's digestive system.
The wet food is cooked like a highly palatable stew to your furry friends, and you likely won't have to worry about yours turning their nose up to it. The main ingredients of the recipe include natural foods with highly digestible proteins and fats that repair the stomach tissues and boost gastrointestinal health.
The two downsides to hill's prescription diet food are that this specific food is a bit more costly than other brands and might require permission from your vet. However, this truly is the best overall kitten food for sensitive stomachs and is worth the money and time it takes to speak to the vet if your kitten has serious stomach issues.
Palatable
Reputable brand
Whole ingredients
Formulated specifically for digestive health
Created by veterinarians
Helps cats recover from gastrointestinal upset
Rich flavor
Expensive
Might require approval to buy
---
5.

Purina Pro Plan Cat Food for Sensitive Stomachs
| | |
| --- | --- |
| Food Texture: | Dry food |
| Key Ingredients: | Lamb, rice, beef fat, chicken meal |
| Protein: | 40% |
| Calories: | 539 kcal/cup |
Purina products don't come as highly recommended as Hill's Science or Royal Canin, but they are still a safe brand that has much lower prices. If your cats don't like chicken as their primary source of protein, this one featuring whole ingredients like lamb, rice, and beef fat might appeal to them.
Speaking of protein, this is what this product does best. There is over 40% protein in each serving, which is a real selling point for those who want to keep their kitten's diet as close to it would be in the wild. This cat food is also fortified with probiotics to provide the digestive and immune support that felines need.
If your kittens aren't used to eating lamb, then it could take them a while to adjust to the new flavors. You have to introduce them to it slowly, and it could take some patience to have them eating it regularly. It is also hard food, so you'll want to mix it with some other soft food until they have their adult teeth that make it easier to chew.
Cheap
Trusted brand
Highest protein content
Not the top recommendation among vets
Dry food is harder to chew
Takes time to adjust to lamb flavor
---
6.

Instinct Grain-Free Kitten Wet Food
| | |
| --- | --- |
| Food Texture: | Wet, pate |
| Key Ingredients: | Chicken, salmon, beef liver, chicken broth, kelp, pumpkin |
| Protein: | 12% |
| Calories: | 190kcal/3 oz. can |
Instinct isn't the most popular brand in the pet food world, but their belief in using raw, whole ingredients is one of the significant benefits of using them. This recipe features a blend of whole ingredients that don't only feature meat and fish, but fruits and veggies that help aid digestion like pumpkin, cranberries, broccoli, kale, and parsley.
Because they use purely raw ingredients, this canned pate best kitten wet food might take your kitten a minute to adjust to. However, once they accept it, there won't be any more complaints or accidents from them.
Instinct wet kitten food is made in the United States of America and uses fresh ingredients from around the world. It isn't the most expensive food on the list, but it isn't cheap for someone who is on a budget.
Uses strictly raw ingredients
Balance of meat, fish, fruits, and veggies
Semi-pricey
Might take kitten time to adjust
Not a popular brand
Related Read: Best Grain-Free Kitten Foods – Reviews & Top Picks
---
7.

Stella and Chewy's Freeze-Dried Raw Cat Food
| | |
| --- | --- |
| Food Texture: | Freeze-dried |
| Key Ingredients: | Chicken, chicken liver, chicken gizzard, pumpkin seed, kelp |
| Protein: | 45% |
| Calories: | 182 kcal/cup |
Stella and Chewy is a brand that believes that felines thrive when they're eating foods that they would out in the wild. They guarantee that their recipes contain 98% of cage-free chicken or poultry, organs, and ground bones and 100% organic fruits and vegetables. This raw food diet is also freeze-dried for easy storage but takes a little more work to prepare since you have to mix it with water to soften.
Because of the processing of the food, this product is one of the most expensive on the list. This food for cats with sensitive stomachs also doesn't typically last as long as other canned wet foods and dry food bags, so you could be using up more over a shorter period of time.
Be careful when you're prepping the food for your kittens. They instruct you to use warm water, and you don't want to cook it or heat it in the microwave, or it could become dangerous for your fur babies.
Raw food diet
Uses organic and cage-free ingredients
Uses water to give cats extra hydration
Expensive
Extra food prep
Doesn't last as long
You might also be interested in: Best Cat Litters For Kittens – Top Picks & Reviews
Buyer's Guide: Choosing the Best Kitten Food for Sensitive Stomachs
It's easy to assume that our kittens have sensitive stomachs, but how do you know for sure? The term "sensitive stomach" is vague, and defining it makes you consider what normal eating behavior is. When our kittens eat their soft food or kibble, it gets broken down into smaller pieces and travels down their short esophagus and into the stomach, where it breaks down even more.
The stomach is where most food sensitivities occur, though they could happen during any point of the digestive process. A classic sign of cats with a sensitive stomach is vomiting because the valve between the stomach and esophagus doesn't close properly and pushes the food out through the mouth. If your cat seems to be regurgitating their food more and more, you've discovered that they need something a little gentler.
Cats can demonstrate sensitivity by changes in appetite, defecating, and thirst. It isn't always the stomach itself that causes the issues. Food allergies and intolerances, parasites, and diseases could all play a role in their behavior. The safest way to ensure if your kitten has a sensitive stomach is to consult your vet. Grains, dairy, and extra fat in the food recipes are usually the culprit and easily fixed with better foods.
Conclusion
None of us want to see our cats and kittens being uncomfortable every time they want to eat during the day. Instead of having to scour online reviews for hours on end, we've gathered the best foods for sensitive stomachs and put them in one area so that you can see which are the best available within your price range.
Smalls Fresh Cat Food is the overall best kitten food for sensitive stomachs since it uses limited and all-natural ingredients, and its wet, fresh texture is easy to eat and digest. Royal Canin has a brand that is the best sensitive stomach kitten food for the money because of its clean ingredients and easy accessibility. Overall, these choices are all ones that will get your kitten's tummy back to normal so that they can spend the day playing instead of feeling sick.
Looking for more accessories to help your kitten live its best life? Try these awesome cat beds!
---