12 Best Litter Boxes For Large Cats – 2023 Expert Picks & Reviews

Looking for the best litter box for your large cat? You've come to the right place!
All cat owners know the nightmare of finding cat pee outside of the litter box. There's nothing like coming home after being out and find that your beloved feline friend has urinated on your carpet! But there's no need to panic!
The problem could be simple. It might lie in the under-sized litter box that your big grown-up cat doesn't fit anymore. We've got 12 excellent cat litter box options that will not only do the trick for your large cat but also fit all budgets. Don't just stop at the first three, though. Each of these litter boxes is worth its weight in clean litter, so read on for our full recommendation list of the best cat litter boxes to find the best one for you and your big kitty.
A Quick Look at our Favorites in 2023
Rating
Image
Product
Details

Best Overall

Petmate Dome Cat Litter Box

Sleek
step design to minimize tracking
Easy to clean
Great odor control
Check Price

Best Value

Nature's Miracle High Sided Litter Box

Easy to clean
Antimicrobial properties
High sides
Check Price

iPrimio Stainless Steel Cat Litter Box

Do not absorb odors
Durable stainless steel
Non-stick and rust-resistance coat
Check Price

Petmate Hi-Back Open Litter Cat Pan

Spacious raised-back design
Indentation at the center bottom
Lower entrance for cats with arthritis
Check Price

Van Ness High Sides Cat Litter Pan

Deep pan for digger cats
A wide range of options
Reasonable price
Check Price
The 12 Best Litter Boxes for Large Cats
1.

Petmate Booda Dome Clean Step Cat Litter Box – Best Overall
Specs
Material(s): Plastic
Colors: 3 colors

Dimensions

: 22.5 in L x 22.5 in W x 19 in H
Ramp:  9″ wide
Litter pan: 6″ deep
Quick Overview
The dome design cuts down and filter reduces odors
Unique design reduces litter scatter and tracking
Built-in handle makes moving and cleaning easy
Hooded top provides privacy for the cat
With a long-standing history of over 50 years, Petmate is one of the most reliable cat equipment manufacturers, and this Petmate Booda Clean Step Litter Dome takes first place in our list of the best litter boxes for large cats.
This plastic dome made in the USA is 50% larger than average litter boxes. Moreover, it has a sleek design with three different colors to fit many home interiors.
As you might know, cats don't prefer small spaces to pee. And big cats are more likely to refuse using an undersized box. This spacious cat litter box has the dimensions of 21 x 21 inches to offer your feline friend great comfort. Plus, the 9-inch-wide ramp prevents litter from sticking to your cat's paws, and the litter pan is 6-inch deep, so it is suitable for cats who love digging.
The dome lid encloses cats on all sides for the best privacy while preventing the waste from littering around the floor. The removable dome lid with a built-in handle allows you to clean the litter box with ease.
The best feature of this Petmate Booda Litter Box is the great ability to control odor. It has an air filter with charcoal ingredients attached to the lid's top to filter out the aroma of the cat's waste. By replacing the filter piece regularly, you don't have to worry about bad odors around your house.
Be sure you're using the liner and putting the lid on this litter box properly to avoid any urine leakages, but you should always put something underneath your litterbox to protect your flooring anyways. And, if you're trying to keep a little dog away from your cat's bathroom business, this isn't the litterbox for you.
But those minor details aside, the sleek and round design doesn't allow odors to get trapped in seams and corners. Hence, when lifting the lid, you will not be overwhelmed by bad smells from the cat's pee and poo, and your cat will be able to use their toilet without the odors too!
Sleek, step design to minimize tracking
Easy to clean
Great odor control
3 colors to choose from
Not completely dog proof
Urine may leak at the seam if not installed properly
---
2.

Nature's Miracle High Sided Litter Box – Best Value
Specs
Material(s): Plastic

Dimension:

23.4 in L x 18.25 in W x 11 in H

Non-stick surface
Quick Overview
Antimicrobial product protection
High sides to prevent litter scatter
Easy clean spout
Non-stick surface for easy cleaning
If you are looking for an extra-large litter box with high sides, this Nature's Miracle High-Side might be suitable for it.
With the dimensions of 23.4 inches long x 18.25 inches wide x 11 inches deep, this plastic litter box offers your kitty enough space for its private business. It also has high sides to prevent your cat from kicking the litter out of the box while digging.
This rectangle high sided litter box is large enough for multi-cat households but can also be used for a single large feline friend. The box is largest at the top then tapers toward the bottom. Combined with its high sides, this can minimize litter scattering to the floor. Although this litter box has a high-sided design, the lower entrance is kitty-friendly.
The opening in the front of the litter box is about 5 inches from the floor to the lowest part of the opening, which allows both kittens and old cats to step in without any hassle. It would be advised, though, to put a mat down in front of the litter box just in case of any litter dust out of the low point.
If ease of cleaning a litter box matters to you, this high sided cat litter box might be a great choice. It has a non-stick surface that enables you to spot or wipe clean it. It features antimicrobial protection to inhibit odors and mold and mildew caused by bacteria on the litter box. Moreover, the well-coated plastic prevents odors from being absorbed into the plastic. With this feature, it can withstand extended use without bad smells accumulating day after day.
This manufacturer, Nature's Miracle, has other litter boxes that are great too!  We selected this box as our best value litter box for large cats because the unit price can't be beaten for the utility – but it only comes in bulk packs so it can be a bit expensive upfront. It's definitely worth calling a few cat-parent friends and going in on a bulk order together.
Easy to clean
Antimicrobial properties
High sides
Not completely dog proof
Cats might kick litter out the lower entrance side
Only comes in bulk pack
---
3.

iPrimio Ultimate Stainless Steel Cat XL Litter Box
Specs
Material(s):

Stainless Steel

Dimension:

23. 5 in L x 15. 5 in W x 6 in deep

Two designs:

Pan only
Pan With Enclosure (Extra high side with enclosure, upgrade total height is 12 inches)
Quick Overview
Does not hold odor
Easy to grip, no sharp side
Super Size Extra Deep
Durable
If you are looking for a durable cat litter box, this iPrimo stainless steel litter box might be worth considering. This spacious litter box can offer you an extended service as it is made from stainless steel, one of the most long-lasting materials in the world.
You can choose between two designs: pan only or pan with an enclosure. For both designs, the standard dimension is 23.5 inches long, 15.5 inches wide, and 6 inches deep. But with the option of a pan with enclosure, you will get a litter box with the extra high side up to 12 inches.
For most cat owners, feline friend's safety is a high priority when choosing a litter box. This well-built iPrimo litter box with its ergonomic design and no sharp details is a great choice for safety. This litter box has all rounded edges to prevent injury. Moreover, the careful and smooth coating gives the box a sleek surface that is totally safe for your pets.
This cat-friendly litter box features rubber feet on the bottom to prevent the box from slipping and sliding while your cat uses it.
Sometimes, cat owners might find cleaning litter boxes like a nightmare as litter clumps stuck to the box's bottom and sides. However, the stainless steel litter box's biggest advantage is the natural non-stick property that makes cleaning this box a breeze. The iPrimio extra large litter box resists a buildup of residue, allowing all litter to be washed with a single rinse. Thus, it will save you a lot of time in scooping the waste out of the box, removing the fear of odor accumulating inside the box.
Non-stick and rust-resistance coat
Durable stainless steel
The pan only option might be too low
Does not absorb odors
---
4.

Petmate Hi-Back Open Litter Cat Pan
Specs
Material(s):

Plastic

Dimensions:

24″ x 19″ x 18.5″

Colors:

2 colors

Size:

Large & Jumbo
Quick Overview
High walls help prevent litter scatter
Easy to clean
Made in the USA
Another product on our list from Petmate, the Hi-back Open Litter Cat Pan will not let you down with several advantages that make it one of the best cat litter boxes on the market.
The made-in-USA quality of this extra large litter box offers you a reasonable deal for ample and open space for the best comfort of your cat. You can also choose two colors of steel blue and sky blue to match your interior style.
With the dimensions of 24 inches long by 19 inches wide by 18.5 inches high, and an open-top design, this litter box provides ample space for small and large cats. It has a lower entrance of 6 inches and raises to the back of the box to form high walls. These features can prevent litter scatter and keep the floor clean all the time.
Moreover, this high-back litter box comes with a reinforced bottom to prevent tipping when cats enter and exit the pan. Also, it will protect the floor from scratching due to box movements. Apart from providing your cat with a roomy litter box, this product also helps you with cleaning. It is made from anti-stick plastic material that is very easy to clean and wash off.
Besides, the manufacturer comes up with innovative ideas for an indentation at the center bottom. Thus, the clump wastes will fall on the sides of the litter box and make it easier to scoop them out.
Last but not least, this litter does not possess any sharp edges. Thus, you don't have to worry that your cat might experience any harm while using this litter box.
Spacious raised-back design
Lower entrance for cats with arthritis
Indentation at the center bottom
Round corners make using a square scoop harder
---
5.

Van Ness High Sides Cat Litter Pan
Specs
Material(s):

Plastic

Dimension:

21-1/4 in L x 17-5/8 in W x 9 in H

Two Designs:

Corner high sides
Giant high sides

Assorted colors:

Blue, Green, and Bronze
Some cats have the habit of urinating high in their litter box. As a result, if they have a low-side pan, urine might go directly to the floor. This could lead to major cleaning efforts and even replacing carpet or flooring.
But what about an extreme high-sided litter box to stop that nightmare once and for all?  This Van Ness high sides cat litter pan can help you with that.
This Van Ness litter box has the size of 21¼ inches by 17⅝ inches by 9 inches – that is larger than most average litter boxes. Therefore, it can be suitable for a house with more than one cat or a big feline friend that needs a comfortable place for itself.
With the side walls height up to 9 inches, this litter box will minimize the mess of high-urinating cats. And if your cat loves digging in his litter, you can add more litter into this pan and satisfy the habit with the thicker layer to dig in.
The most valuable feature of this litter box is the shape. If you have a small room and want to save some space, you should go for a corner, high-side box like this one.
It also comes in three different colors: blue, green, and bronze. All three colors are coated with a high polished finish for a shiny and aesthetically appealing look. Plus, the stain-resistant coating prevents dirt from sticking to the surface of the box. As a result, you will find it much easier to clean this box than many others.
Deep pan for digger cats
A wide range of options
Reasonable price
No anti-slip pads on bottom so pan might slip when cats get in and out
---
6.

PetFusion BetterBox Large Litter Box
Specs
Material(s):

Plastic

Dimension:

22.6 in L x 18.1 in W x 8.0 in H
FDA, EPA approved
If you are a picky customer who seeks valuable products praised by reliable organizations, this PetFusion litter box is worth considering. This Better box was rated number 2 for the world's best cat litter boxes by Bustle.com in 2018.
The key factor that makes this litter box highly appreciated is its vet-recommended features. So let's take a look.
The PetFusion BetterBox measures 22.6 inches x 18.1 inches x 8 inches with an open-design that offers your cat ample space for relieving itself. While high walls do a great job in containing litter and preventing leaks, a low entrance of 5 inches from the ground helps cats enter and exit the box with ease.
The design with curves is not only safe for your cat but also makes it easier to scoop out waste. BetterBox also features a little lip all around the top that aids in gripping it conveniently.
Superior cleaning & hygiene
With this PetFusion BetterBox, cleaning the box might be such a breeze. It is coated with a non-stick layer that can reduce sticking up to 70%. Thus, it is effortless to keep it clean for better hygiene and odor reduction.
This PetFusion litter box is made from durable ABS plastic that is more rigid than average boxes. The material is tested using stringent international safety standards to have the antimicrobial property that keeps your cat safe from encountering harmful bacteria. However, the anti-sticking effect might fade away after a few months of use. Especially if your cat loves digging until they hit the bottom of the box, they might scratch and make the coating less effective.
Open top litter box to promote healthy usage
Non-stick coating for easy cleaning
Cat-friendly desig
The non-stick coating might lose its effect after times
---
7.

Petphabet Jumbo Hooded Kitty Litter Pan
Specs
Material(s):

Plastic

Dimension:

24.8″L x 20″W x 16.5″H
Door opening size 8.2 X 7.8 inches
More colors for your cat's choice
For some people, a litter pan is not only a place for cats to relieve themselves but also a decorative item for their house. If your cat is also into aesthetics, it might prefer a colorful and stylish box too.
In that case, you can consider this Petphabet Jumbo Hooded litter pan. It comes in seven different colors to match your interior. They can also be used in litter box furniture or cabinets.
Shape & Size
This Petphabet Jumbo Hooded pan measures 24.8 inches in length, 20 inches in width, and 16.5 inches in height  – that is large enough space for two average-sized cats to sit in at a time (though we don't recommend that)! It is made from a durable and robust plastic that can withstand extended use and a heavy amount of litter.
Apart from a removable top cover, the high-back design avoids litter scattering while your cat digs the litter for a spot. Hence, you don't have to worry about cleaning the floor and sweeping litter.
The opening door measures 8.3 inches x 7.8 inches, making it large enough for both small and big furry feline friends to enter the box with ease. It also comes in seven different colors for your cat's choice.
Easy to clean
This Petphabet Jumbo litter pan is made from non-stick plastic that aids in cleaning. If you want to replace all the litter with fresh litter you can also remove the lid to pour it out.
Meanwhile, the large open door is really useful for scooping out the waste without needing to open the lid. This jumbo litter box also allows air ventilation to prevent odors from accumulating inside the box.
No-door lid for cat easier entering
Stylish design with see-through lid
Suitable for two average side cat to sit-in
The front side is quite low for a thick layer of litter
---
8.

Petmate Cat Litter Pan
Specs
Material(s):

Plastic

Dimension:

34.7 x 19.8 x 10 inches

Size:

Giant
Made in the USA
A big cat needs not only a roomy litter box but also a lot more litter added in the box than an average-sized cat. Thus, when purchasing a litter box, besides high walls and a large surface area, you should be concerned about the volume capacity of the box. This Petmate litter pan with a maximum capacity of 30 pounds of litter might be an excellent choice for you.
Shape & Size
With the dimension of 34.7 inches x 19.8 inches x 10 inches, this large cat litter box offers ample space for your kitty to do its private business. The high walls can help you to keeping the surrounding floor litter-free. Apart from the larger pan that can hold up to 30 pounds of litter for fewer litter changes, the durable and stiff base prevents the box from slipping under cats' movements.
It also features side storage compartments that can help you keep all cat management tools in one place. You can put liners, bags, and scoops in the storage and save your time of finding the tools when needed.
It also features a comfort-grip rim that surrounds all sides of the cat litter box. Hence, you can lift and move the pan with ease.
Easy to clean
Made from anti-stain plastic, this litter box significantly reduces the cleaning time. The clumps will not stick to the bottom of the box, thus, you won't have to scrub the bottom pan to remove them. Meanwhile, the antimicrobial coating prevents stains and odor by fighting bacteria. Hence, you don't have to worry about residual odor and bad smells accumulated day after day.
The open-top litter box for large cats
Generous litter capacity
Side storage compartments for extra storage space
Hard to scoop out waste near the corner
---
9.

Catit Jumbo Hooded Cat Litter Pan
Specs
Material(s):

Plastic

Dimension:

22.4″L x 18.3″H x 17″W

Door opening measures:

10.4 inches x 9.6 inches

Colors:

Warm Gray (top and base), and warm gray accent color
If you are looking for a safe and roomy box for your big feline friend, this Catit Jumbo Hooded cat litter pan might meet your needs. This product is the combination of all essential features in the form of a reasonable litter pan.
Shape & Size
This Catit hooded litter box measures 22.4 inches length x 18.3 inches height x 17 inches width, which makes it suitable for many cat households. With the warm gray
color of top and base, along with the warm gay accent color, this litter pan can also be a decorative item of your house.
The door, with dimensions of 10.4 inches high and 9.6 inches wide, is suitable for big cats to enter the box. It is a swinging door that is easy for your cat to push and get inside the box. But if your cat does not prefer swinging doors, you can fold the flap back to keep it open all the time.
With the door-design lid, this extra large litter box for big cats not only gives your cats privacy but also prevents litter spillage. It also comes with a comfort-grip handle attached to the lid for easier access for cleaning the unit and pouring litter.
Odor control
When it comes to odor control, this litter box removes odors with the carbon filter attached to the top of the lid. Also, the door has several small holes for better air ventilation. Thus, it can prevent odor accumulating and bacterial growth inside the box.
Meanwhile, this Catit litter box is safe for cats of all ages since it is made of BPA-free materials, and is very easy to assemble. You only need to deal with snaps and locking tabs to set it up in a matter of minutes.
High privacy
Lift handle for easier cleaning access
Made of BPA-free material
Carbon filter to reduce odors
Hood and pan attachment might loosen
---
10.

PetSafe ScoopFree Self Cleaning Hooded Cat Litter Box
Specs
Material(s):

Plastic

Dimension:

28.5 x 20.5 x 11.5 inches

Colors:

2 colors
For some busy cat owners, spending an adequate amount of time each day scooping out cat waste might be inconvenient. That is where the best automatic cat litter box from PetSafe finds its place.
With the help of this smart product, you will have more time to spend doing fun things with your cat. Just let the litter box do all the dirty work for you!
Smart and Easy to Use
This ScoopFree litter box will automatically remove waste, which means no scooping, cleaning, or refilling your cat's litter box for several weeks. It also features a health counter and motion sensors to keep track of how many times your cat uses the box. Thus, you will find it easy to monitor your cat's health.
The safety sensors will stop the rake when your cat is in the box. It uses crystal litter that minimizes tracking, and because it is dust-free, it prevents messy floors and cat health problems.
This litter box comes with a detailed user guide to help you use it properly. It only includes three steps and a few minutes to set up this ScoopFree box.
Great Odor Control
In terms of odor control, crystal litter used inside the box will remove smells by absorbing urine and dehydrating the solid waste. It also has a covered waste trap to keep smelly waste out of sight.
With those features, this product allows you to save litter and effort on changing the cat litter. The pre-portioned litter can last up to 30 days for one cat. And you only need to remove the tray and throw it away when the litter changes color.
Automatically waste removal
Leak protection
Monitoring your cat's health
A little bit higher cost
Requires crystal litter
---
11.

Pet Zone Smart Scoop Automatic Litter Box
Specs
Material(s):

Plastic

Dimension:

26.5 x 16.9 x 7.6 inches

Age Range Description:

All Stages
Another finalist for the title of best self-cleaning litter boxes for large cats is the PetZone Smart Scoop extra-large box. Unlike the PetSafe Scoopfree litter box above that requires crystal litter, this Petzone product works well with any type of clumping cat litter.
Thus, in terms of long-run costs, this Petzone might be an excellent choice.
Powerful Operation
With the large pan of 25.5 inches x 18.25 inches x 7.6 inches and a powerful electric motor, this product is ideal for those who own a big cat and don't want to spend time scooping out its waste.
It possesses an automatic rake to collect waste while saving cat litter as efficiently as possible. About 15 minutes after your cat uses the box, the waste unit will take out any waste and drop it into the waste bin, meaning your cat will always have a clean box for the next uses.
To clean up the box you only need to empty the waste cabinet by tossing the bag and replacing it with a new one. The closed waste bin will prevent the odor from spreading in the air. Thus, you will have the litter area smelling fresh and clean without spending a lot of effort.
Last but not least, it is said to be quieter than other self-cleaning litter boxes on the market. The low noise it produces will keep cats feeling safe and it won't disrupt pet parents. It also comes in modular construction with separate components for easier maintenance and cleaning.
Cost-effective
As mentioned above, this litter box works well with any type of clumping cat litter, so you don't have to pay a lot of money for a larger amount of expensive crystal litter.
In the long run, it will be more economical for you as you don't need to replace the whole pan of litter. The scooping system will minimize the amount of waste litter, meaning you only need to refill the pan once or twice a week.
Hands-free waste disposal
Cost-effective
Quiet operation (75% less noise)
Rake is not long enough to scoop towards the end of the box
---
12.

LitterMaid Multi-Cat Self-Cleaning Litter Box
Specs
Material(s):

Plastic

Dimension:

27 x 18 x 10 inches
Designed to be used with multiple cats over 15 lb
If you are finding a kit of the litter box with full items to take care of your cat, this LitterMaid litter box set might be an economical choice for you. It includes a self-cleaning litter box, four waste receptacles, four carbon fibers, one scoop and rake cleaner, and one paw cleaning ramp.
Design
With the design of 27 inches x 17.7 inches x 9.8 inches, this litter box is suitable for multiple big cats over 15 pounds. The rectangle design with no hood can provide roomy space for two small to medium cats to sit in at a time.
While high walls can avoid litter scatter, the paw cleaning ramp can prevent litter from sticking to the cat's paws. The easy-lift handle makes cleaning or moving around a breeze.
The LitterMaid box has a smart detection motion sensor to check whether your cat is in the box or not. If they are, it will automatically stop the cleaning rake and wait for the cat to finish their business.
Moreover, it is equipped with modern technology and a powerful yet quiet motor for less-noise operation. Thus, it won't scare your cats away or disturb you with annoying sounds.
Odor control
This LitterMaid box will clean itself every 10 minutes after your cat enters with a rake to remove the clumps from the litter. After that, the cat waste will be stored in a waste bin. The waste receptacle and charcoal filter will trap and filter odor to make the litter area a pleasant place.
With this self-cleaning litter box, you only need to do a thorough cleaning up once per week. Take out the waste in the disposal bin. Replace the new charcoal filter and wash the litter pan. And the box is ready for another week of care-free use.
Multi-cat self-cleaning litter box
Reduce the effort of cleaning litter box
Accessories included
Can't use with kittens
Rake sometimes gets stuck

Buyer's Guide: Selecting The Best Litter Box For Large Cats
All cat lovers (and haters) know that cats are a picky type of pet that are often hard to understand. If your cat refuses to use their litter box, it might take you several days to find out what things were wrong with them. Maybe, the answer lies right in the litter box itself. So, how can a box affect the habit of peeing in a cat? Let's find out now.
1.

Why do big cats need extra-large boxes?
Cats only use the box that fits them.
So, no matter what kind of cats you've got or how old they are, it is important for them to sit, squat, and turn in their own litter box comfortably. The common rule for the  litter box's size is about 1.5x the length of the cat's body without the tail.
I know that many cat owners are not aware of this rule of thumb. But if you are facing the problem of your cat urinating outside his box, try to buy them a larger box and see the change in their habits.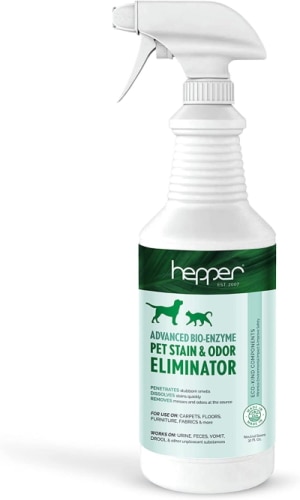 Even after the litter is changed you may be left with smells and stains around the house – but with the Hepper Advanced Bio-Enzyme Pet Stain & Odor Eliminator Spray, you can take care of it all. It's our product, and we love it so much, we just have to share it! It permanently removes the very worst smells and stains, and we offer a 100% satisfaction guarantee! Click here to get yourself a bottle.
2.

How do you choose the right large litter box?
So, the question is, how do you choose the right large litter box?
It might be time-consuming when diving in a large ocean of choice for a cat litter box. So, we will give you some criteria to shorten the process. These are also the criteria we look at when choosing the products for recommendation.
Let's take a look.
Open or enclosed?
According to research conducted on different cats in their own living environment, half of them prefer open litter boxes. However, trained cats are more likely to have the habit of using enclosed litter boxes.
So, it totally depends on your cat's preference. If your current litter box has a privacy lid, you should go for an enclosed option of a large litter box. Otherwise, if your cat doesn't want to be trapped in a closed space, a no-lid box is a great choice.
While enclosed litter boxes work well in odor control, open ones make cleaning easier without any lid. Hence, if you want to use a no-lid box, you should scoop out the waste more frequently. And for closed boxes, regular cleaning is required to prevent the buildup of bacteria.
Dimensions:
As we have mentioned above, the suitable length for a litter box must have a length of 1.5 times the cat's body. For adult cats, you can choose the box with the exact ratio. However, for kittens, you should always go for a larger one since they will grow up and exceed their current length. So, going for the longest pan might be a wise choice.
High walls
A common problem of big cats is they often urinate high to the wall of the litter box. So, the crucial factor of a large litter box is high walls to prevent urine leaks to the floor. Moreover, high walls can avoid litter spillover when your cat squats inside the box for a spot.
A litter box with a hood can offer you even more support with keeping the waste inside for a litter-free floor.
---
FAQ & Tips
1.

How big should your cat's litter box be?
In general,
a litter box
should be more than one and a half times the length of the cat. As you might not know, the cat will refuse to use the box if they find the box under-sized. Hence, we strongly recommend the bigger size for the best comfort for your cat.
2.

Do cats prefer covered litter boxes?
3.

What is the largest litter box available?
The largest litter box we could find available in the
Omega Paw Self-cleaning litter box,
with a roomy pan of 23.5 inches x 21.25 inches x 10.5 inches. However, the small entrance door makes this self-cleaning litter box the right place for a big cat but not two medium-sized ones.
4.

How many litter boxes does a household with multiple cats need?
The general rule of thumb is one litter box per cat. So, if you have 6 cats, you should have 6 litter boxes. However, you can use a large litter box or heavy plastic mortar mixing trays as a litter box to save you a lot of money.
Our Verdict
If you find yourself with the problem of your cat or cats urinating outside their litter box, try to use a larger box and you will likely witness a significant change in their littering habits.
We have provided you with 12 of the best litter boxes on the market today, and although we've put our favorite Petmate Booda Dome in first place, you really can't go wrong with any on our list.
Don't forget that last on our list, but most certainly not least, is the high-quality, expert-recommended LitterMaid Multi-Cat Self-Cleaning Litter Box.
If you have any recommendations for the best litter box for large cats, leave comments below and tell us your idea. Thank you for reading!
See also:
---
Featured image credit: Andriy Blokhin, Shutterstock