7 Best Organic Puppy Foods of 2023 – Reviews & Top Picks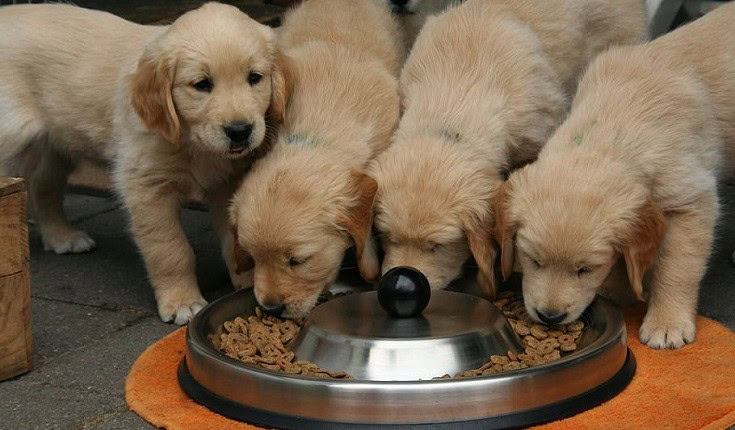 Giving your puppy the nutrition he needs is extremely important, as it will help him grow into a healthy, functional adult. However, finding the right food can be extremely difficult, and many options are filled with chemicals and other additives that you wouldn't dream of giving your dog.
That's why many owners prefer organic puppy food. In the reviews below, we'll examine some of the best all-natural foods on the market, so you can give your dog some chow that will allow him to start his life off on the right paw.
Best of all, most of these organic puppy foods are so tasty, he won't even realize that what he's eating is actually good for him.

A Quick Comparison of Our Favorites (2023 Update)
Rating
Image
Product
Details

Best Overall

Newman's Own Organics Chicken

Wheat-free
Corn-free
Lots of real protein
Check Price

Best Value

Nature's Recipe Lamb & Rice

Nutrient-rich carbohydrate sources
Good for skin and coat health
Lots of food for a low price
Check Price

Premium Choice

The Honest Kitchen

Made with human-grade ingredients
Humanely-raised meat sources
A little goes a long way
Click to Save 30%

Use code HEPPER30

Castor & Pollux

Made in an organically-certified kitchen
Organic chicken is first ingredient
Lots of DHA
Check Price

Evanger's Grain-free

Limited ingredient food
Pleasing aroma
Fairly filling
Check Price
The 7 Best Organic Puppy Foods
1.

Newman's Own Organics Chicken Dinner – Best Overall
Your puppy has a brand-new digestive system, and if you don't want to load it up with chemicals, antibiotics, and other additives, starting with Newman's Own Organics is a smart choice. In addition to being organic, it's also free of wheat and corn, which are two foods that many dogs have trouble processing.
It's filled with real protein, as organic chicken and broth are the first two ingredients. Most dogs seem to enjoy the flavor, and if you mix it with water you can whip up a thick gravy. This helps it dress up dry kibble if you want to mix it.
There's quite a bit of moisture in each can, which isn't a bad thing as far as the food is concerned, but it does limit how much actual substance is inside. As a result, you may need to feed your pup more of this than other options.
That's hardly a disqualifier, though, and Newman's Own Organics definitely deserves its spot at the top of our rankings.
Wheat- and corn-free
Lots of real protein
Makes a thick gravy when mixed with water
Mixes well with kibble
High moisture content limits amount of food in can
---
2.

Nature's Recipe Dry Organic Puppy Food – Best Value
Generally speaking, organic food tends to be made with higher-quality ingredients — so it's no surprise that generally speaking, it also tends to be more expensive. Nature's Recipe Dry manages to be high-quality and affordable, although it's not quite up to the level of the Newman's Own.
It doesn't have any corn, wheat, soy, or artificial ingredients, and the carbohydrates are all from nutrient-rich sources like barley and oatmeal. These ingredients can also improve skin and coat quality, ensuring your pup always looks his best.
Despite its low price, there's quite a bit in the bag, and that value makes Nature's Recipe Dry the best organic puppy food for the money. Part of the reason why it's so inexpensive is that it uses lamb meal instead of real lamb, which drags the quality down a bit. The manufacturer compensates for this by adding protein from vegetable sources, but you can't replace the real thing.
Adding actual protein could potentially boost this food to the top spot, but it would also increase the price, so it's ultimately a question of whether you're willing to sacrifice a little quality for additional value.
Nutrient-rich carbohydrate sources
Good for skin and coat health
Lots of food for a low price
Additional protein from vegetables
Uses lamb real instead of real lamb
---
3.

The Honest Kitchen Dog Food – Premium Choice
You (hopefully) already know that you're not supposed to feed your dog human food — but that doesn't mean his food shouldn't be good enough for people. The Honest Kitchen uses human-grade ingredients, so you don't have to worry about finding inferior meat, chemicals, or any other potentially hazardous stuff inside.
The meat is made from humanely-raised animals, ensuring your conscience has one less thing weighing it down. The vegetables are extremely high quality as well, as you'll find foods like flaxseed, kelp, and carrots in the mix.
There are potatoes inside too, though, and they have been known to give some dogs gas. Also, this is a dehydrated food, so you'll have to spend a little more time preparing it than you would some of the other options on this list.
The price will be off-putting to many dog owners, as it's much more expensive than most other options. The good news is that, since you rehydrate it with water, a little goes a long way.
Ultimately, The Honest Kitchen makes what is probably the highest-quality dog food on the market. The difference in quality between it and the two options above isn't enough to justify the price disparity, though.
Made with human-grade ingredients
Humanely-raised meat sources
Fantastic veggies like kelp and flaxseed inside
A little goes a long way
Potatoes may cause gas
Very expensive
Takes a little while to prepare
---
4.

Castor & Pollux Organic Puppy Dry Food
If you're concerned that some foods may not be quite as organic as they claim, Castor & Pollux Puppy Recipe is made in an organically-certified kitchen, so you can rest assured it doesn't include any nefarious ingredients.
The protein inside is a mixed bag. The first ingredient is organic chicken, but immediately after that, you'll find chicken meal. This keeps the price down a bit, but not much, as this is still a fairly expensive food.
The manufacturers add extra DHA, which can help with the development of a healthy brain and immune system. There's also natural DHA in ingredients like flaxseed, blueberries, and coconut oil.
The food also contains chicken ingredients like liver and fat, which are filled with omega-6 fatty acids — but that also increases the risk your dog might have difficulty processing it.
All in all, Castor & Pollux Puppy Recipe is in kind of a no-man's land, as it's more expensive than comparable foods, but not quite as good as the premium options. That makes it hard to justify ranking it higher than 4th on this list.
Made in an organically-certified kitchen
Lots of DHA for brain and immune system development
Organic chicken is first ingredient
On the pricey side
Uses protein meal
Chicken increases risk of digestive issues
---
5.

Evanger's Grain Free Organic Dog Food
Like the Castor & Pollux above, Evanger's Grain Free has quite a bit going for it, but not enough to justify its high price.
It's a very limited-ingredient food, as all you'll find inside is organic chicken, well water, and organic guar gum. That means there's not much (besides potentially the chicken) to annoy your dog's insides, but it also means you'll need to find a way to supplement his diet with fruits and veggies. It's a little annoying to spend all that money and then have to buy more food on top of it.
The food has a pleasing aroma, so your dog should need little convincing to scarf it down (and you won't have to hold your nose while you put it in his bowl). It's not terribly watery, either, so it should be fairly filling.
Don't be surprised if the food has lots of bone inside as well. This is actually good for his development, but it can also be a shock to his system, and it may cause diarrhea and other digestive issues.
If you can afford it, Evanger's Grain Free makes a delicious and nutritious treat for your pup. The high price and limited nutritional profile prevent us from ranking it higher than this, though.
Limited ingredient food
Pleasing aroma
Fairly filling
Pretty expensive
Only intended as a supplemental food
Bone content may cause digestive issues
---
6.

Natural Planet Organics Chicken & Oats Dry Food
Natural Planet Organics is a mixed bag, as it includes a frustrating combination of excellent ingredients with potentially dodgy ones.
Organic chicken is the first ingredient, but it's followed in short order by chicken meal, chicken flavor, and salt. It's confusing to us that the manufacturers would shell out the money necessary for high-quality ingredients and then pair them with inferior fillers.
There are plenty of probiotics inside as well, so this should be a food that's easy for your pup to digest. The manufacturers go a little overboard with the vegetables, though, as they threw everything but the kitchen sink in here, including rice, flaxseed, tomato pomace, alfalfa, and broccoli. While this is no doubt nutritious, it also makes the flavor less appealing to pooches.
Natural Planet Organics is the most confounding food on this list, as it could easily rise quite a few spots higher if it simply swapped out a few ingredients. As presently constituted, though, it has to be satisfied with a spot towards the bottom of the rankings.
Filled with probiotics
Uses lots of high-quality ingredients
Also uses cheap fillers
Excessive amount of vegetables makes flavor less enticing
High salt content
---
7.

Tender & True Dog Food
Nobody can ever accuse Tender & True of wasting any chicken, as it uses almost every part of the animal, including the liver, heart, and gizzard. While this boosts the number of nutrients your pup will get, it also increases the chances he'll have difficulty processing the food.
The kibble is heavy on the lentils at the expense of other vegetable sources. This adds fiber to the recipe, but at the expense of many valuable vitamins and minerals found in other foods. This makes it hard for us to advocate feeding your dog Tender & True exclusively. It's also not formulated specifically for puppies, so you'll need to consider supplementing with a puppy multivitamin.
The food is very crunchy, and you may need to soften it in water for your dog to be able to eat it.
Tender & True isn't a bad food necessarily, but we feel it is an incomplete one. Since we don't see much point in buying food that requires you to supplement it with a multivitamin, it's hard to recommend it too vigorously.
Lots of organ meat inside
High risk of negative reactions
Limited nutritional profile
May be too crunchy for some pups
Not formulated specifically for puppies
---
Buyer's Guide – Choosing the Best Organic Puppy Food
Why Feed Organic Puppy Food?
Nutrition is a tricky subject, for both humans and dogs. Debate rages as to what constitutes a healthy diet, and it seems like food manufacturers make the problem worse by deliberately publishing misinformation.
So, with that in mind, how can we justify recommending organic puppy food?
The Science
The fact of the matter is, there's little science to support feeding organic food over other options. Most commercially-available puppy food is safe and nutritious, and it's unlikely your dog will experience serious complications from it (unless he has a food allergy, of course, but feeding an organic diet doesn't eliminate that possibility).
However, just because science hasn't proven the advantage of an organic diet yet doesn't mean it never will. We believe that feeding your dog a diet that closely resembles what he'd naturally eat — one free of chemicals, preservatives, hormones, antibiotics, and the like — is undoubtedly better than the alternative.
The Benefit of Going Organic
The primary benefit of feeding your dog an all-natural diet is what he won't eat, which is chemicals, hormones, and other problematic ingredients. These can potentially cause health problems for some dogs, although it's not necessarily likely.
It's important to note, though, that if you're worried about pesticides, going organic won't necessarily solve that problem. We'll talk more about that in a minute.
Some research suggests that dogs absorb more nutrients (specifically omega fatty acids, phosphorous, and certain antioxidants) from organic foods. The difference is small, but it does exist.
What's the Downside?
If you choose an organic food that has a complete nutritional profile like our top pick, then the only downside to feeding an organic diet is the price — and in most cases, the difference isn't that noticeable.
That's it. The only thing you lose (besides all those chemicals and additives) is a little bit of money.
Now, we don't want to make light of that fact. We realize that a little money can make a big difference for many people. If you can afford it, though, we see little reason not to go organic.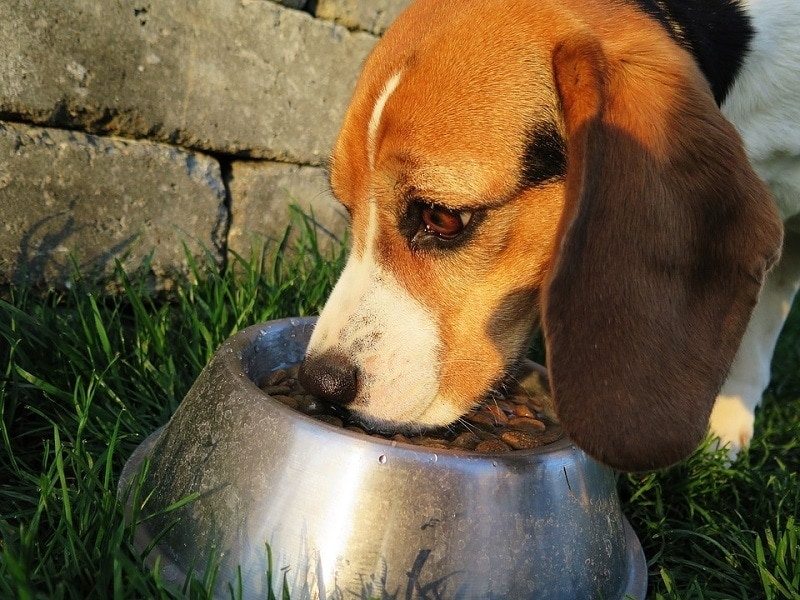 Is There Anyone Who Shouldn't Feed Their Dogs an Organic Diet?
Some pups have medical conditions or other needs that require them to eat a specialized diet. In that case, you should feed your dog whatever your vet recommends — organic or not.
Other dogs have grown so accustomed to the food they're eating that switching to a different food (even a healthier one) could cause more problems than it solves. If your dog enjoys his food and his health is thriving, keep doing what you're doing.
This list is specifically geared towards puppies, though. The food dogs eat when they're young will go a long way towards shaping their preferences and tolerances once they're adults, which is why we recommend starting them out on the best diet possible — and we believe that's an organic one.
Does Organic Always Mean Better?
While we're proponents of an organic diet, that doesn't mean you should just grab the first bag that claims to be all-natural. You still need to read the label (or our reviews, cough cough).
Organic foods are especially vulnerable to nutritional deficiencies, so you need to make sure the food you give your pup has everything he needs to be healthy. This includes plenty of protein, lots of fiber, a variety of healthy vegetable sources, and preferably some vitamins and probiotics.
If you're not sure, ask your vet.
Are Organic Foods Better for the Environment?
This seems like a slam-dunk question. They have to be, right? After all, they're organic.
It's not quite so simple, though. Many organic foods are grown in much the same way as regular foods, meaning they require fossil fuels for planting, harvesting, and transportation. Also, "organic" doesn't mean "pesticide-free" — it just means there are different rules as to which pesticides can be used.
Ultimately, the best way to reduce your carbon footprint when buying dog food is to grow and cook the ingredients yourself. This isn't feasible for most people, though, so you're probably better off reducing consumption elsewhere to compensate.
Related Read: 10 Best Puppy Foods – Reviews & Top Picks

Conclusion
We don't think there's better all-nature food for puppies than Newman's Own Organics. It's wheat- and corn-free and packed with protein, and most dogs love the taste. It's a great way to get even the pickiest eater all the nutrition he needs.
However, we know organic food can be expensive, so if you need a more cost-effective option, consider Nature's Recipe Dry. It's filled with nutritious vegetables and has all the ingredients necessary for growing healthy skin and a lustrous coat. It also doesn't cost an arm and a leg.
We hope these reviews have taken some of the confusion out of your food-buying decision and helped you find an organic option your dog will love. He deserves the best, after all.
Then again, we're pretty sure that shoe he just ate wasn't organic at all…
---
Featured Image: Everson Mayer from Pixabay