13 Best Pet Transportation Companies – 2023 Reviews & Top Picks
Moving is already a stressful endeavor, no matter how far you are going. Moving across the country or flying internationally presents just as much of a challenge. Adding your beloved family pets into it can create many questions and considerations.
If you are flying, you would, of course, prefer to have them sitting next to you. However, if you have a large dog, can you imagine them relaxing in a plane seat for the entire trip? Probably not.
What is the next most comfortable way to get them to where you are going? Often, a pet relocation service enables you to transport your pets to your new home safely. These quality services assure you that they will provide your pet with a relatively stress-free journey. They often have services like custom crates, climate-controlled travel, and maintenance along the way.

The 10 Best Pet Transportation Companies in the U.S.
The majority of pet relocation services are located within the U.S. and help families moving around North America and overseas. They are scattered around the country, enabling you to find one closer to your home for pickup or drop-off. The list below includes the top 11 companies that vary in the services they offer according to what you need.
1.

Air Animal Pet Movers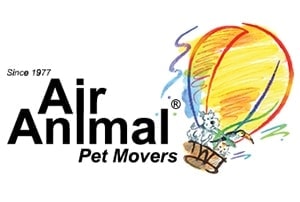 Air Animal is based in Florida. Veterinarians founded this company as a transport service that ensured the safest pet relocation methods throughout the U.S. It was started in 1977 and has grown steadily since then. They began as a primarily family-run business and became more extensive, spreading throughout the major cities in the U.S. and including a comprehensive network of 225 airlines worldwide.
This particular pet relocation service is IPATA-endorsed, meaning they have high standards for creating a humane pet transportation service. Their fees start at around $2,700 if you want the full VIP door-to-door international service from the U.S. They have more basic packages closer to $1,500 for a Book & Fly international package.
USDA and IPATA credited
Make both domestic and international moves
Free microchipping specific to drop-off country
More expensive than similar services
Excludes long-distance ground transportation services
---
2.

Animals Away
The slogan for Animals Away is "We Treat Your Pet Like Royalty." They were founded in 1995 in New York and have become a trusted pet shipping service since then. This company takes care of everything for you, from booking to documentation and all the door-to-door logistics, so you don't have to worry about a thing.
Animals Away work hard to customize your animal's transport service, meaning they find specific flights that work the best for you, trying to keep it direct whenever possible. They offer various modifiable kennels that make it easy to choose something comfortable for your pet.
This company is primarily located along the East Coast of the U.S., with locations in New York, Philadelphia, Connecticut, Vermont, New Jersey, New Hampshire, Syracuse, Albany, and Boston. They help with both domestic and international moves and give you options between air and ground transport.
Domestic and international options available
USDA and IPATA credited
Modifiable kennel and transport options for ground and air travel
No information on pricing included on their website
---
3.

Airpets America
Airpets America is a global company that is well-known both globally and in the U.S. They are based in Texas but have a variety of pet transportation options around the country. They have been in operation for more than 20 years and have experience with shipping a wide variety of animals, whether your favorite pet is a turtle, a rabbit, or cats and dogs.
Airpets America offers pet-friendly travel options featuring temperature-controlled cargo crates and even services like grooming and exercise while in between flights or car stops. They have both domestic and international opportunities that range between $1,000 and $2,000.
Just in case your pet starts to suffer from anxiety or something else happens along the way, the company has veterinarian care staff on hand. If you need, they will even offer ground transportation to and from the airport.
Offer both domestic and international plans
USDA certified
Customizable ground and air transport options
Offer grooming and exercise additions
Offer military relocation discounts
More expensive than some similar services
---
4.

Happy Tails Travel Inc.
Happy Tails Travel Inc. is based in Arizona and ships to the majority of countries around the world. They have worked hard to develop a stellar reputation for happy customers and a superb safety record.
Happy Tails Travel Inc. offers a variety of options depending on where you are traveling to and from. If you need a domestic travel plan, they offer air travel and long-distance ground transportation without any breed restrictions. They help your family out with a military move and offer discounts.
One of Happy Tails specialties is transporting multiple pets. Unlike many other companies, they do this for a discounted price, making it cheaper to get your whole family from one place to the next. They charge a consulting fee and any of their travel costs, and their prices go up if it is last-minute.
Credited by the IPATA
Superb safety record
Variety of ground and air transportation options for both domestic and international trips
Discounts for multiple pets and military relocations
Consultation fees for the first meeting
---
5.

Royal Paws
Your pets are treated like part of the family back at home, and Royal Paws pet service takes an extra step by providing you with private door-to-door transportation services. They primarily focus on international transportation for dogs and puppies within the U.S. and Canada.
You can trust your dog's health and wellness with this pet relocation service because they are USDA APHIS licensed. A two-person team conducts each one of their trips meant to protect your dog and ensure that their highest possible comfort and cleanliness.
During the trips, which are primarily done via ground transportation, your dog will be walked every 4 hours. There are no breed restrictions. Depending on whether your pet can handle enclosed spaces or prefer a larger area, they tailor each trip to your needs. Since it is more bespoke, you will need to request a quote online to get an idea of their prices.
USDA APHIS certified
Two-person teams take care of each trip
Bespoke trip planning depending on you and your dog's preferences
No breed restrictions
Primarily focused on dogs and not many other animals
Offer trips only within the U.S. and Canada
---
6.

Exec Pet
Exec Pet is based in Atlanta, Georgia but serves the broader area of the lower 48 states. Their focus as a company is domestic moves around the country, making a trip in hours instead of days. They prioritize speed, health, and comfort with white-glove, luxurious travel methods to ensure a bespoke travel regime.
Their drivers are more than professionals; they are active military people or those retired from service. They offer skillsets that include superior navigational skills and attention to detail. They are trusted and capable, enabling any trip with your pet family to go smoothly.
This company specializes in pets with particular disabilities or health issues, such as blindness, deafness, mobility problems, and anxiety.
Vetted professionals from military duty
Specialize in pets with health issues
Focus on quick and safe trips
Only make domestic ground trips
---
7.

Starwood Animal Transport Services
Starwood Animal Transport Services have a wide variety of ground pet transportation options within the continental U.S.A. Like the way that international services have hubs in airports worldwide, Starwood has central locations in large cities across the U.S. These include New York, Chicago, Portland, Dallas, Atlanta, and Los Angeles.
Instead of customizing each trip to your and your pet's needs, they have perfected what they are good at and have a flat rate for door-to-door shipping. Each one of the drivers is well-trained and skilled at each of the services that Starwood offers with their transportation packages.
Starwood cares for the overall comfort and health of your pet during each trip. It is why they break their journeys up into 4-hour intervals and offer pet grooming as well.
Door-to-door flat rates for ground transportation
Offers pet grooming
USDA endorsed
Local pet taxi services available in certain areas
Have to request a quote to find out prices
---
8.

Pet Express Review
Pet Express says that they are the "pet travel people." They have been established since 1978 and have been trusted by families worldwide to relocate their pets. The business is family-owned and believes that pets are part of everyone's family and should be treated as such.
Pet Express offers both international and domestic travel options with customizable travel crates and flying options for your pet. When you are getting ready for the trip, the company will develop a pet travel itinerary to know what to expect each step of the way. One of their partner vets ensures that your pet is prepared to fly since safety is a top priority.
Pet Express is based in California and works with USDA-accredited veterinarians to provide stellar treatment all along the way. They offer choices between ground and flight transportation options.
Ground and air transportation domestically and internationally
USDA and IPATA accredited
Various options for pet itinerary development
Have to request a quote to see pricing fees
---
9.

Pet Van Lines
Pet Van Lines is a trusted ground moving service that offers luxury moving options. They have been proven to provide safe and reliable transportation and have been doing so for over 15 years.
Pet Van Lines offers long-distance pet transport that delivers from coast to coast. They do not have breed restrictions for dogs or cats. They provide roomy SUVs or minivans so you don't have to worry about cramped cargo holds as you would find on a plane. Each one of their pet transport drivers is professionally trained and loves pets.
Although they don't handle all of it from beginning to end, like some transport services, they make recommendations and provide you with lists of things to get done. They accept certain comfort items to make your pet's trip more manageable.
Offers luxury ground transportation services
Professionally trained drivers
Operate coast to coast in the U.S.
Don't help with beginning-to-end preparation
Only do ground transport services
---
10.

Citizen Shipper
CitizenShipper can connect you with independent transport providers to transport your items, including your pets. To use this service, you start by filling out a simple form online and submitting it to CitizenShipper. The company sends your transport request to the transport providers near you who meet the shipping criteria listed in your form submission. Once this connection is made, CitizenShipper encourages open communication between you and your transporter. When deciding on whether you will accept a transport bid, you can see ratings and reviews for your potential transporters. They perform background checks for felonies and DUIs on all transporters, and their address and contact information are verified for added security.
Unfortunately, there's not a good way to determine how much using this service will cost. You can accept or reject bids based on your budget, but there isn't a way to guarantee that there will be a matching bid. You can get a quote through the website, but there are not set prices.
Easy to request transport services
Only transporters who meet your criteria can place bids
Bids can be accepted or rejected according to your budget and preferences
Open lines of communication are encouraged between you and your transporter
Background checks are performed on all transporters
Transporters are independent contractors and not employed by CitizenShipper
Transporters are usually private citizens and not transport companies
No set prices
---
Based Outside the U.S.
Not everyone is interested in moving within American borders and might need help transferring their home internationally. You might also be starting from outside the U.S. and trying to move into the States. Many considerations come with international moves for a pet, and these transport companies can help.
11.

PetAir UK
PetAir UK is based in the U.K. and is currently one of the only services in the country run by veterinarians, guaranteeing a higher safety level for your animal. They are a relatively newer pet transport service, having been established in 2004. However, since then, they have transported over 12,000 animals.
PetAir UK provides its service to most international destinations. They carefully select airlines and flights for your pet to make the most comfortable journey possible.
Putting your pet into the care of PetAir UK means that you will be treated to the highest level of care and guidance throughout the relocation process. They can handle all the necessary documentation, which is plenty for an international move. They provide custom crates and help with vaccinations and health checks.
Takes care of the process from beginning to end
Services to most international locations
Veterinarian-ran, providing extra security
A relatively newer company with less experience than some older companies
---
12.

PetFlight Inc. (Canada)
PetFlight Inc. is based in Canada. They are considered pet travel experts and can provide an excellent track record. They have over 20 years of experience without a single recorded injury or death to a single pet that they have moved.
They operate internationally and are based in Toronto, Canada. Their specialty areas are Australia, South Africa, the U.K., New Zealand, and Dubai. This company handles both imports and exports of pets from the country.
PetFlight Inc. can take care of most of the work from beginning to end, or they can give you more of the reins if you want to reduce the price. Since each move is a bespoke occurrence, it is necessary to contact them with your information to get a quote.
Operates internationally to major areas
Excellent track record with more than 20 years of total success
Has specialty areas that are cheaper than other international locations
No pricing on-site but only with a quote
---
13.

Pet Carriers International (Australian)
If you are looking for a service that will help get your pet to or around the Australian continent, then this is the company for you. They are a team of Australian couriers who are all pet owners and care for your pet as though they were their own.
This company has principal offices in Australia's hubs, including Melbourne, Sydney, Brisbane, Adelaide, and Perth. They handle any relocations that occur in and outside of Australia via major airports and climate-controlled vehicles.
The service that you will get through Pet Carriers International is comprehensive and all-inclusive. They can get involved as little or as much as you want to suit your needs and budget.
All staff are pet owners, so they care for your pet like their own
Provides relocation services into and out of Australia
Varying levels of involvement available
Can only find prices via online quotes
---
Featured Image Credit: VK Studio, Shutterstock