How Much Will It Cost to Ship My Dog in 2023? Updated Price Guide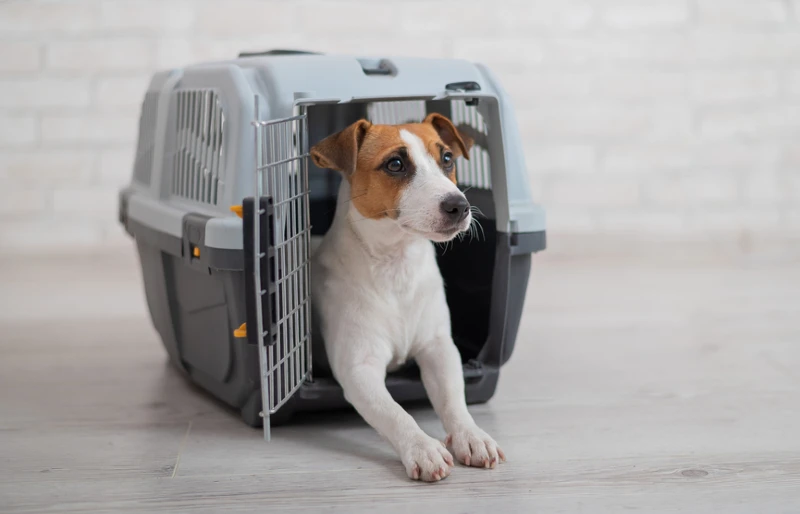 For some dog owners, the time may come when they have to ship their dog, usually because they are moving to a new state or even internationally1. Most dog owners treat their dogs like family, and leaving them behind is simply not an option. Shipping a dog can be costly depending on where the dog needs to be shipped, and the method you choose. Plus, owners want to ensure their dog is safe during the shipping process.
In this guide, we'll explore pricing options so you can have an idea of how much it will cost to ship your dog. Generally, relocating your dog can cost $2,200-$2,400 by domestic shipping, $6,000-$6,400 by ground transport, $275-$300 by air for small dogs, and $1,000 and up by air for large dogs. Preparing is key for a successful shipment, and the more prepared you are, the better. Let's take a look.

Domestic Shipping Options
When it comes to shipping your dog, you have options. Depending on where you need to ship your dog, you can choose an airplane, train, or ground. A means of car transport is ideal if you're driving to your destination, but what if you're moving cross-country?
In that case, you'll need to decide what options will work for you and your dog. For long journeys, air travel is the quickest method. Beware that since many complexities involve international shipment, we will focus on the costs of shipping your dog within the U.S. with some details regarding getting your dog shipped back to the U.S.
Regarding air shipment, and according to the Federal Aviation Administration (FAA), only service dogs of any size are allowed to fly in the cabin with you2. Non-service medium to large-sized dogs will have to be in the cargo hold area. Small dogs can fly in the cabin; however, your dog must be small enough to be considered carry-on luggage, and you must stow your dog underneath the seat in front of you. Some airlines do not allow non-service dogs on board, so your best bet is to find an airline that allows dogs on the plane.
Some train companies, like Amtrak, allow small dogs up to 20 pounds (combined weight of pet and carrier) aboard on trips up to seven hours3. If you've considered a ship for your international needs4, the Queen Mary 2 is the only cruise liner that transports pets with a full-time pet attendant for the kennels on board5.
How Much Does Shipping a Dog Cost Professionally?
Whether you choose an airplane or ground transport, there will be specific fees, and these fees will vary depending on your dog's size and the journey length. Let's look at the chart below to give you an idea of the costs. Keep in mind that military personnel may receive discounts with certain transport companies.
Domestic Shipping
Approx. 10 Hours
$2,200 to $2,400
By Ground Transport
Cross Country
$6,000 to $6,400
By Air
Small Dog
Large and Extra-Large Dogs
$275 to $300
$1,000 and up
Note that prices range from $300 to $2,000 and up for international shipping for various-sized dogs.
Additional Costs to Anticipate
The chart above gives you domestic standard rates by ground or air, but those rates are not the big picture. Other expenses come into play, such as the crate used to transport your dog.
Airlines have specific requirements regarding crates, and you'll need to ensure you abide by these requirements. When booking your flight, ensure you inform a travel agent that you have a pet. Don't assume that you can simply add your pet after purchasing your tickets. Regarding additional costs, let's explore this more in-depth.
Health Certificate
All airlines have their own policies and requirements, but most will require a health certificate, also known as a Certificate of Veterinary Inspection. You are required to obtain this within 10 days of travel before your dog can board the plane. You will need to obtain this certificate regardless if you're traveling within the continental U.S. or internationally.
Vaccinations
The CDC has certain criteria regarding rabies shots. Dogs entering the U.S. that have not been in a high-risk country within the last 6 months will not require a rabies vaccine for entry. However, if you're transporting a dog back to the U.S. from a high-risk foreign country, you will be required to present a rabies certificate and an ISO-compatible microchip record.
The cost of a microchip ranges from $20 to $75, with an additional registration cost of $20. A dog returning from a high-risk country will also require a CDC Dog Import Permit at no charge.
The CDC only requires a rabies certificate if your dog is coming from a high-risk country. As far as other vaccines, it's not required, but you must state, either verbally or in a written statement, that your dog is healthy and has not been in a high-risk foreign country within the last 6 months. Still, you should vaccinate your dog yearly. Core vaccines include rabies, distemper, parvovirus, and adenovirus. Core vaccines range from $75 to $100.
Note that dogs entering the U.S. for resale or adoption require much more paperwork and are more involved than transporting a personal pet.
How Do I Find a Reputable Pet Relocation Company?
You have several choices when searching for reputable companies that ship dogs. Don't enter into this lightly; you want a company that can ship your dog safely. Many factors come into play with many moving pieces, and hiring a pet relocation agency can relieve the stress that comes with a big move, especially cross county.
Below, we've listed reputable companies that are worth contacting for such services:
Movehub is a terrific resource for finding reputable agencies that transport dogs. Hiring one of the agencies will be costly, and the price will vary depending on the final destination and your dog's size. However, hiring a pet relocation company is the safest way to get your dog to your new home.
How to Prepare Your Dog for the Trip
The most important thing to do is to make a checklist of all requirements, especially if your dog will be flying. As we've mentioned, the CDC has specific criteria that must be met before your dog can enter back into the U.S. from a foreign country. Let's recap:
Ensure you understand all pet import requirements
Ensure you purchase a crate that meets the FAA's requirements
If your dog is not used to a crate, give him ample time to acclimate to being inside the crate
Obtain all vaccines and certificates (if required)
Grab all your dog's supplies, such as a collar, ID tag, bottled water and water bowl, sealed supply of fresh food and food bowl, toys, any medications, poop bags, harness and leash, doggie brush, and shampoo

Conclusion
Moving is stressful, and it can be even more stressful with a dog. Luckily, there are many pet relocation agencies that will take care of the burden for you. Be prepared for the expenses, as they will differ depending on the logistics of the move, and ensure you have all documentation, certificates, and health records in case your dog is coming back from a high-risk country.
---