8 Best Shampoos for Poodles in 2022 – Reviews & Top Picks
One of the best things about Poodles is their low-shedding, incredibly soft fur. They are an excellent choice for people who have issues with pet dander and other allergy-related problems. Plus, as a breed, they're smart as a whip. Proper grooming is extremely important with poodles.
They require specific haircuts and pampering. So when you're caring for your Poodle at home, you will want to buy a shampoo that will take care of their hairdos in a real way. Precisely for poodles, we rounded up eight of the best options that you can choose from when picking out products.

A Quick Comparison of our Favorites in 2022
Rating
Image
Product
Details

Best Overall

Paws & Pals Oatmeal Pet Shampoo

Detangles
Tear-free formula
No residue

Best Value

Buddy Wash Original Lavender & Mint Dog Shampoo

Smells amazing
2-in-1
Not tested on animals

Best for Sensitive Skin

HyLyt Hypoallergenic Shampoo

Nourishes skin
It prevents flaking and dandruff
Hypoallergenic

Ark Naturals Don't Worry Don't Rinse Me Waterless Shampoo

No water required
Less messy
A pleasant
natural smell

BioSilk Therapy Whitening Dog Shampoo

Brightens coat
No harmful additives
Tropical scent
The 8 Best Shampoos for Poodles
1.

Paws & Pals Oatmeal Pet Shampoo – Best Overall
The delightful Paws & Pals Oatmeal Pet Shampoo is a superb blend of softness, scents, and lather. It is entirely organic, and we think you're really going to love it. It's our number one pick for poodle fur because it doesn't leave any residue or dull their curly locks.
Poodles, because of their long fur, can be prone to matting. The upside to this shampoo is that it has detangling formulas that reduce the number of tangles, leaving your pet's fur fluffy and soft. Do use a combination of jojoba oil, coconut oil, and rosemary essential oils to keep your poodle soft and supple.
This is a tear-free formula, so even if you get it in your pooches eyes—it won't hurt a bit. Another upside is that there's no reason to have shampoo and conditioner—it softens beautifully. The only downside we could find is that you might not enjoy the scent.
All in all, we think this is the best shampoo for Poodle puppies and adults.
Detangles
Tear-free formula
No residue
Leaves fur shiny
Might not enjoy the scent
---
2.

Buddy Wash Original Lavender & Mint Dog Shampoo – Best Value
If you're looking to save a couple of extra bucks but still want value, try out the Buddy Wash Original Mint and Lavender shampoo. It's the best shampoo for poodles for the money.  It provides an excellent option combining shampoo and conditioner to clean and condition at the same time.
This shampoo has a calming effect of lavender, zest of mint, and soothing aloe vera properties. The formula combines botanical extracts of rich ingredients like rosemary, sage, and chamomile. The combined scents make the shampoo pleasing to the senses.
The coconut-based product is not tested on animals and made right in the USA. You might want to check with your vet if your dog has a wheat allergy because of the deodorizing wheat protein. Any irritation would depend on the type of allergy they have.
Smells amazing
2-in-1
Not tested on animals
Made in the USA
Top value
---
3.

HyLyt Hypoallergenic Shampoo – Best for Sensitive Skin
If you have a particularly sensitive pooch, HyLyt Shampoo for Dogs & Cats might be the solution. This shampoo works best for poodles that can't handle harsh ingredients. And given how fresh and clean this product is, it will work for even your non-sensitive canines.
This product has no artificial dyes or soap. The formula uses significant hydrating qualities to nourish the skin. Omega fatty acids help to cool any irritation and provide a sleek finish, reducing flaking or dandruff.
Another perk of this shampoo is that it may boost flea and tick prevention effectiveness, which is beneficial. It might not work for every sensitive poodle and will depend greatly on the needs of each pup. If you have questions, you should always consult your vet before use.
Nourishes skin
It prevents flaking and dandruff
Hypoallergenic
Consult your vet before use on very sensitive poodles
---
4.

Ark Naturals Don't Worry Don't Rinse Me Waterless Shampoo
If you're looking for something to keep your poodle fresh over time, Ark Naturals Don't Worry Don't Rinse Me Waterless Dog & Cat Shampoo might be the ticket. It's convenient if you need a quick fix or just want to clean up your dog between baths.
This gentle foam shampoo is easy to apply. You simply rub it onto your hands and rub it evenly through your dog's coat. There is no need to rinse, so you don't have to worry about wiping them down afterward. It's mess-free and simple.
The product is generously full of botanical oils such as cedarwood, orange oils, and balsam. The entire formula is meant to freshen up your poodle's coat in between washes and eliminate existing routers on the skin and fur. This process shouldn't be a substitute for routine bathing.
No water required
Less messy
A pleasant, natural smell
Mess-free
Not a substitute for bathing
---
5.

BioSilk Therapy Whitening Dog Shampoo
If you have a light-colored poodle, you may want to check out BioSilk Therapy Whitening Dog Shampoo. There is an agent in the formula that lightens their fur, leaving it bright and fresh. You don't have only to use white poodles, either. It will brighten and clean any fur color.
This human-grade moisturizing shampoo has no harmful parabens or sulfates. Plus, it's completely safe to use alongside flea treatments. The silk proteins will leave your poodle feeling refreshed and fanciful.
It's an excellent way to enhance your pet's natural fur qualities without paying salon prices. The scent is hot and tropical, which is pleasing to the senses and long-lasting. If you have a darker poodle, results might not be as dramatic.
Brightens coat
No harmful additives
Tropical scent
Not as dramatic on darker fur
---
6.

Isle of Dogs Tearless Puppy Shampoo
If you have a young poodle pup, Isle of Dogs Tearless Puppy shampoo is a prize-winning pick. It is ideal for preventing any issues with vision, as it's tear-free and safe to use on the face.
The classic Isle of Dogs scent—fresh cotton and orchid—will leave a very clean, subtle smell that is long-lasting and pleasurable. It helps soften the fur to make extra fluffy curls.
If you have any other dogs in the home, this product is safe to use for them, too. It can be for any life stage or coat type, from puppyhood and beyond. Each bottle is made in the USA with specifically selected ingredients.
Tear-free
Soft scent
Create light curls
Scent won't be for everyone
---
7.

PetAg Fresh 'N Clean Scented Dog Shampoo
PetAg Fresh 'N Clean Scented Dog Shampoo is a terrific value since you get a favorable volume for a small price. This product is totally soap-free and contains no unnatural or irritating ingredients.
If your poodle is prone to matting, this might be your solution. It has extra conditioning additives that leave fur soft and easy to groom. It helps with those cost situations that are difficult to manage.
The product advertises that their scent lasts up to 2 weeks, preventing odors between baths. It has an aromatic scent, which has an almost floral aroma. It should work on most coat types, including poodles with sensitive skin.
Prevents matting
Soap-free
No unnatural ingredients
It might not work on all coat types
---
8.

Burt's Bees Oatmeal Shampoo
Leave it to Burts Bees to be the best. This oatmeal shampoo nourishes your poodle's skin and coat, making it soft and residue-free. The colloidal oat flour in this formula soothes itchy skin, leaving it moisturized and healthy.
The shampoo also contains honey—classic Burt's Bees. The honey helps to give your poodle's coat a glossy shine. The entire product is 97% natural and cruelty-free, so you don't have to worry about supporting animal testing.
You might also feel better knowing that the bottle is made of 80% recycled materials. This particular bottle doesn't have a rich lather, but the skin smells great and feels soft.
For sensitive poodles
Contains soothing honey and oat flour
Cruelty-free and natural
No major lather
For sensitive dogs only
---
Buyer's Guide: How to Find the Best Poodle Shampoo
Poodle fur has a unique texture that might be described as down. Because of the long waves and curls, having a proper bathing and grooming regimen is essential to care. Since this particular breed has certain requirements, it's important to know the basics of coat care.
Let's go over how to choose the right shampoo for your poodle—making their curly locks look their best.
Can I Use Human Shampoo on My Poodle?
Human shampoo can clean your dog and leave them smelling fresh. However, the pH in the formula isn't designed for canines. So, it can be far too harsh for their skin which can cause bad reactions in some dogs. Human shampoo is too acidic.
Your dog needs something more alkaline that is for their particular skin type. That is why most major pet companies create shampoos that are specific to species. So, while it may be more convenient to pour the Pantene on instead, it's not the right option for your pooch.
Types of Dog Shampoo
There is a pretty versatile selection of dog shampoos to choose from.  Your preference will greatly depend on how well the shampoo performs on your poodle's fur.
General Purpose
General-purpose shampoo gets the dirt, grime, and debris out of your dog's fur. But on the downside, it doesn't have conditioning properties. If you want to leave your poodle's curls kinky and silky, you'll have to buy a conditioner additionally.
2-in-1
2-in-1 shampoo cleans and conditions, leaving your poodle's fur fresh and soft. You will have everything you need for grooming in one bottle. Some products will have better conditioning and cleaning power. Make sure to select a reputable product certain to get the job done.
Waterless
Waterless shampoo lends a hand when you don't have time to bathe your poodle fully. A few spritz and lathers and you're good to go. The waterless shampoo dries clear and should have no residue or buildup. After using a waterless product, if it leaves buildup—discontinue use.
Whitening or Brightening 
These sorts of shampoos break up and brighten coats—making them eye-catching and luxurious. Some products work better than others. Many only work on lighter coats.
Organic 
Some pets can be super sensitive to some ingredients in most commercial shampoos and conditioners. Buying organic shampoo eliminates the harsh additives, cleaning your pet with only necessary components.
Many ingredients like sulfates and parabens can irritate and dry out the skin.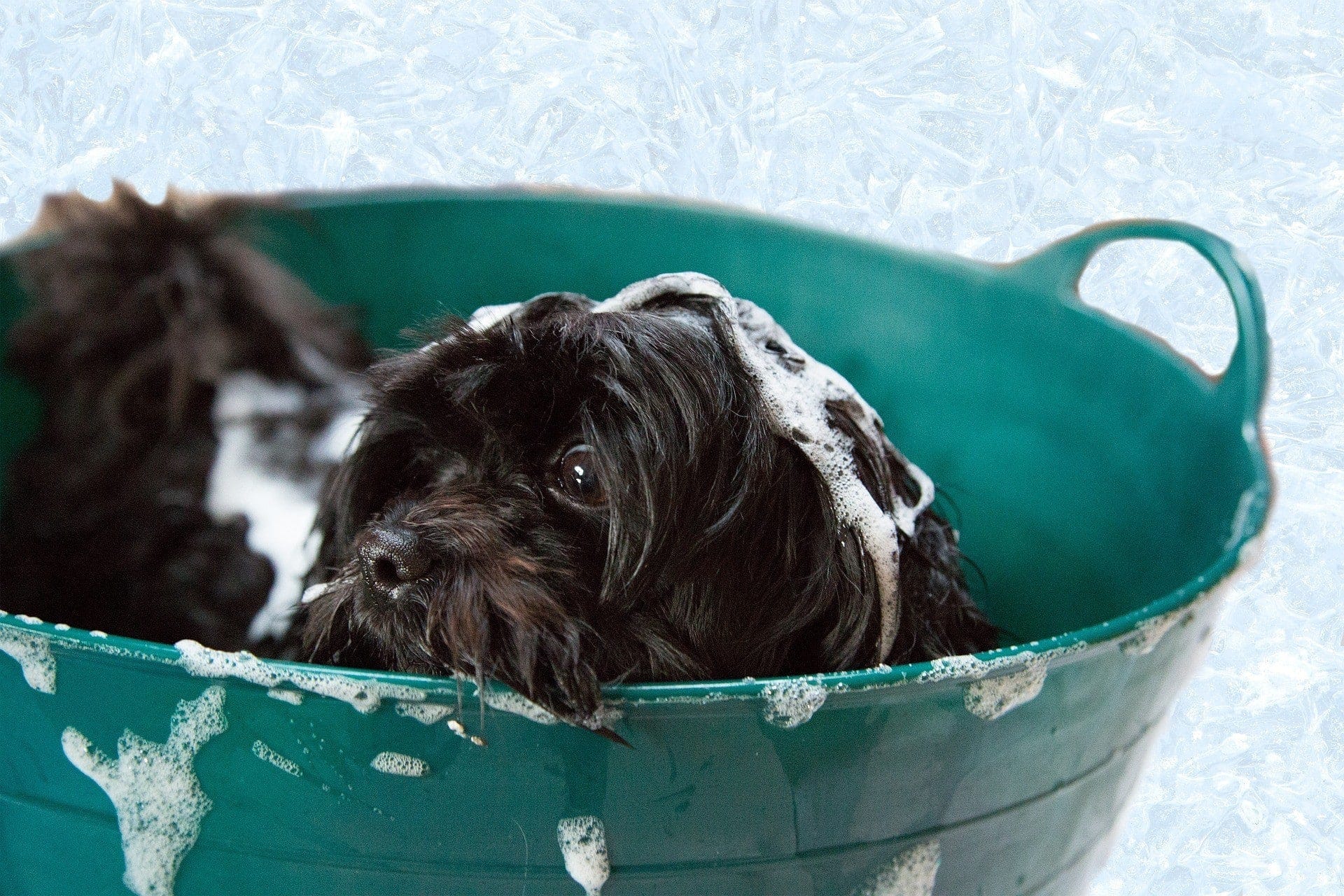 Medicated
Medicated shampoos can take care of many bathing-related issues like dandruff, itching, irritation, and breakouts.
Antifungal
Some dogs have issues with recurring yeast infections on the skin. Antifungal shampoos help to keep these conditions under control.
Dandruff
That's right—pets can have dandruff just like us. There are lots of products on the market that combat those pesky flakes.
Reactions to Shampoo
Every poodle is different. Some will have much more sensitive skin than others. If you notice any symptoms developing once you try a new shampoo, you might have to figure out what ingredient is causing the problem.
Primary reasons shampoos can irritate the skin include:
Artificial dye and color
Artificial or strong fragrance
Certain essential oils
Parabens and sulfates
Common symptoms and reactions include:
Excessive itching
Skin rash
Redness
Obsessive licking
Ear infections
Lesions
Balding patches
Hives
Inflamed feet
If you notice any of those symptoms, discontinue use and contact your vet.
How to Make Poodle Hair Curly With a Bath:
Your poodle needs a bath about every 3 weeks. Poodles have a naturally occurring process where their skin starts to produce oils after a bath. While these oils build to protect the skin, they can overproduce at times which clogs the pores.
The 3-week mark is a good point to remove this buildup and start fresh. Gather up your bath supplies and trick your dog to the bathroom with some tasty treats.
Wet the coat thoroughly in all areas, minus the ears and nose.
Lather the soap on the entire body.
Massage to loosen up dirt and debris from the fur and skin.
Rinse thoroughly.
Apply conditioner.
Allow the conditioner to sit for 3 minutes.
While you wait, take a moist cloth and wipe it around the eyes.
Rinse all conditioned areas thoroughly.
Towel dry.
Brush your poodle to remove any tangles.

Conclusion
We think you're going to absolutely love the Paws & Pals Oatmeal Pet Shampoo. It will work for most healthy, problem-free poodles, leaving the fur and skin in top-notch shape.
If you want to save a few dollars but get the same quality, try out Buddy Wash Original Mint and Lavender shampoo. It smells clean and fresh, leaving your poodle in squeaky-clean condition.
No matter which of these picks best matches your poodle's needs, we hope we led you to your purchase. Here's to better quality bath-time.
---
Featured Image Credit: Zachary Pigott, Shutterstock