100+ Boston Terrier Dog Names: Ideas for Energic & Playful Dogs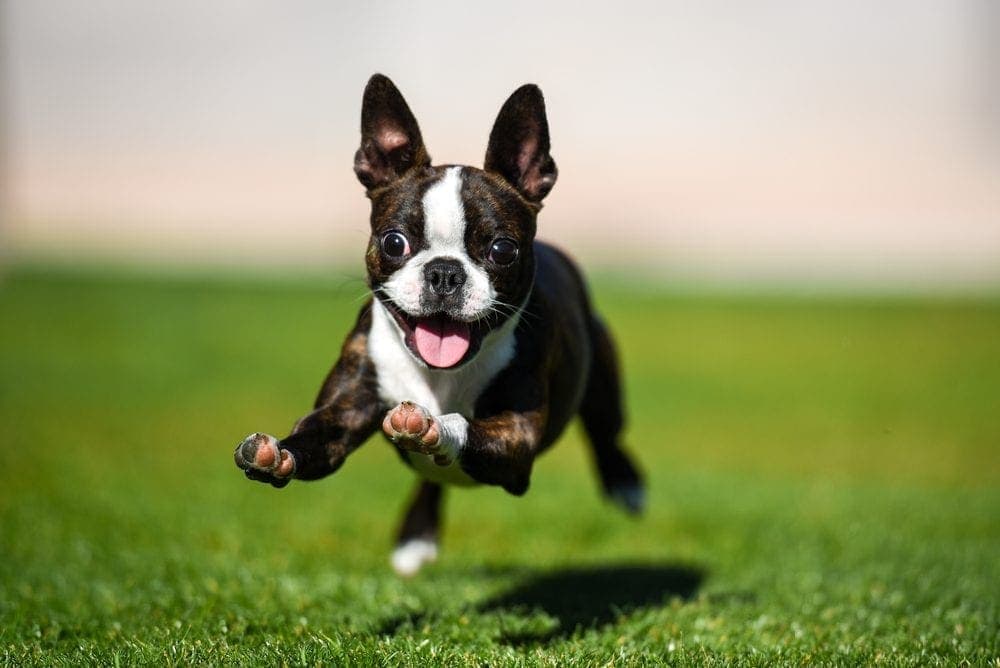 Known for their high energy, happy demeanor, and adorable faces, Boston Terriers are one of the more common breeds we see today. Great additions to homes with multiple pets, children or simply paired up with just their owner, they are a wonderfully dynamic and multifaceted dog.
Having such a happy-go-lucky pooch might inspire you to choose a name that represents their paws-itive attitude, all while capturing their individualistic personality. Look no further as we have gathered the top 100 names for Boston Terriers! Below we have noted the most popular femme and male names, funny suggestions for the humorous dog, unique and cute ideas and finally, we dive into a few famous Boston terriers that have great names you may want to consider. We've also included a list of a few brindles inspired ideas for those with a textured coat!

Female Boston Terrier Dog Names
Cookie
Pepper
Minnie
Bella
Greta
Mika
Vixen
Liv
Josie
Harley
Cinder
Lady
Nola
Olive
Ember
Mina
Mango
Gia
Zoey
Paisley
Harper
Willow
Mia
Male Boston Terrier Dog Names
South
Domino
Tucker
Biggie
Jet
Snoopy
Duke
Winston
Birdie
Lux
Jersey
Oscar
Fred
Onyx
Boss
Funny Boston Terrier Dog Names
Boston terriers are goofy – they could play for hours and have a face that's always painted with curiosity and wonder. Pairing them with a name as silly and playful as their personality might be the best option!
Bitty
Moose
Fresh Prints
Ozzy Pawsbourne
Rambo
Prince of Barkness
Droolius Caeser
Doggy Howsler
Shorty
Runt
Notorious DOG
Jimmy Chew
Sir Licks Alot
Chewbarka
Muttley Crue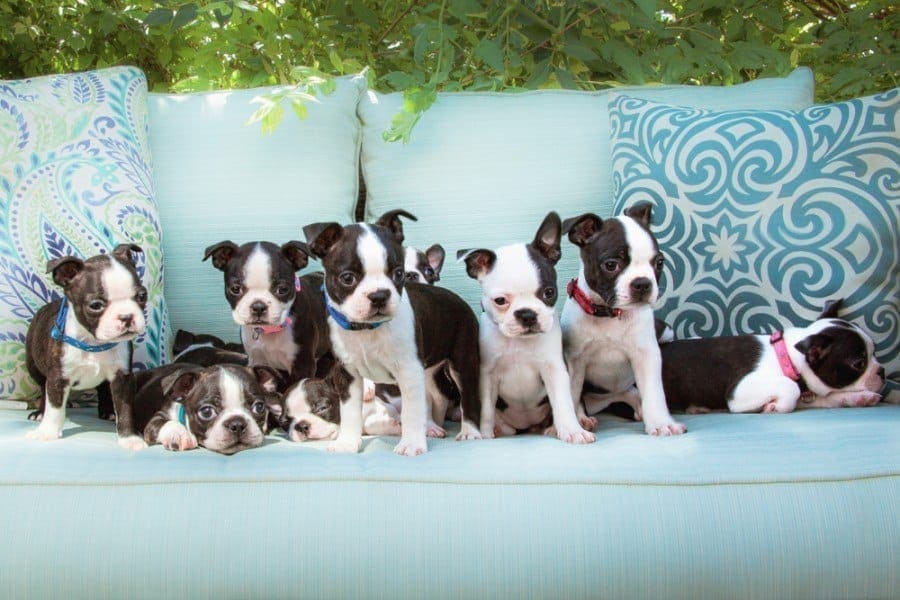 Unique Boston Terrier Dog Names
You might be inclined to choose a name that's a little different. One that's rare and completely unique to your furry friend.
Ying Yang
Bonsai
Poco
Remy
Suki
River
Tilly
Venus
Zuri
Gizmo
Paris
Slim
Bugsy
Vera
Rio
Birdie
Cute Boston Terrier Dog Names
You really cannot go wrong with a name that's just as adorable as your new pup. If your dog seems to get all the attention while out on walks, you'll need one of these cute Boston Terrier dog names:
Bean
Milo
Elf
Luna
Morsel
Louie
Murphy
Gigi
Peanut
Chewie
Poppy
Dixie
Scout
Buttons
Rascal
Finn
Barkley
Peewee
Sox
Sully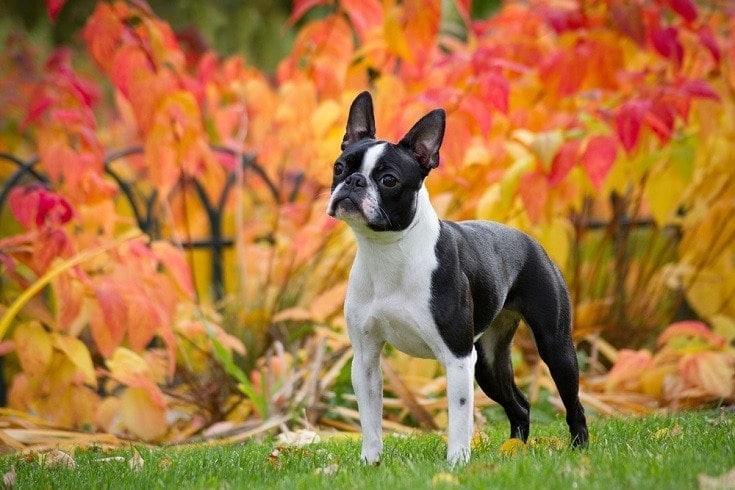 Famous Boston Terrier Dog Names
Pets in Hollywood are always trending. Popular among almost all of the notable names in the biz, some dogs even outshine their owners! Here are our favorite Boston Terriers and their iconic owners:
Sergeant Stubby – Most decorated dog of WWI
Licorice – Famke Janssen
Phiz – Helen Keller
Fester & Bug – Rose McGowen
Verna Pearl – Robin Williams
Fleck & Spot – Gerald R Ford
Owen TD – Certified Therapy Dog
Lulu – Joan Rivers
Winky – Allison Sweeny
General – Louis Armstrong
Brindle Boston Terriers Dog Names
The brindle pattern consists of textured stripes usually as a lighter brown checkered in between a darker brown giving the coat a tiger-esque appearance. Here are a few great names to choose from if your pup happens to be blessed with a gorgeous brindle coat!
Noir
Shadow
Camo
Freckles
Stripes
Tigger
Speck
Octavia
Rolo
Patches
Beau
Blotch
Hickory

Finding the Right Name for Your Boston Terrier
We want you to enjoy your pup naming experience! Although there may be endless options to choose from we hope that you were able to find what you were looking for among our list of 100 + Boston Terrier names. With suggestions for the most adorable, to the goofiest of dogs, we are positive there is an ideal match for all types of Boston Terriers!
We have plenty more dog name posts that you could check out for additional inspiration:
---
Feature Image Credit: Zero Degrees Photography, Shutterstock