100+ Patriotic Dog Names: Strong, Proud & All-American Ideas

America is home to some of the most patriotic citizens in the world. Americans are extremely devoted to their country and are passionate about their civic duties, celebratory holidays, comforting cuisine, government, and of course, their dedicated armed forces. The good ole US of A is a wonderful destination country and an even grander place to live, and for many is the model of freedom and opportunity. With some of the most famous and influential individuals in the world residing here, this country is well known globally. 
You may be inspired by America and all of the wonderful things it has to offer. If so, you will also love the idea of choosing your new pup's name based on an idea that is patriotic and fun! We have selected the top patriotic names for females and males, the best inspired by the American flag and its bold colors, military suggestions, and for good measure, included the most notable people of the White House. 
Female Patriotic Dog Names
Liberty 

Honor 

Justice

Georgia 

America 

Glory 

Star

Bliss

Virginia 

Hope 

Lady 

Sweet Tea 

Freedom 

Faith 

Betsy

Carolina 
Male Patriotic Dog Names
Victory 

Patriot

Gunner 

Banner

Revere

Dodge 

Ford

Chips

Uncle 

Nemo 

Alpha 

Bliss 

Chevy 

Pie 

Rebel 

Country 

Spangle

Cowboy 
Patriotic Dog Names Inspired by the Military
There is something so pure, strong, and dignified about a name from our next list. Maybe you are inclined to choose a military-inspired name as you know someone who served or is serving, are forever grateful for those on the front lines, or because you yourself are a part of this incredible task force. Whatever your reason, any pup would so proud to be paired with one of these patriotic dog names inspired by the military! 
Bravo 

Major 

Colonel 

Trooper

Romeo 

Sarge 

Anthem 

Sailor 

Remmy 

Admiral 

Tango 

Soldier

Tank 

Ace 

Ranger 

Knox 

Bullet 

Cadet 

Echo 

General

Hero 

Scout
Red, White, and Blue Inspired Dog Names
The American flag is arguably one of the most recognizable – the stars, stripes, and bold red, white, and blue. Truly infamous and a great representation of the land of the free. You might be interested in one of these patriotic dog names if your pup has distinct features such as fur color, or distinguishable coat pattern. 
Cobalt 

Ginger 

Amber 

Vermilion 

Pearl 

Blue 

Flag 

Red 

Saphire

Cerise

Milky

Wine 

Azure

Navy

Cyan 

Blanc 

Ruby 

White 

Cherry

Pride 

Apple 

Sky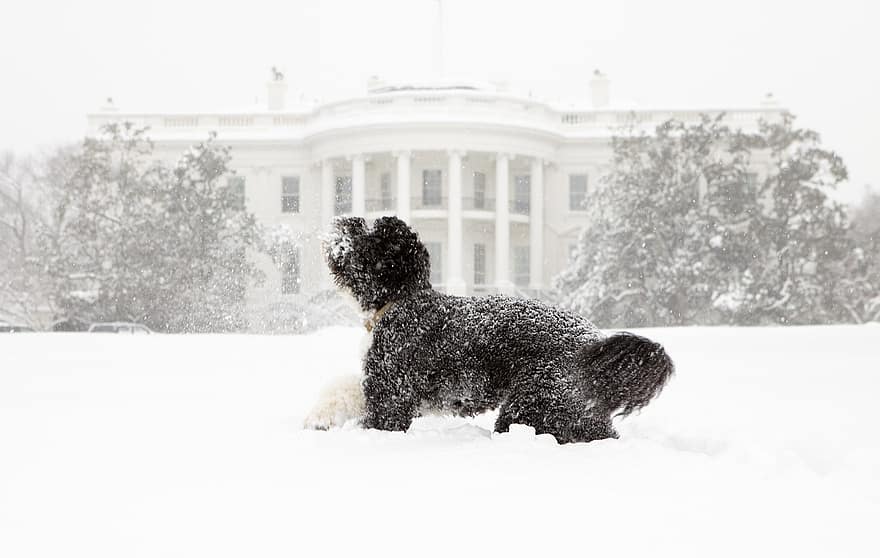 Dog Names Inspired by the White House
Presidents, First Ladies, and other notorious figures comprise our next list. We have some of the classics, to the controversial, the favorites, and the trailblazers. Your pup would have fairly large shoes to fill if you chose one of these but we're certain they will leave a lasting impression on everyone they meet. 
Reagan 

Barack 

Grace 

Trump 

Carter

Abe

Teddy 

Hillary 

Quincy 

Theodore

Margaret

Rutherford

Anna 

Oval 

Roosevelt

Nixon 

Jackie 

Dolley 

Harriet

Lincoln 

Monroe

JFK

Benjamin

Kennedy 

Melania

Jefferson 

Clinton 

Franklin

Bush 

Eliza

Michelle

Finding the Right Patriotic Name for Your Dog
A patriotic dog name that represents your passion for your country is an excellent idea for your pup because we know that you are sure to feel that same love and devotion for your new pup. Whether you have chosen an American name, or find one based on the country your ancestors migrated from, we know your doggo would be so proud to wear it! 
We hope that you were able to find some inspiration here but if not, we have linked a few additional dog name posts below: 
---
Feature Image Credit: Caleb Fisher, Unsplash