12 Facts and Statistics on Becoming a Veterinarian in Canada (Updated in 2023)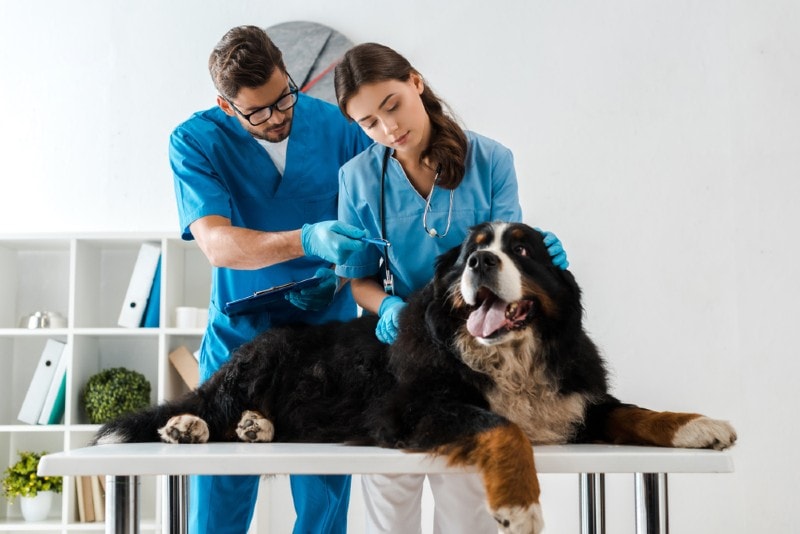 Note: This article's statistics come from third-party sources and do not represent the opinions of this website.
If you've ever owned a pet, you know firsthand how essential veterinarians are. If you're an animal lover and have been debating on becoming a veterinarian yourself, you might have a few questions about how it all works.
It's a rewarding career path, but it takes a great deal of perseverance and many years to achieve. Here, we look at how much vets make in Canada and the job outlook for this profession. We also go over what it takes to become a vet in this country.
Top 12 Veterinarians in Canada Statistics
Canadian Veterinarian Industry Statistics
1.

There were about 15,322 veterinarians in Canada in 2022.
(CVMA)
Of these veterinarians, 62% were female and 37% were male, and 1% didn't disclose their gender identity. The provinces with the most vets are B.C., with 4.8%, followed by New Brunswick and Newfoundland, with 4.7%. (CVMA)
---
2.

Ontario has 5,383 veterinarians, which was the highest number out of the provinces in Canada in 2022.
(CVMA)
Following Ontario, Quebec has the second most vets with 2,851, followed by Alberta with 2,376.
---
3.

There were approximately 3,825 veterinary practices in Canada in 2022.
(CVMA)
In June 2022, there were about 6,080 businesses in Canada in the veterinary services industry, which includes clinics, animal hospitals, testing labs, surgery services, and veterinary livestock services. (Statistics Canada)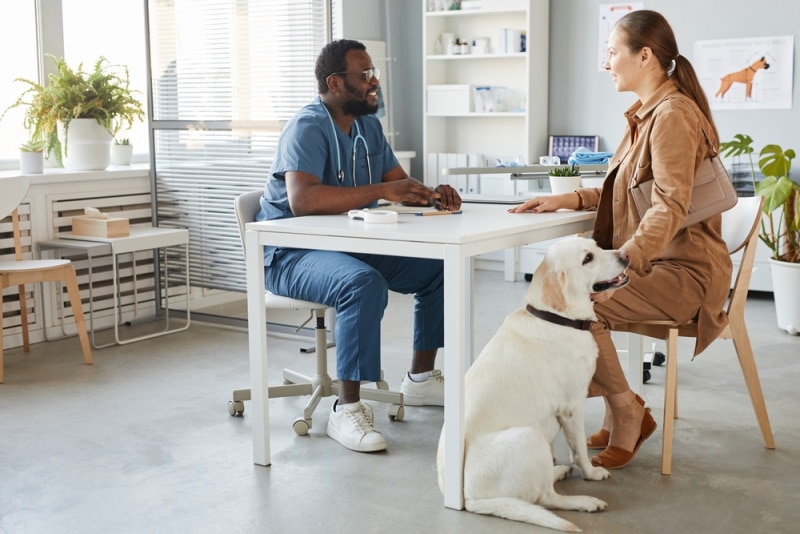 ---
4.

As of July–August 2022, there were 1,265 veterinarian job vacancies in Canada.
(Statistics Canada)
This number has increased by 18.8% from the same time frame in 2021. Additionally, there were 1,325 vacancies for animal health technologists and veterinary technicians.
---
5.

The average pay for a veterinarian in Canada in 2022 was $85,000.
(Job Bank)
On the low end of the scale, the average wage was $30,000, and on the high end, it was $140,000. The highest salaries were in Alberta, with an average of $97,000, and the lowest rate of pay was in Nova Scotia at $73,000.
However, there wasn't any available data from New Brunswick, Newfoundland and Labrador, the Northwest Territories, Nunavut, Prince Edward Island, or the Yukon.
How much a vet is paid depends on where they work, both in terms of the type of the practice and the size of the community served.
---
6.

Future job prospects for veterinarians in Canada over the next 3 years run from "good" to "very good."
(Job Bank)
Alberta, British Columbia, Ontario, PEI, and Quebec have good outlooks, while Manitoba, Nova Scotia, and Saskatchewan are listed as having very good prospects.
But there is no information on the job prospects for New Brunswick, Newfoundland and Labrador, the Northwest Territories, Nunavut, and the Yukon.
Veterinary Students in Canada Statistics
7.

Studying to become a veterinarian in Canada can take about 6 to 7 years.
(Job Bank)
Typically, a student needs 2 years of pre-veterinary university studies or a health science degree from college. Then, a 4- to 5-year university degree in veterinary science must be completed.
The number of years could be more if you're doing part-time studies. You'll also be expected to acquire a national certification through an examination once you've received your veterinarian degree and to gain experience working with animals through a job and volunteer work.
Every college will have different requirements. If you're in high school, research the college that you wish to apply to so you can have everything in order when you're ready.
---
8.

To become a veterinarian in Canada, students must attend one of five schools.
(CBC)
These schools are:
Faculty of Veterinary Medicine at the University of Calgary
Western College of Veterinary Medicine at the University of Saskatchewan
Ontario Veterinary College at the University of Guelph
Faculty of Veterinary Medicine at the Université de Montréal
Atlantic Veterinary College at the University of Prince Edward Island
---
9.

The five veterinary colleges graduate about 350 vets per year.
(CVMA)
Regarding admissions, Canadian veterinary colleges get an average of about 600 applications, but only about 100 are actually accepted. This makes the competition to get into one of the schools quite fierce! (Ross University)
---
10.

The Ontario Veterinary College of the University of Guelph is ranked fifth in the world.
(QS Top Universities)
The top university in the world is the Royal Veterinary College of the University of London. The ranking of the University of Guelph places it as the leading veterinary school in Canada.
---
11.

60% of veterinarian graduates go into practice upon graduation.
(CVMA)
29% of graduate students continued furthering their education, 2% looked for employment outside of a practice, 1% decided to not seek employment for the time being, and 7% weren't sure what their next steps would be.
---
12.

75% of Canadian veterinarians work in private practices.
(CVMA)
These include small and large private practices, either with mixed animals or in a specialized setting. 10% work for the government, 6% work in the veterinary industry, 5% in teaching and research, and 4% work in related fields.
Frequently Asked Questions About Becoming a Vet in Canada
Why is there a veterinarian shortage in Canada?
Part of the reason Canada has a shortage of veterinarians is that pet ownership is on the rise. In 2022, there were 7.9 million dogs and 8.5 million cats, which was an increase from 2020 of 200,000 more dogs and 400,000 more cats.
Additionally, pet owners are becoming more aware and concerned about their pets' health. When you take into account how few vets graduate every year (about 350), there just aren't enough to meet the demand. (Globe Newswire)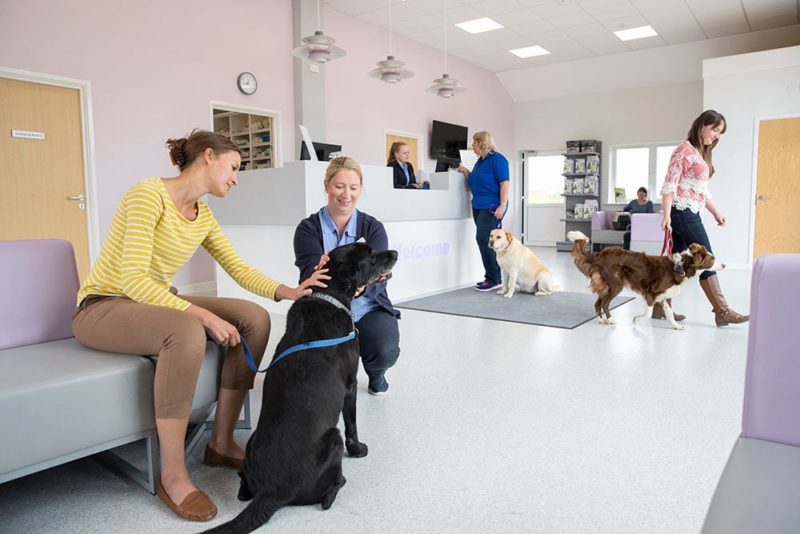 ---
What are the different fields that a veterinarian graduate can work in?
Private practice: is the largest employer of veterinarians. It can include mixed animals or specializations, such as surgery or livestock practice.
Small animal practice: is what typically comes to mind when you think of veterinarians. This is where companion animals are taken care of, most commonly cats and dogs but also exotic species (small mammals, reptiles, birds, etc.).
Specialized practice: could be anything from specializing in neurology and cardiology to behaviour and dentistry, to name a few. It can also include specializing in specific species, such as avian, equine, or zoo mammals.
Large animal practice: is services for livestock and horses, and mixed animal practice generally works with both companion and large animals in the same facility.
Government veterinarians: tend to focus on the health of humans by testing and monitoring food-producing livestock.
Industry: work can be as sales representatives and in technical research or management, and teaching and research are self-explanatory. Teaching can be at one of the colleges or universities, and research can be looking to cure diseases or developing new medicines. We've just lightly touched the surface of the options available. It's up to you to determine which field you're most interested and talented in. (CVMA)
---
What is pre-veterinary medicine?
Opting into pre-veterinary medicine isn't necessarily required, and it's also not a guarantee to get into veterinary school. It's an undergraduate program designed to help prepare potential vet students. It features animal anatomy, biology, parasitology, and physiology courses, to name a few. (CHRON)
---
Why is it so difficult to be accepted into veterinary school?
This is primarily because of the competition to get in. In Ontario, there are four applications received for every seat offered, while the rest of Canada tends to accept 10 applications for every seat. The average admitting grade to get into the University of Guelph's OVC was 93% as of 2021.
Beyond excellent grades, students need to have a wide range of experience in animal care. (University Affairs)
---
How much is tuition for veterinary school?
This depends on the school and whether the student is international, but it can range from about $50,000 to $70,000 for the degree. (University Affairs)
Conclusion
Deciding to become a veterinarian is an exciting yet challenging decision. It will require a great deal of hard work and determination just to even get accepted into the program. Following this, you'll have a minimum of 4 years of study ahead of you and upon graduation, substantial debt.
However, Canada is in such dire need of veterinarians that you're practically guaranteed to get a job immediately after graduation.
All the blood, sweat, and tears involved in becoming a veterinarian will give you an amazing and rewarding career working with animals, and it doesn't get much better than that!
Related Reads:
---