How Many Cats & Dogs are Spayed & Neutered in Canada? 9 Statistics Updated in 2023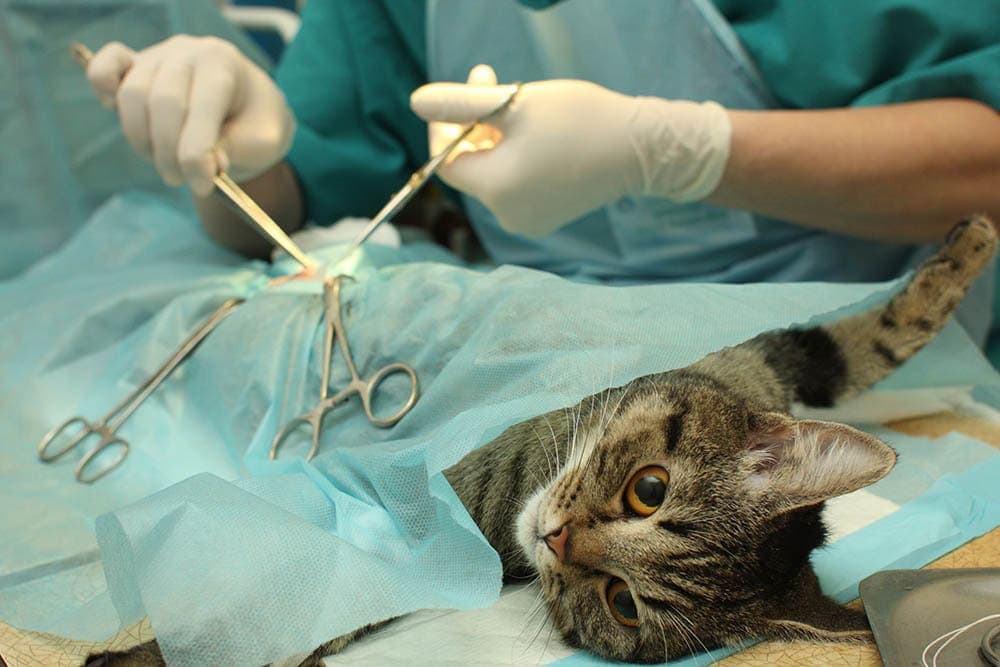 Spaying and neutering are the most basic ways to combat pet overpopulation. Often, there are more pets in an area than families to care for them. Many pets are born via accidental pregnancies—not breeders. Therefore, it is vital to spay and neuter as many animals as possible to prevent pets from ending up in shelters.
There are many statistics surrounding spaying and neutering in Canada. Many not-for-profits centered on rescuing animals also work to spay and neuter them, as this helps prevent overpopulation. These organizations often keep statistics on the number and type of pets they care for in a clinical setting.
The 9 Spaying and Neutering Statistics in Canada
Cat Spaying and Neutering
1.

94% of cat owners claim that their cat is spayed or neutered.
(Canadian Federation of Humane Societies)
In the past, very few cats were spayed and neutered. In fact, the percentage was less than 10% back in 2011. However, today, the large majority of cats owned are spayed and neutered. As more and more cats are prevented from having litters, the number of homeless pets will likely go down.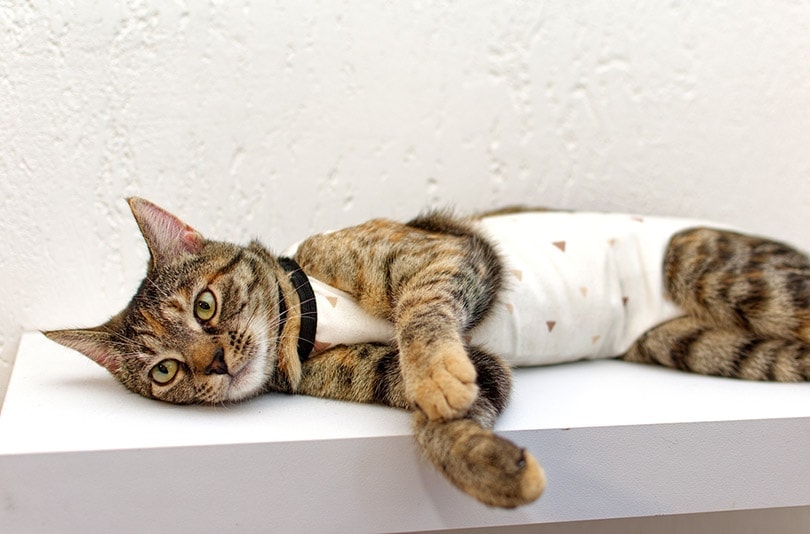 ---
2.

98% of cat owners with one cat have their feline spayed or neutered, while that rate is 91% for those with multiple cats.
(Canadian Federation of Humane Societies)
Those with only one feline are far more likely to spay and neuter their cat than those with multiple cats. Many homes with multiple cats have at least one feline that is spayed and neutered. However, not all of their felines are. It's important to encourage owners of many cats to spay and neuter their felines to prevent overpopulation.
---
3.

The rate of cat spaying and neutering is 99% for households making more than $100,000 a year.
(Canadian Federation of Humane Societies)
For homes in the upper percentiles of income, spaying and neutering is at 99%. Therefore, it seems that other families may find spaying and neutering financially difficult. Many organizations have proposed free and low-cost clinics to help address this problem.
Dog Spaying and Neutering
4.

Dogs can produce 15 times the number of offspring than humans.
(Humane Canada)
Dogs can produce far more puppies than humans. It is vital that dogs are spayed and neutered for this reason. Otherwise, overpopulation can occur rather quickly. Dogs mature very quickly, as well. Therefore, puppies born last year can begin producing canines very quickly.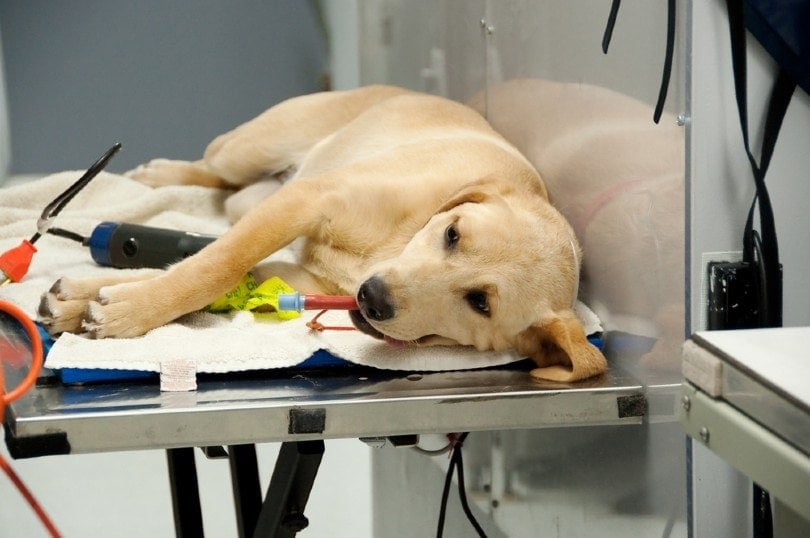 ---
5.

Five times more cats are admitted into the shelter than dogs; likely because dogs are more commonly spayed or neutered.
(The Case for Accessible Spay/Neuter in Canada)
Cats tend to be admitted into shelters more often than dogs. Often, they are brought in as strays. Stray cats are rarely picked up by their owners, which likely means that their owner isn't looking for them. Dogs are less likely to be admitted, likely because there are fewer excess dogs than cats. Dogs are much more likely to be spayed and neutered, lessening the number of extra puppies running around.
---
6.

Far fewer dogs received at shelters are puppies, especially when compared to cats.
(Canadian Federation of Humane Societies)
Furthermore, only 16% of dogs come to the shelter as puppies. Young dogs and cats are often taken to the shelter after accidental litters. On the other hand, about 50% of cats taken to the shelter are kittens, indicating far more accidental litters in cats.
Consequences of Not Spaying and Neutering
7.

Cats less than 6 months old account for 14% of accidental litters.
(The Case for Accessible Spay/Neuter in Canada)
Cats and dogs can become pregnant during their first heat. Therefore, it isn't recommended to wait until your pet is mature to spay or neuter. Many accidental litters come from an animal's first heat, when the owner may not even know the female can get pregnant. Spaying or neutering early helps prevent accidental litters from occurring.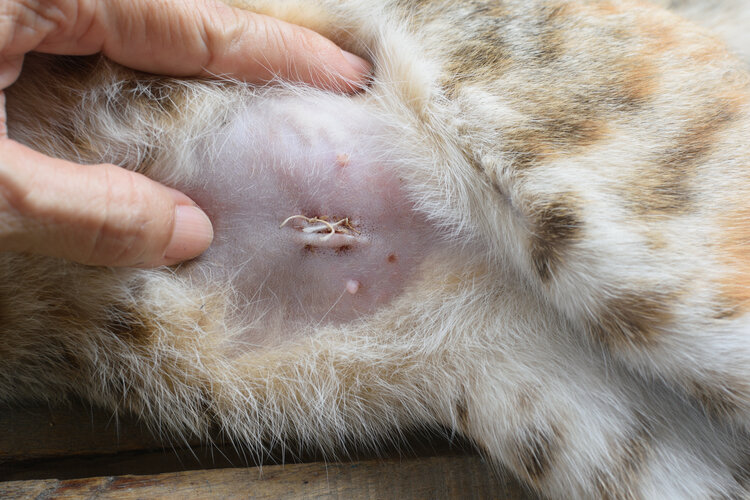 ---
8.

19% of cats in Canada are given away for free, likely because they were part of an accidental litter.
(Canadian Federation of Humane Societies)
About 19% of all cats received in Canada were given away for free, likely because the cat came from an unintended litter. Many accidental litters leave owners with a bunch of kittens they cannot care for. Therefore, many of the felines (and dogs, to a less extent) in the country occur due to pet owners not spaying and neutering their animals.
---
9.

800,000 pets are waiting for adoption at any one time in Canada.
(Canadian Federation of Humane Societies)
Because not all pets are spayed and neutered, there are many unintended litters each year. In Canada, there are almost a million pets waiting to be adopted at any one time. Spaying and neutering your pets can prevent you from contributing to this problem.
Frequently Asked Questions About Spaying and Neutering in Canada
How much does spaying a dog cost in Canada?
Spaying a dog often costs a few hundred dollars in total. You have to pay for the procedure itself, the vet exam fees, and the medication. In total, this adds up to at least a couple hundred dollars. However, larger dogs will cost more, as they require higher doses of medication. Very large dogs may even need an extra hand during the procedure to help move them around.
Do I have to neuter my dog in Canada?
In some areas, dogs are required to be spayed and neutered. In some cases, even rabbits must be neutered. However, this isn't a Canada-wide law. In many areas, this isn't required in the least. It is still highly recommended, though, as it can help curb overpopulation.
When should a puppy be spayed in Canada?
Preferably, you want to spay your dog before her first heat. Often, this sneaks up on a lot of owners, with many unintended litters coming from first-time heats. Therefore, you should spay your dog somewhere between 6 and 8 months. However, it can differ by breed, as bigger dogs often reach maturity later in life.
How risky is spay surgery in a dog?
There is always a risk with surgery. Spaying is considered a major operation, as pets are required to undergo general anesthesia. However, the overall risk is extremely low, especially with modern monitoring equipment. The risk is not a reason to avoid getting your pet spayed, as it is very low.
Some pets may be at higher risk, though. For instance, those with bleeding disorders may be at a higher risk than other dogs. Speak with your vet if you have any concerns.
Conclusion
Thanks to recent campaigns, many cats and dogs are now spayed or neutered in Canada. The percentage for both species is approaching 100%, though dogs continue to outpace felines. Many accidental pregnancies occur in cats, with almost half of all cats at shelters being kittens from unintended pregnancies. Therefore, if all cats were spayed or neutered, the number of cats in shelters would be reduced by nearly half.
Dogs are doing much better on this front, as many more owners spay and neuter their dogs than cats. However, cost does seem to be an underlying factor as to why some owners don't spay or neuter their animals.
---