Can Bearded Dragons Eat Lettuce? Vet Reviewed Nutrition Facts & FAQ
While juvenile bearded dragons eat a diet consisting primarily of insects, adult beardies eat a very plant-forward diet, which comes as a surprise to many people. It's not uncommon to see bearded dragons being served a "salad" of healthy veggies and fruits for their daily meals, with insects offered on the side.
When it comes to veggies, there are few that are less expensive than lettuce, especially varieties like iceberg. Is lettuce a good option to feed to your bearded dragon, though? Generally speaking, lettuce does not hold any nutritional value, therefore it is not recommended as a major part of their diet. But are there better leafy green options available?
Can Bearded Dragons Eat Lettuce?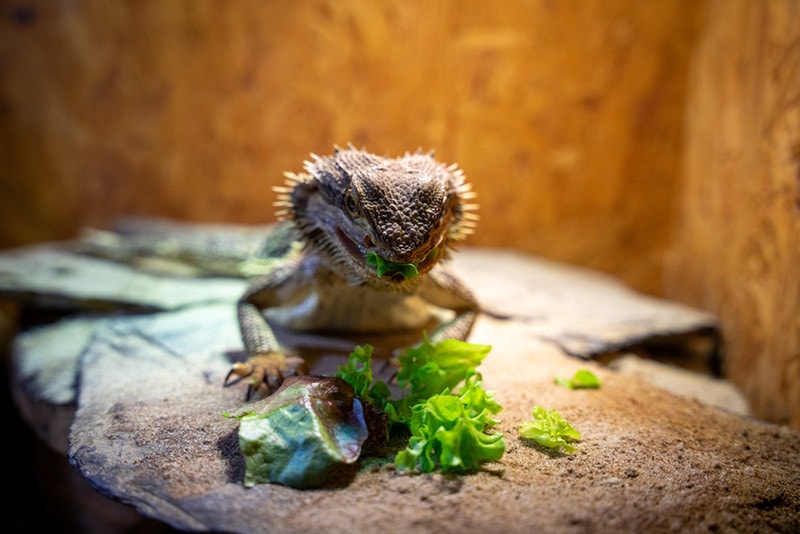 The answer to this question is somewhat dependent on what you think of when you think about lettuce. Romaine, iceberg, and other fiber-rich, light green leafy greens are not recommended for feeding to bearded dragons. These foods are low in nutrients but high in water content, which can lead to health problems for your beardie.
If you broadly think of most leafy greens when you think about "lettuce," then you'll be glad to know that even though true lettuces are often not a good choice, there are multiple types of leafy greens that are not only safe for your bearded dragon, but very healthy as well.
Healthy Leafy Greens for Bearded Dragons
Not only are there multiple types of leafy greens that are suitable for your bearded dragon, but 80–90% of the plant matter that your bearded dragon receives should consist of leafy green vegetables.
Some of the most nutritious leafy greens include spinach, collard greens, beet greens, mustard greens, turnip greens, dandelion greens, escarole, Swiss chard, cabbage, bok choy, and kale. Other green leafy vegetables include parsley, cilantro, watercress, clover, and savory. Different types of sprouts are also appropriate but should make up a very small portion of the diet.
Cabbage, kale, and mustard greens should be fed with caution, though. Although extremely nutritious, they contain goitrogens, which are compounds that can interfere with the function of the thyroid gland by limiting iodine uptake. In large enough quantities, goitrogens can cause hypothyroidism or an under-functioning of the thyroid gland.
Greens that are high in oxalates, including spinach, Swiss chard, and beet greens, should also be fed sparingly. Oxalates are compounds that can bind to calcium and other trace minerals, blocking their absorption, which can eventually cause serious health problems.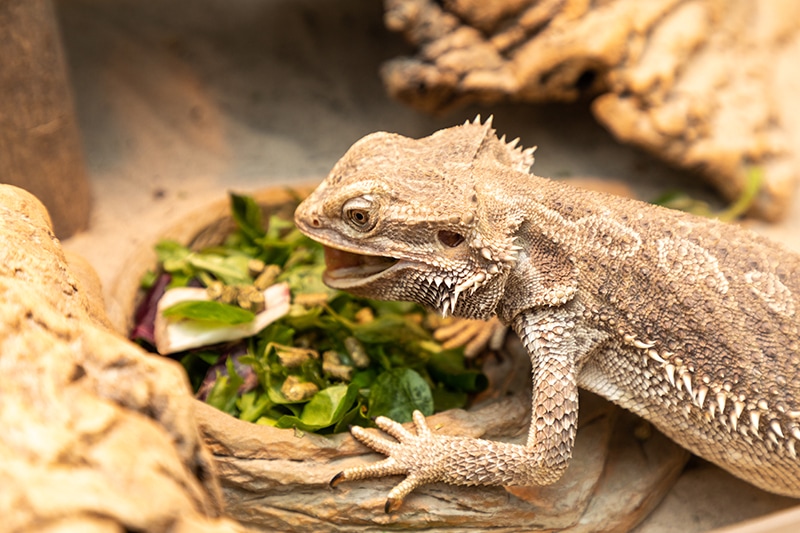 A Varied Diet
While your bearded dragon may pick and choose its favorite foods, the ideal way to feed them is to provide a varied diet. Stick to veggies and fruits that are safe for your beardie to eat, but when you can, try to feed them with seasonal, fresh foods. A varied diet ensures that your bearded dragon is receiving all of the necessary nutrients to maintain health, without the risks associated with overfeeding vegetables that contain oxalates and goitrogens.
In Conclusion
Even though lettuce isn't recommended for bearded dragons, there are multiple types of leafy greens and herbs that you can offer to them. Many of them are suitable for daily feeding, although a varied diet will provide your beardie with the best nutrition. If you're ever concerned that your bearded dragon isn't receiving appropriate nutrition or you're struggling to find fresh veggies where you live, talk to your vet about alternative options to maintain the health of your reptile.
See also:
---