Can Betta Fish and Goldfish Live Together in the Same Tank?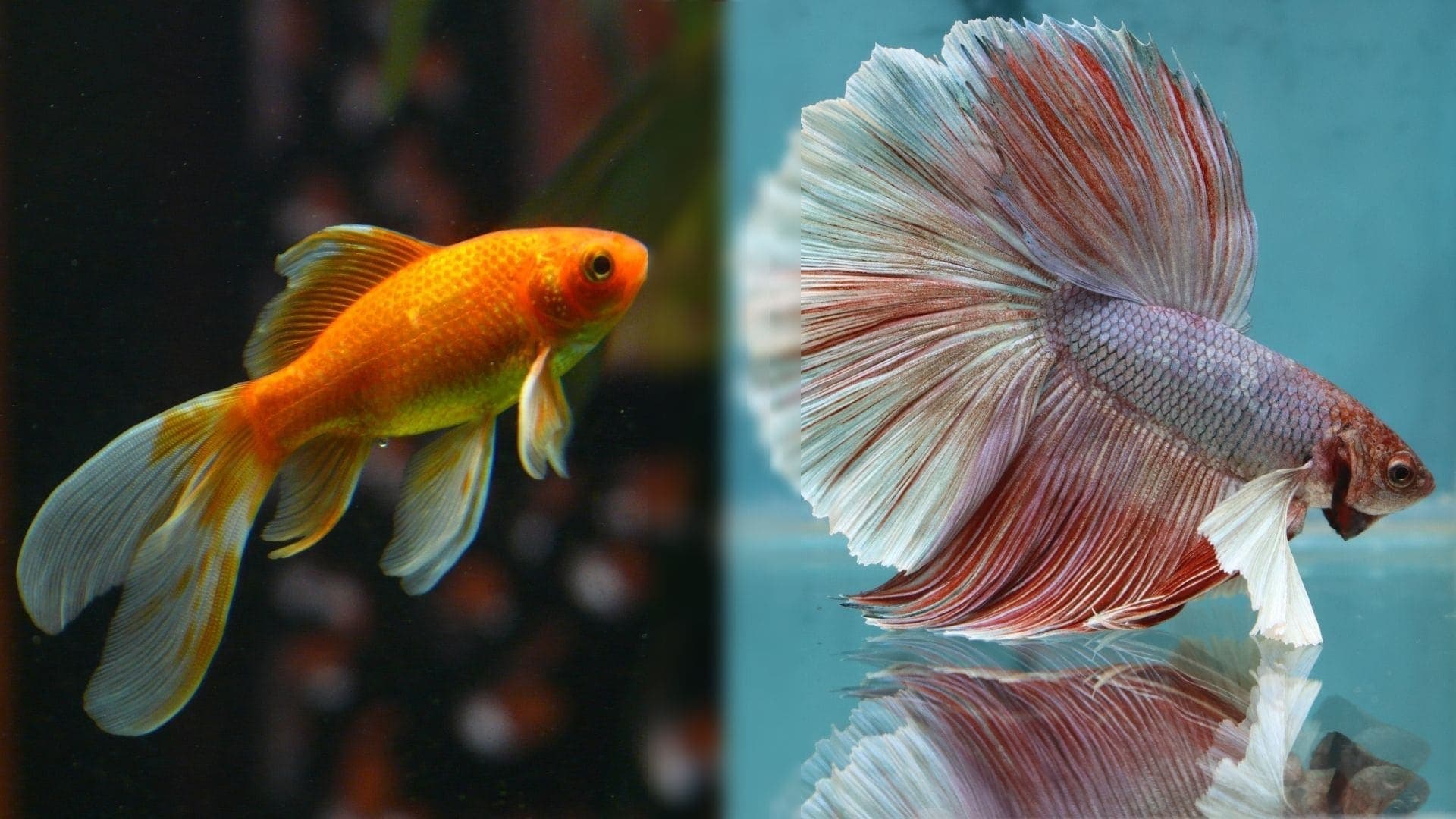 Betta fish and goldfish are the two most popular and easy-to-find freshwater fish on the market. They're both not just readily available, but they also sport beautiful markings, patterns, and colors. The high popularity of these fish often leads people to think they may make good tank mates.
Unfortunately, many people don't consider or don't understand the needs of these fish before bringing them home. It's important to talk about whether or not Bettas and Goldfish can live together.

Can Bettas and Goldfish Live Together?
Goldfish and Betta fish should not be kept together in the same tank for several reasons. The number one reason, though, is the level of aggression that Betta fish often display.
While some Betta fish can be successfully kept in community tanks, it's a risk. Male Bettas will often attack other fish that resemble Bettas, and it would be easy for a male Betta fish to confuse a goldfish with another male Betta.
The other big reason that the fish should not be kept together is that they require different water parameters. Goldfish are cool water fish that live longest when kept in cool environments. They can be kept in warm water, but it shortens their life expectancy.
Betta fish, on the other hand, are true tropical fish that require warm water to thrive. If kept in water that is too cool, Betta fish become susceptible to diseases and usually live shortened lives.
Goldfish are heavy bioload producers, which means they add a large amount of waste to their environment. They require high filtration to ensure water quality stays high.
They get much larger than Betta fish, and they may grow rapidly and begin to overproduce waste in the tank which will add stress and risk the health of the Betta fish. Betta fish are poor swimmers and require a very low current. High filtration may create a strong current that is stressful to Betta fish and can lead to exhaustion.

What's the Best Tank Setup for Betta Fish?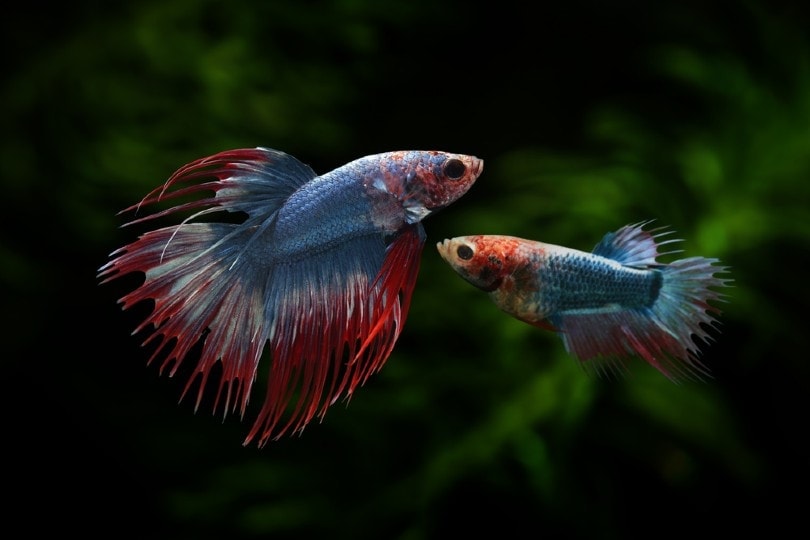 Since Bettas are tropical fish, they should be kept in a heated tank unless you live in an area that stays warm all the time. Room temperature water is often too cool for Betta fish. They prefer water temperatures between 75-80˚F and do best when kept in the warmer end of that range.
They can technically live in water temperatures between 70-85˚F, but the high and low end of this range can lead to stress, disease, and a decreased life expectancy.
Betta fish need a tank that is planted with floating plants and plants with large leaves they can rest on. They enjoy floating plants with trailing roots, like Dwarf Water Lettuce. Anubias and Java Fern also make great additions to Betta fish tanks.
They prefer tanks that are at least 5 gallons, and they need low water flow. If the water flow is too high, Betta fish have to work too hard to swim and will eventually succumb to exhaustion.
What's the Best Tank Setup for Goldfish?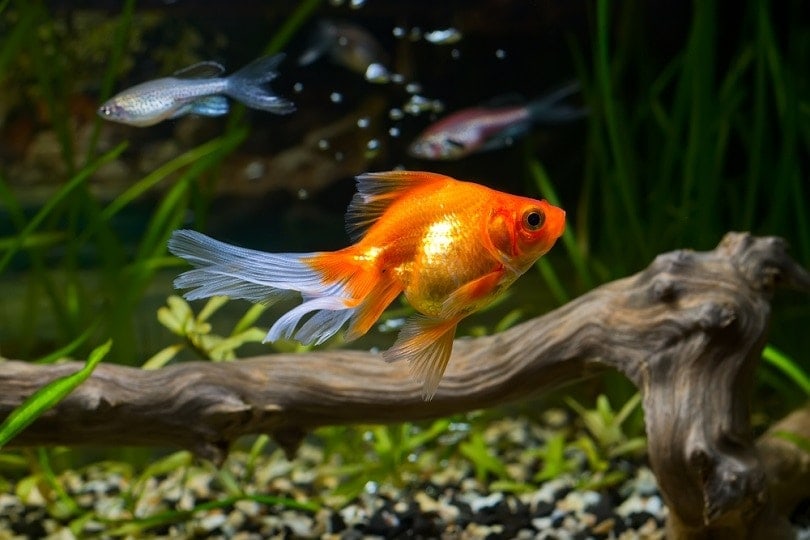 Goldfish are cool water fish, so they prefer water in the cooler range. They can live in tropical water temperatures, but it may shorten their lifespan. Goldfish do best in water temperatures in the 60˚F range. They can thrive in temperatures up to 75˚F.
Anything warmer than this can result in a shortened life span or susceptibility to disease if maintained for a long time. In nature, goldfish are exposed to cold temperatures in the winter, and they can survive water that is around freezing. Betta fish cannot survive cold temperatures like this, which goes to show how different their temperature needs are.
Goldfish need a planted tank, but they are known for their love of eating and uprooting plants. This can make keeping a planted tank challenging. You may have to devise creative solutions to keep live plants in your goldfish tank.
Live plants improve water quality and help enrich the environment for your goldfish. Your goldfish will require heavy filtration, and it's usually recommended to use a filter that is rated for a tank larger than the tank your goldfish live in.

In Conclusion
Keeping Goldfish and Betta fish together is not advisable for the health of both fish. If you choose to keep a Betta fish and goldfish together in the same tank, you may end up with a bad situation where aggression or illness is occurring due to one or both of the fish being kept in an inappropriate and stressful environment. If you want a Betta fish and goldfish, the best thing you can do for them is to set up two aquariums. This will allow you to curate both environments to the needs of each fish.
See also:
---
Featured Image Credit: Pixabay