Can Cats and Dogs Communicate With Each Other? Interspecies Communication (Vet-Reviewed)
Whether you own cats, dogs, or both, you've likely grown accustomed to the communication techniques of your individual pets. Maybe your cats have a special language they use only with each other or only toward you. Maybe your dog seems to use a specific communication technique to bait your cat into a play session.
Regardless of what type of communication you've witnessed, though, it can be difficult to ascertain if your pets understand each other. Dogs and cats are both highly intelligent animals that regularly exhibit a strong ability to perceive the emotions and moods of those around them. But when it comes down to it, do dogs and cats understand each other? The safe answer could be yes, they can learn to understand each other to an extent.
Can Cats Understand Dogs?
In a sense, yes, cats can understand dogs. However, it's not the same way that they understand other cats. Cats use various ways to communicate with other cats, from yowling and hissing to meowing. Conversely, dogs use a completely different set of vocalizations and body language. While yowling in a cat may be equivalent to whining in a dog, it may take time observing your dog's behaviors and how they associate with specific vocalizations for your cat to understand your dog.
Some attempts at communication from a dog to a cat may be confusing for your cat. For example, dogs wag their tails when they are happy, but a rapidly wagging tail in cats can indicate aggression or stress. Your cat will have to learn how to recognize other cues in the situation to fully comprehend that a dog is attempting to show friendliness or playfulness and not aggression or stress.
Can They Understand Each Other?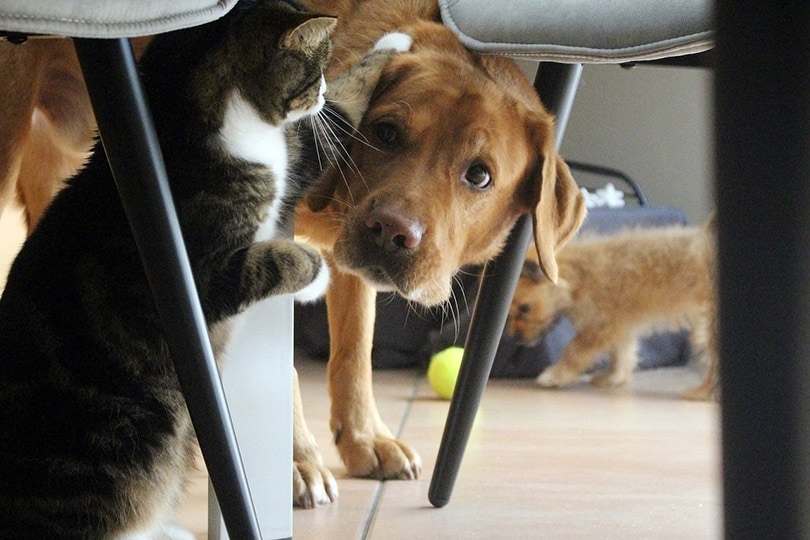 Body language plays a huge role in animal communication, and while vocalizations and body language differ significantly between cats and dogs, some things are obvious to animals. Growling is pretty consistent among mammals as a threat, so your dog or cat growling at the other will likely get the point across. Due to the similarities, aggressive, fearful, and playful posturing can also be made clear between species.
When it comes to animals, vocalizations only make up a very small part of their communication techniques. Body language plays a huge role in how animals communicate with each other, so your dog and cat will need to quickly learn each other's body language. Vocalizations often accompany specific body language, making both essential to understand communication between species.
In other words, they need to learn from various experiences to interpret each other's body language and vocalizations in the context of certain scenarios. Basically, though, cats and dogs can learn how to communicate with each other and how to interpret each other's cues and triggers.
Conclusion
Dogs and cats are both extremely intelligent animals capable of processing information to understand a situation, even if the body language or vocalizations aren't in their own "language." While it may be easier for dogs to communicate with other dogs and cats to communicate with other cats, dogs and cats are absolutely able to learn how to communicate effectively with and understand each other.
It may take time for your dog and cat to learn how to understand the language of the other, but in most multispecies homes, this language barrier is crossed quickly. While your dog or cat may not learn to speak to other animals in the other animal's language, they will learn how to understand the signals presented to them and appropriately respond to those signals.
---