Our dogs are fairly similar to celebrities when we think about it – they are constantly getting random attention from strangers, consistently photographed without their consent, and usually while doing embarrassing things, are paid (in doggy treats!) when they make us laugh or follow orders, and finally, are waited on (by their loving owners) hand and foot (paw and tail, more accurately speaking). We can't help but obsess over them, talk about them every chance we can, and wonder what they do every second of every day. 
So naturally a name as interesting and captivating as one of the all-star celebs we have noted below might be the perfect match you've been searching for. If your pup wasn't already popular enough, with one of these they are sure to be noticed where ever they are. 
We have noted our favorite celeb names for females and males, some of the most original and hilarious pun names, a few inspired by music, others from the big names in Hollywood, suggestions straight from the White House. 
Female Celebrity Dog Names
Mocha (Hugh Jackman) 

Penny (Blake Lively)

Pippa (Chrissy Teigan)

Asia (Lady Gaga)

Vida (Demi Moore)

Tina (Jessica Alba) 

Dot (Zooey Deschanel) 

Zelda (Zooey Deschanel)

Foxy (Matthew McConaughey)

Lola (Hilary Duff)

Gabbana (Khloe Kardashian)

Scarlet (Victoria Beckham)

Flossie (Drew Barrymore)

Mini LaRue (Tori Spelling) 

Sidi (Orlando Bloom)

Esmerelda (Anne Hathaway)

Francesca (Martha Stewart)

Poppy (Sandra Bullock)

Ruby (Sandra Bullock)

Mona (Jennifer Love Hewitt)

Isaboo (Rachel Ray)

Daisy (Jessica Simpson)

Pearl (Kellan Lutz)

Olympia (Tony Azevedo)

Tinkerbell (Paris Hilton) 

Bambi (Paris Hilton) 
Male Celebrity Dog Names 
Atticus (Jake Gyllenhaal)

Sheriff (Christina Ricci)

Meatball (Adam Sandler) 

Matzoball (Adam Sandler) 

Norman (Jennifer Anniston) 

Sid (Jessica Alba)

Ghengis Khan (Martha Stewart)

Henry (Debra Messing) 

Tucker (Charlize Theron)

Emu (Miley Cyrus)

Chance (Olivia Munn)

Mr Famous (Audrey Hepburn)

Baylor (Selena Gomez)

Honey Child (Nicole Ricci)

Frankie (Miranda Kerr)

Rufus (Leonardo Dicaprio)

Fluffy (Tom Brady)

Mate (Miley Cyrus) 

Lupo (Kate Middleton & Prince William)

Wink (Selma Blair)

George (Jim Carrey)

Brutus (Dwayne "The Rock" Johnson)

Noodles (Kelly Osbourne)

Baxter (Ryan Reynolds)

Louie (Adele) 

Puddy (John Legend)

Indo (Will Smith)

Elvis (Nick Jonas)

Winston (Gwen Stafani)

Finn (Amanda Seyfried)
Celebrity Pun Dog Names 
A play on words is not only amazing, but it is a clever and enjoyable idea for a pet's name. Adorable, quirky, and incredibly unique, some of these are perfect matches for a dog. These are the absolute best celebrity pun names: 
Sherlock Bones 

Bark Obama 

Bark Wahlberg 

Hairy Underwood 

Lick Jagger 

Bob Barker 

Snarls Barkley

Chewy Louis 

LL Drool J 

Britney Ears 

Fido Catstro

Diggy Azalea

Billie Hollidog

Winston Furchill

Anderson Pooper

Drool Berrymore

Bark Ruffalo

Maggie Gyllenhowl 

JK Growling 

Rosa Barks 

Mariah Hairyh 

Tina Spay 

January Bones 

Vera Fang 

Ryan Fleacrest 

Karl Barx

Sarah Jessica Barker 

Andy War-Howl 

Taylor Pawtner

Ozzy Pawsbourne 

Pablo Escobark 

Jake Gyllenpaw

Jimmy Chew 

Jude Paw

Hairy Houdinini

Bark Twain 

James Earl Bones 

Pawcasso 

Fleasy E 

50 Scents 
Celebrities Dogs Names Inspired by Hollywood
Actors and Actresses, Talk Show Hosts, and fashion icons – these are some of the most famous personalities of all time. Your pooch would be thrilled and a hot commodity with a name from this list! 
Gal 

Downey 

Ricci 

Grace 

Colbert 

Depp

Theron 

Pacino

Bale 

Kimmel 

Clooney 

Emma 

Sylvester 

Franco 

Oprah 

Tarantino

Hank

Monroe 

Caprio 

Vin or Diesel 

Bruce 

Harrison 

Demi 

De Niro 

Efron 

Mila 

Hepburn 

Halle 

Scarlett 

Streep 

Reese 

Jolie 

Alba 

Elon 
Celebrity Dog Names Inspired by Music 
Hound dogs shouldn't be the only pups toting a musical name. Whether your pup likes to howl, dance, or simply whine more than the average dog, maybe they're giving you a hint they want a name inspired by the trending or trailblazing celebs of music. Consider one of these for the pups moving about to the best of their own drum. 
Styles 

Swift 

Freddie 

Cobain 

Cyrus 

Nelly

Keys 

Iggy

Axl 

Prince

Zayn

Dido 

Lorde

Santana

Jewel 

Minaj 

Jagger

Gaga 

Bazzi 

Hendrix

Bangles

Jonas

Elvis 

Milian 

Fiona 

Jovi 

Bowie 

Stevie 

Sinatra 

Dua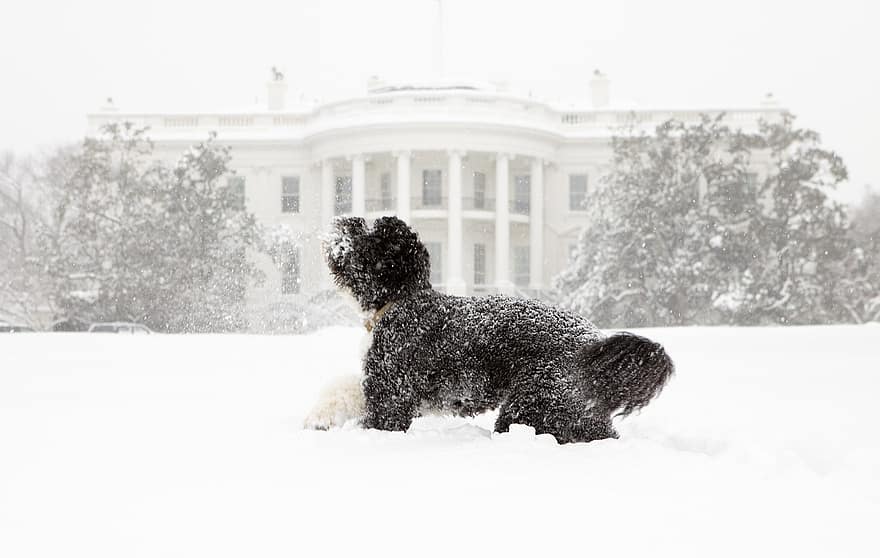 Celebrity Dog Names Inspired by the White House
Politics are growing in popularity – more and more people find themselves informed of current events and political climates. So much so, that many of the names we see in the White House are Household names and in some cases considered celebrities! Here are a few of our favorite political candidates who have made a memorable impact:
Barack 

Palin

Nixon 

Garfield 

Biden 

Kennedy 

Trump 

Jefferson

Roosevelt

Bush 

Grover 

Obama 

Lincoln

Hoover

Reagan 

Franklin 

Finding the Right Celebrity Name for Your Dog
We know that choosing a lavishly rich and fun name for your dog should be as fun as bringing then home! Hopefully, you weren't chased by the paparazzi and made it home safely! We hope that you were inspired by our list of A-Listers and ultimately found a name that matches your sweet new addition! With fun puns ideas to the ridiculously rich, to our founding fathers, we are sure there is a fit for all types of dogs! 
Not to worry if there wasn't a match for you here! Take a peek at one of our other dog name posts linked below: 
---
Feature Image Credit: Ksenia Raykova, Shutterstock