Cesar Dog Food Review 2023: Recalls, Pros & Cons

Our Final Verdict
We give Cesar Dog Food a rating of 4.0 out of 5 stars.
Cesar Dog Food has been in pet aisles for many years, and they are well-known for their West Highland White Terrier mascot and small-breed wet diets. This is a brand that relies heavily on the taste buds of your pet, and as history has shown, they have not failed on this front. When it comes to wet dog food, this brand is one of the leading competitors in the flavor race.
Of course, no brand is perfect. There are some drawbacks to these recipes that every dog owner should be aware of if they are considering this food. In the article below, we have broken down all the various elements of this dog food. We will share the details on everything from recalls, ingredients, ownership, and even their website. Keep reading to find out the facts behind the score!

At a Glance: The Best Cesar Dog Food Recipes:
Rating
Image
Product
Details

Our Favorite

Cesar Gourmet Filets in Sauce

Real US Beef is the #1 Ingredient
Can be a dry food topper
Easy
peel-away freshness seals
Check Price

Cesar Simply Crafted

Helps entice a picky pooch
Made from 100% real chicken and beef
No artificial colors
flavors
fillers
or preservatives
Check Price

Cesar Softies

Bite-site morsels
Great for house training
Can be be crumbled over dry kibble
Check Price

Cesar Classics Loaf in Sauce Gourmet

Made free from grains
Farm-Raised Duck as the #1 ingredient
Mouth-watering flavors
Check Price

Cesar Savory Delights Loaf & Topper

Made free from grains
US Chicken as the #1 ingredient
Made in the USA
Check Price
Cesar Dog Food Reviewed
Cesar dog food comes in a wide variety of flavors and recipes. It is well-known for its small-breed meals that can also be served to all breeds, ages, and sizes. They carry several wet formulas, dry food, and different types of treats depending on your pet's needs.
It is common knowledge that wet or "canned" dog food is typically less nutritious than dry formulas and other meals. Cesar seems to fall right in the middle as far as the nutritional levels and ingredients are concerned. What they have in abundance are delicious flavors that little ankle-biters love, but they are sorely lacking in other areas which we will go over in a little bit. For now, let's take a look at where this brand is made.
Who Makes Cesar and Where Is It Produced?
Cesar Dog food is a Mars, Inc corporation under their PetCare branch. They were developed for Mars, and have not been owned by any other company at this point. Mars has offices around the globe, but in the United States, they have headquarters in McLean, Virginia, with other offices across the country.
We have also discovered that Cesar dog food is manufactured in the USA. Information regarding the sourcing of their ingredients is not as easily found, however. Generally, brands that source within the United States are likely to put this information on their packaging as a selling point. If the information is not listed or not easily found, chances are the majority of the formula items are coming from points across the globe.
Cesar Dog Food Basics
This dog food brand has many different flavors and recipes. They have concentrated on making their formulas the tastiest and most appetizing flavors that your pet can enjoy. The recipes come in your choice of wet food, dry food, or treats. First, let's take a look at the different meats and protein flavors you can find throughout the different formulas.
Beef
Duck
Lamb
Salmon
Veal
These meals also contain savory vegetables, grains, fruit, and other ingredients that make up the different meals.
Wet Food
Cesar is best known for its wet formulas, and they have several different options to choose from:
Dry Food and Treats
The dry Cesar formula is more limited than the wet food options. In fact, there are only three different options you can choose from including:
Interestingly enough, there are more treat options than dry food formulas. You can choose from jerky treats that are equivalent to human jerky snacks, meaty bites that are small harder treats, and softies that are designed for smaller dogs or pups with sensitive teeth. There are several flavors within the snack range including meats, vegetables, and fruits.
Which Types of Dogs Might Do Better with a Different Brand?
As mentioned, Cesar dog food is generally made with small breeds in mind, although adult dogs are fine with the formulas, as well. The issue is you will end up purchasing more food because the 3.5-ounce tubs are the same size as a standard cat food can.
Besides that, there is a noticeable lack of targeted formulas that are geared to specific dietary needs. Although they do have a puppy formula and grain-free option, you will not be able to find meals for senior pets, weight management, joint support, high protein, etc. If your pet has specific dietary needs to be met, you may want to check elsewhere.
For example, we have listed some of our favorite targeted meals below:
Other Details
Now that we have gone over the basics of this dog food brand, there are a few other things we wanted to mention. First, this pup chow can be found at most pet stores, supermarkets, and online retailers. You can even find this brand in off locations like gas stations and discount chains.
You can purchase the tubs of wet food individually or by the case in either a 12 or 24-pack. They also break those cases up into "types" like poultry lovers or by recipe or mixed recipe. That being said, you should note that the Cesar website is harder to navigate. You can only search for food by flavor or type (wet, dry, treats), so finding a specific recipe like the Simply Crafted line is not as easy.
It is also worth mentioning that the site lacks a lot of basic information that is usually covered. For example, they do not provide a lot of information about the company in general, and the FAQ page is sadly lacking.
Nutritional Value
One of the most important aspects of any dog food is its nutritional value. The AAFCO provides dietary guidelines on dog food which Cesar follows. To give you a general idea, it is recommended that most dogs receive at least 18% protein, between 10 and 15% fat, and between 1 and 10% fiber per meal. They should also consume at least 30 calories per pound of body weight.
Below, we have outlined the average nutritional value for the wet recipe, LID recipe, and dry food within the Cesar brand.
Wet
Protein: 7%
Fat: 4%
Fiber: 1%
Calorie: 917 kcal ME/kg
Simply Crafted
Protein: 8%
Fat: 0.5%
Fiber: 1%
Calories: 947 kcal ME/kg
Dry
Protein: 26%
Fat: 13%
Fiber: 4.5%
Calories: 3422 kcal ME/kg
As you can see, these values are not as great as other canine foods, however, wet recipes are notoriously lower in nutritional value. From that perspective, Cesar is right on the mark for nutritional guidelines.

A Quick Look at Cesar Dog Food
Various recipes and flavors
Well-priced
Great tasting
Decent nutritional values
Easy to find
Questionable ingredients
Lack of specific diets
Site is hard to navigate

Ingredients Analysis
Calorie Breakdown: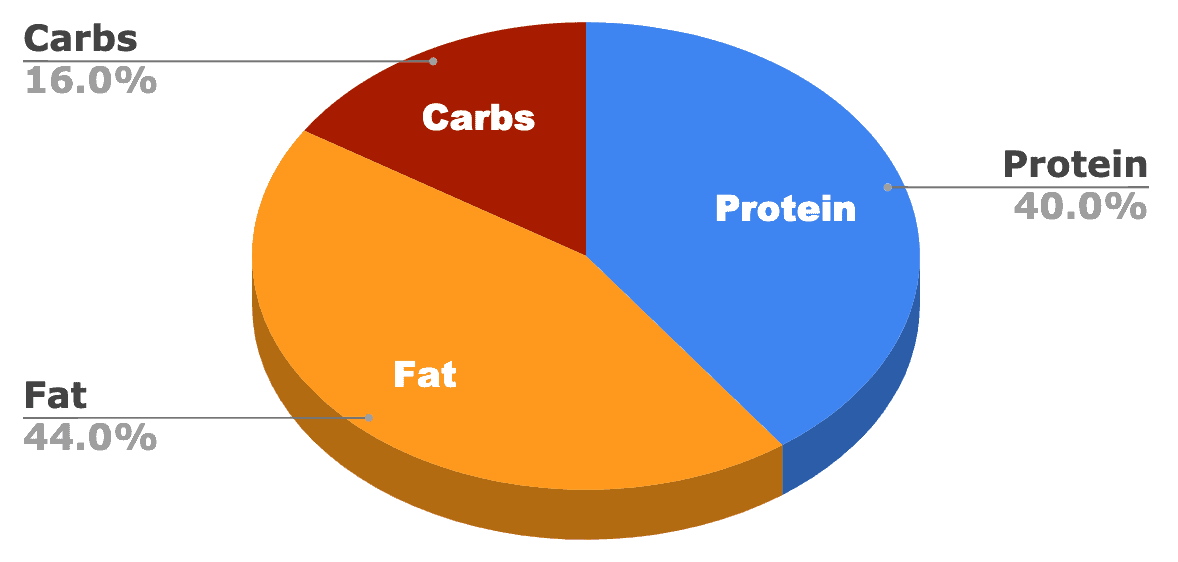 Next, we want to talk about the ingredients within the formulas. As mentioned, Cesar bases their recipes on taste versus anything else. They are not only lacking in targeted dietary needs, but they also do not emphasize any other vitamins and minerals. That being said, the food does have nutrients to help promote overall good health, but things like probiotics, antioxidants, etc., are not listed.
What is more concerning, however, is their ingredients. We have listed a few of the most concentrated and non-nutritious items that are found throughout the brand.
Meat By-Product Meals: Many wet dog foods contain by-product meals, and there is some debate about whether this is a healthy ingredient or not. Unfortunately, what it usually comes down to is the quality of the by-product. That information is sadly unknown, but it's typically sub-par.
Artificial Colors: Synthetic dyes and artificial colors are not healthy for your pet. Many of the wet and dry formulas contain these ingredients.
Sodium Tripolyphosphate: This is a preservative also known as STPP. It can cause allergies and skin irritations.
Carrageenan: This ingredient has no nutritional value and has been known to cause digestive issues.
Salt: High levels of salt are not a good idea for your pet.
Corn Starch: This is an ingredient that is typically used as a filler, and it does not have any benefits for your pet.
Soy: This is an ingredient that most people know to stay away from. It can cause digestive issues and other allergies and irritants.
Brewers Rice: For the most part, brown rice is the only healthy option in this food category. Unfortunately, brewer's rice is small fragments of food that is used as an inexpensive filler.
Recall History
Based on the information we uncovered, Cesar Dog Food has only had one recent recall. In 2016, the brand voluntarily recalled a selection of their Filet Mignon wet dog food due to a choking hazard. It seems as though some of the cans had small, white pieces of plastic in the formula from a manufacturing error. Other than that, it looks as though Cesar has been free of FDA recalls at the time of this article.

Reviews of the 3 Best Cesar Dog Food Recipes
1.

Cesar Simply Crafted Chicken Wet Dog Food
The Cesar simply crafted recipe is formulated with five ingredients or less to provide your pet with the most nutrition in a tasty meal. Available in several other flavors, this food is made with real chicken as the first ingredient. It also has no artificial ingredients such as flavors, preservatives, colors, or fillers.
This recipe comes in a convenient peel-back tub that will reduce waste and dog food mess. The only drawback to this option is it's not as protein-packed as some other options. Other than that, you will find other vitamins and minerals to support your dog's overall health.
LID formula
Vitamins and minerals
Real chicken
No artificial ingredients
Several flavors
---
2.

Cesar Savory Delights Loaf & Topper in Sauce Wet Dog Food
This Cesar option is a great meal on its own, or it can be used as a topper for other meals. Your pup will enjoy the rotisserie chicken with bacon and cheese recipe, plus there are four other flavors, as well. The meal is also crafted with real chicken and no grains.
This tasty meal contains vitamins and minerals to promote your dog's overall health. While it is nutritious for all dogs, it is especially healthy for smaller breeds. Something to note, however, is this formula can be hard on sensitive stomachs. Other than that, this USA-made formula comes in an easy-to-open pull-back tub.
Vitamins and minerals
Dual-use
Great for smaller breeds
Grain-free
Made with real chicken
Hard on sensitive stomachs
---
3.

Cesar Home Delights Home Inspired Wet Dog Food
This delicious meal is designed to resemble a slow-cooked chicken and vegetable dinner. Made in the USA, this formula is made with real chicken as the first ingredient, and also has added vitamins, minerals, and nutrients in the stew. This is a fan favorite with dogs of all sizes.
This Cesar recipe is available in many flavors depending on your pet's taste. It is important to consider, however, that this food can be harder to digest, especially when transitioning your pet from a dry formula. Other than that, that food is served in the standard easy-to-open, pull-back tub.
Made with real chicken
Made in USA
Easy to open tub
Tasty flavor
Vitamins and minerals
---
What Other Users Are Saying
One of the best ways to determine whether or not a specific dog food brand is right for you is by looking at other customer comments and opinions. Take a look at some of these reviews we found online.
Chewy.com
"I tried to get my fussy little doxie to eat but he didn't like the more expensive foods. I tried Little Cesar's wet food. He loved it! I recently started him on dry food also. He is one happy pup now. Such a variety of flavors available too. Thank you for your great service and selection of dog foods."
PetSmart.com
"My dogs are sooo picky. Finally bought this one recently after going through many brands and Flavors and they are in love. Always asking for seconds."
Walmart.com
"My little dogs (Maltese) love these. They're getting older (10 and 14), but still active and healthy!"
If you would like to see more Cesar reviews, there is no place better than Amazon. As they are one of the leading online retailers, there are endless amounts of opinions and reviews you can check out here.

Conclusion
We hope you have enjoyed our review of the Cesar Dog Food Brand. Finding the right formula for your furry friend can be difficult, so we want to share all the details to make it easier for you to make the best decision for your pet.
See Also: