10 Homemade Chicken Dog Food Recipes (Vet-Approved)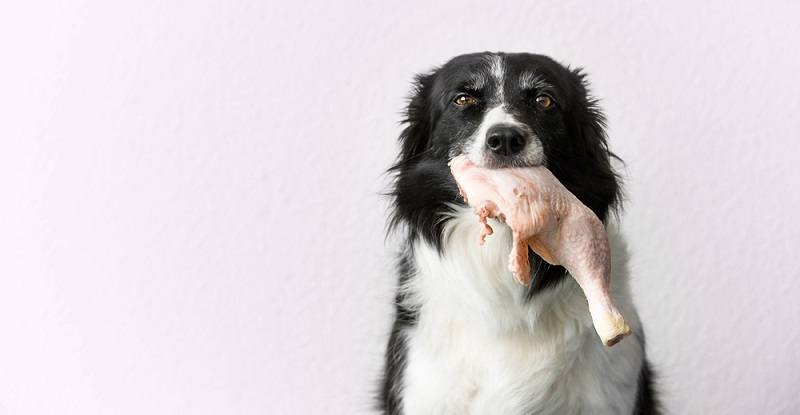 Chicken is a classic dog food ingredient, so if you're interested in making homemade dog food, it's a great choice! But if you're not sure where to start, you'll need a vet-approved chicken dog food recipe that will keep your dog nourished and full.
To help you cook healthy homemade dog food, we've gathered the 10 best recipes to teach you how to make chicken dog food with ease. Scroll down to get started!

Top 10 Easy Chicken Dog Food Recipes Are:
1.

Simple Chicken Dog Food Recipe
Our first dog food recipe is easy to make on the stove. Use ground chicken, fruits and vegetables of your choice, and oats or rice. Top it off with coconut oil and chicken broth and you'll have healthy food your dog will love!
---
2.

Two-Step Chicken Dog Food
This simple two-step chicken dog food recipe comes together in less than half an hour. All you need to make your dog's day is minced chicken, frozen vegetables, and rice. What could be easier?
---
3.

Easy Crock-Pot Chicken Dog Food
This dog food recipe takes 4–6 hours, but don't let that put you off. It uses a Crock-Pot, so most of that cooking time is completely hands-off. Toss the ingredients in the Crock-Pot and go about your day! Your dog's new favorite food will be ready when you get back.
---
4.

Three-Meat Dog Food
This recipe combines three types of meat: ground beef, chicken, and turkey. But if you don't have all of them or want to make a 100% chicken meal, no problem! The good news is that ground meats are easy to substitute for each other.
---
5.

Chicken Burgers for Dogs
This recipe might sound more suitable for a barbecue, but it's dog-friendly! Mix ground chicken with fruits and vegetables (in this case zucchini, apples, carrots, and lettuce) and brown rice, form into patties and bake for 15 minutes. And yes, you can throw them on the grill alongside your burgers.
---
6.

Dog Meatballs
Substitute ground chicken for beef or pork and you've got a healthy chicken dog food recipe! These meatballs are made with yogurt, an egg, and fish oil for added nutrition. And they're so beautiful, you may want to have a taste!
---
7.

Stomach-Soothing Chicken & Pumpkin Dog Food
If your dog is having digestive problems, you may want to try this simple recipe. Unlike most of the other recipes on this page, this one doesn't use ground chicken. Boil chicken thighs or breasts and mix with canned pumpkin and yogurt. Ta-da!
---
8.

Chicken & Sweet Potato Dog Food Recipe
Here's another easy chicken dog food recipe that you can throw in a Crock-Pot. This one combines chicken breasts, sweet potatoes, green beans, and carrots—along with healthy brown rice—to make a nutritious meal.
---
9.

Chicken Dog Biscuits
Want to supplement your dog's diet with homemade biscuits? This recipe combines two Southern classics, chicken and biscuits, to make a treat fit for a furry king!
---
10.

Dog-Friendly Chicken Jerky
Our final recipe only has one ingredient: chicken! Slice a chicken breast into thin strips and bake it in the oven for about 2 hours. The result? Crispy chicken jerky that your pup will be head over paws for!
---
A Note About Allergies
Chicken is a fairly common dog allergy, so if you haven't fed it to your pup before, you'll want to watch out for symptoms like ear infections, chronic diarrhea, and paw-licking.
We recommend talking to your vet before you change your dog's diet. A pet professional can help you make sure your dog is getting everything it needs—and maybe recommend dietary supplements if not.
Our Favorite Dog Food Deal Right Now
50% OFF at Ollie Fresh Dog Food

Homemade Chicken Dog Food: Conclusion
There you have it: 10 delicious homemade recipes that teach you how to make chicken dog food today! We hope these recipes help you create healthy food that your dog loves. From traditional ground chicken dog food to dog-friendly meatballs and biscuits, these recipes should have you and your furry friend covered. Don't be surprised if your pup starts licking his bowl clean!
Looking for more dog food recipes?
---
Featured image credit: Vorakova Veronika, Shutterstock