How Much Does It Cost to Ship a Cat? 2023 Price Update
Whether you're planning a move to a new household or bringing a cat home from a breeder in another state, shipping your cat may be the only reasonable option. There are several options for transporting a pet: by air, car, or a pet transporting company. In most of these situations, we can't be there and need someone to drop the cat off at the airport or pick them up at a specific location.
Cats are valued members of the family, so you'll want to pick a safe and reliable transportation mode. Planning cat transportation isn't always easy, but there are ways to make it more affordable and less stressful. Depending on the options you choose, shipping a cat can cost between $125 and $5,000. Here are the details:
The Importance of Shipping Cats Safely
The most important part of shipping a cat is that it gets done safely with no issues throughout the process. From drop-off to pick-up, making the trip as stress-free, quick, and comfortable as possible is the ultimate goal. Hiring a stranger or a company to arrange the shipment can make pet owners pretty nervous.
After all, nobody will love and care for your pet the same way you do. You have to ensure they have plenty of food and water, are stocked on pee pads in case of accidents, and have all the proper documentation for the trip. Planning ahead is crucial if you want everything to run smoothly and have your cat delivered in good health.
How Much Does Shipping a Cat Cost?
The price of shipping a cat will vary depending on the mode of transportation you choose, any services you hire, and the time or miles to the destination.
Shipping Cats Via Airline
All airlines have similar pet policies, but some are slightly different. There are two ways to ship your cat via airline. You can have a friend or hire someone to fly with them in the cabin, or you can pay to have them placed in the cargo area and arrange for somebody to pick them up.
On average, airlines charge $125 for a one-way, in-cabin trip per pet. This is one of the cheaper options but isn't always ideal since you can't always find someone to travel with them. That leaves you the option to have them shipped inside the plane's cargo area.
The price for shipping a pet in the cargo area of a plane can vary and is usually priced on a case-to-case basis. The breed and size of your pet, along with the distance, can all affect the cost. Flying one small cat domestically will likely cost you between $200 and $300. This doesn't include the cost of hiring someone to pick them up from the airport.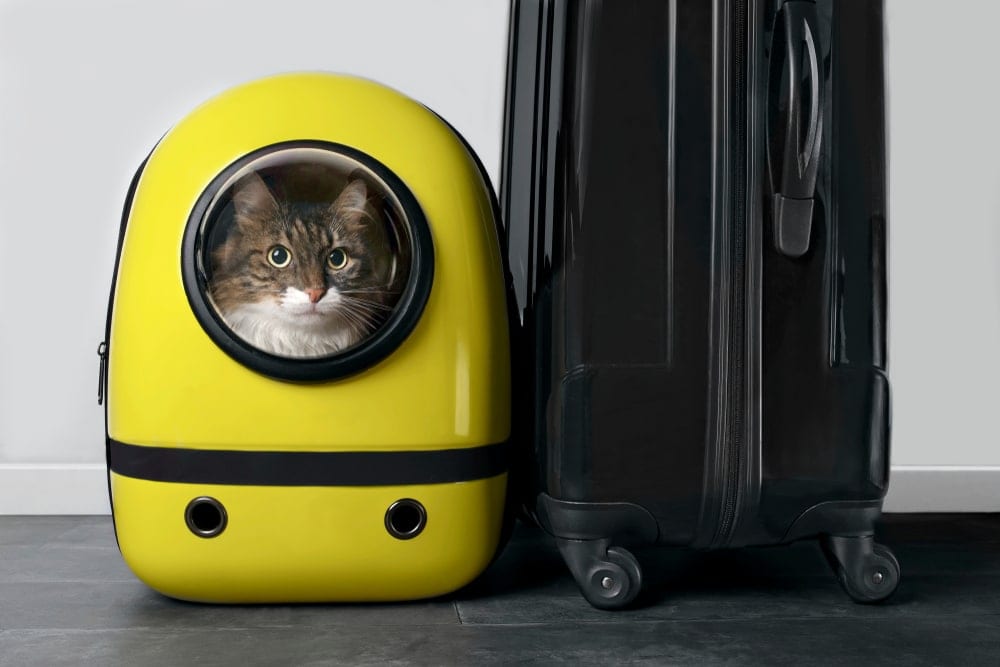 Ground Transportation Services
Ground transportation is another option to consider if you're shipping a pet within the continental United States. Because of the COVID-19 pandemic, some airlines are tightening down on their pet policies, meaning that you have fewer shipping options.
The price for ground transportation is primarily dependent on the length of the journey. When looking at one popular pet shipping company called PetRelocation, shorter trips start around $2,200 to $2,400. Trips that take over 10 hours might cost as much as $5,000 and higher. Again, these are general prices that could be higher or lower based on the company, starting location, and the final destination.
Additional Costs to Anticipate
Veterinarian Health Certificates
Depending on where you're shipping the cat, you might need to take your cat to the vet for a health screening and paperwork. Some countries require government approval or an endorsement before traveling. Depending on the tests and screenings that your veterinarian has to provide, this could be as low as $40 or as high as $120 per pet.
Import Permits
Some countries only allow pets to enter if they have an import permit. As you can probably guess, getting these official government approvals can be expensive. For example, bringing a cat into Australia costs $480. The prices change depending on the country, but expect to pay at least a couple hundred dollars for one.
Customs Clearance
Cats arriving at their final destination must undergo a series of clearance steps when traveling internationally. The fees often include taxes, tariffs, and other fees specific to that country.
Thankfully, most airlines are happy to share the fees with you when booking your cat's flight. Check out the destination country's government websites if you can't find them. These are usually low in price, costing anywhere from $50 to $100.
DIY vs. Hiring Professionals
Saving money won't be a problem if you can hire close family or friends instead of professional pet shippers. You won't have to pay outrageous fees. Plus, you'll feel much better when you can rely on somebody you already trust. Even if you can't find someone to fly or drive your cat, having someone you know to pick them up saves you money.
How Far Should Cats Get Shipped?
Do your best to keep travel time to a minimum when shipping a cat. Unfortunately, you don't always know who will be taking care of your cat during the trip. If something happened and the workers forgot to feed or water them, you'd want them to reach their destination in as little time as possible. This doesn't always happen, but you can always prepare for the worst.
Thankfully, most major airlines put a time restriction on flights for animals. The max flight time for pets traveling with major airlines is around 12 hours. If you are shipping them via ground transportation, we suggest working with a company specializing in pet shipping with many excellent customer reviews. These companies often know what your pet needs during the trip and can take better care of them.
Does Pet Insurance Cover Pet Shipments?
Every pet insurance company and its policies are different. While some plans and companies might cover accidents during a trip, others don't. If you don't already have pet insurance, it would be wise to purchase a pet transport insurance plan. They are often sold at a low monthly cost of around $20 per month.
If working with a pet shipping company, they almost always have insurance available through them. This might cost $100 to $200 per trip, but knowing you'll be covered in case anything happens is worth it. Whichever type you plan to buy, ensure you thoroughly read through their plans and know everything that is and isn't covered.
What To Do to Make Your Cat Comfortable During Shipping
Cats do not travel well, and they're more than likely already going to be stressed. It's important to make your cat as comfortable and stress-free as possible.
What Makes Cats Most Comfortable?
Start by finding a good kennel that is sturdy and escape-proof while still meeting all the requirements of the airline or shipping company. You may need to provide food, water, dishes, pee pads, toys, and bedding to make them feel cozy during the move.
Always take your pet to the vet before traveling to obtain a health certificate. This lets others know your cat is in good health and will make you feel more confident about sending them.
Sometimes, you might need to sedate your cat if they are anxious or don't travel well. However, some airlines discourage this because the altitude changes could change how the medication affects your cat.
Not everybody has the luxury of scheduling the shipment based on the weather, but you should look into it if possible. You don't want it to be too hot or cold while your cat travels. Temperatures between 45°F and 85°F are ideal for traveling pets.
Conclusion
Even if it isn't ideal, sometimes the best option for transporting your cat is to ship them. We can't always take them on long car rides with us or accompany them on a plane. Thankfully, several services are guaranteed to safely deliver your cat to their final destination. The more research you do, the better prepared you are and the more money you can save. Shipping a cat doesn't have to be expensive, but it is sometimes worth the extra cost for peace of mind.
---