7 DIY Cat Onesies You Can Make Today (with Pictures)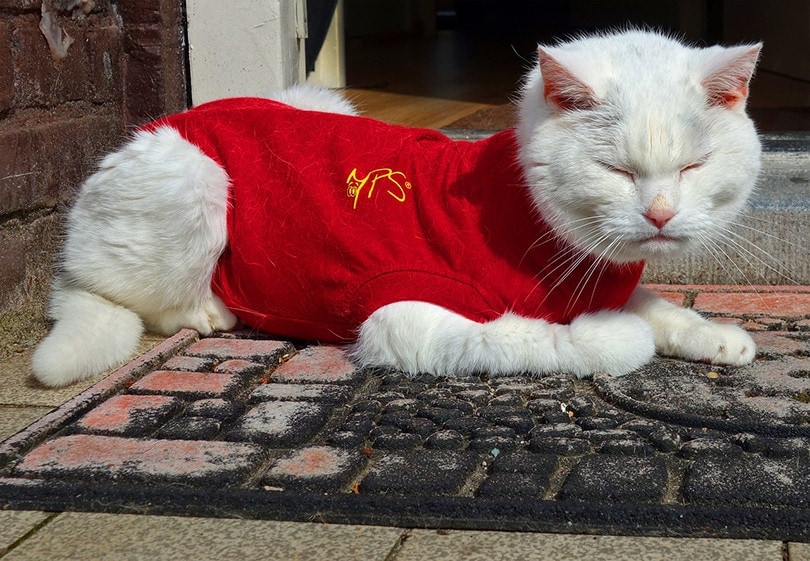 When your cat recovers from surgery, your vet will provide an Elizabethan collar or inflatable pillow to prevent biting or scratching near the wound. While cones and pillows are effective deterrents, some cats are miserable wearing them and have problems adjusting to the awkward devices.
If your pet has a wound on its back or belly, you can create a DIY cat recovery suit that does not restrict the animal's mobility. Several manufacturers make onesies for cats, but they're significantly more expensive than using an old sweatshirt, T-shirt, or sock.
We searched through Pinterest and found some fantastic cat recovery suits, and most of the designs take less than an hour to complete.
The 7 DIY Cat Onesies
1.

Epbot Onesie DIY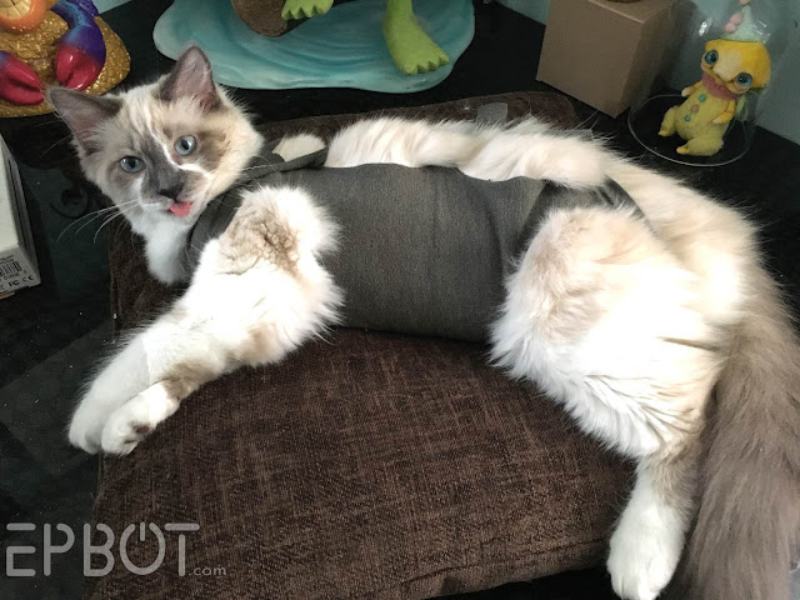 | | |
| --- | --- |
| Materials: | Used T-shirt |
| Tools: | Scissors, marker |
| Difficulty level: | Easy |
This DIY cat onesie was created when the author's cats had problems with the inflatable pillows after being spayed. The plan does not require a sewing machine or experience with sewing patterns. All you need is an embarrassing T-shirt that you refuse to wear in public, scissors, and a marker. Epbot includes a photo of the onesie centered between two yardsticks so you can see the exact size of the shirt used for their two cats.
Unlike other designs, this one omits the neck hole and uses straps instead. In a previous onesie design, the author noticed that her cat stretched out the neck hole and caused the garment to slide down. After measuring your cat for the leg holes, you can finish the project in less than 30 minutes.
---
2.

Cole and Marmalade DIY Onesie
| | |
| --- | --- |
| Materials: | Two knee-high socks |
| Tools: | Scissors |
| Difficulty level: | Easy |
What could be easier than using this DIY design for your kitty's recovery suit? All you need is a pair of knee-high socks and sharp scissors. Cole and Marmalade suggest using or buying a pair of socks in case you make a mistake or feel the garment is too tight on your cat. This design is one of the simplest on our list, but you may need to use another garment if your pet is too large to fit in a sock.
The author's cat is small enough to squeeze into the suit, but owners of hefty felines should try another design that uses a sweatshirt or T-shirt. Since you only have to make three cuts on the sock, you can finish the plan in less than 15 minutes.
---
3.

Instructables DIY Onesie
| | |
| --- | --- |
| Materials: | Old T-shirt |
| Tools: | Marker, four safety pins, and scissors |
| Difficulty level: | Low |
You probably have a few T-shirts that are not in your weekly or even yearly rotation, but your cat can bring them back into style with this DIY recovery design. The author suggests using "Jersey-style" T-shirts for the best results. They're more flexible and comfortable than other styles, but you can use any fabric that does not irritate the cat's skin. The plan is designed for medium-sized cats, and you may need a larger garment for extra-large furballs.
Since the recovery suit is typically required for no more than 7 to 10 days, the plan uses safety pins rather than ties or Velcro. The straightforward design should only take 30 minutes to complete.
---
4.

Dopamine Junkie DIY Onesie
| | |
| --- | --- |
| Materials: | Long sleeve shirt |
| Tools: | Marker, scissors |
| Difficulty level: | Low |
Although the author of this DIY onesie project used the suit for her Schnoodle, you can use the same design for your pet since the dog's size is similar to a cat's. However, the author suggests using a leg from sweatpants for larger creatures. A long-sleeve cotton T-shirt or sweatshirt arm should work best for felines, and you can use the other arm if your initial design does not please your pet. Precise measurements are not required for this plan, but you can estimate the spacing of the leg holes by placing your cat on top of the sleeve to make marks.
In around 20 minutes, you'll have a homemade recovery suit.
---
5.

Cut Out and Keep DIY Onesie
| | |
| --- | --- |
| Materials: | Old sweatshirt |
| Tools: | Scissors |
| Difficulty level: | Low |
If you're looking for a 5-minute DIY project to protect your cat's incision, you can try this dog sweater plan that's suitable for felines. You probably have an unwanted sweatshirt lurking in your closet, but you can take the author's advice and steal your spouse's sweatshirt for the project. Since you only need the sleeve to make the suit, you can continue to wear the garment if you favor short-sleeve sweatshirts. All you have to do is cut sections for the legs, head, and rear end.
If your pet has an abdomen incision, you can leave the back section a bit longer than the dog's sweater in the photos.
---
6.

Small Breed Dogs DIY Onesie
| | |
| --- | --- |
| Materials: | Kraft paper, two old shirts, and pins |
| Tools: | Scissors, needle and thread or sewing machine |
| Difficulty level: | Moderate |
This DIY dog garment pattern was designed for a Chinese Crested weighing 7 pounds, and it's perfect for small adult cats. The author includes a PDF of the design you can download, and she suggests using it for dogs or cats weighing up to 12 pounds. If you create a pattern from scratch, you can use Small Breed Dogs' design as a guide for the basic outline. The project uses a different color fabric for the leg covering, but you can skip the step if you're using it as a recovery suit. Also, the hood can be omitted since most cats dislike having fabric on their ears.
If you have some sewing experience, you can finish the design in less than 2 hours.
---
7.

She Knows DIY Onesie
| | |
| --- | --- |
| Materials: | Newborn onesie |
| Tools: | Scissors, ruler, pencil, needle, and thread or sewing machine. |
| Difficulty level: | Low |
Parents are often surprised by how fast their children outgrow their clothes, and large families accumulate a significant supply of unused clothing in only a few years. With this project from She Knows, you can create a cat recovery suit from an infant's onesie. The author used the onesie on her tiny canine, but you can use the same method for your cat. Cutting the holes in the garment for the neck, legs, and bottom only take a few minutes, but you'll spend around an hour sewing the hem at the bottom of the shirt if you do it by hand.
Final Thoughts
Cats are not as tolerant as dogs when it comes to wearing clothes, but your pet will probably enjoy a used "World's Greatest Teacher" T-shirt more than an Elizabethan collar or inflatable pillow after surgery. If your cat has not worn garments before, it may take a few moments to adjust to the recovery suit. Provide your furball with a treat before strapping on the onesie and ask a friend to help you if your pet squirms during the fitting. Luckily for your cat, the recovery suit is only a temporary covering.
See also:
---