DIY Dog Carrier Slings You Can Make Today (With Pictures)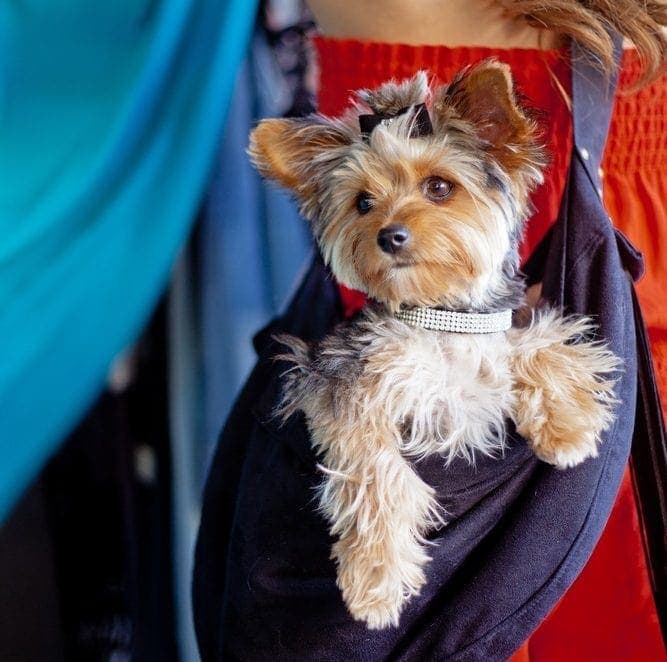 If you have a small dog, being able to carry her around can be extremely convenient, especially if she gets injured or exhausted on long walks…
Oh, who are we kidding? You want to carry your dog because she's adorable and you like having her close to you.
If that's the case, learn how to make a dog carrier with one of these DIY slings and make it easy to keep your precious pup next to you at all times — without costing you an arm and a leg.

DIY Dog Carrier Sling Plans
1.

DIY Dog Sling Idea by Chloe & Rose
Description
Skill Level: Beginner
Skills Needed: None
Tools Necessary: Moby wrap or long fabric
While this option from Chloe & Rose repurposes a Moby wrap that's commonly used for cradling infants, you can make your own with any long piece of fabric.
Then again, we can't imagine how much fun it must be to have people come up to get a look at your baby, only to find that she has four legs and a tail.

Carry Your Dog Everywhere
We hope you enjoyed learning how to make dog carriers. The dog and puppy sling ideas on this list make it easy to carry your dog with you everywhere. While that's handy for everyday use, it could potentially prove to be a real lifesaver in the case of an emergency.
Or you could just use it to carry her lazy butt around the house. It's up to you.
Featured Image Credit by: Susan Schmitz, Shutterstock