Pawbo Life Pet Camera Review 2023: Pros, Cons & Verdict

Our Final Verdict
We give Pawbo Life Camera a rating of 4 out of 5 stars.
Build Quality: 4/5
Power: 3/5
Features: 4/5
Price: 4/5
Pawbo Life Camera: Review Summary
If you are constantly on the go or have a job that requires you to spend several hours away from home each day, leaving your pet alone, a product like the Pawbo Life Camera can help you keep an eye on your pet and your home while enhancing the relationship you have with your pet. It's perfect for cats and dogs and has plenty of helpful features. You can hear audio and see the video, and you can even dispense treats.

Pawbo Life Camera – A Quick Look
720p HD live video
Built-in microphone
Works with social media
Laser game
Treat dispenser
Poor audio quality
Treat dispenser gets stuck
Hard to set up the camera angle
Specifications
Brand Name: Pawbo
Model: PPC-21CL
Height: 7.9 inches
Width: 4.4 inches
Depth: 4.4 inches
Weight: 1.2 pounds
Video: 720p High Definition
Zoom: 4x digital zoom
Audio: 2-way talk
720p High Definition Video
720p High definition video allows you to use your smartphone to see inside your home when you are away. This fantastic feature provides you with a 130-degree wide-angle view so you can easily see your pets to know what they are doing. You can also snap pictures and record videos that you can instantly share to your social media account. It also has a 4x zoom so that you can get a closer look at anything interesting.
Audio
The two-way speaker system allows you to hear what is going on while you are watching the video. It also allows you to communicate with your pets from anywhere in the world. This feature allows you to calm your pets if they get upset, and you can even use it to communicate with any pet sitters that may be in your home.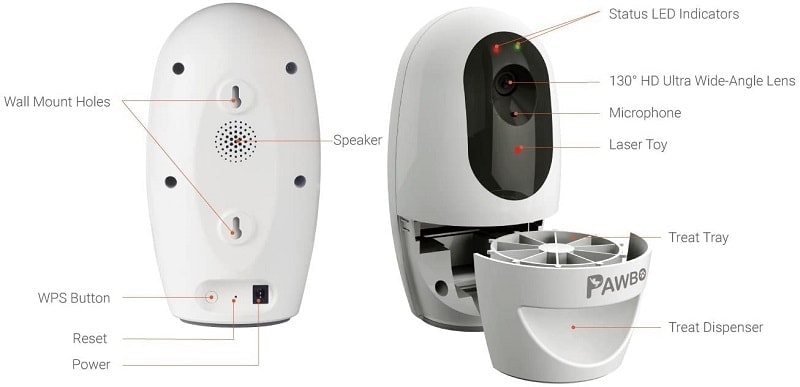 Treat Dispenser
One of the greatest features that the Pawbo life Camera offers is that it allows you to dispense treats to your pet while away from home. Combined with the two-way audio system, it can be a great way to keep your pet calm while you are away, reducing the risk that it will get into mischief. It's also nice to interact with your pet while you are away, and they often get as excited as they do when you finally get home.
Laser Game
The laser game is another great feature offered by the Pawbo. If you have a cat, this feature will help your cat get some exercise. Dogs may chase it as well, but cats really enjoy it and will often spend quite a while chasing the laser light around the room. The Pawbo allows you to control the laser from your smartphone, or you can set it to automatic, so it will keep them entertained until you get home.
Beginner Camera
The only thing we didn't like was that several other brands have improved features. The video is nice, but it's only 720p when several other brands offer a much better quality 1080p. We also found that the audio tended to have plenty of echoes no matter where we placed it in the room. The treat dispenser also frequently would stick and fail to dispense the treats.

Pawbo Camera FAQ
Does it alert you when your dog barks?
Unfortunately, this will not alert you to a barking dog.
Is the treat storage container sealed against ants?
Yes, the compartment is sealed tight and will not allow ants or other insects inside.
How many people can watch at a time?
The Pawbo allows up to eight people to watch at the same time.
What is the frame rate?
The frame rate is not listed, but it can slow down with poor service.
Can you set it to play while you are away automatically?
The laser game only works while the app is open.
Can a dog chew the Pawbo?
A large dog could easily chew it, so you may need to place it in a safe location if you have a destructive pet. You might also need to hide the cord.
Does the Pawbo work with Alexa?
Unfortunately, the Pawbo does not currently work with Alexa, but they might incorporate it in a future model.
What the Users Say
We wanted to find out what other users were saying about the Pawbo, so we searched the internet to find some reviews, and these are the things people said.
Most people love being able to communicate with their pets while they were at work or on vacation.
Most people enjoyed being able to give their pet treats while they weren't home.
Most people found the Pawbo easy to set up.
Some people complained that you could not angle the camera.
Some people complained that the phone would not always connect to the Pawbo
Several people had problems with the treat dispenser getting clogged or not working
A few people mentioned that using the automatic laser function can wear out the motor.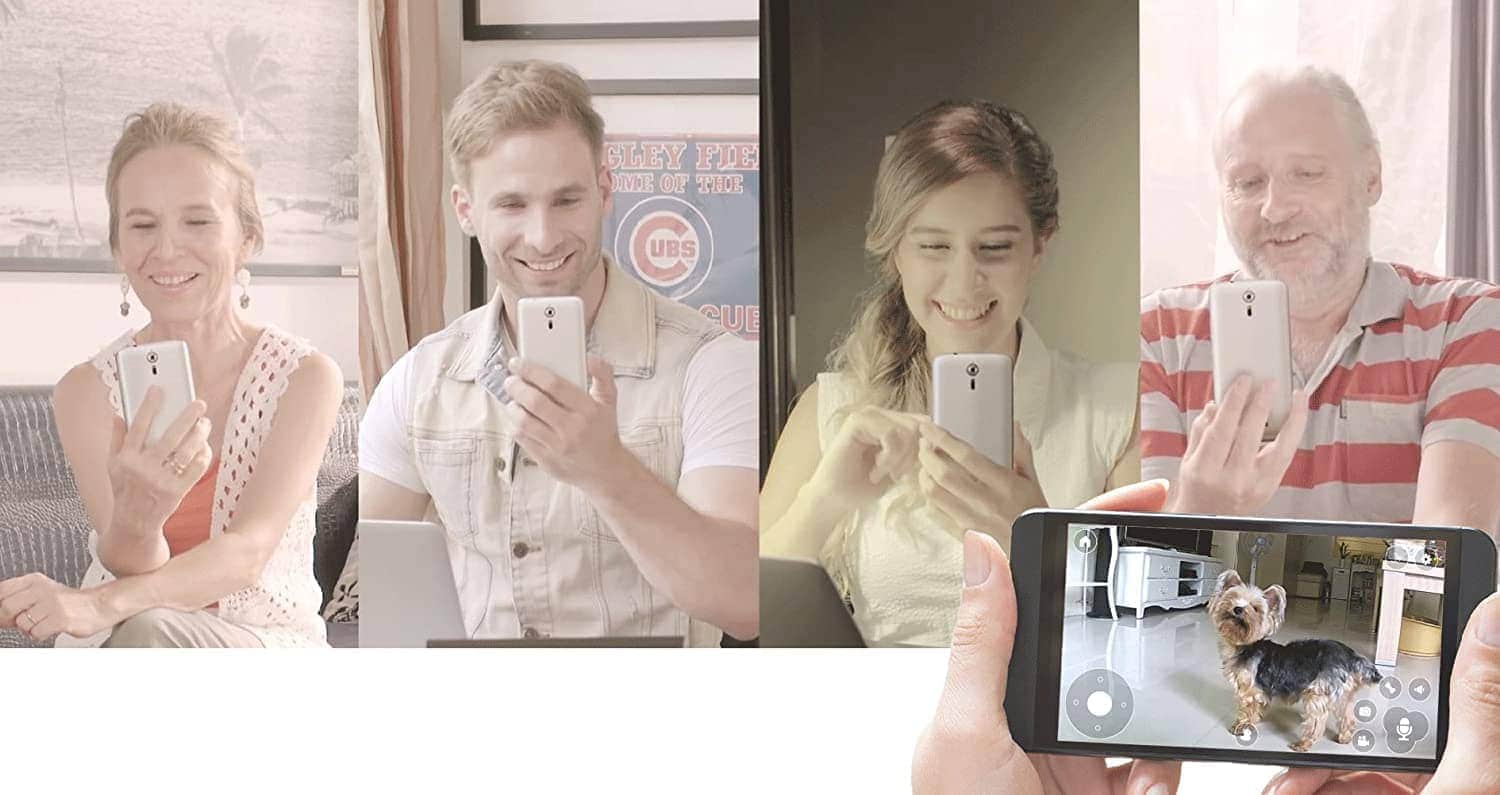 Conclusion
Overall, the Pawbo is a great device that will help you communicate with your pet while you are away. It will let you see them and interact with them from anywhere in the world. You can also dispense treats and even play a game of chasing the laser with your cat. It's a great way to keep your pet from getting into mischief, and it even helps improve security by allowing you to see inside your home.
We hope you have enjoyed this review and found the answers you needed. If we have convinced you to give one of these handy devices a try, please share this review of the Pawbo Life Camera on Facebook and Twitter.