Just like children, dogs love to play around and expend their energy by running, jumping, sliding, swimming, and climbing. Dogs seem to love playgrounds just as much as kids, but dog playgrounds don't tend to be all that common. Luckily, there are plenty of DIY dog playgrounds you can build in your backyard to give your four-legged friends an awesome place to exercise and play while keeping them healthy and fit. These obstacles can even be used to improve your dog's fitness while having a good time together and training them.

1. DIY Tire Tunnel by PetDIYs
Want to give your dog a good time with some old tires you have just lying around? The DIY Tire Tunnel from Pet DIYs is an easy way to re-purpose those old tires into a great tunnel obstacle for your dog to play with. It's a simple project that requires very little skill, so anyone can successfully take this project on.
---
2. Easy to Make Play Equipment for Dogs by The Nest
If you want to make several low-cost playground obstacles for a dog to play with, then the easy to make play equipment for dogs on The Nest is a great place to start. From sandboxes to DIY tug-of-war toys, they have several great toys that are easy to make and fun for your dog and even you. All of these pieces of equipment are low-cost to build and you can make most of them with things you already have laying around your home!
---
3. Dog Playground in 5 Hours by Hometalk
This dog playground by Hometalk is an easy to build obstacle that has many different uses for a dog. From running up and jumping over, to barreling through the tire tunnel in the center, it's a very useful and creative piece of equipment. It's crafted completely from old scrap that's lying around. You can easily recreate this with leftovers from other projects. It's extremely low-cost and simple to build in just a few hours.
---
4. Build Your Own Agility Jumps from Gone to the Snow Dogs
You can easily build these DIY agility jumps from some PVC pipe, a few connectors, and a pair of Jump Cup Strips. They're very easy and quick to build but they offer excellent function. You can adjust the height of the pole all the way up to 26 inches, which is great for agility training.
---
5. Dog Agility Equipment DIY by Dogsaholic
These puppy playground pieces are agility-oriented to help your dog stay in great shape physically and mentally. From several types of tunnels to weave poles and more, you'll learn how to build a dog playground and obstacle course pieces. They're all easy to make using low-cost materials that you probably already have laying around. With so many options available, you're sure to find several that are perfect for your pet.
---
6. DIY Dog Agility A-Frame by Instructables
This DIY Dog Agility A-Frame is a great piece of playground equipment that dogs love. More than that, it's also great exercise for them that expends energy and helps them stay strong and swift. It's a simple device to build out of wood you can purchase inexpensively at any home-improvement store. Your dog will love it and they won't even know that it's good for them.
---
7. How to Build a Dog Agility Course by WikiHow
How to Build a Dog Agility Course will take you through all of the steps to creating a backyard agility playground for your dogs. You'll learn about planning it out, deciding on different types of obstacles for your dogs to play with, and how to build a dog playground and include each different type of obstacle. Several different layouts are available for you to look at and learn from so that you can create a unique playground experience for your dog that they'll never get bored of.
---
8. DIY Backyard Playground for Your Dog by Leatherman
One obstacle is not going to be enough for a very active dog. Thankfully, this DIY Backyard Playground for Your Dog is packed with many different obstacles and pieces of playground equipment that will keep your dog entertained and happy. You'll learn to make PVC pipe jumps for your dog, tire jumps, sandboxes for them to dig in, weave poles to improve their agility and balance, tunnels to run through, teeter boards to balance on and more. They're all very inexpensive and easy-to-build obstacles that you could start today.
---
9. How to Build a 3-Part Dog Agility Course by DIY Network
Whether you just want to let your dog run free and play or you want them to do structured exercise on the equipment you build, How to Build a 3-Part Dog Agility Course will instruct you how to build three different obstacles that your dog will love. With just a little DIY experience, you can easily build these obstacles as well, and your dog will have a backyard full of fun obstacles to enjoy.
---
10. How to Build a DIY Dog Agility Course by This Old House
With just a few common house tools, a bit of DIY enthusiasm, and a few lengths of PVC pipe, you can learn How to Build a Dog Agility Course in an afternoon. Your dog will have a blast teetering over the teeter-totter, weaving in and out of the weave poles, and leaping over the adjustable height jump. And you'll love how inexpensive and easy they are to build.
---
11. How to Build a Backyard Agility Course by Wideopenpets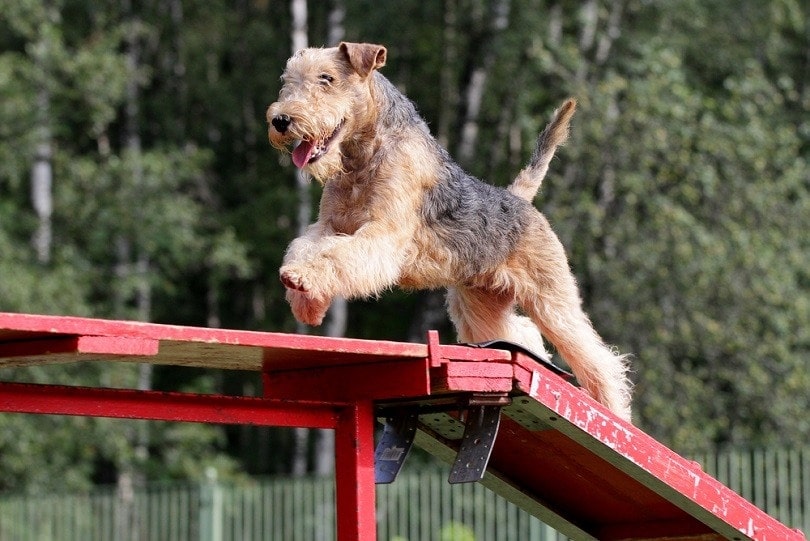 If your dog has tons of excess energy, then How to Build a Backyard Agility Course will show you how to build several pieces of backyard playground equipment to help your dog put that energy to good use. From tunnels to teeter-totters and plenty more, you can make these simple obstacles today and give your dog the treat of a personal playground right there at home.
---
12. Elaborate Backyard Dog Playground from The Dodo
This Elaborate Backyard Dog Playground is a sight to behold. Any dog would go wild with so many incredibly fun things for them to do. Climbing, running, swimming and more are all possible in this exquisite backyard canine playground. Hanging ropes let them jump and chew and play. There's even a fire hydrant! Plus, there's plenty of space for them to lounge around the pool while they soak up the sun in comfort.
---
13. PVC Puppy Play Gym by PVC Fittings Online
If your dog is still in the puppy stage, then the PVC Puppy Play Gym is a great mini-playground you can build for them today! It's made from PVC pipe with a few little chew toys dangling from the top. The entire construction will take less than an hour and the cost is minimal. Keep your puppy entertained and enjoy watching them play around with their new toys!
---
14. How to Create a Backyard Dog Park by Install it Direct
If a few obstacles in the backyard aren't going to cut it for your dog, then you should learn How to Create a Backyard Dog Park. All the instructions are there to help you with every step, starting from an empty lot and finishing with a fully functional dog playground. You'll learn how to plan it, what kinds of obstacles and toys to include, how to position everything, and even how to make the different obstacles you've chosen. Packed full of fun ideas for your dog, we're sure you'll find something to love here.
---
15. DIY Pet Agility Course by Heart of Florida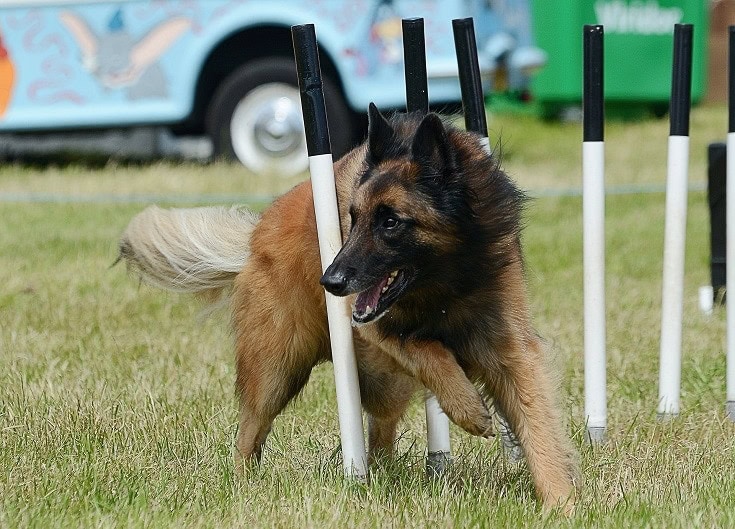 This DIY Pet Agility Course will make a great addition to any pet owner's back yard. The obstacles included are very easy to build, but give your dog lots of versatility in how they play. You can use them to help train your dog, or just let them run around and have a good time as dogs do. All the materials and instructions are there to build several different low-cost DIY dog playground pieces at home. You'll make tunnels, teeter boards, weave poles, and plenty more to provide your pup with the backyard playground from their dreams.
For more awesome dog DIYs check out these posts:
---
Featured Image Credit: PxHere