10 Best Dog Water Bowls of 2023 – Reviews & Top Picks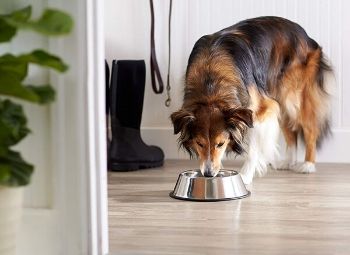 Gone are the days where you use leftover plastic containers for your dog's water bowl. Sure, they are great when you are in a bind, but you want something more durable and aesthetically pleasing. Our dogs may only care about drinking fresh, clean water, no matter how they get it, but it is important for us to take good care of them so they are happy and healthy, which includes providing them with a nice water bowl.
Once you start researching, you will realize there are many types of dog bowls with different features. You want a good bowl that you don't have to spend a great deal of money on, yet you want it to be durable enough to make it worth your investment.
Therefore, we have put together a reviews list of the 10 best dog water bowls. Our buyer's guide near the end of the article will help you distinguish between the features that are offered with a water bowl, so you can find the one that is right for you and your dog.
---
Our Favorite Picks of 2023 Compared:
Rating
Image
Product
Details

Best Overall

Road Refresher No-Spill Dog Water Bow

Reduces messes
Reduces spills
Great for traveling
Check Price

Best Value

AmazonBasics Stainless Steel

Stainless steel
Rust resistant
Non-slip bottom
Check Price

Premium Choice

YETI Boomer Non-Slip

Durable
Non-slip bottom
Great for camping and hunting
Check Price

K&H Thermal

Prevents water from freezing
Holds 96 ounces
Energy efficient
Check Price

Upsky No Spill

No-spill design
Affordable
Great for travel
Check Price
The 10 Best Dog Water Bowls Reviewed:
1.

Road Refresher No-Spill Dog Water Bowl- Best Overall
This dog bowl is great for dogs who are messy drinkers. There is a floating plate that sits atop the water bowl that releases water when pressure is applied.
We like that it won't spill any water even if you happen to bump or trip over the bowl. It is great to take traveling since it has optional Velcro feet fasteners to secure it in place. The company offers different sized bowls to fit your dog's stature. This bowl will hold approximately six cups of water, so you can use it with larger dogs who drink more water at one time, reducing how often it has to be refilled in one day.
It is dishwasher safe, making it a breeze to clean, and the bowl has a curved sleek design in an earth-tone color that goes well with any décor. We like that it is BPA free, non-toxic, and heat-resistant. On the downside, there are extra pieces to clean but it is easy to refill. However, we still think that this is the best dog water bowl of 2021.
Reduces messes
Reduces spills
Great for traveling
Dishwasher safe
Affordable
---
2.

AmazonBasics Stainless Steel Dog Water Bowl – Best Value
The AmazonBasics is the best dog water bowl for the money since it is rust-resistant and easy to clean, being dishwasher safe. You can also hand-wash and/or wipe down this bowl quickly. This bowl is made from stainless steel, so it won't hold odors. The base is covered in rubber to offer a no-slip grip to prevent spills and protect your floors from any damage.
It holds 38 ounces of water and can be used for dry food, wet food, or treats. This bowl is an affordable price and looks great with any décor. On the negative side, this dog bowl is not that large, so it is best suited for smaller to medium-sized dogs if you don't want to refill the water frequently. This bowl did not make the number-one spot since it does not offer all the same positive features as the Road Refresher.
Stainless steel
Rust resistant
Easy to clean
Affordable
Non-slip bottom
Holds only 38 ounces of water
---
3.

YETI Boomer Dog Water Bowl – Premium Choice
This premium choice is designed to last for many years. It is made from 18/8 stainless steel and is puncture and rust-resistant. We found that it is quite durable and made of high-quality materials. We like that there are six color choices, so you can pick the one that fits your personal preference.
There is a no-slip ring on the bottom that prevents slippage and will protect your floors if your dog slides or drags the bowl. The YETI will hold 32 ounces of water, and since it is durable, it is a great option to take traveling, especially camping and hunting.
This bowl would work well for holding kibble and treats too, as it has deep sides, though this may make it difficult for smaller dogs to use. We like that the water stays cooler longer in this bowl due to the thickness of the stainless steel, which helps insulate it more effectively. The YETI sits in the number-three spot since it is pricey and the Road Refresher and AmazonBasics offer great features at a more affordable price.
Durable
Great for camping and hunting
Stainless steel
Dishwasher safe
Non-slip bottom
---
4.

K&H 2010 Thermal Water Bowl for Dogs
If your pet is outside in the cold weather for any period of time, a thermally heated bowl is a must to prevent the water from freezing. We like that it will work down to 20° Fahrenheit below zero. The design has all the electronics safely sealed inside the bowl to prevent injury from electrocution.
The cord is 5.5 feet in length and is encased in a steel wrap that protects the cord from chewing and daily wear and tear. It is a large bowl that holds 96 ounces of water, so you won't have to refill it frequently. It is energy-efficient, using only 25 watts when plugged in.
The bowl is made from a BPA-free, durable plastic that will also stand up to cold temperatures without cracking. On the downside, this has to be washed by hand, but it is an affordable price and comes with a one-year warranty.
Prevents water from freezing
Long cord
Energy efficient
Affordable
Holds 96 ounces
---
5.

Upsky 003 Dog Water Bowl
The Upsky is another option for an affordable no-spill water bowl. It is designed with a floating cover that allows your dog to drink the water without making a mess. It holds 35 ounces and has grips on four edges to prevent slipping and to protect your floors from damage.
It has a square design that makes it difficult to tip over, even if you happen to trip over it. We found that it has a low center of gravity, which makes it stay put wherever it is placed.
The Upsky is a good option for traveling, since it won't slosh water out when you drive on rough roads, but it will take some time for your dog to get used to it because they will have to put slight pressure on the floating cover to get water to flow upward. Another negative is that there are many parts to this bowl, so it takes more time to clean, and it's not dishwasher safe.
No-spill design
Holds 35 ounces
Non-slip bottom
Great for travel
Affordable
---
6.

TagME Dog Dripless Water Bowls
This dripless water bowl offers the same concept as the others on the list: It has a floating disc that only allows a certain amount of water to come out at once, preventing your dog from getting water all over their jowls and making a mess.
These types of bowls are also good at keeping dust and debris out of the water if you place them outside. This bowl is dishwasher safe, but keep in mind that there are multiple parts to clean. It holds 32 ounces of water when filled two-thirds of the way, so it is a great size for small to medium-sized dogs. It has non-slip pads on four corners of the bowl, which keeps it in place and protects your flooring.
On the downside, a small amount of water can become trapped within the floating plate, which may have the potential for mold growth if not kept clean.
Affordable
Dripless design
Great for outdoors
Non-slip
---
7.

COMSUN Collapsible Dog Bowls
The COMSUN is a portable dog bowl that collapses when not in use. It comes with a carabiner to easily attach it to a backpack or suitcase for easy access. It holds an adequate 25 ounces when filled with water, and it is made from silicone that is BPA free. We like that it is non-slip when placed on a smooth surface.
This bowl is easy to clean — you can hand wash or place it on the top rack of your dishwasher. It is also easy to pop open and collapse. On the downside, the COMSUN is not ideal for everyday use, since it is small and does not hold a large amount of water.
We found that this bowl is easy to tip over due to its tapered design, but if you are only using it for a short period of time, this shouldn't be an issue. This is a great option for people who backpack or hike with their dogs, since it is portable and easy to use.
Portable
Collapsible
Holds 25 ounces
Easy to clean
Affordable
Non-slip silicone
Easy to tip over
Not for everyday use
---
8.

Bergan Standard Dog Water Bowl
The Bergan is a stainless-steel bowl that is simple in design and easy to use. It is dishwasher safe, resists rust, and blends well with any décor. It is large and will hold 17 cups of food or water, which makes it ideal for larger breeds.
Unfortunately, this bowl does not have a non-slip bottom, so it does slide around easily on hard floors. The stainless steel of this bowl is thin and has the potential to dent easily if you have a destructive dog. It is also lightweight, so your dog can tip it over and drag it around if so inclined. On the positive side, this bowl is affordable for dog owners on a budget.
Stainless steel
Dishwasher safe
Easy to use
Affordable
Large size
Not as durable
Lightweight slides easily
---
9.

Park Life Designs Pet Water Bowl
This is a heavy bowl made from stoneware, so it is strong and chew-proof. It comes in a variety of colors and designs. We like that it is food-safe and lead-free ceramic. It's also dishwasher safe, and you can use it in the microwave.
This bowl is ideal for small to medium-sized dogs since it holds up to four cups of water. On the downside, because the bowl is ceramic, it has the potential to chip and break when handling or if you have a destructive dog. Unfortunately, it does not have a non-slip bottom and has the potential to scratch hard surfaces if dragged around. One advantage is its weight, so it doesn't shift as easily if you have an exuberant drinker.
Strong
Variety of colors
Lead-free
Easy to clean
Small in size
Damages easily
Potential to scratch surfaces
---
10.

Peggy 11 Stainless Steel Dog Water-Bowls
The Peggy 11 is a stainless-steel bowl with a silicone bottom. It is rust-resistant and can be washed in the dishwasher. It will hold up to eight cups of water and comes in different sizes to accommodate different dogs. The two-pack is an affordable option if you need both a water and food bowl for your pet.
The stainless steel is thin and bends easily when the sides are pressed, so it will not hold up to a destructive dog. We found that the silicone base is not attached securely to the bottom and may fall off after repeated washings. Also, some users have had issues with rust spots on their bowls within a short period of time after purchasing.
Stainless steel
Easy to clean
Affordable
Thin
Flimsy
Silicone falling off
Develops rust spots

Buyer's Guide: How to Pick the Best Dog Water Bowls
When looking for a dog water bowl, there are many considerations to keep in mind. This buyer's guide will go over what features to look for when buying a water bowl. This section will help you narrow down what type of dog bowl you need, the one that will work best for your pet.
Material
Dog bowls can be made from a variety of materials, the most common being plastic, stainless steel, and ceramic. Let's briefly go over each type.
Plastic: These are typically made from strong polypropylene, with higher quality ones being BPA free. The negative with plastic is that it can absorb odors and stain over time. Though it won't rust and is generally durable, some of the lower-grade plastic won't be as chew-proof compared to others.
Stainless steel: The main benefit of stainless steel is that it is lightweight and rust-resistant. How thick the steel is will determine how durable the bowl is. The best stainless steel for a dog bowl is referred to as type 304 (18/8). You will notice the difference in quality with thin stainless steel if it bends and dents easily. Good stainless steel is chew- and odor-proof, but if not made well, it can be damaged by destructive dogs.
Ceramic: This is an option if you prefer something heavy and easy to clean. Sometimes they will be microwave safe and most are dishwasher safe. Check the paints and glazes used on these to make sure that they are free from lead. On the negative side, these can chip and break easily. As such, ceramic bowls are not ideal for destructive dogs.
Non-Slip Bottom
A silicone or rubber bottom is ideal if you have an exuberant drinker, as this will allow the bowl to stay in place. It will also protect your hard flooring from scratches if the bowl does slide around. The rubber can wear down over time and may not adhere as well if cleaned in the dishwasher frequently.
Size
The size of your dog will help determine the size of the bowl needed. Did you know that an average dog needs 8.5 to 17 ounces of water per 10 pounds of weight per day? This will increase depending on their activity level, age, and size. The larger the dog, the more fluids they require.
If you are traveling, you will want a small, compact bowl for ease of use, since you will be filling and refilling it frequently. If you are at home, you want a bowl that holds enough water to last at least the day, so you won't need to remember to check it every few hours.
Also, you don't want a bowl that is too big for your little dog. If it is too tall, it will be hard for your pet to get a drink, and there is a high probability of accidents happening as the dog tries to access the bowl and causes it to tip over.
Ease of Use
You want a bowl that is easy to clean. If there are multiple parts, they shouldn't be difficult to take apart and clean. Dog bowls need to be cleaned regularly to prevent bacteria and mold from growing, so it's a nice feature if they are dishwasher safe. It's also great if they can be easily wiped down in between washings.
Type of Bowl
This list includes many no-spill bowl designs. These are great if you have a dog who tracks water from one end of the house to the other when drinking. To reduce messes, no-spill bowls will emit a small amount of water when the floater is compressed. Your dog will still receive plenty to drink, but it makes it so that they don't slurp up so much in their jowls and the water just ends up on the floor.
The downside to these types of bowls is the multiple parts that have to be cleaned. It's an added step, but it may be worth it so you don't have to clean up a water mess every time your dog takes a drink. Also, controlling the drinking speed reduces the chances of bloating and vomiting that can happen for some dogs who drink too fast.
If you want a bowl for on the go, you will need to take into consideration the weight and design of the bowl and what type of traveling you will be doing. Keep in mind that some dogs won't like the design or material of some bowls, whether it is due to the odor or ease of use.
Many bowls are made from food-grade silicone nowadays, and some will offer a collapsible design. These are good for traveling since they are also lightweight and easy to clean. These have the potential to last for many years.
It can be a nice feature if the water bowl can also be used as a food bowl. Most people will have two bowls at home, but again, if you are traveling, it may be more convenient to bring one bowl that can be filled with both food and water.
Price
If you stick with a simple bowl, the price will stay on the low end, but once you add more features and options, the price increases. Much depends on what you are going to use the bowl for and your expectations. If you want one that will potentially last for the lifetime of your dog, you may want to consider a durable and well-made bowl that is designed to withstand long-term wear and tear.

Conclusion:
You've realized that after doing some research, there are so many types of dog bowls— and they all seem to differ in price and quality. Our reviews list was made to help you find the perfect bowl for your pet.
The best dog bowl is the Road Refresher, which is ideal for preventing spills and messes, while also great for traveling. The best value for your money is the AmazonBasics stainless-steel bowl, which holds 38 ounces of water and has a no-tip design. Our premium choice is the YETI stainless-steel bowl, made from quality materials that are great for the adventure-loving dog.
We hope that this information will help you decide what type of bowl is best for your dog, as well as one that fits your budget and expectations. Your dog may not be able to say the words, "thank you," but they will certainly appreciate the fact that you care enough to find a bowl that works well for them.
We wish you good luck with finding the best dog water bowl for your furry friend. Thanks for reading!
See also: