5 DIY Dog Pools You Can Build at Home Today (With Pictures)

Dogs love to play in the water. Especially in the summer sun, it can be a great way for them to exercise and let off that excess energy while having a great time. If you have a little DIY spirit, you can easily build them a great pool for a low cost and give them the joy of a great new toy. Whether you want something you can throw together or you want a professional-looking permanent addition to your backyard, you could learn how to build a dog pool today.

5 DIY Dog Pool Plans
1.

DIY Dog Pool by Instructables
Description
Difficulty: Easy/Beginner
Materials: Plywood, screws, tarp, screw gun

Instructables has plans for an ultra-simple DIY dog pool that you can build yourself in just a few minutes with only a minimal amount of experience. It only uses a few materials, and the only tool you'll need is a screw gun. The bottom and sides are cut from a single sheet of plywood. Once screwed together, a plastic tarp is placed inside to make the box watertight. The tarp is attached to the outside of the wooden box so it stays in place. Then fill it up with water and watch your dogs have the time of their lives!
---
2.

April Wilkerson's DIY Dog Wading Pool
Description
Difficulty: Advanced
Materials: Pressure-treated 2×6 and 2×4 boards, 1×4 boards for the decking, Titebond wood glue, plastic kiddie pool, wood stain, drain pipe for the pool, screws, screw gun, saw

April Wilkerson offers another DIY Dog Wading Pool. This one is constructed from wood and a plastic kiddie pool, and it even offers shade for your furry companions. It's an advanced build, and it will require a good level of DIY skill, as well as several tools. You'll construct the main support and the deck first, leaving a cutout for the kiddie pool to drop into. For aesthetics, the wooden deck can even be stained so it looks finished. The final result is a beautiful wading pool for your pups that even offers protection from the summer sun.
---
3.

Hay Bale Swimming Pool from Simplemost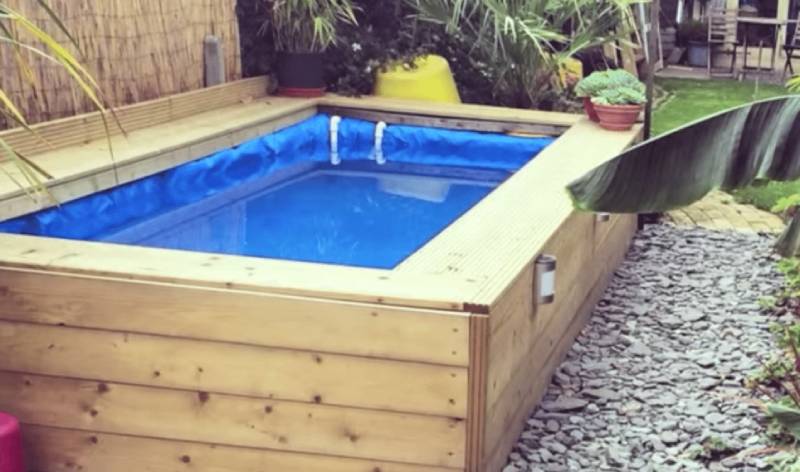 Description
Difficulty: Moderate
Materials: Hay bales, ratchet strap, large tarp, heavy-duty tape

Simplemost offers plans to build a hay bale swimming pool that's a great solution for bigger dogs. Larger breeds of dog may not be able to fit into the smaller pools that are built around plastic children's pools. This one is constructed from hay bales set around a hole that was dug into the ground. A large tarp is used to cover the entire pool so it will hold water and a ratchet strap is used to hold it in place. You could stop there, but if you want a beautifully finished pool that looks like it's meant to be there, then you might follow the instructions to build a wooden deck around your new doggie hay bale pool!
---
4.

Above-Ground Pallet Pool by Awesomejelly
Description
Difficulty: Moderate
Materials: Wooden pallets, extra-long ratcheting straps, large plastic tarps

This low-cost pool from Awesomejelly is framed entirely out of old wooden pallets. The pallets are held together with large ratcheting straps that span the entire circumference of the pool. Large tarps are used to cover the interior of the pool so it will hold water. For looks, you can attach anything around the exterior such as the wood panels used in the instructions. This pool is large enough for dogs of any size, and you can even use it for your relaxation as well!
---
5.

ULTIMATE Stock Tank Pool DIY by Stocktankpool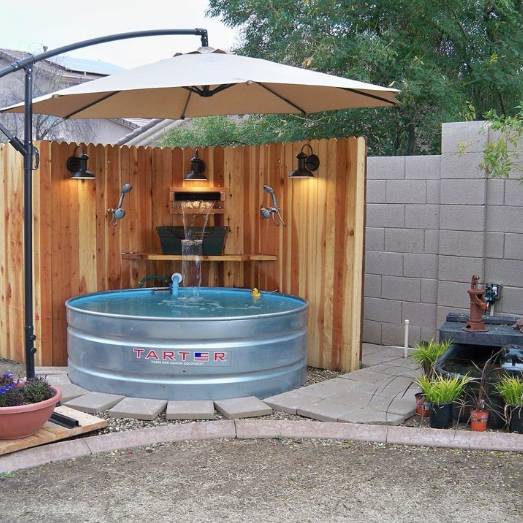 Description
Difficulty: Easy/Beginner
Materials: Stock tank, everything else is optional

Stocktankpool offers instructions for turning any regular stock tank into a great DIY stock tank pool that your dogs will love to play in on hot summer days! Stock tanks are available in many different sizes and shapes, and you can pick one that's the right size for your pups. You can use the stock tank as it is and just fill it with water, or you can follow these instructions to install a drain, a pump, or even a deck around your stock tank puppy pool!
---
Featured Image Credit: lbharbor, Shutterstock