15 DIY Guinea Pig Cage Plans You Can Build Today (With Pictures)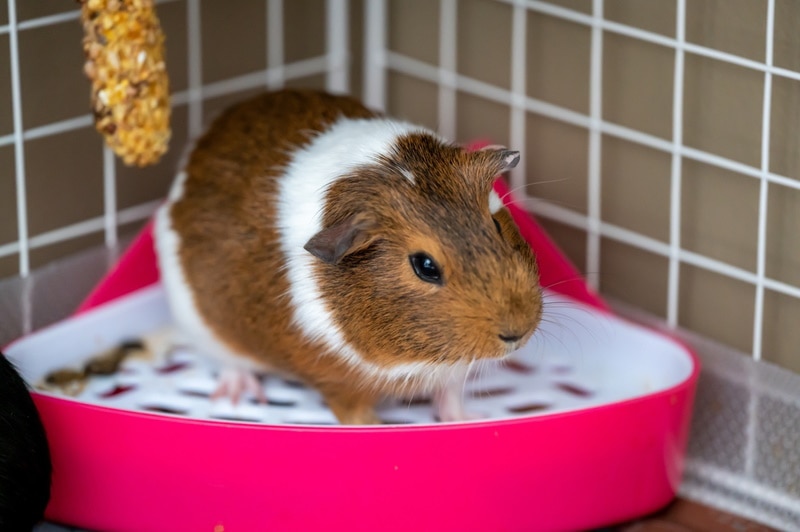 A sturdy cage is an important part of owning a guinea pig, and unfortunately, many of them can be expensive. However, if you are crafty, you may be able to save yourself a couple of bucks by constructing your guinea pig's cage yourself.
Many of these plans may require woodworking, but not all of them will. If you are comfortable with power tools, check out these DIY guinea pig cage plans and decide which one you may want to build today.
The 15 DIY Guinea Pig Cage Plans
1.

DIY Outdoor Run Cage by Guinea Pig Corner
| | |
| --- | --- |
| Materials: | Wooden frames, plywood, wire netting |
| Tools: | Hammer and nails |
| Difficulty Level: | Easy |
To give your guinea pig safe outdoor access, consider building this outdoor run cage. There is no flooring for this cage, allowing your guinea pig to roam in the grass while still remaining secure in his enclosure. During the colder months, you will want to use this cage indoors only.
This DIY plan is a good introduction to woodworking since you'll primarily be using a hammer and nails. The only materials you will need are wire netting, wooden frames, and plywood.
---
2.

DIY Multi-Pet Cage by All Guinea Pig
| | |
| --- | --- |
| Materials: | Corrugated board, a playpen, zip ties |
| Tools: | Scotch tape, razor knife, scissors, roulette, sharpie |
| Difficulty Level: | Easy |
For households with multiple guinea pigs, check out this multi-pet cage project. This DIY plan provides plenty of space for several guinea pigs to run around and play, although the maximum amount is around four guinea pigs.
This project does not require any woodworking, but you should be skilled with your hands. Another benefit of the multi-pet cage is that it allows for a high level of creativity. If you don't like the layout of the cage shown in the tutorial, you are free to adjust the dimensions to build the cage that is right for you.
---
3.

DIY Guinea Pig Penthouse by Instructables
| | |
| --- | --- |
| Materials: | Plywood, hinges, non-marking casters |
| Tools: | Wood screws, wood glue, table saw, belt sander, router with a circle jig, brad nailer, drill |
| Difficulty Level: | Intermediate |
If you have a handful of power tools and know how to use them, try putting them to use with this guinea pig penthouse DIY project. This plan walks you through creating a guinea pig cage that can blend in perfectly with your furniture. Additionally, there is a storage area built beneath the cage that you can keep your pet's supplies in. This plan is moderately difficult, so you need a couple of hours to construct this cage.
---
4.

Cheap and Easy DIY Outdoor Run by Instructables
| | |
| --- | --- |
| Materials: | Sawn timber, wood screws, wire netting |
| Tools: | Staple gun, hammer, drill, cross blade screwdriver, saw, wire cutters |
| Difficulty Level: | Easy |
For a cheap and easy outdoor run, take a look at this DIY plan. This cage consists of four simple walls covered in wire netting. There is no roof or flooring on the cage, but you can add them if you desire. Otherwise, this cage makes a great outdoor enclosure during the warmer months.
Since the design is fairly simple, it is great for woodworking beginners. You will need some power tools, such as a drill and a saw, but nothing too complicated.
---
5.

Plastic DIY Bin Cage by Hammy Happenings
| | |
| --- | --- |
| Materials: | Plastic bin, zip ties, mesh or hardware cloth |
| Tools: | Serrated knife, wire cutters, scissors, marker, soldering iron and mask (optional) |
| Difficulty Level: | Easy |
This is another DIY project that requires no woodworking skills. If you can measure and cut, you can complete this plastic bin cage.
By cutting a large, rectangular hole into a plastic bin and covering it with mesh, you can make a simple cage for your guinea pig. The tutorial shows a fully decorated version, but if you prefer to leave the plastic bin plain on the outside, that's perfectly fine and probably a cheaper and quicker way to construct a cage.
If you want to get creative, you can construct two or more plastic bin cages and connect them with tubing for your guinea pig to travel through. In short, this project can be as simple or as complex as you want it to be, as it is highly customizable.
---
6.

DIY Two-Story Hutch Home by Rogue Engineer
| | |
| --- | --- |
| Materials: | Wooden panels, premium studs, pocket screws, wood screws |
| Tools: | Pocket hole jig, drill, miter saw, circular saw/table saw, jig saw, measuring tool, pencil |
| Difficulty Level: | Intermediate |
While the tutorial specifies that this plan is for a rabbit hutch, it can easily be used to house any small pet—such as a guinea pig. This two-story cage is a great hutch for either indoor or outdoor living. The size may make it a bit difficult to move in and out of your house, so make sure you can transport it indoors when the colder months roll around.
You need to be handy with power tools to complete this guinea pig cage. It is a moderately challenging project that will take a significant chunk of time to complete, so be sure you are prepared to dedicate several hours to constructing this cage.
---
7.

Simple DIY Cage by PetHelpful
| | |
| --- | --- |
| Materials: | Coroplast sheet, grid cube squares, large zip ties |
| Tools: | Duct tape, box cutter, scissors, pencil, measuring tool |
| Difficulty Level: | Easy |
This simple cage is larger than the average guinea pig cage you can buy at a store. Even better, it is cheap and easy to make! You don't need woodworking abilities to craft this cage, just the proper materials and tools to tie everything together. With coroplast sheets, grid cube squares, and zip ties, you can create a cage for your guinea pig in no time. As long as you can measure accurately and cut precisely, this DIY plan will be a breeze.
---
8.

Massive DIY Cage by Instructables
| | |
| --- | --- |
| Materials: | Wood, plywood, plexiglass, wire screen, sandpaper, wood glue, caulk, pocket hole screws |
| Tools: | Miter saw/hand saw, measuring tool, router, sander, screwdriver, clamps |
| Difficulty Level: | Intermediate |
Households with multiple guinea pigs will find this massive cage incredibly useful. The maximum number of guinea pigs recommended to be in this cage at a time is three, so if you need more room, you can adjust the measurements of the DIY plan accordingly.
Another great benefit to this massive cage is that the base of the cage is a storage area for your pet's care items. This allows you to keep all of your pets supplies in one organized location. This project will require the use of power tools, so make sure that you are comfortable with tools such as miter saws or handsaws.
---
9.

DIY Guinea Pig Dollhouse by Instructables
| | |
| --- | --- |
| Materials: | Dollhouse, garden fencing/netting, wood |
| Tools: | Hot glue gun, spray paint, paper clips, staple gun, razor knife or scissors |
| Difficulty Level: | Easy |
Plenty of toys get tossed out as kids grow older. But if you have a dollhouse that is no longer being used, you can repurpose it into a home for your guinea pig. Through this tutorial, you can transform old toys into new and exciting play places for your pet to roam. Even better, you won't need any woodworking experience to complete this project.
Additionally, you can customize this plan to suit your guinea pig's needs or match your home's interior decoration. With spray paint or other decorations of your choice, you can create a guinea pig cage that is entirely unique.
---
10.

The DIY Grand Hotel by Instructables
| | |
| --- | --- |
| Materials: | Wooden boards and bars, plywood, enamel paint, screws, PVC panels |
| Tools: | Saw, screwdriver, tape measure, angles |
| Difficulty Level: | Difficult |
For more experienced DIYers, check out this grand hotel plan. This project requires skillful woodworking, so ensure you are up for the challenge before diving in. Even for practiced woodworkers, this project will take several hours to complete.
This elaborate cage can provide plenty of indoor and outdoor space for your guinea pig. It is too large to move indoors during the colder months, so you will need to have another cage kept indoors so your pet doesn't get cold.
---
11.

Coolest DIY Guinea Pig House by Instructables
| | |
| --- | --- |
| Materials: | MDF wood, corner brackets, magnets, fabric, paint, wood glue, adhesive plastic foil |
| Tools: | Paintbrush, scissors, hand saw |
| Difficulty Level: | Difficult |
Are you looking for a guinea pig cage that stands apart from the crowd? Then look no further than this incredible guinea pig house. The enclosure looks more like a dollhouse than a cage, giving your pet's space a little more personality.
This project is best left to the more experienced DIYers, as it requires power tools. If you're up for the challenge, this guinea pig cage can become an adorable new addition to your home.
---
12.

Outdoor DIY Guinea Pig House by DIY Danielle
| | |
| --- | --- |
| Materials: | Wood, coroplast, hardware cloth, outdoor thermometer, PVC pipe, screws, nails, staples, sandpaper, fabric, hook closure, glue sticks |
| Tools: | Shovel, screwdriver, sander, staple gun, glue gun, jigsaw |
| Difficulty Level: | Difficult |
With this DIY plan, you can construct a massive, elevated hutch for your guinea pig. The plan includes ramps, awnings, cages, and accessible spaces beneath for your guinea pigs to explore. This hutch has plenty of room to house multiple guinea pigs.
The size of this cage alone makes this project a massive undertaking. At the very least, the hutch will take all day to construct, but it is more likely to take more time than that. Also, you'll want to note that this is an outdoor-only enclosure, so if you have no desire to house your guinea pigs outside, this may not be the right fit for you.
---
13.

Extended DIY Hutch Home by Instructables
| | |
| --- | --- |
| Materials: | Wood staples, wire netting, wood, latches, screws |
| Tools: | Drill, jigsaw/circular saw, measuring tool, wire cutters |
| Difficulty Level: | Intermediate |
If you're looking for another outdoor project, take a look at the extended hutch home. This project combines a guinea pig hutch and cage to provide plenty of space for your little pet to roam. Although it requires power tools to complete, the cuts needed are not exceptionally difficult. You may want to have a little experience with power tools, but you don't need to be an expert. Another benefit to this project is that it is highly customizable, as you can alter the layout of the hutch and cage to your needs.
---
14.

DIY Cardboard House by Instructables
| | |
| --- | --- |
| Materials: | Cardboard, caging |
| Tools: | Non-toxic glue, razor knife |
| Difficulty Level: | Easy |
If power tools and heavy construction isn't really your thing, you may be interested in the cardboard house plan. With plain caging and a simple cardboard box, you can craft the perfect enclosure for your pet.
The only tools you will need to create the cardboard house are a razor knife and non-toxic glue. The house can be as plain or as decorated as you desire, so the difficulty of this project is entirely up to you and your creativity.
---
15.

Wooden DIY Crate Enclosure by Instructables
| | |
| --- | --- |
| Materials: | Wooden boards, zip ties, copper wire |
| Tools: | Drill, hacksaw, square pliers |
| Difficulty Level: | Easy |
The wooden crate enclosure is a simple yet effective DIY cage that you can make today. You can construct the wooden enclosure with boards and ties, or you can purchase a wooden crate pre-made. If you plan to construct the enclosure, you should be experienced with a drill and a hacksaw. Regardless of how you create the wooden enclosure, you can then fill it with all of your guinea pig's necessities to make it an effective cage. Make sure that the enclosure is large enough for your pet to stretch its legs.
Final Thoughts
It is important that our guinea pigs have excellent cages since their enclosures will be where they spend a significant amount of time. While there are excellent store-bought options, those cages can be expensive and impersonal. But by DIYing your own guinea pig cage, you can create something that you and your guinea pig will adore. We hope that these plans have given you the inspiration you need to create the perfect home for your beloved pet.
---