Do Bettas Eat Snails? Everything You Need to Know!
The Siamese fighting fish, better known as the betta fish, is a popular pet fish that can be found in a range of different colors and fin types. These small fish are notorious for being aggressive and territorial fish, thus making the betta fish a bad choice for community aquariums.
Bettas are notorious for eating smaller invertebrates such as shrimp and snails while chasing and nipping at the fins of other fish if they are kept in the same aquarium.
If you are planning on keeping snails in the same aquarium as your betta fish, and you are worried about these snails being eaten, you should know that it is likely for small species of snails to be eaten by your betta fish, but larger species should be fine.
Can You Keep Bettas and Snails Together?
Betta fish and snails can be kept in the same aquarium, but your betta is likely to eat some of them. That said, snails and bettas can be kept in the same aquarium and snails are one of the best tank mates that you can keep with betta fish.
As an aggressive and highly territorial species of fish, it can be challenging to find a good tank mate for your betta. Bettas and snails typically cohabit peacefully in the same aquarium, but smaller snails are at risk of being eaten by bettas.
Snails are not aggressive towards betta fish, but some betta fish might "pick" on the snails by nipping at them or chasing the snail. This behavior is most noticeable when your betta fish is adjusting to having snails in the aquarium, and it should stop once your betta fish has gotten used to the snail's presence.
Adult species of snails such as the mystery snail, pond snail, apple snail, and rabbit snail are better tank mates for betta fish, since they are too large for bettas to eat, although bettas may still nip at the snails' antennas.
Small species of snails like the nerite, ramshorn, and bladder snail are small enough to be picked on and eaten by bettas. All baby snails regardless of the species are small enough to be eaten by betta fish, so keep this in mind if you want to raise baby snails in the same aquarium as your betta fish.
Are Betta Fish Carnivores?
Betta fish are carnivores both in captivity and in the wild, which is why they will eat snails in the aquarium. If you do not want your betta fish to eat any snails you place in the aquarium, make sure you choose large species of snail. Breeding these snails in a tank with a betta fish can be tricky, as bettas will eat both the eggs and hatchling snails. The shells of hatchling snails are soft enough for a betta fish to chew in their mouth.
If you are wanting to feed snails to your betta fish, keep in mind that snails aren't the best snack for betta fish, and your betta should be eating a staple pellet food specifically formulated for betta fish, alongside freeze-dried or live foods like worms or crustaceans. Overfeeding snails to your betta can lead to bloating, which can seriously harm your betta fish.
While your betta fish may occasionally eat small hatchling snails, the shells of juvenile or adult snails are too hard for your betta fish to chew through. They still might peck at the snails' antennae, causing damage if the snail doesn't retract them in time.
Keeping Betta Fish and Snails Together
Keeping betta fish with snails is quite easy, and these two aquatic creatures can make wonderful tank mates. If you are worried about your betta fish eating snails in the aquarium, it is better to choose snails that are larger and avoid keeping hatchling snails in the same tank as betta fish.
Mystery, apple, and nerite snails can be successfully kept with betta fish if they are adults, as they are too big to be eaten by betta fish. You will need to increase the size of the aquarium if you plan to add snails with betta fish, as the tank can quickly become overstocked and too small to support both the betta fish and new snails.
Snails can be beneficial to your betta fish's aquarium as they eat excess food and even nibble on algae that are growing on surfaces in the aquarium.
A bonus to keeping snails is that they can make your aquarium more interesting, as you get to observe the snail's behavior around the aquarium. Some betta fish might be interested in the snails, but many will simply ignore the snails and pay little attention to the snails in the aquarium unless curiosity gets the better of them.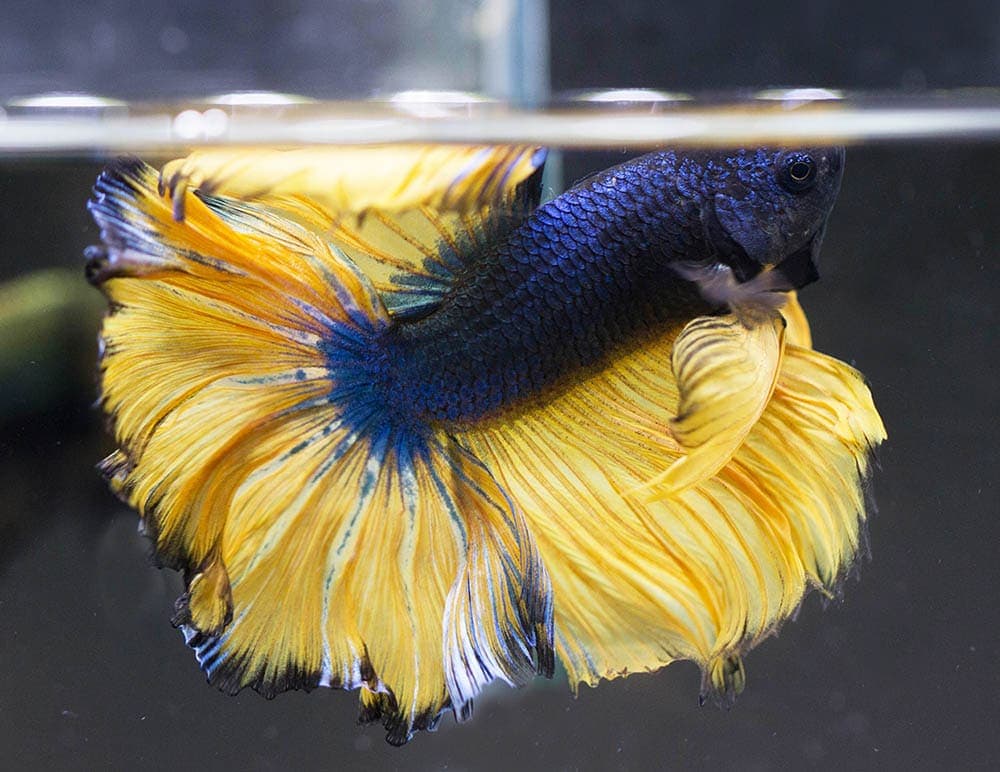 Final Thoughts
Betta fish will eat hatchling snails as these snails are small and soft enough to fit into their mouths. Otherwise, snails and betta fish can live together peacefully, unless you find that your betta fish nips at the snails' antennae which can injure the snail. Larger species of snails are a better option for betta fish, as they are too big to seem like an appealing meal for bettas.
Overall, snails and betta fish can live together in the same aquarium without harming each other, and the snail's shell offers them protection from being eaten by a betta fish.
Have you seen our Betta Fish E-Book? we have put together what we consider to be the Ultimate Betta Care Guide that covers all the essentials and more! you can check what it covers and a sneak peak here.
---
Featured Image Credit: ANURAK PONGPATIMET, Shutterstock