10 Amazing Dog-Friendly Beaches in Galveston, TX (2023 Update)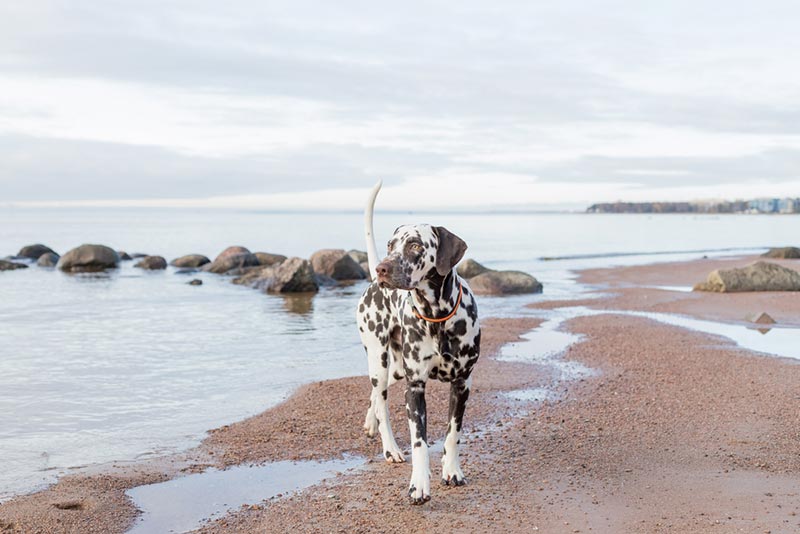 If you are ready to pack up your four-legged best friend and head out for a memorable day on the beach, Galveston is a place that appeals to both people and their beloved pups. This island city off the coast of Southeast Texas is chock-full of dog-friendly beaches and activities.
Dogs are welcome at all beaches in Galveston as long as they are leashed. That's not all though – this place features dozens of eateries with pet-friendly patios and you can even take a leisurely walk through historic downtown Galveston or the East End Historic District with your best bud by your side. 
There is plenty of coastline to explore and many public beach access points that are worth checking out. Here's a list of the dog-friendly beaches that Galveston has to offer. Just don't forget to grab your sunglasses and the leash!

The 10 Dog-Friendly Beaches in Galveston, TX
1.

Stewart Beach
Named one of the "10 Best Beaches for Families" by the Family Vacation Critic.
The park features restrooms, showers, concessions, chair and umbrella rentals, a volleyball court, and more.
The $15.00 parking fee is valid all day.
Dogs must remain on a leash at all times, and you must be prepared to clean up after them.

Hours of operation

vary depending on the season.  
---
2.

East Beach
🗺️ Address:
📍

1923 Boddeker Drive, Galveston, TX 77550

🕐 Open Times:

Weekday Hours- March-May: 9 a.m. – 5 p.m. June – September: 9 a.m. – 6 p.m. 

Weekend Hours- March-May: 9 a.m. – 6 p.m. June – September: 8 a.m. – 7 p.m. 

First two weekends in October: 9 a.m. – 6 p.m.

Third weekend in October – February: Closed

💲 Cost:
Free
🐕 Off-Leash:
No
East Beach is located on the eastern tip of the island.
Dogs are permitted as long as they are leashed and the owner cleans up after them.
East Beach features a boardwalk with an entertainment stage and a pavilion.
There is a children's playground, restrooms, showers, concessions, umbrella and chair rentals, and many other amenities.
This is one of the only beaches in Galveston where

alcohol is permitted

.
---
3.

Sunny Beach
Dogs are allowed but must remain on a leash.
Sunny Beach is a large area that offers plenty of free parking space.
Don't forget to clean up any messes your pets leave behind.
Cars are allowed to park in this area of the beach.
Wonderful, quiet beach to take walks with your dog.
---
4.

Grand Beach
There's a gravel parking lot just past Grand Beach Blvd. that leads to Grand Beach.
Features a boardwalk over the dunes that leads you to the beach area.
Dogs must be kept on a leash at all times.
Very quiet, peaceful area of the Galveston shoreline.
Any messes made by pets must be cleaned up by their owners.
---
5.

Hershey Beach
Parking is allowed on Hershey Beach, but it is limited.
This is a beachside community that features public beach access.
There are plenty of vacation rentals nearby.
Dogs must be kept on a leash and cleaned up after.
---
6.

Bermuda Beach
You can access Bermuda Beach by taking Pabst Road to Bermuda Beach Drive.
This narrow strip of beach permits one row of vehicle parking.
Dogs must remain on a leash and owners must clean up after them.
The Shaved Ice Truck with some delicious treats might just swing by if you're lucky!
---
7.

Jamaica Beach
Located right next to Galveston Island State Park.
Designated areas of the beach are closed to traffic starting the second Saturday of March through the Tuesday after Labor Day.
This is a free public beach with no lifeguards on duty.
Keep your dog on a leash at all times and clean up their messes.
Watch out for snakes in the dunes and keep a safe and respectful distance.
---
8.

Terramar Beach
Parking is right on the beach, just turn at Terramar Drive at the sign and head right to it.
There are vehicle barricades in place.
This is one of the oldest areas of West Galveston real estate and prohibits commercial development.
Great for those looking for a quieter, more relaxed environment.
Dogs are permitted on the beach as long as they are leashed.
---
9.

Miramar Beach
Not to be confused with Miramar Beach, FL, this is a quiet public beach access point on the Western portion of the island.
Leashed dogs are allowed but owners must pick up their waste.
Parking is restricted to the designated area near the entrance.
Vehicle barricades are present to prevent driving down the beach.
---
10.

Half Moon Beach
You can bring your dog, just make sure they are on a leash.
Half Moon Beach is the first Beach Access Point west of Galveston Island RV Resort.
This is the perfect place for those that like to park on the beach.
There are barricades in place to keep vehicles from driving east of the entrance.
Don't forget to clean up any messes made by your pooch.

Conclusion
Galveston is considered a very dog-friendly vacation destination. All beaches up and down its shoreline are dog-friendly but leashes are required everywhere, and owners are responsible for picking up what their dog leaves behind. 
You aren't just limited to the beach, either. There are plenty of other pet-friendly areas around Galveston, including a variety of eateries and parks. While some prefer to allow their dogs off leash for a beach excursion, these rules are in place to ensure the safety of the pets and the people. 
---
 Featured Image Credit: Yulia YasPe, Shutterstock