Top 8 Dog Friendly Beaches in Orange County, CA (2023 Update)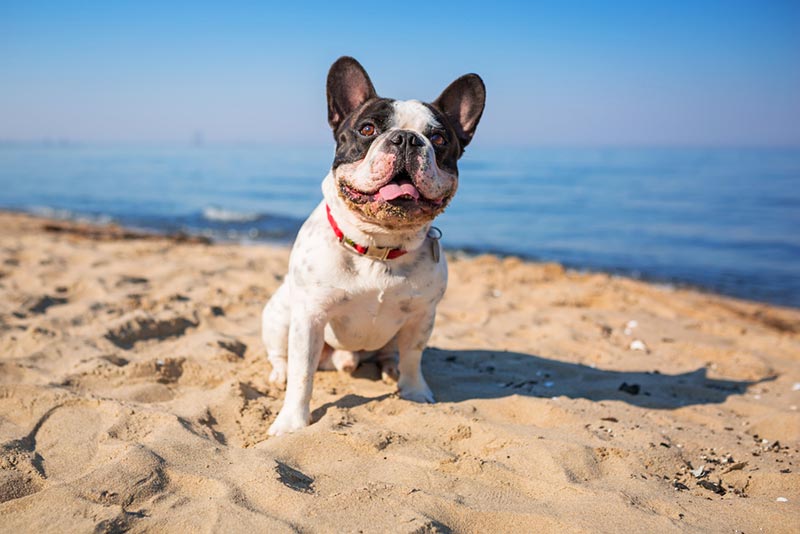 Orange County, California, is known for many things, including being the home of Disneyland, Newport Beach, incredible surfing, Knott's Berry Farm, and more. Orange County also has beautiful beaches, and many of them are dog friendly. That means you can visit with your canine companion, splash around, dig in the sand, and enjoy a memorable day at the beach with your pet. We've featured eight amazing dog-friendly beaches in Orange County below for your perusal and enjoyment!
The Top 8 Dog Friendly Beaches in Orange County, CA
1.

Corona Del Mar State Beach
Dogs are allowed on the beach before 10 AM and after 4:30 PM
The beach is only ½ mile long and gets crowded on weekends
During high tide, the beach gets much smaller
Bring water and waste bags
The beach is closed off by cliffs and a rock jetty
---
2.

Bluffs Beach #1 and #6
The Bluffs Beach beaches are located in San Onofre State Beach
A group of six beaches that share a massive bluff
Beaches #1 and #6 are the two beaches that are dog friendly (with leashes)
The location is spectacular, with gorgeous views
Take the #1 or #6 trail to the beach
Bring water and waste bags
---
3.

Huntington State Beach Dog Beach
This is considered one of the best beaches for dogs in the world
Water and restrooms are available
Bring waste bags, as they tend to run out
Be aware that there are reports of coyotes in the area
Your dogs need to be leashed when entering and leaving the beach.
Parking is located on Pacific Coast Highway
---
4.

Little Corona Del Mar Beach
Leashed dogs are allowed on the beach before 10 AM and after 4:30 PM
There are many tide pools to explore with your pup
You can also snorkel here if you have someone to watch your dog
The beach is located at the end of a ravine called Buck Gully
---
5.

Main Beach Park
One of the most beautiful beaches in Orange County
Dogs are not permitted on the beach from 9 AM to 6 PM from June 15 through September 10
No waste bags are water are provided
The tide plays a role in how much room there is to run around on the beach
On calm days, your pup will be able to splash and play in the water but be careful of undertows
---
6.

Newport Beach
Newport Beach has an ocean side and a bay side, and both have different dog rules
On all bay-front beaches, dogs are allowed before 9 AM and after 5 PM
On all oceanfront beaches, dogs are allowed before 10 AM and after 4:30 PM
Bring your own waste bags and water
There is metered parking that's $1.50 per hour with a 6-hour maximum
---
7.

Rosie's Dog Beach
Waste bags are provided but run out frequently
Dogs are only allowed on the beach and access zones
The calm waves make it easy for dogs to have fun in the water
One of the cleanest dog-friendly beaches in Orange County.
Weekends are very busy at this beach
---
8.

Shaw's Cove Laguna Beach
This beach is relatively small and secluded
Between June 15th and September 10th, the hours are 9 AM to 6 PM
From September 11th to June 14th, the hours are 6 AM to 10 PM
You can park your vehicle along the Pacific Coast Highway
Restrooms are available
Check the tides before visiting
Final Thoughts
As you can see, Orange County, CA, has some pretty amazing dog-friendly beaches. One thing to remember is that, here on the California coast, the tide plays a significant role in the size and safety of the beach. If your pup likes more space or wants to swim, low tide is best. If they like crowds and wilder water, a visit during the incoming tide will be perfect. Whichever beach or time you decide, we hope you and your dog have an exciting and enjoyable time visiting the amazing dog-friendly beaches in Orange County, CA!
---
Featured Image Credit: Patryk Kosmider, Shutterstock