10 Dog-Friendly Hiking Trails in Hawaii You Can Visit in 2023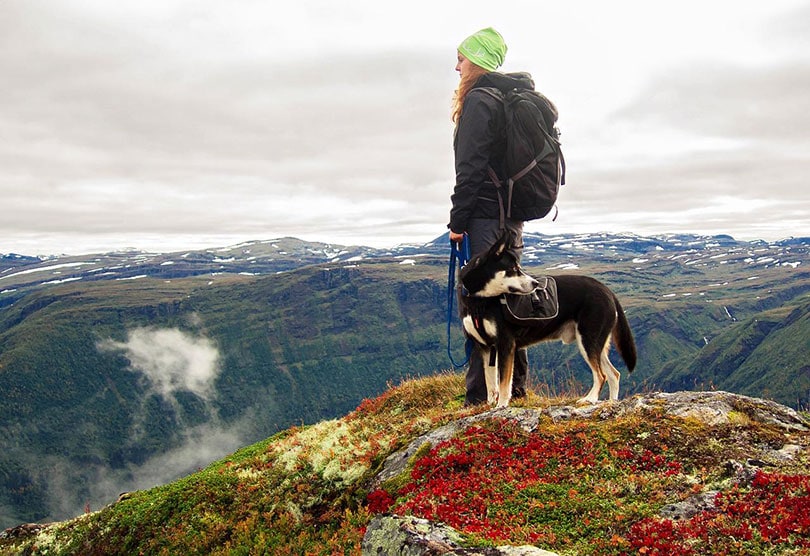 Hiking in Hawaii is a unique experience that enables you to get healthy exercise while taking in a beautiful tropical landscape. If you have a pup that likes to hike too, you might be wondering if there are trails where canines are allowed to accompany you. Yes, there are multiple hiking sites on each of the main Hawaiian Islands that you can traverse with your furry friend! Here are 10 that you don't want to miss out on!

The 10 Dog-Friendly Hiking Trails in Hawaii
1.

Kuli'ou'ou Ridge Trail — Oahu
About 5 miles roundtrip
Hunters can be in the area with their own dogs, so stay on the trail
Campsites are available for overnight visits
Gorgeous open views from the top of the trail
Trail gets steep near the top but is relatively stable the rest of the way
---
2.

Nounou Mountain Trail (Sleeping Giant) — Kauai
4 miles roundtrip
Offers an excellent opportunity to birdwatch while you hike
Trees provide much-needed shade
No water is available for drinking on site, so bring plenty with you
Area tends to stay dry most of the year
---
3.

Likeke Falls Trailhead — Maui
Only 1 mile roundtrip
Experience jungle and stream environments
Can get muddy and slippery, so wear solid shoes
Pups can take a dip in the waterfall base
Features breathtaking mountain views
---
4.

Papakōlea Green Sands Beach — Big Island
Trail to the beach is 2.9 miles each way
Trail follows the rugged coastline, so no shade is available
Enjoy a beautiful green sand beach and amazing views at the end of the trail
Dogs are likely to get covered in red-colored sand that covers the trail
Located at the southernmost point in the United States (South Point)
---
5.

Pololū Valley Trail and Lookout — Big Island
Only a .9-mile roundtrip hike
Runners frequent the area, so good-quality leashes are important
Hike down a steep embankment to a black-sand beach
Picnic at the scenic point overlooking the valley
Trail can get rocky and slippery
---
6.

West Maui Forest Reserve — Maui
| | |
| --- | --- |
| 🗺️ Address: | 📍 Wailuku, HI 96793 |
| 🕐 Open Times: | 24 hours |
| 💲 Cost: | Free |
| 🐕 Off-leash allowed?: | No |
Multiple trails can be accessed from the preserve
Enjoy lush scenery and shady places to rest
Free parking available near the reserve
Restrooms not available
Many steep ledges to traverse
---
7.

Old Nu'uanu Pali Road — Oahu
Pass several waterfalls throughout the hike
Trail can be accessed from the Pali Lookout
Parking costs $3 and is located at the Pali Lookout
Road is said to be haunted, making the area spooky in the evening
Road is covered in lush vegetation to maneuver around
---
8.

Waihou Spring Trail — Maui
2 miles roundtrip
Trail leads to a refreshing natural spring basin
The area borders an experimental tree plantation
Waterfalls form when the spring downpour is heavy
Enjoy the coolness of 4,000-foot elevation
---
9.

Tripler Ridge Trail Loop — Oahu
| | |
| --- | --- |
| 🗺️ Address: | 📍 Honolulu, HI 96819 |
| 🕐 Open Times: | 24 hours |
| 💲 Cost: | Free |
| 🐕 Off-leash allowed?: | No |
About 1.5 miles roundtrip
First half of the trek is all uphill
Lush scenery and humid environment
Connector trails can be accessed from the Tripler trail for a longer adventure
Trail can get overgrown during off-season hours
---
10.

Kawainui Marsh Nature Trail — Oahu
| | |
| --- | --- |
| 🗺️ Address: | 📍 Kailua, HI 96734 |
| 🕐 Open Times: | 7:00 a.m. — 7:00 p.m. |
| 💲 Cost: | Free |
| 🐕 Off-leash allowed?: | No |
9 miles in length
Popular trail that can get busy during the afternoon hours
Paved parking available at the north end of the trail on Kaha Street
Surface of the trail is gravel, rocky, and somewhat uneven
Not much shade to rely on for relief from the sun


Conclusion
There are many cool places to hike with your dog in Hawaii. Every hiking adventure offers the opportunity to enjoy amazing views, lush landscapes, and even a variety of birds. No matter what island you're on, there is a hiking trail to access with your pup somewhere nearby!
---