21 Golden Retriever Gifts for Dog Lovers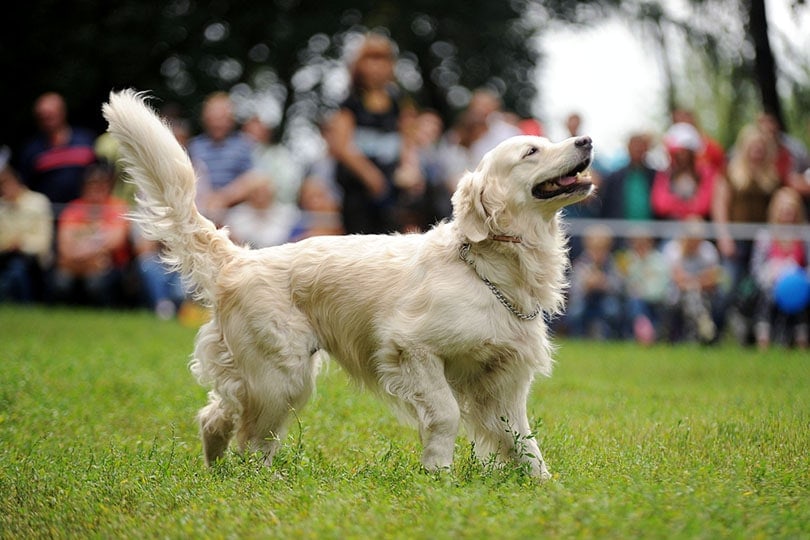 When buying gifts for your loved ones, you begin to run out of ideas between Mother and Father's Day, Christmas, and birthdays. If you have a dog lover in the family or circle of friends that is particularly fond of their golden retriever, you could consider basing their gift around a canine theme. We guarantee it will be well received when they see a gift highlighting their love for their golden retriever.
But where do you find such a gift? We have compiled a list of fun, fascinating and unique gifts to help you out.

Top 21 Golden Retriever Gifts for Dog Lovers
1.

My Faithful Friend Dog Breed Coffee Mug
If your loved one enjoys their morning coffee as much as the company of their golden retriever, then a coffee mug could be a practical and fitting choice. These earthenware mugs picture an image of a golden retriever on one side and three traits listed on the other. The cups are dishwasher and microwave safe.
---
2.

Paint Your Life Custom Golden Retriever Portrait
Why give a generic Golden Retriever gift when you can give a personalized one? Paint Your Life's artists can create a beautiful portrait of a Golden Retriever (or two!) based on any photo. Just select the style and medium (oil, acrylic, pastel, watercolor, or more) and wait about 20 days. Any Golden fan will be overjoyed to see their favorite pup framed on the wall!
---
3.

I Love My Golden Retriever Bone Magnet
This bone magnet is a great present for your dog-loving friend. They can proudly display their love for their golden retriever at home on the fridge, at the office on a cabinet, or while driving around in their car. It is a better option than a sticker since it can be moved and won't leave a residue, and the high-gloss UV ink will endure rain and sun.
---
4.

Golden Retriever Road Street Sign
This decorative sign is a fun way for your loved ones to showcase their love for their dog. It can be used both indoors and outdoors and is ideal for the dog houses, the mailbox, or any other area of the home. The plastic is durable, measures 6 inches by 8 inches, and includes two holes at the top for hanging. The clever design makes it look like a real road sign.
---
5.

"All You Need Is Love? & A Golden Retriever" Box Sign
This is a sweet gift for your golden retriever-loving friend to adorn any space in their home. Anyone who walks into their home will know where their heart lies with this decorative and charming box sign. It is made with real wood, giving it a vintage look and feel, and it is a neutral color to suit any décor in the home.
---
6.

"It's Not a Home Without a Golden Retriever" Wood Sign
A wood sign is a classic and effective way to showcase your love for your pet. A realistic picture paired with a proud message can be hung up anywhere in the home with its attached rope. It can also be used outdoors, but because of its small size, the patio may be a good option. It is not waterproof, so it's best to keep it out of the rain.
---
7.

Golden Retriever Personalized Floor Mat
Help your friend show off their love for their dog in their home with a personalized floor mat. This soft and comfortable floor mat features a cute golden retriever, overlayed with a bone where you can place the dog's name. The rubber backing helps the mat stay in place, and it is easy to clean in the washing machine or with a simple wipe. It can be placed in the kitchen, the bathroom, or even the laundry room.
---
8.

101 Uses for A Golden Picture Book
This sweet and unique picture book is a gift your dog-loving friend or family member will appreciate. It captures all the heart-warming and unique ways that human and dog companionships are characterized and how they interact through pictures with captions.
---
9.

Golden Retriever Personalized Garden Flag
Let your friend wave their flag to express their love for their furry friend. This personalized garden flag is weather-resistant and measures 11 inches by 13 inches. Dog art is on both sides, making display options easier, and the dye trans printing creates bright and beautiful colors. No flag stand is included, but it can be attached to any stand.
---
10.

Golden Dog Canoe Framed Canvas Art
If your friend is an art lover, this upscale framed canvas print could be a great gift. This quirky print is crafted using fade-resistant inks on a canvas material that is high quality and stretched to prevent sagging. It is ready to hang anywhere in the home for your golden retriever-loving friend to hang with pride.
---
11.

Golden Dog Coffee Co Framed Canvas Art
Your friend or family member can show that their retriever is loved with this sweet, vintage-style canvas print by Ryan Fowler. The narrow gap between the canvas and the frame creates a floating look and is crafted using fade-resistant inks on a high-quality canvas that doesn't sag. It is easy to hang since it is crafted with metal sawtooth hangers.
---
12.

Golden Retriever Personalized Floor Mat
This floor mat can send a message of canine love to everyone entering the residence. With a high-resolution image and the dog's name, guests will know who the owners' favorite companion is. The floor mat is made with a rubber backing, and it's machine washable for easy cleaning.
---
13.

Golden Retriever Dog House Glass Tree Christmas Ornament
If your friend loves Christmas as much as their furry friend, then they will love this ornament of a golden retriever doghouse. It is a sweet, hand-painted ornament that includes a small hole on the roof to fit a standard-size tree light to brighten up the Christmas tree.
---
14.

Golden Retriever Pup Bottle Holder
This adorable golden retriever pup bottle holder can make a great centerpiece, or it can be used to hold a bottle of fine wine. It is made from durable polyresin and can hold one 750ml bottle. It is easy to clean and maintain, and your countertop will be protected from scratches by a velvet backing.
---
15.

Life is Golden Sweatshirt for Golden Retriever lovers
What better way to show your love for your golden than sporting it around with a comfy sweatshirt. Treat your loved ones with this Life is Golden sweatshirt,  and they can showcase their golden love with pride. The sweatshirt is made of polyester and cotton and comes with a color choice of black, navy, royal blue, heather gray, or dark heather.
---
16.

Golden Retriever Car Window Vinyl Decal
A decal is a great addition to a canine-themed gift basket. This decal of a golden retriever inside a heart will look great on a car window, laptop, coffee flask, or anywhere your loved one chooses. It is durable and measures 3.8 inches x 3.5 inches.
---
17.

Golden Retriever Dog Etched Wine Glass
Gift your loved one a wine glass so they can enjoy their favorite vino. They will love the subtle etching of the golden retriever. The glass can hold 12.75 ounces and is 100% dishwasher safe.
---
18.

Golden Retriever Theme Monopoly Board Game
Any lover of games loves the classic game of monopoly, and this gift combines golden retrievers and the famous game while providing an evening of fun and entertainment. Players can try the traditional game or just a one-hour version, which makes this a fun anytime, anywhere activity.
---
19.

Golden Retriever Insulated Tumbler with Spill Proof Lid
A travel mug is always a great gift for any avid coffee drinker, and this one is even more special with its 3D artwork of realistic golden retrievers. This travel tumbler is made from stainless steel and comes with a spill-proof slider lid. Heat is retained inside the tumbler, and the double-walled insulated stainless steel keeps drinks hot for longer periods. It is designed with a comfortable grip, and the painted artwork won't fade or crack. Your retriever-loving friend will love this practical gift, especially if they are always on the go.
---
20.

Golden Retriever Dog Pattern Linen Throw Pillow Covers
Give your loved one the option to decorate their space with an arty and adorable pillow cover. It can be placed on a sofa, office chair, bed, or any preferred area of the home to showcase their love for golden retrievers. The hidden zipper on the side makes it easy to remove the cushion for easy washing, and the bright colors will liven up any room and won't fade easily. It is crafted with high-quality durable linen and is 18"x18".
---
21.

I Love My Golden Retriever Cotton Socks for Women.
Socks are a classic gift idea that is always received well. If your wife or girlfriend has a love for golden retrievers, then these cute and comfy printed socks are a lovely addition to a gift for any occasion. They are made of cotton, spandex, and nylon and will fit a women's shoe size 5-10.

The One Gift You Shouldn't Give
It could be very tempting to give your loved one a golden retriever puppy, and although a pup could bring a lot of excitement, the choice should be made by the person who must care for it. Golden retrievers are wonderful companions, but they are a long-term commitment.

Final Thoughts
There are several gift ideas for any occasion that your golden retriever-loving friend will love. The gesture will be appreciated whether it's a small addition to another gift or a gift on its own. Picking a gift shouldn't be a stressful occasion, so we hope these ideas will narrow it down and make it fun for you.
See also:
---