11 Homemade Dog Food Recipes for Small Dogs (Vet-Approved)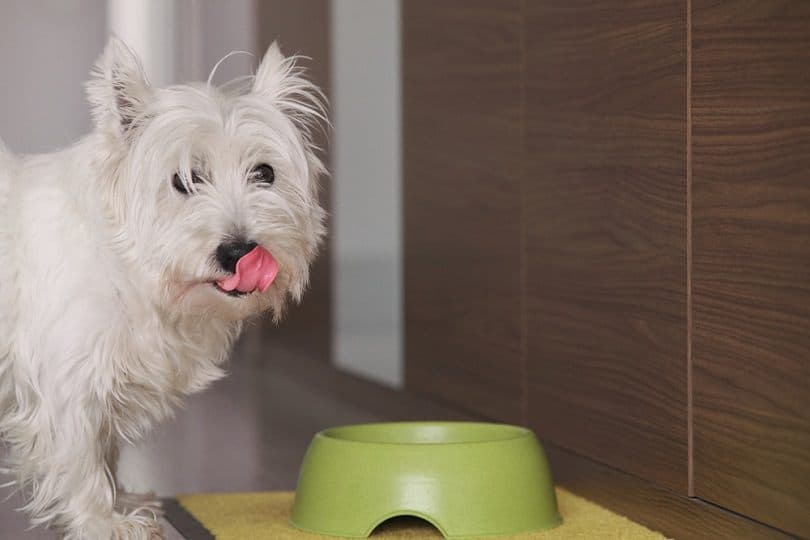 Many dog food recipes make enough food for a whole pack of dogs. If you have a small dog, you probably only need one or two cups of food per day. You don't want to spend too much time cooking, but you also don't want your freshly cooked dog food to go bad or take up all of your freezer space.
That's where these homemade dog food recipes for small dogs come in! All of these recipes can be made in small batches, enough to feed your small dog for a week or two, without overwhelming you with dog food. Scroll down to find our very own Hepper homemade recipe (our personal favorite, of course), along with 10 other easy-to-make recipes.


How Much Dog Food Should You Make at Once?
When you're learning how to make dog food for small dogs, you'll want to calculate how much your dog eats every day. Small dogs typically eat less than a cup of food per meal, so you might need significantly less food each week.
Think about how much your dog eats every day and decide whether you want to freeze or refrigerate your homemade dog food. Refrigerated dog food, much like human food, stays good for about five days. Frozen dog food lasts much longer, though you will need to defrost it.
For example, if your dog eats one cup of food per day, you'll want to learn how to make dog food for small dogs that accounts for five cups to keep in the refrigerator for the week. If you're planning to freeze your dog food, you can make a larger batch and freeze it into individual portions. Now let's get cooking!

11 Homemade Dog Food Recipes for Small Dogs:
1.

Easy Small Dog Treat Recipe
Homemade Sweet Potato Dog Treats (For Small Dogs)
You don't have to be a wizard in the kitchen to pull these off with style. Here's our favorite easy sweet potato dog treat recipe perfect for your small dog.
Equipment
oven

Microwave

Large bowl

Cookie cutter or knife

Baking sheet
Ingredients  
1

Sweet Potato

mid-size

2 ½

cups

of whole wheat flour

¼

cup

applesauce

unsweetened

2

eggs
Instructions 
Preheat oven to 350°F

Heat the sweet potato in the microwave for roughly 6 minutes, or until tender. Cut it, remove the skin, and mash the potato. You need 1 cup of mashed sweet potato, the rest can be used elsewhere.

Mix eggs, applesauce, mashed sweet potato and flour in a big bowl, mixing until it forms a dough. Cut the dough with a cutter to get the desired shape or form like cookies. In any case, it should be about ½" thick.

Bake for 35-45 minutes, or until crisp. Remove from the oven and let them stand for 10 minutes.
Notes
Image Credit: pakornkrit, Shutterstock
---
2.

Easy Dog Food Recipe for Small Dogs
The woman behind Where's the Frenchie? owns two French bulldogs, and this dog food recipe is specially crafted for small appetites. Get the recipe here.
If you want to feed your dog human-grade food without the hassle of having to prepare the meals yourself, you need to try Spot & Tango.
Their pre-packaged meals full of human-grade ingredients get delivered right to your door, so all you need to do is pop them into your dog's dish!
Ready to get started? Right now, you can save 50% on Spot & Tango HUMAN-GRADE premium dog food by clicking here!
---
3.

Crock-Pot Homemade Dog Food
What could be easier than tossing ingredients in a Crock-Pot for a few hours? This recipe is especially great for small dogs because it's very scalable — adjust the servings and you can make any batch size! Get the recipe here.
---
4.

Pumpkin Yogurt Bowl
It might sound like something you could order at a fancy breakfast place, but this pumpkin yogurt bowl is designed for dogs! This easy recipe from This Mess is Ours even marks out the quantities you'll need for small dogs. Get the recipe here.
---
5.

Beef Dog Food
Beef, rice, and vegetables make for tasty and simple homemade dog food. Adjust the serving size to suit your small dog and you'll have just the right amount of food! Get the recipe here.
---
6.

Easy Instant Pot Dog Food
Your dog deserves a great meal, but that doesn't mean you have to spend a lot of time cooking it! If you have an Instant Pot, you'll love this dog food recipe, which comes together in just 20 minutes. Get the recipe here.
---
7.

Dog Stew
This dog-friendly stew from The Bark uses chicken, brown rice, and vegetables like sweet potatoes, carrots, and cooked tomatoes. Cut this recipe down for your small dog's smaller appetite and you'll have plenty of dog food for a week. Get the recipe here.
---
8.

3-Meat Dog Food
This simple dog food recipe adds eggs to the usual meat, vegetables, and rice. It's easy to freeze and will last your small dog quite a while! Get the recipe here.
---
9.

Turmeric-Seasoned Dog Food
This recipe, inspired by an adorable Pug with degenerative joint disease, combines meat, vegetables, and turmeric with crushed eggshells for extra calcium. Gourmet and simple! Get the recipe here.
---
10.

Gourmet Dog Food
This recipe has a lot of ingredients, including some unusual ones like salmon, red peppers, and cranberries. But don't let that put you off! It's a gourmet meal that comes together surprisingly quickly. Get the recipe here.
---
11.

Simple Chicken Dog Food
Looking for a dog food recipe that's tasty, healthy, and hands-off? Look no further than this recipe from Top Dog Tips, which uses simple ingredients like chicken breast, green beans, and brown rice. Throw it all in the Crock-Pot for a few hours and your dog will have a feast! Get the recipe here.

Conclusion
There you have it: 10 tasty homemade dog food recipes for small dogs. Small dog breeds don't have the same dietary needs as larger dogs, so you'll want a recipe that suits your little pup. We hope these recipes help you start cooking for your dog!
Looking for more dog food recipes?
---
Featured image credit: alejandro-rodriguez, Shutterstock