9 Ways to Keep Your Cat Safe When They're Home Alone

If you're going away for the holidays or on a business trip, how can you be sure your cat is safe at home? With a little planning, it's easier than you might think. We've compiled a list of 9 things you need to know before leaving your cat at home.
The 9 Ways to Keep Your Cat Safe – Long Term Travel
Ensure your cat is happy, healthy, and most importantly, taken care of when you're away with one of these ideas:
1.

Hire A Pet Sitter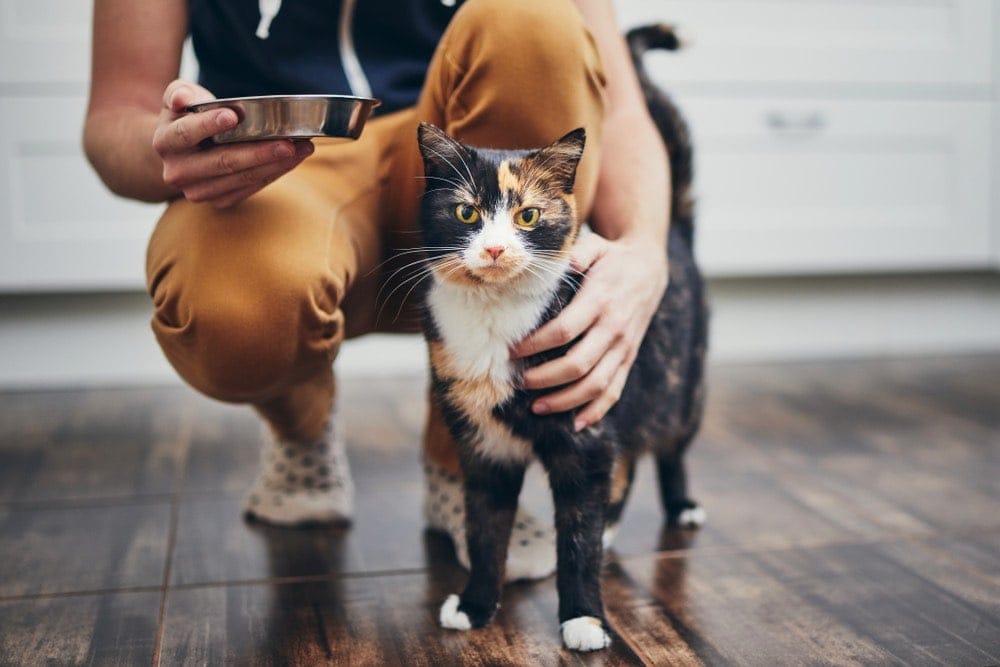 When you plan to be away longer than 24 hours, it's imperative that someone check on the cat. Popular belief says cats can go for days without care, but it's not true. Our cats miss us when we're away. Illnesses can strike. Accidents can happen. Water bowls can get overturned. Not to mention what happens in the litter box over several days. Ask a reliable, cat-loving friend to drop by your home each day that you're away. If no friend is available, consider finding a pet sitter. Ask them to refresh the water dish, refill the food bowl, scoop out the litter box, and spend at least ten minutes playing with your pet.
---
2.

Let Your Cat Stay With A Friend
Of course, keeping your cat at home is always best if you can manage it. A new place, new scents, and new people are a lot of stress for one cat to absorb especially while you're away. Remember, your cat doesn't know your plans for return and may assume you're gone forever. If a friend's house is the only option for your cat, though, make sure it's a safe one. Is your friend knowledgeable and enthusiastic about cats? Does your cat get along with your friend's pets? Try taking your cat over to your friend's house for a few visits before you leave her there during your trip.
---
3.

Consider Long-Term Cat Boarding
The good thing about pet hotels is that they are stocked and staffed by experienced cat-loving professionals. These folks should notice if anything seems out of sorts with your pet. On the other hand, boarding facilities can be stressful places for cats. If you must leave your animal in a facility, be sure to do your homework thoroughly and well in advance of your departure date.

For 24-Hour Trips
For quick trips that can be done in 24 hours or less, you should consider:
4.

Video Monitoring
Cat cams let you sneak a peek at what your cat is up to any time you like. Some top-shelf video monitors, such as Petcube, include two-way audio and even a built-in laser toy you can control for your cat when you are away.
---
5.

Supplying Plenty of Food & Water 
Choose heavy-bottom food dishes that make it hard for your cat to spill. Put water dishes throughout the house so if one spills, your cat will still have access to freshwater. Fill your cat's bowl with dry food, and leave a pet treat dispenser full. Do not leave wet food out for your cat. It can spoil. It's a good idea to put out extra food or have a friend on call that could check-in if you're late getting home. Remember that your plane could be delayed, you could face a traffic jam, or even have car trouble. You don't want to worry about your cat being hungry or thirsty while you are stuck in a line of stationary cars on the interstate.
---
6.

Reserving the Special Toys for Long Trips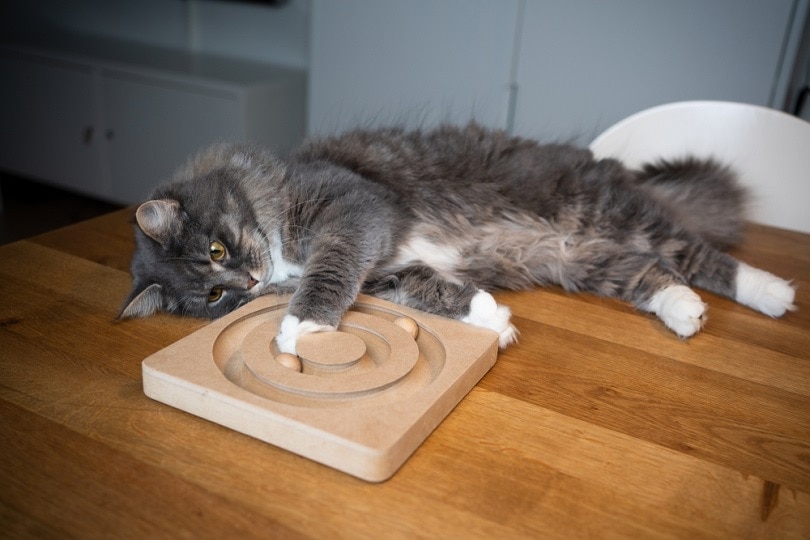 Like the rest of us, our cats are enchanted with novelty. Try purchasing intriguing games that stay in the closet except when you're away. Trixie offers a selection of active board strategy games. Your cat might enjoy a good puzzle to challenge her brain while you're on the road.

When You're Out More than Usual
A busy weekend or workweek can keep you away from your home and cat longer than normal. Be prepared to keep your cat occupied with these suggestions:
7.

Consider Getting A Second Cat 
Holidays, volunteer commitments, and career advances sometimes come with extra-long hours that keep you away from your cat. While acquiring a second pet is always a big decision, it may be the right one for your and your current cat. Some things to consider: make sure one cat is an alpha and the other beta. Check the size of your home to see if you'll have enough room. Be certain each cat can find its own private space. Cats often enjoy having a companion, and if you can care for two cats, it's worth considering.
---
8.

Add New Puzzles, Games, and Gizmos
Do you have a bird feeder? One of these can keep your cat occupied for hours. Add a nice window seat, and you've got the equivalent of Netflix for cats. You can also try adding a selection of eco-friendly cat toys. These keep your friend entertained while helping your household go a little greener. Of course, you always want to make sure your cat has a high-quality scratching post, a little something filled with catnip, and a fun place to hide (like an empty cardboard box).
---
9.

Try Artificial Pheromones
Synthetic pheromones may help reduce stress in cats. Pet behaviorists first recommended pheromones to help cats who had problems with spraying, marking, and aggression. Today, cat parents try to help reduce all kinds of anxiety-driven behaviors in cats. Feliway Spray is one of the best-known options on the market. Spraying pheromones on the furniture before you leave for a long day may be worth a try. Our cats miss us while we're away. So whether it's a series of extended workdays, a flying trip home for the holidays, or a full-on vacation, let's make sure our favorite felines get the best care they can while we're away.
What do you do when you have to leave your kitty home alone? Are there some things that work, and some that don't? Let everyone know in the comments?
Other interesting cat reads:
---