7 Best Lights For Cichlid Tanks in 2023: Reviews & Top Picks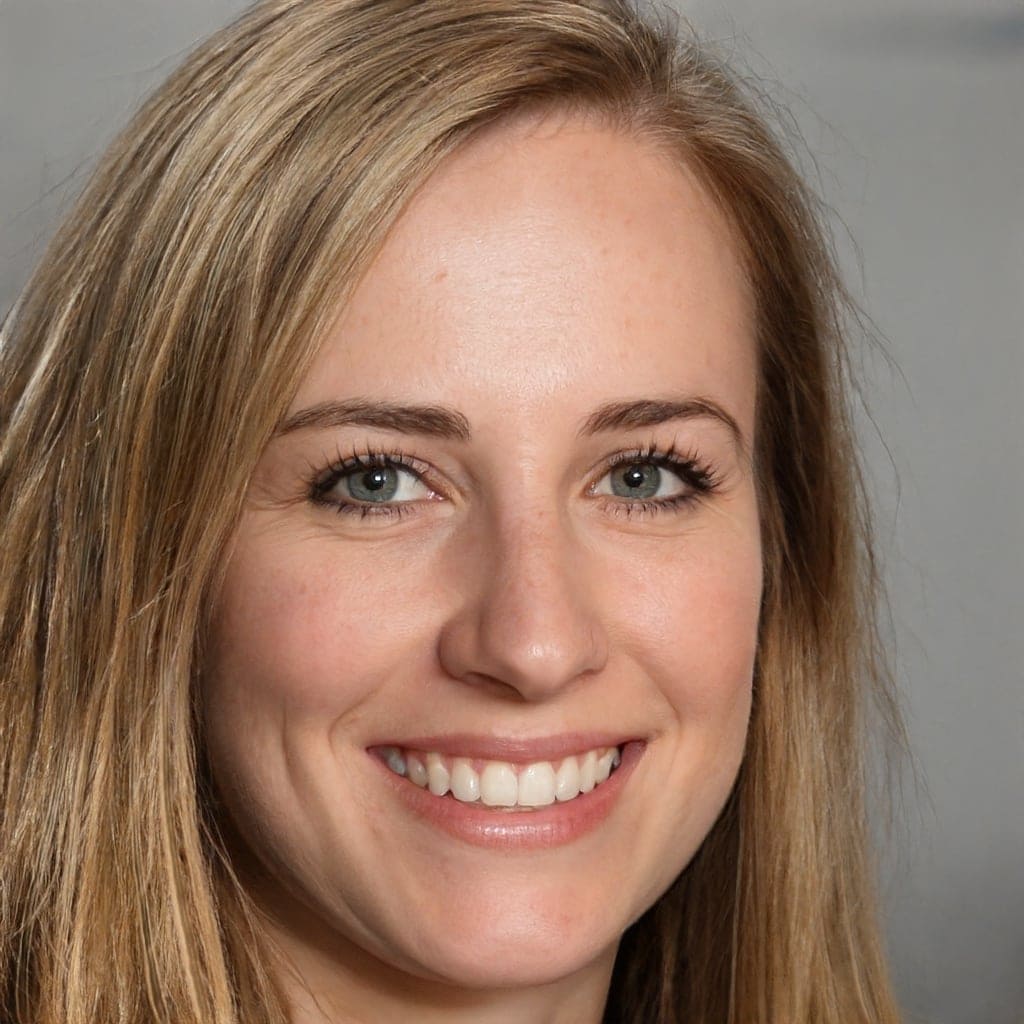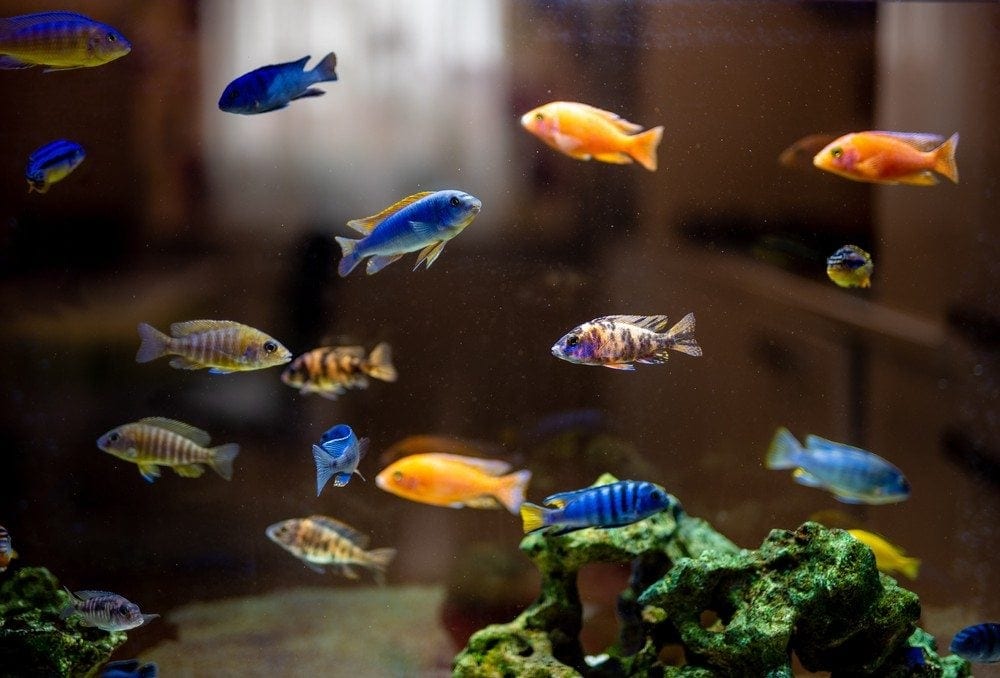 The right lighting is very important for Cichlid tanks, but should you go for fluorescent, LED, or Halide? Here is our complete buyer's guide with our own top seven picks to give you some good suggestions.
The short answer here is the best light for Cichlid tanks are LED in our opinion, in this article we will explain why, look at the different lighting options and run through reviews of our top seven picks, which we hope will help you and answer some of your questions.

A Quick Comparison of Our Favorites in 2023
Rating
Image
Product
Details

Best Overall

Current USA LED Light

Low energy use
Waterproof casing
Bright white and rich blue light
Check Price

Mingdak LED Aquarium light

Adjustable legs
Fairly easy to mount
Lightweight and thin
Check Price

Aquaneat LED Full Spectrum

Full spectrum
Various sizes
Very energy efficient
Check Price

KZKR Aquarium Hood LED Light

Various modes.
Low energy use.
Blue/white & full spectrum.
Check Price

NICREW LED Aquarium Light

Lightweight.
Night and daytime modes.
Adjustable mounting bracket.
Check Price
The 7 Best Lights for Cichlid Tanks
Here we have what we think are the 7 best lights for Cichlid tanks. We have a wide variety for you to look at, so let's get started. Keep in mind that LED lights and fluorescent lights tend to be the go-to option for Cichlid tanks, so this is what we have covered below.
1.

Current USA LED Light
This particular light is designed for use in freshwater fish tanks, such as for Cichlid tanks. The Current USA LED Light comes in various sizes including 18- to 24-inch, 24- to 36-inch, 36- to 48-inch, and 48- to 60-inch.
What's nice here is that this light comes with a simple sliding dock leg installation method, so it should be usable for most aquarium setups. The light is made with a waterproof casing for some added durability. This light produces bright white and rich blue light, which works well for really making fish colors pop, plus it's not too bad for plant growth either.
What is really cool about this LED Light is that it comes with many effects to mimic the real world. This includes sunlight, cloudy days, lunar modes, fade effects, dusk mode, and even lighting storms. This is a light designed to mimic real-world freshwater aquatic conditions. This light produces minimal heat and does not use much energy to run either.
Low energy use
Waterproof casing
Bright white and rich blue light
Fine for fish and plants
Ideal for freshwater tanks
Many light modes and effects
Finding replacement parts is not easy
Wattage is not overly strong or bright
---
2.

MingDak LED Aquarium Light
Here we have a full spectrum LED light, one that produces white, red, and blue light. This is ideal for freshwater Cichlid tanks, as the white and blue lights will really help their colors pop out, moreover, both the blue and red lights are ideal for plant growth, making this light ideal for planted Cichlid tanks.
This light is designed for use with both freshwater and saltwater tanks. What's also ideal about this light is that it features very low energy usage combined with a long lifespan. The MingDak LED Light features a thin, sturdy, and lightweight aluminum housing for easy installation It also comes with adjustable docking and mounting legs, also making installation easier. There are two light modes included here, a daylight mode with all colors, as well as a nighttime mode with only blue light.
However, keep in mind that the housing here is far from being waterproof. This light comes in various sizes including 12- to 18-inch, 18- to 24-inch, 30- to 36-inch, and 48- to 54-inch.
Lightweight and thin
Fairly easy to mount
Adjustable legs
Red, blue, and white light
Ideal for fish and planted tanks
Saltwater and freshwater use
Low energy consumption
Housing is not waterproof
---
3.

AQUANEAT LED Aquarium Light
This is a really cool light, especially thanks to the various colors it features. This is a full spectrum light that comes complete with white, blue, pink, and green lights. This light is advertised as being ideal for all freshwater tanks, and this includes fish tanks as well as planted tanks. In terms of the sizes, the AQUANEAT LED light is available in various sizes including 18- to 24-inch, 24- to 30-inch, 30- to 38-inch, and 36- to 44-inch.
This particular aquarium light is quite bright and ideal for fairly large fish tanks. What does need to be said here is that this light comes with two modes, so either the light is on or off.
You may appreciate this light because it is extremely energy efficient, more than most others. Now, this is a very thin and lightweight light, one that comes with legs for easy mounting. However, this light is not waterproof and admittedly not overly durable either.
Full spectrum
Ideal for fish and planted tanks
Various sizes
Very energy efficient
Thing and lightweight
Easy to mount
Can only be on or off
Not waterproof or overly durable
---
4.

KZKR Aquarium Hood LED Light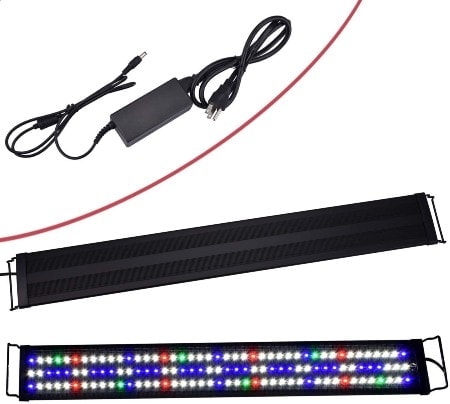 Here we have quite the unique, special, and diverse aquarium light, mainly because it comes in so many different options and is ideal for both freshwater and saltwater tanks.
This light comes in a blue and white option (16.8- to 24-inch), which is ideal for freshwater fish tanks without too many plants. It also comes in a full spectrum option, which comes with red, blue, white, and other lights (24- to 32-inch, 30- to 36-inch, 36- to 48-inch, 48- to 60-inch, 60- to 72-inch, and 72- to 84-inch). These full spectrum options are ideal for Cichlid tanks that also have lots of plants in them.
The KZKR Hood LED Light does come with mounting brackets for easy mounting, and they are extendable too. Although this light is fairly durable, thin, and lightweight, it is not water or splashproof, so be sure to not get it wet. This is a very high-efficiency light with low energy usage and low energy dissipation.
Many sizes
Blue/white & full spectrum
Easy to mount
Low energy use
Fairly bright
Various modes
Quite durable
Thin and lightweight
Not splash or waterproof
Transformer burns out fairly fast
---
5.

NICREW LED Aquarium Light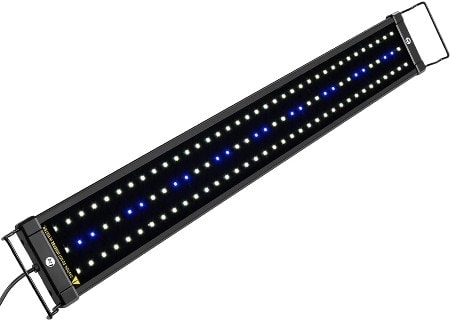 Here we have a nice LED light that is available in a variety of sizes including 12- to 18-inch, 18- to 24-inch, 30- to 36-inch, 36- to 48-inch, and 48- to 52-inch. The metal brackets used for mounting are sturdy for safety and adjustable for length to fit diverse aquarium sizes. This is a white and blue LED light for aquariums, one with two light modes, one for daytime and one for night.
The white and blue are ideal for really getting fish colors to pop, although this is not the best for great plant growth. The LED lights here are fairly bright, not to mention quite energy efficient too. However, something that does need to be said is that the housing is made of plastic, which is not exactly durable, although it is lightweight.
Low energy use
Lightweight
Good for fish tanks
Night and daytime modes
Many sizes available
Adjustable mounting bracket
Very bright
Plastic is not too durable
Do not get it wet
Not great for plants
---
6.

All Glass Aquarium Fluorescent Strip Light

Here we are switching gears from LED lights to fluorescent aquarium lights. Now, something we want to say is that this light comes with a full-scale reflective hood to help increase light intensity, reflectivity, and output. This included hood is also ideal for absorbing excess heat. This hood is durable and high quality, but keep in mind that it is somewhat heavy, and mounting it may be a bit of a challenge. This is the kind of light hood you need to hang from a ceiling, not just place on a tank.
It comes with a normal white fluorescent bulb, which is fine for lighting up freshwater fish tanks, although not ideal for planted tanks. Although, as we covered in our opening section, there are many bulbs that can be used with fluorescent light fixtures, so if you find a compatible one, you can customize it for virtually any purpose. Keep in mind that it only comes in a single size, 16 inches.
Great for bringing colors to life
Nice hood for increasing light intensity
Hood absorbs some heat
Hood is very durable
Customizable with many bulbs
Includes 1 white bulb
Mounting is a challenge
Included bulb only ideal for fish
---
7.

Aqueon Aquarium Fluorescent Strip Light
This is another decent fluorescent light strip for aquariums, one that comes in at 36 inches long. Keep in mind that it only comes in this single size.
The included bulb is only 24 inches long, and it is a normal white fluorescent bulb, although you can replace it with a compatible bulb of your choosing to make this light work for more or less any and all aquarium setups.
The Aqueon Strip Light is a replacement for a whole hood, which can be good or bad depending on how you look at it. We do like how this thing appears to be fairly durable and long-lasting.
Durable
Fairly easy to mount
Includes a bulb
Bright white bulb for fish
Makes colors pop
Included bulb is not ideal for plants
Not the brightest

Buyers Guide – Choosing the Best Lights for Cichlid Tanks
Do Cichlids Need Light?
Generally speaking, Cichlids do not really require any special kind of lighting, no more than they would usually get from the ambient light in a room, just so they can see normally, especially when it comes to seeing food. However, that being said, a fish tank will usually benefit from light. For instance, when it comes to colorful Cichlids, the right kind of aquarium light can make their colors and patterns really pop out.
Moreover, if you have plants in the tank, a light will be required to support healthy plant growth.
How Many Hours of Light Do Cichlids Need?
Your average Cichlid is going to need around 8 hours of good light per day, which might be achievable simply by putting the tank in a fairly bright room in your home. That said, to really make the most out of your Cichlid tank, you probably want to use an aquarium light of sorts.
Let's move on and see what the different kinds of aquarium lights are and what they can do for your Cichlid tank.
What Type of Lighting Is Best?
There are four main types of aquarium lights that you can choose to go with. These include fluorescent lighting, compact fluorescent lights, LED lighting, and high-intensity metal halide lights. Let's take a quick look at each so you know what you are getting into.
Fluorescent Lights
These are also known as standard fluorescent lights and they tend to be the go-to option for many people, especially when it comes to ease of use. If you have fish-only aquariums or fish tanks with a couple of low-demand plants, these work well.
Moreover, these tend to be low maintenance, inexpensive, don't emit too much heat, and have low operating costs too. They can be used for saltwater and freshwater tanks.
The cool part about basic fluorescent lights is that there are many different bulbs that can be used, each one being ideal for a specific thing.
50/50 bulbs provide a blend of white and blue light. These are ideal for recreating marine light conditions and can help spur coral growth.
Color-enhancing bulbs emit light from the warmer end of the spectrum. These are ideal for fish-only and saltwater aquariums, as they really help the colors of fish pop.
Full spectrum bulbs emit light from all wavelengths and they recreate the visual effects of sunlight. These are generally considered ideal for all low-demand freshwater and saltwater aquariums.
Actinic bulbs provide lots of blue light. These are ideal for recreating light conditions for deep water marine tanks and are excellent for spurring the growth of coral.
Plant bulbs emit lots of blue and red light. These are ideal for planted aquariums.
High-intensity bulbs have bright white light, really cool light ideal for simulating deep water marine conditions.
Compact Fluorescent Lights
The other type of fluorescent light to keep in mind is compact fluorescent aquarium light. Instead of using a single bulb like normal fluorescent lights, these often use 2 or 4 tubular bulbs, and they tend to emit much more light and energy.
They do produce a bit more heat than normal fluorescent bulbs, but not much more. A single compact fluorescent light can easily replace two separate normal fluorescents.
The big difference is that these are more powerful and compact, yet they come with all of the benefits of normal fluorescent lights, such as a relatively low cost, ease of use, and maintenance, and they come with all of the bulbs we discussed above.
LED Lights
Many people also choose to go with LED lights, with one of the main reasons being that these require far less energy to produce the same amount of light as other types of aquarium lighting. These are fine for normal fish tanks and planted tanks too.
However, if you have a heavily planted tank, you do want to pay attention to the PAR value, which means how much light radiation the light produces, as well as what color spectrum the light produces. LED lights tend to be inexpensive and do not use much energy, but they can produce a lot of heat, but if you get the right one, it can be very good for plant life.
The great part about LED lights is that they don't cost too much to purchase or to run, they produce some heat (which is fine for Cichlids as Cichlids are tropical fish), and they come in many different sizes and colors spectrums too, not to mention that they are also very easy to install and to maintain.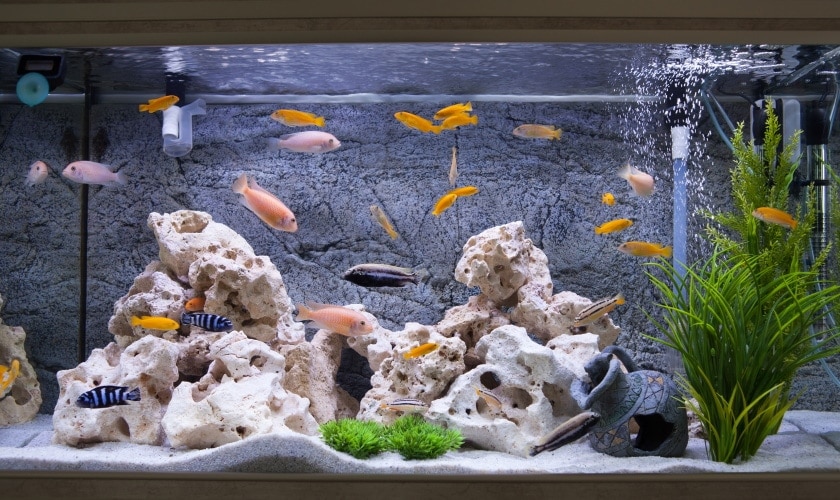 High-Intensity Metal Halide Lights
High-intensity metal halide lights for aquariums are very big, very powerful, and very expensive, and they cost a lot to run in terms of energy usage. If you are an advanced aquarium hobbyist, these might be right for you. Both the light and color produced by these bulbs are ideal for all sorts of aquarium applications.
A big advantage of high-intensity metal halide bulbs is that they are super powerful, making them ideal for very large and deep tanks that need lots of light. Other types of lights may not be ideal for deep and large tanks, but these lights can penetrate deep down, making them ideal for the largest of fish tanks.

Conclusion
As you can see, there are plenty of great Cichlid tank lights out there. Sure, we would recommend LED lights over all others, the Current USA LED Light being our favorite, and fluorescents are OK too. However, we did talk about all the different types of aquarium lights in the beginning, and in one way or another, you could use any of them for Cichlid tanks.
Remember folks, Cichlids appreciate a bit of light, but in terms of their demand for light, they are not too picky.
---