11 Low-Maintenance Pet Birds that are Easy to Keep (With Pictures)

Birds can make excellent pets with the right care and attention. They are intelligent and can tolerate handling, and indoor birds make good companions. But some birds, especially the larger parrots that attract potential owners thanks to their capacity to mimic human words, are high maintenance. It takes a lot of work to entertain them and ensure that they're mentally stimulated, let alone clean their cage and ensure they have everything they need. Although all birds require some degree of maintenance, there are several species that make good pets and are considered relatively low maintenance.
Below, we have included 11 species that are easy to keep and have minimal maintenance requirements.

The 11 Low-Maintenance Pet Birds
1.

Doves
| | |
| --- | --- |
| Length: | 12 inches |
| Weight: | 6 ounces |
Doves are beautiful to look at and have an alluring cooing noise. They're also low maintenance because they are happy to spend time in their enclosure while also enjoying time with their handler. In terms of setup, this medium-sized bird doesn't need too large a cage but it will require a UV light to give it much-needed vitamin D.
---
2.

Finches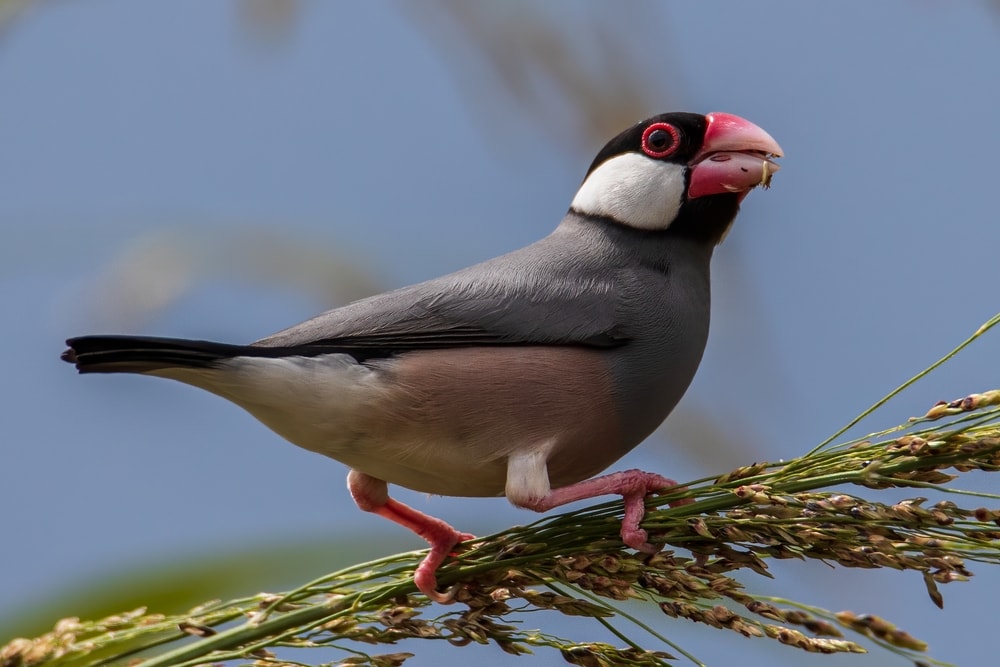 | | |
| --- | --- |
| Length: | 4 inches |
| Weight: | 0.5 ounces |
There are more than 200 recognized species of Finches, with several of them being considered good options for an outdoor aviary or an indoor cage. The Goldfinch is a popular species and is a low-maintenance bird. So, too, is the Zebra Finch. With its colored cheeks and zebra-striped throat, it is an attractive little bird that will sing quietly in its cage all day long. The Zebra Finch typically needs to be kept with other Zebra Finches, although it can tolerate other species of birds, and it won't usually tolerate human handling. But that only serves to make it even lower maintenance. The Gouldian Finch is another species that warrants consideration as a low-maintenance pet bird.
---
3.

Canaries
| | |
| --- | --- |
| Length: | 6 inches |
| Weight: | 1 ounce |
Like Zebra Finches, Canaries prefer not to be handled, which makes them a good choice for keepers that want to look at and listen to their birds without having to worry about regular handling. Canaries come in a wide array of colors. Yellow canaries are the most common, but you will also see red, green, white, and even green Canaries. You can also find some unusual feathering, including Canaries with crested feathers.
---
4.

Budgies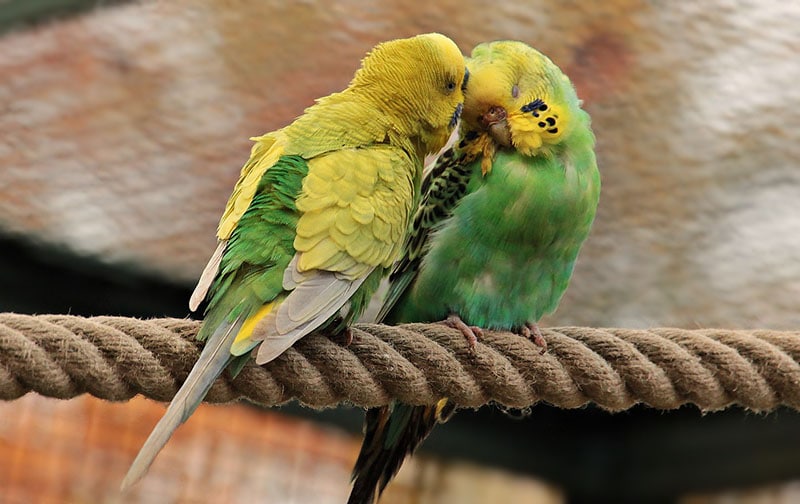 | | |
| --- | --- |
| Length: | 7 inches |
| Weight: | 1 ounce |
Budgies are members of the parrot family, and they enjoy human company. However, the level of company that a Budgie likes will depend on the individual bird. Some like to perch on their humans' fingers while others prefer to perch nearby. They do need regular time out of their cage, but Budgies are relatively clean and are easy to care for.
---
5.

Cockatiels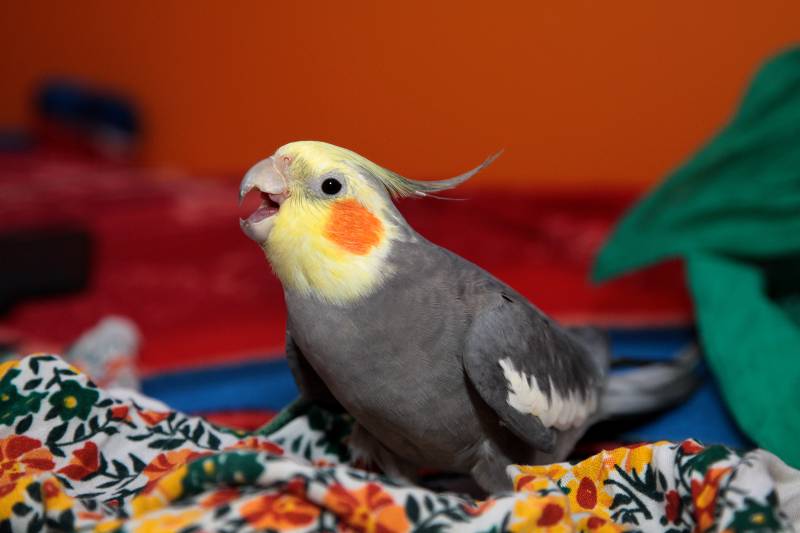 | | |
| --- | --- |
| Length: | 12 inches |
| Weight: | 3 ounce |
Cockatiels also need plenty of time out of their cage and, like Budgies, they enjoy human company. Very rarely, it is possible to find a Cockatiel that talks, although this really is rare and if you really want a talking bird, you would be better looking elsewhere. However, the Cockatiel is intelligent so it can be trained to hop on and off a finger and perform some basic tricks. The male Cockatiel is also an accomplished singer that can copy whistles and tunes.
---
6.

Lovebirds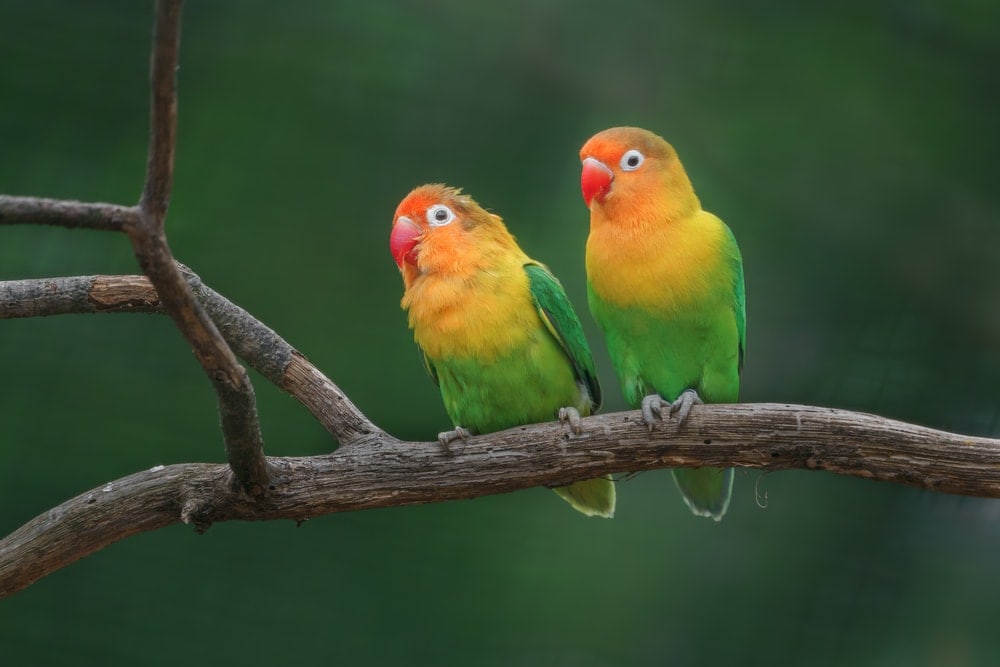 | | |
| --- | --- |
| Length: | 6 inches |
| Weight: | 2 ounce |
Lovebirds get their name because many Lovebird species mate for life and, as such, are typically seen in pairs. While it can be beneficial to keep Lovebirds in pairs so that they have company and entertainment, as long as you are willing to spend a few hours a day with your bird, a lone Lovebird can still thrive.
---
7.

Lineolated Parakeets
| | |
| --- | --- |
| Length: | 7 inches |
| Weight: | 2 ounce |
The Lineolated Parakeet has a similar appearance to the Budgie, but this member of the parrot family is considered low maintenance because it doesn't create a lot of mess. It does need to be kept with other birds, or you will need to spend a few hours a day providing company and stimulation for your bird.
---
8.

Gabon Gray Parrots
| | |
| --- | --- |
| Length: | 13 inches |
| Weight: | 14 ounces |
The Gabo Gray Parrot is a larger parrot species, weighing around 14 ounces. It can be taught to mimic words and has a beautiful gray plumage. Be aware that the Gabon Gray can live as long as 40 to 50 years, so taking one on is a lifetime commitment. And because this is a larger bird, its cage needs to be a little larger.
---
9.

Pionus Parrots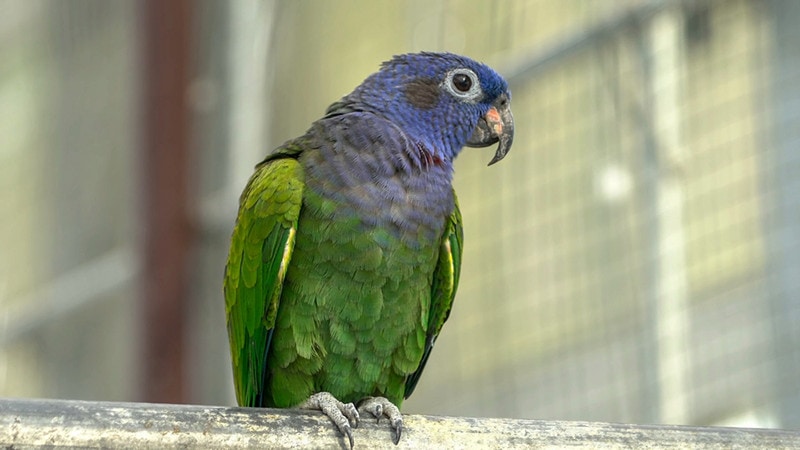 | | |
| --- | --- |
| Length: | 11 inches |
| Weight: | 8 ounces |
Pionus Parrots are a convenient combination of loving and independence. They will gladly spend hours with their human but can also entertain themselves when left alone for a few hours. Some Pionus Parrots will learn a few words, although it isn't guaranteed. They also have striking colors and markings that make them a great addition to the house.
---
10.

Quaker Parrots
| | |
| --- | --- |
| Length: | 12 inches |
| Weight: | 5 ounces |
Quaker Parrots, which are also known as Monk Parrots, are brightly colored parrots that are known for being good talkers. They are still relatively small for a talking parrot species, which makes them a good choice for keeping at home. They are friendly and will want to spend time with their human handlers.
---
11.

Parrotlets
| | |
| --- | --- |
| Length: | 6 inches |
| Weight: | 1 ounce |
Parrotlets are some of the smallest pet parrot species. They do best when kept as a lone bird because one of the pair can become dominant and potentially bully the other. They will form a close bond with their human, can learn to speak, and are known for making good pet birds.
Do Pet Birds Love Their Owners?
Birds can form very close bonds with their owners, although this does depend on a lot of factors. The species of bird plays a big part, with parrot species typically becoming close to their owners. The more time you spend with your bird, and the more you offer fulfillment and fun, the tighter the bond will become. Also, if you keep multiple birds, this does provide them with additional company and can keep them entertained but it may also mean that the birds are less likely to form a strong bond with you.
Would a Pet Bird Fly Away?
The fear for a lot of bird owners and potential owners is that their birds will fly away at the first opportunity. While this can be true, some species of bird are not inclined to fly away because they won't want to leave their flock: i.e. you. With that said, you should always take care to ensure that your pet birds are kept secure, especially with species like Budgies that will be inclined to fly away.
Do Pet Birds Like to Be Handled?
Some pet birds relish being petted and allowed to sit on their owners' hands. Others prefer to be in the same room but on a perch near their owners. The more time you spend in the company of your bird, the more they will learn to trust you and the more open they will be to regular handling.

Conclusion
Some birds can make excellent pets. They look pretty, have beautiful songs, and they can bond closely with their human handlers. However, the large parrot breeds are known to be quite high maintenance. As well as potentially causing a lot of mess in and around their cages, they need plenty of human interaction and handling, especially if they do not have the company of other birds.
Some smaller species, like the Gabon Gray, can mimic words and are lower maintenance. Species like Budgies and Finches are not members of the parrot family, and will not usually tolerate handling, but they do make good house companions.
See also:
---